Sonic Alert Traditional System DB200 Deluxe Doorbell with Lamp Flash and Telephone Transmitter
Alerts to doorbell and phone/videophone calls

Plug for flashing lamp notification

Sends a signal to any SonicAlert traditional system receiver

Requires no wires and installs in minutes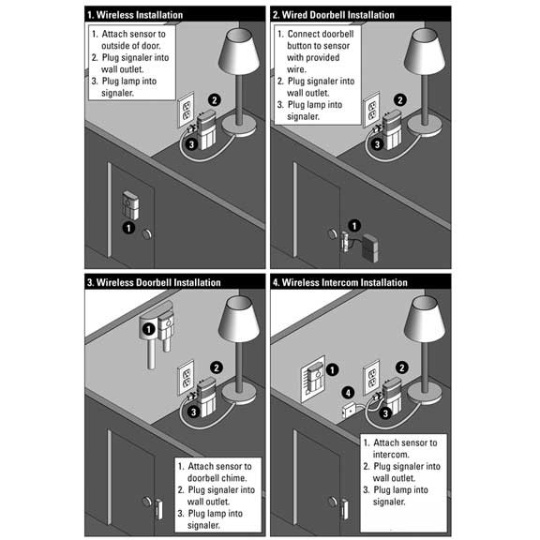 Sonic Alert Traditional System DB200 Deluxe Doorbell with Lamp Flash and Telephone Transmitter
Alerts to doorbell and phone/videophone calls

Plug for flashing lamp notification

Sends a signal to any SonicAlert traditional system receiver

Requires no wires and installs in minutes

SKU #SA-DB200 DISCONTINUED
Retail Price: $103.99Save $5.00
$98.99
Overview

Additional Details

Accessories

Q&A

Customer Reviews

Manual
The DB200 combination model features a built-in telephone signaler and outlet for connecting a lamp. Just plug the telephone cord into a modular telephone jack (does not draw from phone line power). (Optional extra doorbell button must be purchased for use with intercoms.) Signals all Sonic Alert remote receivers.
Features:
Selectable number of flashes

Flash code for front and rear doors

Works with most home intercom systems with a separate additional doorbell button sensor (sold separately)

Built-in chime (can be turned off)

Videophone compatible (must have built-in phone jack)

Doorbell uses a 12V battery (included)
What else do I need to make this work?
In order to be notified in additional rooms, you will need to purchase a receiver that lets you know when the signaler or transmitter is activated (see Accessories box).
Feature
Details
Brand
Sonic Alert
Mfg part #
DB200
UPC
650518100404
Warranty
Five year warranty
Color
White
Weight (lbs)
0.7
Battery operated?
Yes (batteries required)
Batteries included?
Yes
Battery details
(1) 12V 23A Alkaline
Country of Manufacture
China
System
Sonic Alert Traditional
Alert Type(s)

Vibration

Flashing Light

Loud Audible

Low Vision / Deaf-Blind

No

Yes

Yes

No

Transmitter / Receiver
Transmitter(s) and Receiver(s)
Alert Trigger(s)

Baby Cry

Carbon Monoxide

Mobile / Smartphone

Doorbell / door knock

Motion

Pager / SOS

Phone / VP

Smoke / Fire

Sound

Severe Weather

No

No

No

Yes

No

No

Yes

No

No

No

Range (ft)
100
Expandable
Yes
Portable
No
Battery backup
No
USB charger
No
Customer Q&A
Get help from Diglo and other customers who purchased this. Ask a new question.
Customer Reviews
Real people with real opinions. Post your own review.
Sonic Alert Door Bell System
Review by on Jan 13, 2022 - Verified Customer
I am happy to get new one since my old one was worn out after over 20 years old. Thank you Diglo!
Diglo Response:
Wow, 20 years! We're so glad we could provide you with a new one that will hopefully last you another 20 years.
We can hear the doorbell again
Review by on Dec 1, 2021 - Verified Customer
We had one of these for years, but it stopped working and even my wife could not hear the doorbell. It came, I just had to plug it in and it started working with the old transmitter.
Diglo Response:
That is doorbell music to our ears Chris!! We're so happy that you and your Wife will hear the door when friends and family come to visit, and just in time for the Holidays!!
Very good product!
Review by Dj on Nov 27, 2017 - Verified Customer
Brought it for my friend whose always has tv so loud that he never hears the doorbell. Now he knows when someone is at the door!
Five stars
Review by Foxy on Feb 6, 2018 - Verified Customer
This is for basement and works wonderful. I still have an old one up first floor.
its good deal
Review by the german on Feb 7, 2018 - Verified Customer
wired home, my self, first time. but moved away looking for way to know who's at door found this system.. glad its up and does work as promoted
Back in business.
Review by The Alerting Lights! on Sep 1, 2016 - Verified Customer
Love this thing. Had one for a long time and it started acting up,decided to get a new one. I Love This Thing!
satification rate
Review by byron on Feb 20, 2017 - Verified Customer
I do have Sonic Alert system for long time. they are not working well. So I decided to stick to Sonic Alert and found they are much better than old.
Back to top