Sonic Alert HomeAware HA360BR Basic Receiver
The Basic Receiver is a cost effective way to receive alerts from the HomeAware HA360M Main Unit in every room of your home!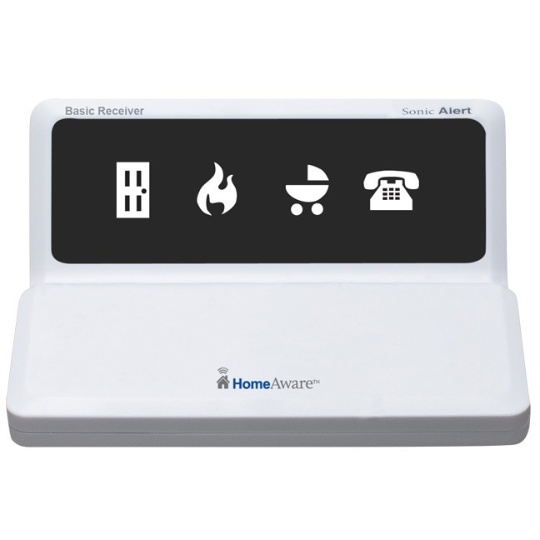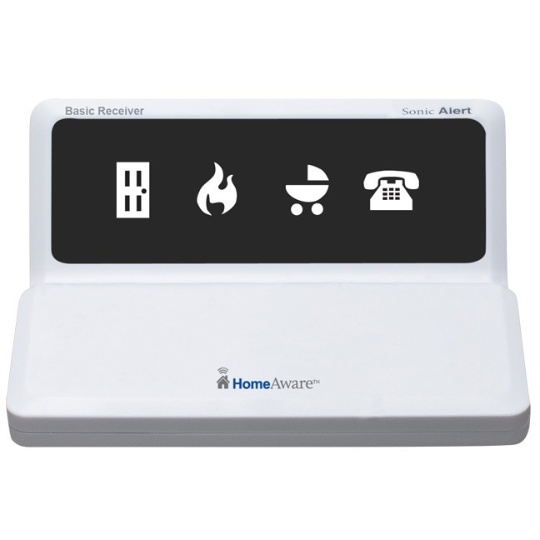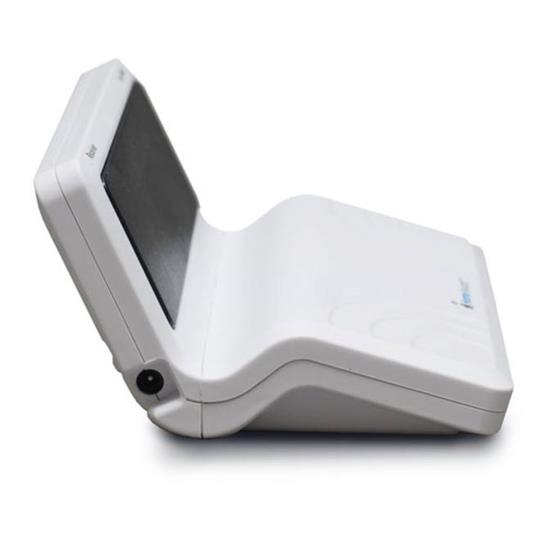 Sonic Alert HomeAware HA360BR Basic Receiver
The Basic Receiver is a cost effective way to receive alerts from the HomeAware HA360M Main Unit in every room of your home!
SKU #SA-HA360BRK IN STOCK
Ships FREE today
Most in-stock orders placed before 2pm CT (Mon-Fri) ship the same day. Ground shipping is FREE within the 48 contiguous United States. Expedited shipping options, as well as ground shipping to Alaska, Hawaii, Puerto Rico, or Canada are available for an extra charge.
Retail Price: $89.99Save $9.00
$80.99
QTY
Lowest price, guaranteed
Overview

Additional Details

Accessories

Q&A

Customer Reviews

Manual
The Basic Receiver has bright LED icons that will alert you to doorbell, baby cry, phone call, etc. Once a transmitter has sent a signal to the HA360M, the Basic Receiver will light up a corresponding icon, which will flash to get your attention.
Features
Bright, flashing LED Icons
Different flash patterns for each alert sent
Adds an additional 1 000ft of range to the HA360 Main Unit
Battery Backup (3 AA batteries not included)


Must be used with the HA360M Main Unit and does not receive signals directly from transmitters.


How to Set-Up:
Feature
Details
Brand
Sonic Alert
Mfg part #
HA360BRK
UPC
650518101159
Warranty
One year
Color
White
Weight (lbs)
0.61
Battery operated?
Yes (batteries optional)
Batteries included?
No
Country of Manufacture
China
System
Sonic Alert HomeAware
Alert Type(s)

Vibration

Flashing Light

Loud Audible

Low Vision / Deaf-Blind

No

Yes

No

No

Transmitter / Receiver
Receiver
Range (ft)
1000
Expandable
Yes
Portable
No
Battery backup
Yes
USB charger
No
Customer Q&A
Get help from Diglo and other customers who purchased this. Ask a new question.
How many batteries in the HA360BR? It lists "alkaline" but I was told rechargeable NiMH - which is it? Has anyone else had problems with "Low Batt" messages and the baby crier not picking up fast - even on High sensitivity?
The HA360BR Basic Receiver uses 3 AA alkaline batteries according to the manufacturer's instruction guide. I have experienced the "low batt" indicator; it was happening when the backup batteries had not been installed or were not installed properly.
from the
Diglo Team
,
05/11/21
Hi I purchased your product, Home Aware Main Master Clock Base and Basic Receiver, I would like to know if you have Smoke/CO Alarm device ? Thank you Candie
Hi Candie, Thanks for your question! The HomeAware system does not offer a stand alone smoke/co detector but, If you already have the Master portion of the HomeAware System there is an alarm sensor transmitter available to add on. You would need to have regular smoke/co alarms in your home already and could add the Sonic Alert HomeAware HA360SS-SC Smoke / CO Transmitter it has a built in microphone so if you place the Smoke/CO Transmitter near a detector it will listen for the T3 alarm sound from a smoke detector and the T4 sound from a CO detector. Once one of your detectors goes off, it sends a signal to the HA360 Main Unit, which will scroll "SMOKE" or "CO" across the screen depending on the emergency. If the Master unit you purchased is the MVSB model, then it already has a microphone in it that will activate the notification for it's self and any other receivers in the home and you would not need to purchase the additional HA360SS-SC transmitter.
from the
Diglo Team
,
01/11/21
Customer Reviews
Real people with real opinions. Post your own review.
I love Basic Receiver.
Review by on Feb 27, 2022 - Verified Customer
Basic Receiver work much better than old Sonic Alert system. It let me know if it is door bell ringing , phone ringing or fire alert,. It works on any outlets that old Sonic Alert don't work, No more crazy blink steady on old Sonic System when someone use batteries charges or use alot of LED lights . Basic Receiver works like radio.
Diglo Response:
We are happy you like this receiver, it's a nice upgrade from the older version! - The Diglo Team
Back to top