Sonic Alert HomeAware HA360 Master Signaling Package
The HA360 Master Package incorporates supervised safety, security and peace of mind. Each time a transmitter sends a signal, text will scroll by on the HA360M Main Unit's screen that displays the alert, such as "DO...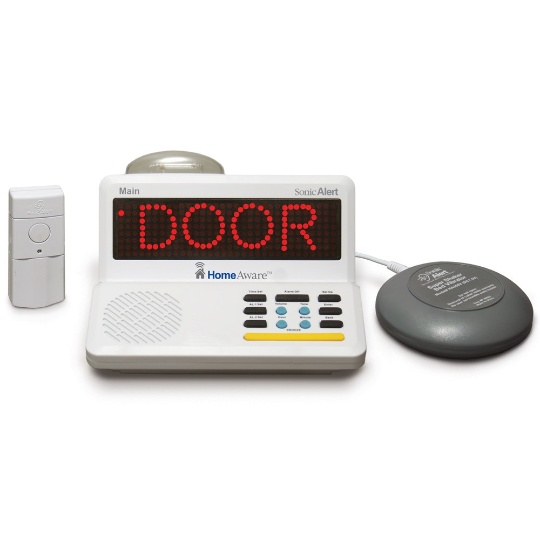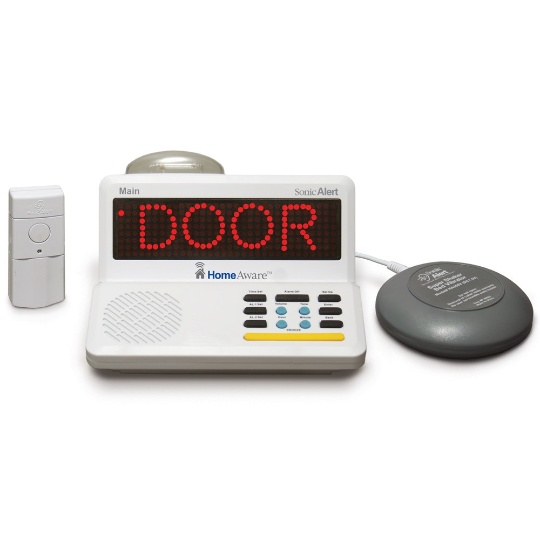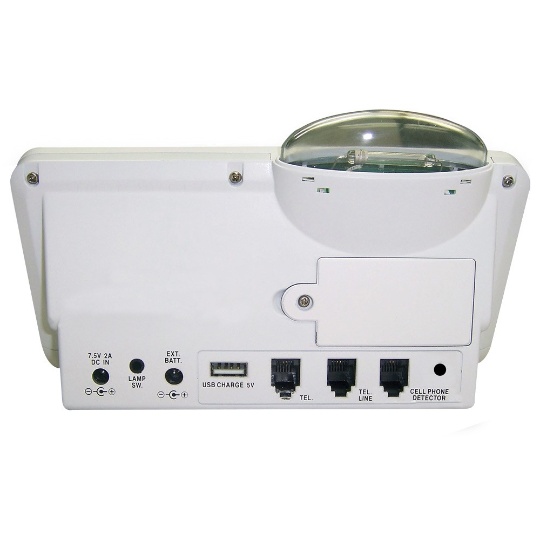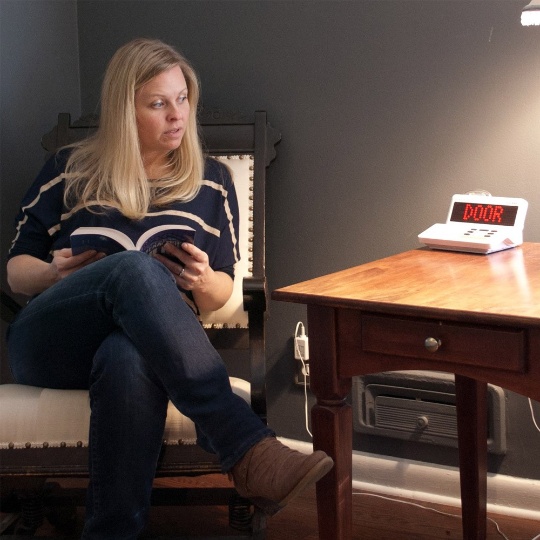 Sonic Alert HomeAware HA360 Master Signaling Package
The HA360 Master Package incorporates supervised safety, security and peace of mind. Each time a transmitter sends a signal, text will scroll by on the HA360M Main Unit's screen that displays the alert, such as "DO...
MORE
SKU #SA-HA360MK DISCONTINUED
$265.97
OPTION:



Overview

Additional Details

Accessories

Q&A

Customer Reviews

Manual
The HA360 Master Package will alert you to landline/videophone calls doorbell and is a fully functional alarm clock.
Never worry about missing an alert! The revolutionary TruAlert D-RF monitoring technology checks your system every 2-3 minutes 24/7 and even in the event of a power failure. If you have low batteries or a broken link the problem is reported on the HA360M's screen.

This is the first signaling system to have virtually unlimited range. There is up to 1 000 ft range between a transmitter and the HA360M. Add additional receivers (see We Also Recommend" tab) to extend the range another 1 000 ft from the new receiver.
Add additional transmitters to be alerted to different events such as smoke/CO and baby cry (see "We Also Recommend" tab) and add receivers to be alerted in every room of your home! Link up to 15 transmitters and receivers to the HA360M Main Unit for a system truly customized for you.
Features of the HA360M Main Unit:
Choose to be alerted by any or all: 110dB alarm powerful bed shaker and bright strobe
Scrolling text is much easier to read across the room than icons typically used on receivers
Monitoring of low batteries and broken links between HA360M and transmitters
1 000ft range with an additional 1 000ft per extra receiver
USB port for a charging cell phone
Automatic dimmer dual alarm and snooze functions on alarm clock
Volume and tone control for audible alarm
Caller ID for landline and videophone calls
USB plug charges your cell phone while you sleep
Battery Back-up for receiving alerts and full clock operation (requires 5 AA batteries—not included)
Link up to 15 transmitters and receivers to the HA360M Main Unit
Features of the Doorbell/Multi-Purpose Transmitter:
Each Doorbell/Multi-Purpose Transmitter can be programmed to alert you to one of eight different events (additional transmitters available - see accessories tab). When linking to the HA360M Main Unit you can choose for the scrolling text to read:
Door, Back Door, Front Door, Door 3, or Door 4: The transmitter can be wired into an existing A/C powered chimebox or can be used as a doorbell button
Help: Press the button on the transmitter and the scrolling text "help" will be displayed
Storm: Connect to any National Weather Alert Radio and the scrolling text "storm" will be displayed for any severe weather
Motion: Connect to a home alarm system and the scrolling text "motion" will be displayed for any alarm triggered
Feature
Details
Brand
Sonic Alert
Mfg part #
HA360MK
Warranty
One year
Color
White
Weight (lbs)
2.25
Battery operated?
Yes (batteries optional)
Batteries included?
No
Battery details
(5) AA Alkaline, (2) 357 Silver Oxide
Country of Manufacture
China
System
Sonic Alert HomeAware
Alert Type(s)

Vibration

Flashing Light

Loud Audible

Low Vision / Deaf-Blind

Yes

Yes

Yes

No

Transmitter / Receiver
Transmitter(s) and Receiver(s)
Alert Trigger(s)

Baby Cry

Carbon Monoxide

Mobile / Smartphone

Doorbell / door knock

Motion

Pager / SOS

Phone / VP

Smoke / Fire

Sound

Severe Weather

No

No

No

Yes

No

No

Yes

No

No

No

Range (ft)
1000
Expandable
Yes
Portable
No
Battery backup
Yes
USB charger
Yes
Customer Q&A
Get help from Diglo and other customers who purchased this. Ask a new question.
System seems to do its job. Not easy to set up. My AlertMaster -100 system was simple, reliable, no problems Main unit displayed " no link door" but when I rang doorbell it seemed OK. What is the problem? Pager works but sometimes flashes white light once or twice and there is no reason I can determine. What is flash on pager of 2 white lights? What is flash on pager of 2 yellow lights? Also, do I need to register with Sonic Alert for HELP on pager if button pressed for 3 sections? Who res
If the main unit is responsive to the door but the screen still shows "no link" you may need to go through the linking process again so it fully registers. The pager does use different colors for different alerts, but none are white light, what appears to be white might be a pale yellow though. Door - Green Baby – Blue Phone – Orange Smoke/CO – Red Cyan – Universal Low Battery – Single Yellow blinking light Lost Link – Double Yellow blinking light
from the
Diglo Team
,
10/04/21
Will I need a smoke transmitter in rooms that only have strobe lights that respond to the home alarm system that is activated by the actual smoke detectors in other rooms?
Hello Marilyn, You would want to purchase one of the SA-HA360SSSCK smoke/co transmitters to listen for your existing alarms so it can transmit a signal to the HomeAware receivers and alert you. Website description HA360SSSCK: Place the Smoke/CO Transmitter near a detector and it will listen for the T3 alarm sound from a smoke detector and the T4 sound from a CO detector. Once one of your detectors goes off, it sends a signal to the HA360 Main Unit, which will scroll "SMOKE" or "CO" across the screen depending on the emergency.
from the
Diglo Team
,
01/18/21
Customer Reviews
Real people with real opinions. Post your own review.
If your deaf or HoH what you waiting for?
Review by on Jan 20, 2023 - Verified Customer
BACK STORY: I am now fully deaf due to my 2nd brain surgery! At the moment I do NOT live my own but with my elderly mother! She refuses to see her other children and grandchildren because she doesn't want to leave me alone. So I told her I would look into make our home deaf safe! Taa daa I found Diglo and been eyeballing their site for 5 months debating. So I reached out to Diglo customer service and they let me know what would be beneficial to me in my situation! ???? FYI: you can link up to 15 transmitters to the Master Signal Kit! That's from Customer Service. So I ordered this Master Kit with doorbell along with 1 Smoke Detector/CO transmitter. I received it fast within 3 days of ordering. When I received it I had a issue and reached out to customer service via email and they replied back decent amount of time with suggestions on how to resolve the issue and it worked. So I linked the doorbell as help to the Master Kit and we tested it out and it works. Customer Service also suggested hanging the Smoke Detector/CO transmitter via a command hook. The light on top is extremely bright and the bed shaker is very powerful! I don't regret purchasing it even though it's a little pricey. I look forward to purchasing more Smoke Detector/CO transmitters over the next few months as there is 6 detectors in my home before my whole home is deaf safe to be left alone a week at a time!
Diglo Response:
Thank you for your review! I'm so happy we could help you and your mother gain some peace of mind in your lives.
Great Product !
Review by Marielle on Aug 16, 2017 - Verified Customer
I tried some less expensive products but they did not work. This Sonic Alert is working great. My mother just had surgery and I put the doorbell by her bed to wake me during the night. It works great.
Great Product
Review by Wimpy on Jun 20, 2016 - Verified Customer
I bought it because it's time to upgrade after over 2 decades with old clock. The best with it is large display for distance. Have backup, easier to tell me what it is, such as door, VRS, etc... And only one con, keep tell me link lost such as door. It is easy to set up but I do understand why people have trouble with instructions, I do, too. But draw pictures do helps. When have devices such as doorbell, smoke/co, etc, just open where batteries are in, there is a button to press when link is set from clock, in case if some are confusing.
Nice product, but should do more things ...
Review by Big Bear on Dec 8, 2015 - Verified Customer
That is the best one ever! I wish Sonic Alert HomeAware HA360MK has two doorbell transmitters (HA360DB) in the package. I noticed that Diglo does not sell "extra" doorbell transmitters (HA360DB) yet as I assume this product is so new that it might not be available at this time. **Yes, you are right. It is a new system and the extra doorbell transmitters were not available yet. They are here now (HC-HA360DB)! - Diglo**
Sonic Alert Home Aware System with accessories
Review by Fred on Jan 3, 2016 - Verified Customer
We bought this along with all accessories except for baby cry. We previously had the old Sonic Alert System which was not working very well -- had it for 9 years. Was very happy to have the new Wireless Sonic Alert System and everything works. Hopefully it will last long time. The instructions should have been more simple especially for the deaf.
too hard to setup
Review by Willie on Jan 11, 2016 - Verified Customer
Very confusing. Was working but I have to keep fixing the pairing won't stay. Had problems with my old Sonic doesn't seem this isn't any better.
Thank u thank u
Review by Jon M Comptin on Feb 19, 2016 - Verified Customer
I am very very happy with this awesome thank u keep up the awesome job God bless amen
Back to top