Panasonic KX-TGMA45S Expansion Handset for KX-TGM450S
Add up to 5 handsets to the Panasonic KX-TGM450S Amplified Phone base.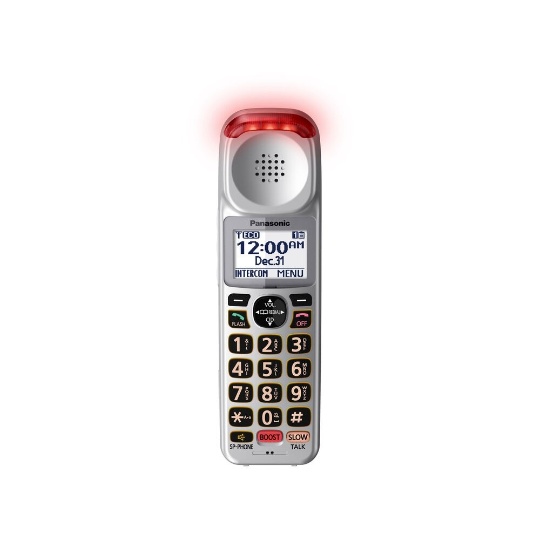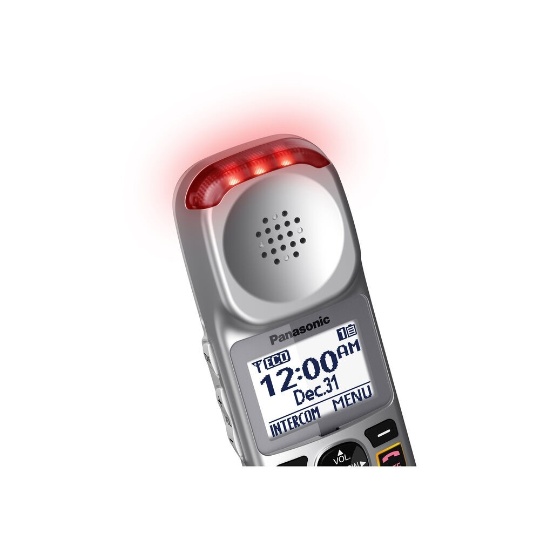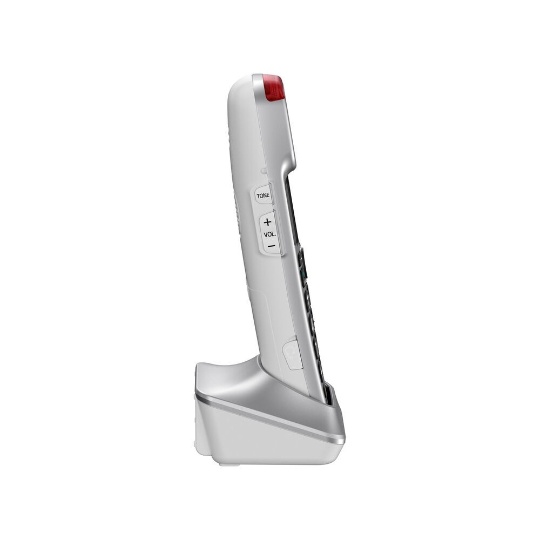 Panasonic KX-TGMA45S Expansion Handset for KX-TGM450S
Add up to 5 handsets to the Panasonic KX-TGM450S Amplified Phone base.
SKU #HC-KXTGMA45S BACKORDER
Expected in stock 10/31/2023
This item is on backorder and will ship as soon as we receive stock. The "expected in stock" date represents our best estimate, but is not guaranteed. Please call 800-825-6758 for more detailed information or assistance.
$109.99
QTY
Lowest price, guaranteed
Overview

Additional Details

Accessories

Q&A

Customer Reviews

Manual
Have multiple phones throughout your home at a fraction of the cost! Add up to 5 handsets to the Panasonic KX-TGM450S Amplified Phone base. These expansion handsets share all of the same features as the base phone. They come with their own charging dock, making them convenient to place in many rooms.
Feature
Details
Brand
Panasonic
Mfg part #
KX-TGMA45S
UPC
885170263079
Warranty
One year warranty
Color
Grey / Silver
Weight (lbs)
0.98
Battery operated?
Yes (batteries required)
Batteries included?
Yes
Battery details
(2) AAA NiMH
Country of Manufacture
Malaysia
Corded / Cordless
Cordless
Line-Powered
No
Battery backup
Yes
Expandable
Yes
Bluetooth
No
Degree(s) of Hearing Loss

Yes

Yes

Yes

Amplification (dB)
50
Boost override
Yes
Captions
No
Tone Control
Yes
Speakerphone
Yes
Answering machine
No
Caller ID Screen
Yes
Talking Caller ID
Yes
Talking Buttons
Yes
Photo Buttons
No
Outgoing speech amplification
No
Emergency Dialing
No
Low Mobility
No
Customer Q&A
Get help from Diglo and other customers who purchased this. Ask a new question.
Customer Reviews
Real people with real opinions. Post your own review.
Great product
Review by Diane on Apr 2, 2018 - Verified Customer
Well weighted handset and easy to read and use.
Great product
Review by Over 65 on Oct 3, 2018 - Verified Customer
I bought 2 other these to go with the main unit. My husband seems to like the easy menu and that is a big plus. I turned one of them way down for the bedroom ring. I was happy it went so low so we don't jump out of the bed with a louder than needed ring. These are great units.
Works Great
Review by Judy on Mar 27, 2017 - Verified Customer
I bought 3 handsets to go with the Panasonic KX-TGM450S. The entire system works well for my hearing loss and I can actually understand the person to whom I am speaking.
Much, much, much, much better than my old non amplified system.
Review by Mel on Jun 22, 2017 - Verified Customer
I could almost never understand incoming phone calls. Your agent, Kelly, suggested this system. It worked so well that I then bought four more so we now have a five phone system. Thank you Kelly.
Excellent Product
Review by Judy on Jul 30, 2019 - Verified Customer
I added this unit to our phone system so we have a phone available in most rooms of the house. I have a severe hearing loss and I like the slow talk feature as well as the boost feature. It allows me to understand the conversation.
Excellent phone
Review by SWB on Dec 4, 2019 - Verified Customer
Purchased this phone for my mom. She could no longer hear the caller on a regular phone. After trying and returning several phones, I came across Diglo. I spoke to an extremely helpful customer service woman who directed me to this phone. This phone worked out so well we ended up buying the same phone for my mother in law. Going to order an additional extension phone today. Thank you for your product and excellent customer service.
outstanding product does the job
Review by craig on Jan 31, 2020 - Verified Customer
Purchased for my hearing challenged inlaws when we noticed they could not engage in conversations over the phone as they had in the past. They had good hearing aids, just poor phones. After a lot of research read about these from Panasonic (base and extension). Tried it at home ourselves for 2 weeks and everything worked perfectly, boost, slow speech, storing and getting numbers, volume controls, blinking lights. Brought it to them in Florida, switched for their older portables and they could hear and understand the conversations and were much more engaged in the calls. Needless to say I found it worth the higher costs for them to be a part of society. They do not text well and found it challenging so phone calls are their only real communication with friends, physicians, family and wished they knew about these sooner. Ordered a base unit and one extension to replace same older system; answering machine works perfectly as well. Blinking lite when ringing helps a lot when they do not have their hearing aides in at night/bedtime.
Manual:
User Manual (Includes Handset) - Download
Back to top