Panasonic KX-TGM450S Amplified Phone
50dB extra loud amplification, ideal for those who have given up using the phone because it is a struggle to hear

Tone control defines and enhances sound quality

Slow talk control helps you better understand fast talkers w...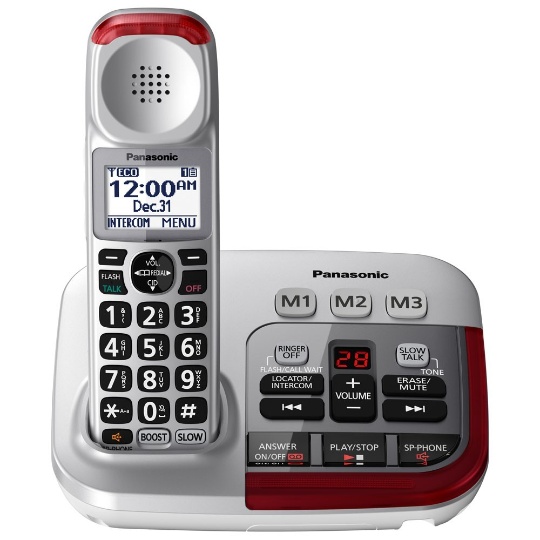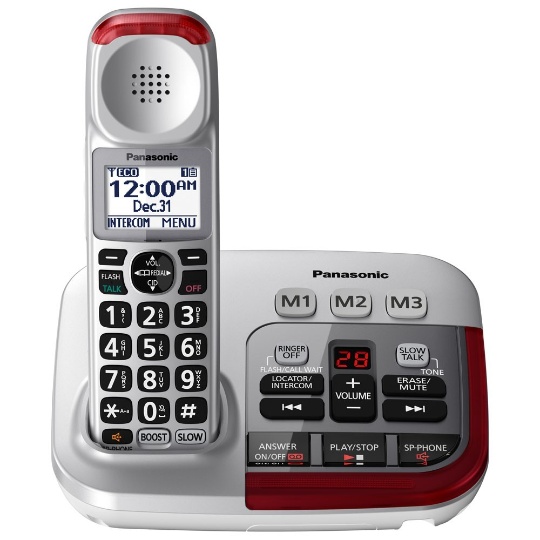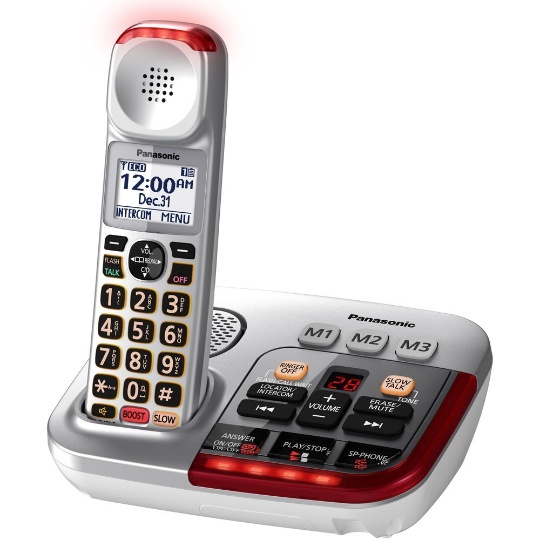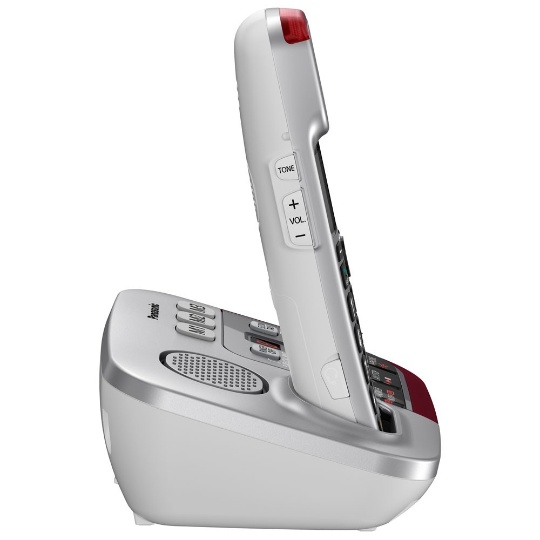 Panasonic KX-TGM450S Amplified Phone
50dB extra loud amplification, ideal for those who have given up using the phone because it is a struggle to hear

Tone control defines and enhances sound quality

Slow talk control helps you better understand fast talkers w...
MORE
SKU #HC-KXTGM450S IN STOCK
Ships FREE today
Most in-stock orders placed before 2pm CT (Mon-Fri) ship the same day. Ground shipping is FREE within the 48 contiguous United States. Expedited shipping options, as well as ground shipping to Alaska, Hawaii, Puerto Rico, or Canada are available for an extra charge.
Retail Price: $179.99Save $42.34
$137.65
OPTION:



QTY
Lowest price, guaranteed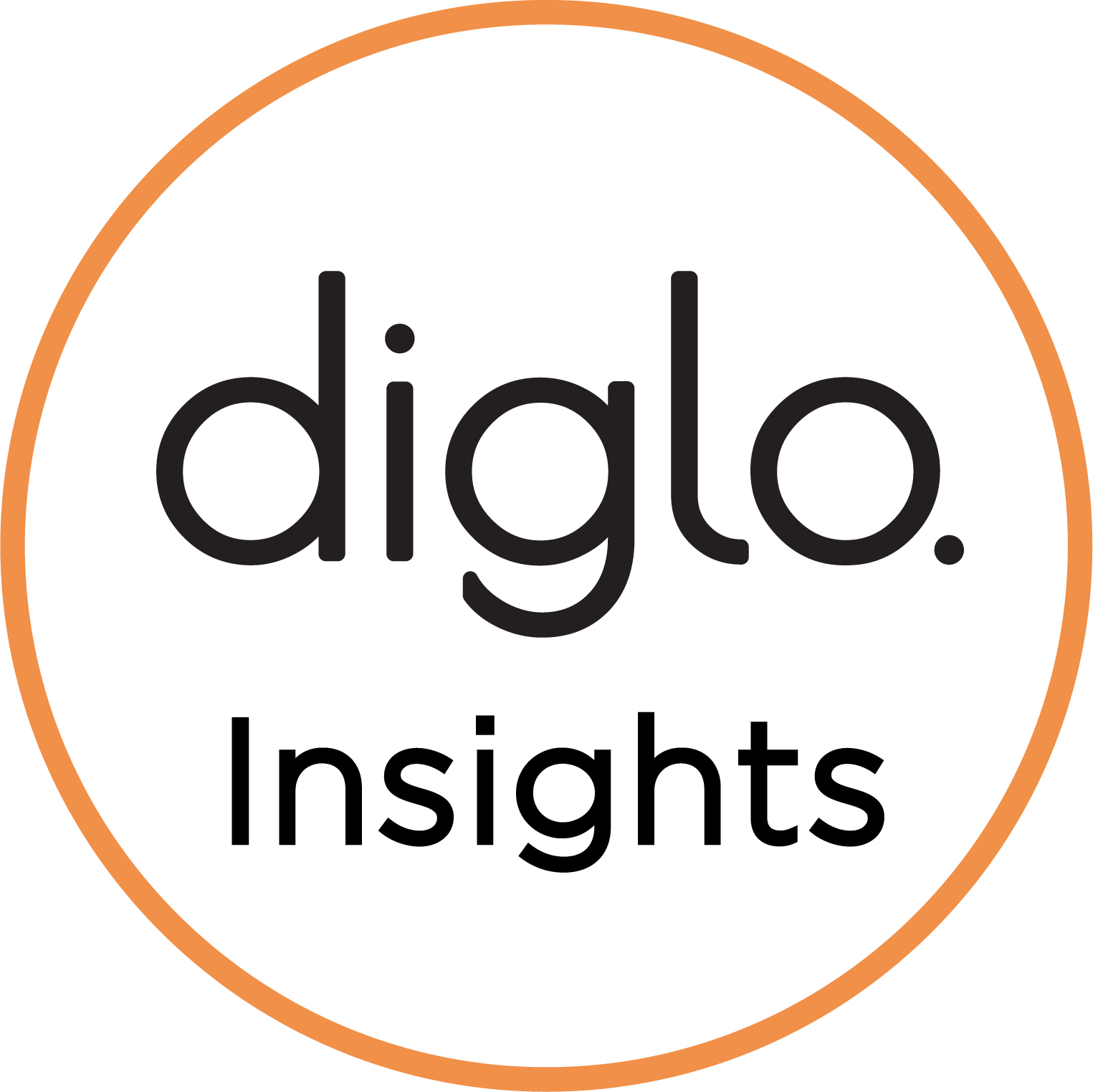 Our bestselling amplified phone
This is our bestselling amplified phone for good reason. It can get loud enough for almost any hearing loss, sounds fantastic, and has just about every feature you can imagine. The most unique feature ...
MORE
Overview

Additional Details

Accessories

Q&A

Customer Reviews

Manual
This reliable and easy-to-use phone improves many of problem areas those with hearing loss struggle with. Speech is louder with 50dB amplification, clearer with tone control and background noise reduction, fast talkers are better understood with slow talk control and with a loud/visual ringer you will always know when someone is calling!
Features:
DECT 6.0 technology for improved range and superior transmission between base and handset
50dB amplification
Amplified digital answering machine
Tone control - 6 level presets with customization options
Noise reduction for clearer calls from noisy locations
Amplified speakerphone with tone control
112dB loud ringer with bright red visual ringer
15 different ringtone options
Call waiting/Caller ID
Talking caller ID, keypad and phonebook
100 phonebook entries
English and Spanish LCD and talking caller ID option
3 memory buttons
Add up to 5 additional expansion handsets (see accessories)
2.5mm headset/neckloop jack
Built-in battery back-up-a fully charged handset provides up to 13 hours talk time and 9 days standby
Wall or desk mount
Hearing Aid Compatible
Feature
Details
Brand
Panasonic
Mfg part #
KX-TGM450S
UPC
885170263093
Warranty
One year warranty
Color
Grey / Silver
Weight (lbs)
2.46
Battery operated?
Yes (batteries required)
Batteries included?
Yes
Battery details
(4) AAA NiMH
What's included?
Handset, belt clip, (4) Ni-MH rechargeable batteries, Base with AC adaptor, telephone line cord, wall mounting adaptor
Country of Manufacture
Malaysia
Corded / Cordless
Cordless
Line-Powered
No
Battery backup
Yes
Expandable
Yes
Bluetooth
No
Degree(s) of Hearing Loss

Yes

Yes

Yes

Amplification (dB)
50
Boost override
Yes
Captions
No
Tone Control
Yes
Speakerphone
Yes
Answering machine
Yes
Caller ID Screen
Yes
Talking Caller ID
Yes
Talking Buttons
Yes
Photo Buttons
No
Outgoing speech amplification
No
Emergency Dialing
No
Low Mobility
No
Customer Q&A
Get help from Diglo and other customers who purchased this. Ask a new question.
Customer Reviews
Real people with real opinions. Post your own review.
Lifesaver !! - - - - Panasonic Amplified Phone
Review by on Dec 2, 2022 - Verified Customer
I enjoyed my first experience with this Panasonic Amplified phone yesterday in a work-related multiple-party conference call. For the first time, I heard everyone clearly and I didn't have to ask anyone to repeat what they said. My confidence soared as I could fully respond to others on the issues being discussed. I am overjoyed with this wonderful phone and I am giving serious consideration to purchasing an additional handset. Please have no hesitation to purchase this phone from Diglo. Diglo's customer service is outstanding and the phone was shipped to me incredibly quickly.
Diglo Response:
We are so delighted that the phone is working so well for you! Thank you sincerely for your recommendation and gratitude.
Great Product!
Review by Cindy on Dec 29, 2017 - Verified Customer
Ordered this and corresponding expansion handsets for my dad who wears hearing aids but still has some trouble hearing on the phone. He is so very happy with the sound quality and volume, and even more thrilled that the caller is announced before he picks up the call.
Very well pleased
Review by Sandy on Dec 30, 2017 - Verified Customer
Purchased these phones as a gift for my 93 yr old father in law and spouse. They have been beneficial for both of them. Enhanced their ability to converse with family and physicians.
A mighty fine product.
Review by Fred on Jan 26, 2018 - Verified Customer
It gets some getting used to, but the result is mighty good.
Perfect
Review by Nana23kids on Apr 10, 2018 - Verified Customer
This phone has been a god send for my husband. Even tho he wears hearing aids his hearing is still not good. He can finally have a conversation on the phone, I would highly recommend.
Disappointed.
Review by Bea on May 6, 2018 - Verified Customer
Was given Diglo catalog by Mayo Clinic Hearing. Ordered this phone for replace phone which was not loud enough for my husband. This is way TOO loud and we don't like the red flashing lights. Unplugged one day it yelled "NO POWER" loud enough to bother neighbors. I will be returning it. I have bought your Pocket Talkers for relatives who were very deaf and they were very pleased, and Mayo is recommending you. But this is not the phone for us.
I can use the phone again
Review by Barb on May 17, 2018 - Verified Customer
I wear hearing aids but could not understand people on my old phones. My daughter and son-in-law got me this phone and I can once again communicate on the phone. I'm a happy camper.
Great phone for anyone
Review by Dee on Jun 18, 2018 - Verified Customer
This phone has everything for any level of hearing loss.
Great product
Review by Over 65 on Oct 3, 2018 - Verified Customer
I thought it was easy to install and easily learned the menu. I like the boost button because my husband needs it but I don't. I like the easy block feature for those perserting calls. This is my second Panasonic. The last set is over ten years old.
caint complain
Review by rustybucket on Oct 31, 2018 - Verified Customer
have not had enough time to be fair about the machine take awhile to learn all the tricks
The answer to a prayer!
Review by Cherie on Jan 17, 2017 - Verified Customer
My 92 y/o mom lives with me now and her hearing is getting worse. The old phones I had just did not adjust loud enough. These are wonderful she can hear everything!
Fanstastic
Review by Linda on Jan 20, 2017 - Verified Customer
My 90 year old father in law could not hear with a regular phone now he can hear can hear everything being said. The booster is great on the phone and sometimes has to turn the volume down because it is to loud for him. What a great phone!!!
Wonderful
Review by Judy on Mar 27, 2017 - Verified Customer
This Panasonic phone is excellent for the hard of hearing. The volume and tone controls are great as well as the boost feature. The slow feature actually slows down the speech of someone speaking fast. This is a great cordless phone for the hard of hearing.
Great product
Review by Kim on Apr 4, 2017 - Verified Customer
I got this product at the recommendation of one of the staff members. I bought it for an elderly uncle who is very hard of hearing and won't get a hearing aid. He was fed up with his old phone and this phone works for him. Very pleased with it.
wonderful
Review by Sally on May 4, 2017 - Verified Customer
We purchased phones for my husband's mother, we liked hers very well. I knew when we needed new phones where we would get them. Great quality with features you can't find on phoned around here!
Great!
Review by Nancy on Jun 26, 2017 - Verified Customer
Answering system is great. One of the best features is the "Call blocking" feature where you can block an organization that continues to call daily. We ordered the phone since my husband has severe hearing loss, but I enjoy the features also.
Absolutely love this phone
Review by Howie on Jan 5, 2019 - Verified Customer
I absolutely love this phone. I had to purchase it for my mother who is losing her hearing. She could never hear her phone ring or hear the person in the other line when speaking. The phone I purchased is amazing! She hears the phone ring without the ringer volume even being close to its max volume. Same with the volume in the headset. She hears everything crystal clear. Definitely recommend this product for anyone with hearing issues. Thank you!
So far, so good
Review by Grateful on Mar 27, 2019 - Verified Customer
I purchased this phone for my 83 year old dad when our phone conversations turned into me yelling into the phone and his response was either silence or "whatever you say". He has had it for about a week and it has been wonderful. I was worried about it being too complicated for him if he had to turn up the volume himself, but I was able to set the boost to automatic and it works great.
Pleased and relieved
Review by Teresa on Jul 11, 2019 - Verified Customer
Highly recommend. Mom wears hearing aids and still struggles and this has been lovely.
Very good product
Review by Steve on Dec 12, 2019 - Verified Customer
My Mom and I like knowing who is calling after I punched in the numbers of family and friends. We like setting the volume since both of us are hard of hearing. We also like the slow button because sometimes people talk too fast or sound muffled.
Becoming with Hearing on the phone
Review by Fussy Suzie on Apr 1, 2020 - Verified Customer
This phone has challenged me. My learning curve though is up. Customer service is very helpful and patient. Practically no waiting when I call. Disappointed that the extension does not have a connection to connect my printer to my computer. Otherwise I am adjusting more and more to all of assists, especially the tone selection for my son who does not enunciate and speaks to fast (slow button good). I recommend this phone.
Great Phone
Review by Okie on May 26, 2020 - Verified Customer
This is a great phone for those that do not hear well on a regular phone. It is very helpful, I can now understand people on the phone and have real conversations. I recommend for anyone with trouble hearing on a normal phone.
Great phone !
Review by Nina on May 26, 2020 - Verified Customer
My 80 Year old Sister wears hearing aids & can't ser very well so we searched & bought this phone. She loves it ! She can see the big numbers on the handset & Can hear the phone ringing as well as during conversations. The Boost button also helps a lot! We highly recommend this phone!
Excellent phone that far exceeds our expectations
Review by TakingCareofDad on Aug 24, 2020 - Verified Customer
I purchased this phone for my dad and have been so incredibly impressed by its features. He is very hard of hearing and the beauty of this phone is that he can use the "boost" feature when he's not wearing his hearing aid and reset to normal setting when he is. He has thanked me numerous times since receiving this new phone and it has made it possible for him to one again easily communicate with friends and family over the phone. I definitely recommend this product!
Back to top