Yogasleep Zohne Travel White Noise Sound Machine
Select from 3 sounds to mask tinnitus and background noise for improved sleep

Travel ready-compact design and dual-voltage transformer with three plug adapters

Adjustable volume and tone control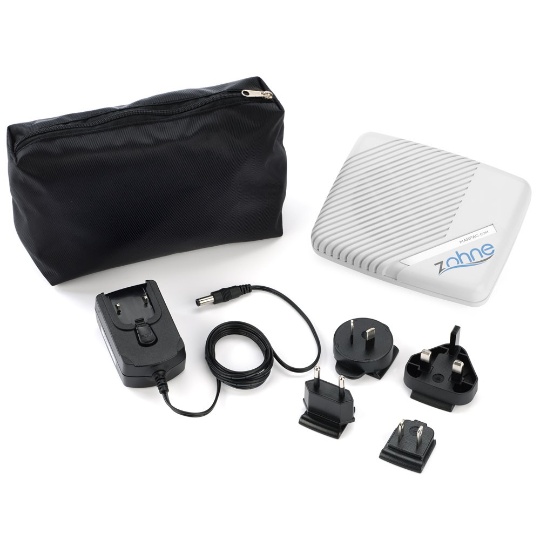 Yogasleep Zohne Travel White Noise Sound Machine
Select from 3 sounds to mask tinnitus and background noise for improved sleep

Travel ready-compact design and dual-voltage transformer with three plug adapters

Adjustable volume and tone control


SKU #MAR-ZOHNE IN STOCK
Ships FREE on Monday
This item will be shipped on Monday. Ground shipping is FREE within the 48 contiguous United States. Expedited shipping options, as well as ground shipping to Alaska, Hawaii, Puerto Rico, or Canada are available for an extra charge.
$84.99
QTY
Lowest price, guaranteed
Overview

Additional Details

Accessories

Q&A

Customer Reviews

Manual
The Zohne makes it easy to tune out distracting noises and enjoy a healthy night's sleep at home or on the road. A touch of one switch produces soothing white noise in your choice of rain, waterfall, wave (surf), and the easy slide control lets you customize the tone of your chosen soundscape. The Zohne produces full-sized sound conditioning in a more portable package; it comes ready to travel with a dual-voltage transformer and set of three plug adapters.
Features:
Up to 84dB amplification
Natural White Noise featuring signature Yogasleep Sound without digital loops or recordings
Volume control
Tone control allows you to match the tone of your tinnitus, blocking it more effectively
Three sounds: rain, waterfall or wave/surf
A/C powered
Includes US, EU, UK and Australian plug adaptors and travel pouch
Dimensions: 5 5/8" L x 4 1/8" H x 2 1/4" D
Feature
Details
Brand
Yogasleep
Mfg part #
2408400
UPC
036005003340
Warranty
One year limited warranty
Color
White
Weight (lbs)
1.31
Battery operated?
No
Country of Manufacture
United States
Travel / Portable
Yes
Alarm Clock
No
Radio
No
Bluetooth
No
Smartphone Compatibility

No

No

Sound Source
Speaker
# of sounds
3
Run Time(s)

Continuous

30 min

60 min

90 min

Yes

No

No

No
Customer Q&A
Get help from Diglo and other customers who purchased this. Ask a new question.
Customer Reviews
Real people with real opinions. Post your own review.
Back to top