Wilderness Journey Sound Card for S-550-05 Sound Therapy System
6 sounds to help you sleep better, relax and think more effectively

Use with S-550-05 Sound Therapy System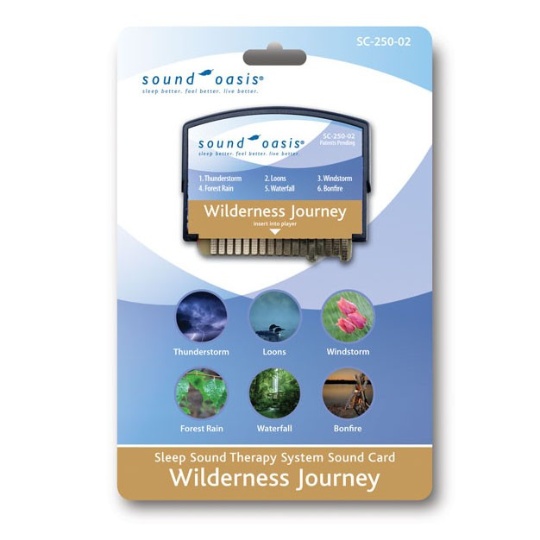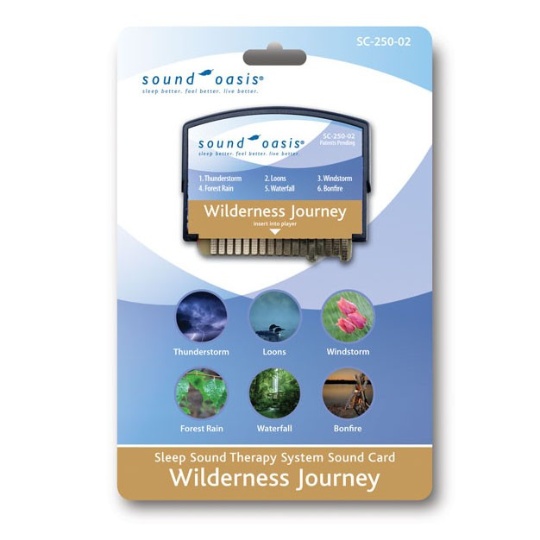 Wilderness Journey Sound Card for S-550-05 Sound Therapy System
6 sounds to help you sleep better, relax and think more effectively

Use with S-550-05 Sound Therapy System

SKU #HC-SC250-02 DISCONTINUED
$19.99
Overview

Additional Details

Accessories

Q&A

Customer Reviews

Manual
Sounds Included:
Crashing Waves on Rocky Point: Take a break and walk along a jagged coastline as you listen to the powerful, yet exhilarating, crash of waves against the rocks
Thunderstorm in the Wilderness: Unwind to the exhilarating, but soothing sound of distant thunder as gentle rain falls upon a remote lake
Forest Rain: Relax to the steady tapping of refreshing mountain rain as it pelts the dense forest floor
Waterfall: Block out unwanted noise or drift off to sleep with the natural "white noise" effect of a thundering waterfall
Loons on Wilderness Lake: Experience the peacefulness, yet sense of adventure associated with the lingering, captivating calls of loons on a secluded lake
Mountain Valley Windstorm: Nestle in as a powerful, but calming windstorm blows through a deep mountain valley
Roaring Bonfire: During the still of a wilderness night, enjoy the solitude and warmth of a roaring bonfire with mesmerizing, glowing embers
Feature
Details
Brand
Sound Oasis
Mfg part #
SC-250-02
Weight (lbs)
0.06
Battery operated?
No
Country of Manufacture
China
Customer Q&A
Get help from Diglo and other customers who purchased this. Ask a new question.
Customer Reviews
Real people with real opinions. Post your own review.
Manual:
Back to top