Unisar DH900 TV Listening System
The DH900 is an 2.4GHz under-the-chin TV amplifier listening system by Unisar that wirelessly enhances sound from your TV and other audio sources so you can hear more clearly.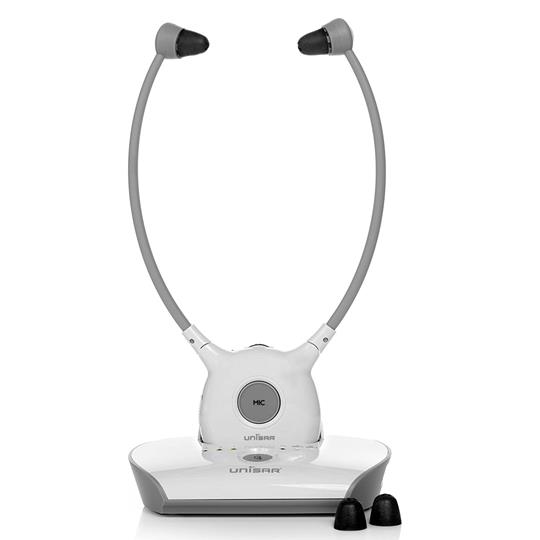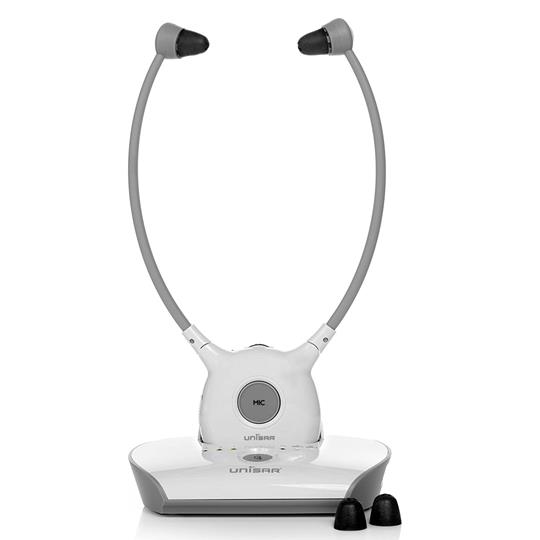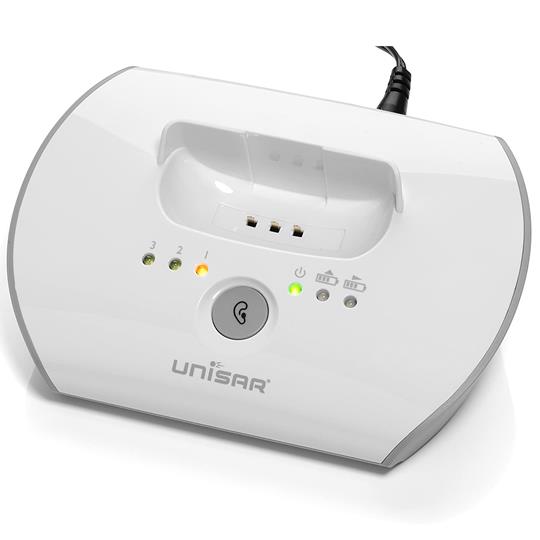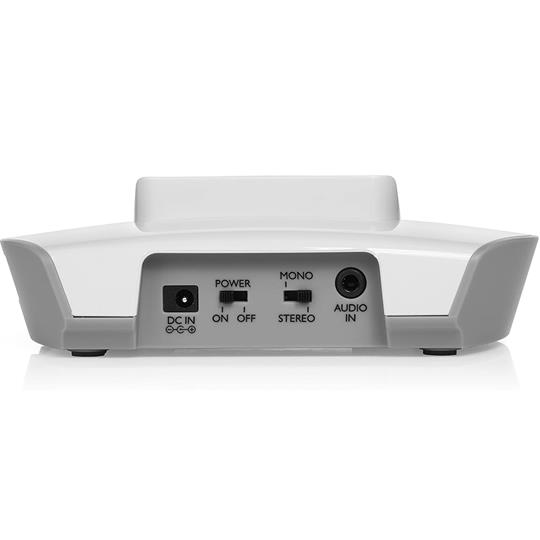 Unisar DH900 TV Listening System
The DH900 is an 2.4GHz under-the-chin TV amplifier listening system by Unisar that wirelessly enhances sound from your TV and other audio sources so you can hear more clearly.
SKU #HC-DH900 IN STOCK
Ships FREE on Monday
This item will be shipped on Monday. Ground shipping is FREE within the 48 contiguous United States. Expedited shipping options, as well as ground shipping to Alaska, Hawaii, Puerto Rico, or Canada are available for an extra charge.
Retail Price: $99.95Save $9.96
$89.99
QTY
Lowest price, guaranteed
Overview

Additional Details

Accessories

Q&A

Customer Reviews

Manual
The 2.4GHz wireless Unisar DH900 TV amplifier listening system with under-the-chin stethoset-style headset receiver is designed to wirelessly enhance sound from your TV and other audio sources. The TV amplifier's headset receiver features a mute button that turns off sound from the DH900 transmitter and turns on the built-in microphone for amplifying conversations around you.
Features:
2.4GHz wireless RF (radio frequency) digital technology (mono or stereo)

Headset mute button turns off sound from transmitter and turns on built-in mic for amplifying conversations around you

Volume control

4 tone settings

Balance control

Compartment for charging extra battery
Includes:
DH900 TV amplifier receiver and transmitter base

2 rechargeable batteries

2 earbuds

Connection cables
How DH900 Works:
Feature
Details
Brand
Unisar
Mfg part #
DH900
UPC
850210000600
Warranty
One year warranty
Color
White
Weight (lbs)
1.04
Battery operated?
Yes (batteries required)
Batteries included?
Yes
Battery details
(2) Lithium Polymer
Country of Manufacture
China
Technology
Radio Frequency
Wearing Style
Stethoscope
Expandable
No
Wireless Range (ft)
75
Tone Control
Yes
Balance Control
Yes
Built-In Mic
Yes
Rechargeable
Yes
Customer Q&A
Get help from Diglo and other customers who purchased this. Ask a new question.
Customer Reviews
Real people with real opinions. Post your own review.
TV ears
Review by on Dec 24, 2022 - Verified Customer
I ask myself what took me so long to purchase the Unisar TV listening ears. It's because I didn't know about Diglo. The staff is wonderful in listening to my hearing concerns and made several recommendations. This product is perfect for my severe hearing loss. The volume control for each ear balances the incoming sound, along with the high/ low frequencies adjustment. Love my TV ears and highly recommend them. Thank you, Diglo for great service and products available
Diglo Response:
Thank you for your review!
Satisfied
Review by MrL on May 17, 2017 - Verified Customer
Works great, finally! My system needed the converter to operate. The instructions sucks and I was directed to watch a video for setup. Problem is, my Internet connection is so bad that I can't watch a video without buffering every 18 seceond - yes, I know, I'd pay anything for a better one but they ain't available in this area. So, I watch the video at the library, took notes, bought 2 converters before finding one that worked and finally, after 5 or 6 weeks, got it to work. 5 stars for the product, 3 stars for poor printed directions and forcing buyers to other sources, final score on this review: 4 stars.
Works well and convenient
Review by jzweig on Jan 3, 2014 - Verified Customer
I bought this for my mother who worries about turning the volume up too high on the TV early in the morning or late at night. She used to read closed captioning all of the time. Now she can watch and listen to the music in the shows. It sounds great and connects very easily. I like the extra battery and charging compartment. My mother loves it also because they are not earmuffs.
excellent.
Review by I don't even know what this means!!!! on Jan 6, 2014 - Verified Customer
I am hard of hearing and needed this item very much. I am really enjoying it. Thanks very much.. Carolyn Webb
A Real Problem-Solver!
Review by mothra7 on Feb 1, 2014 - Verified Customer
My husband always has the tv turned up so loud! I looked into "TV Ears", but the reviews were mixed so I decided to investigate other options. I found this website and ordered the product. It performs so well and eliminates the tug-of-war that surrounds tv volume in our home. Thanks for a great product! We love it!
Excellent product
Review by george on Feb 3, 2014 - Verified Customer
For years I have used [...]. They are poorly made with the temples breaking at the battery area, I received my DH 900 last week and it is great. Wish I had this aid years ago. Well built, sturdy and the radio waves are heard all over the house. The cost is a super deal. George
very pleased
Review by Fred on Feb 4, 2014 - Verified Customer
Very pleased with the Unisar DH900. Have had Sennheiser wireless head phones at more than twice the cost. Like these ones as well. Hope they last longer
Good but ear pieces need redesigned
Review by Bobbie on Feb 11, 2014 - Verified Customer
After 3 t.v. ears that don't hold up I was pleased to see that this seems to be better quality and it works very well. However my one complaint is that the earphones are too stiff, hard and not adjustable.. I found that putting them so they are on my head rather than hanging down is more comfortable on the ears.
Good Product Quality Unit
Review by Robert on Feb 14, 2014 - Verified Customer
I could not be more pleased with this listening device. I have a damaged left ear drum and normally hear about 10 percent or less of the volume I hear in my right ear. The balance control on this unit allows me to adjust the output volume to sound equal in each ear. Good bye closed captioning; it is nice to hear TV again. Watching TV, the sound output is clear and noise-free, though in the room listening mode there is a slight hollow or echo sound that does not bother conversation. I have not experimented with the tone control as the default setting is perfect for me. The Unisar DH900 is new to the market and I was reluctant to buy as I could find only 2 consumer reviews at six or eight merchants. Two weeks later, I see six, all at Diglo and all 5 stars. One reviewer thought the ear buds NOT adjustable. The ear pieces DO swivel 360 degrees inward, but the ear bud covering the ear piece makes it a little stiff to adjust. During my research I was shocked at the cost of replacement parts for TV EARS. I saw prices of $19.95 for 5 pair replacement ear buds and $24.94 for a replacement battery. The ear pieces for the DH900 are one quarter inch in diameter and would use a large standard replacement ear bud (12 pair for $6.95) at earphones plus.com though an extra pair of ear buds and an extra battery ships with the unit. Both batteries can be charged together. They are fast charging and the charging diode goes from red to green in one hour or less. However Unisar recommends a three hour charge prior to use. It uses a MLP503131P 320Ah 201343 battery that I have been unable to find. I see a very similar battery with like numbers made in china. I think this device is headed for a major share of the TV listening market. I was lucky to find it on sale for $84.96. Now all is see are $99 prices, which is still a great buy.
Exelent product
Review by Sankab on Apr 1, 2015 - Verified Customer
I bought the Unisar DH900 for my elderly mother and it had emproved her live greatly! Mom is happy that she can clearly hear her TV and, I think, her neighbors are even happier because she doesn't blast the volume any longer. It's very easy to install and even easier to use. Thanks for the great product!!!
Absolute best!
Review by Jo on May 11, 2015 - Verified Customer
This was better than I hoped for! Easy to install and great sound quality. If/when it wears out, I will get the same thing again.
Great product; poor instructions
Review by Bill on Aug 10, 2015 - Verified Customer
Completely satisfied with the product. In all aspects it is a marked improvement over TV Ears including sound quality, design, looks and reliability. I only give it 4 stars because of the poor instruction manual. No explanation at all on what the Mic is for and how to hook it up. Also applaud your return policy. Had to use it because of a defective power supply and it worked well. Thank you.
Works great/the ear piece is uncomfortable
Review by Sheila on Sep 23, 2015 - Verified Customer
The sound quality is perfect for my purposes. The ear piece is heavy, though and hurts my ears after using it for a while. I haven't used any other listening device, so I can't make a comparison, but overall, I am very satisfied with my purchase. I can deal with the ear piece.
Works well and comfortable
Review by Rog on Sep 23, 2015 - Verified Customer
Only one negative. When room mike is on it kills the TV sound, so you are audibly out of touch when watching TV.
Good features, poor quality
Review by JHB on Oct 29, 2015 - Verified Customer
Works great out of the box, but then fell apart. Very poorly made china product. Screws holding headset together either broke the sockets, or the sockets wouldn't hold. I am trying to have the headset replaced by warranty, but we will see how that goes.
easy to set up and use
Review by GiGi's headphones on Nov 25, 2015 - Verified Customer
Thank you for offering a product that works and is easy to set up.
Worth the price
Review by Wally on Dec 17, 2015 - Verified Customer
Very easy to set up. Easy for people in their 90s to use. Not a 5* sound but that was not expected at the price it sells for. The microphone is of little use.
Good peacemaker
Review by LB on Dec 31, 2015 - Verified Customer
I bought the unit for my hard of hearing husband, who was beginning to turn the TV volume to painful levels. He can now hear at his preferred volume without driving me crazy. His only complaint is that the ear buds are not comfortable.
It does the job
Review by Jack on Jan 12, 2016 - Verified Customer
Honestly it is better than I expected. I lost one of the ear pieces, but the is another set in the box. Sound quality is not top notch, but I can now hear the television. It's all good.
Ease of use, Longevity of Sound, and seeming Durability
Review by HearingWell on Feb 15, 2016 - Verified Customer
It exceeds my anticipation because other items - including classical hearing aids - were/are more cumbersome and expensive!
best product I've had
Review by kyfarmer on Feb 25, 2014 - Verified Customer
TV viewing involved blaring sound or not hearing a word. Now everyone can enjoy. Had other products but this surpasses others in their clarity of sound, comfort, and ease of use. Highly recommend Unisar DH900
A happy wife is a happy life
Review by Don on Mar 3, 2014 - Verified Customer
My wife can hear a mouse sneeze a hundred feet away, I am not that fortunate. This unit has been a blessing, no longer do I have to listen to the programs as though the actors are whispering. This is a great product.
Excellent Amplification/Ear Piece Needs Work
Review by Nancy on Mar 3, 2014 - Verified Customer
The sound quality on this system is exceptional. It's a bit heavier than others I've tried and I agree with a previous reviewer that the ear buds need to be more flexible/softer. I have sensitive inner ears and between the slight additional weight and hard rubber, I find myself adjusting them often. That said, it's small price to pay for such excellent and adjustable sound.
Best purchase
Review by MaryM on Apr 29, 2014 - Verified Customer
This was recommended to me by a friend and I immediately purchased it. I wasn't all that sure what to expect, but have been completely happy and satisfied. It's amazing that I can turn the sound down and be able to hear where as before I had to turn sound up to the highest on tv and sometimes that didn't even work. I don't have a problem with all shows, but ones I did, have been happily solved. I was able to recommend this to a relative and friend after my rave reviews. Thank you
My Mom Can Finally Hear the TV
Review by Geri-Ann on Jul 8, 2014 - Verified Customer
My mother is extremely hard of hearing, even with hearing aids. For years, she's used TV Ears, but she missed half of what was going on. The static was terrible. I bought a pair of these, hoping they'd work better for her. They work perfectly! The sound is exceptionally clear. Having an extra battery is great. I've ordered 3 more for her house.
Easy solution for tv enjoyment!!!!
Review by Harrys stepdaughter on Jul 22, 2014 - Verified Customer
Plug it in and use it! Superior audio from tv/ cable box... Microphone amplifies conversation in room perfectly! This is a great deal!!! Even if you don't have hearing problems.... Great solution to headphone listening while cleaning house.... We love this product!
Very nice. Agree about the ear buds
Review by Of on Jul 25, 2014 - Verified Customer
What the heck is the external mike for. Your manual did not explain its use or placement Diglo response: Thank you for your review. To answer your question, the external mic allows you to hear someone talking to you without having to remove the headset receiver. It mutes the TV. If you have any additional questions, please contact us.
3 stars
Review by Gib on Aug 6, 2014 - Verified Customer
Looks nice eady to install though instructions are not very detailed. When you switch to the mic, the beep is way too loud; it hurts my ears! Earbuds are hard and the unit is heavy making my ears sore. The volume control is affected by the volume on the TV; not a good situation.
A fine unit
Review by Marv on Jan 6, 2015 - Verified Customer
I just received this unit and it is a fine piece of equipment. The sound quality is first rate. The ear plugs should be a bit softer.
Good Performance with a Fault
Review by Hugh on May 30, 2019 - Verified Customer
I just bought my second unit. The sound quality is very good, but the Headphone unit is too fragile at the pivot. I believe I handled it gingerly, but one side broke during removal. A change of the pivots would make this unit remarkable listening system.
Life-improving!
Review by PB on Sep 21, 2020 - Verified Customer
I will never miss a word again! Not only is it wonderful to be able to hear the dialogue on a tv show, but to be able to amplify the voices of loved ones in the home makes me feel part of the family again. The sound is crystal clear, it's very light-weight, easy to set up..it's an A+ from me!
Back to top