Traceable Three Alert Vibrating Multi-Timer
A solid, stylish and portable timer that gives you 3 alerting modes when you need to be reminded that time is up.
Compact timer for cooking, parking meters, speeches and more.

Alerts with vibration, flashing LED light, sou...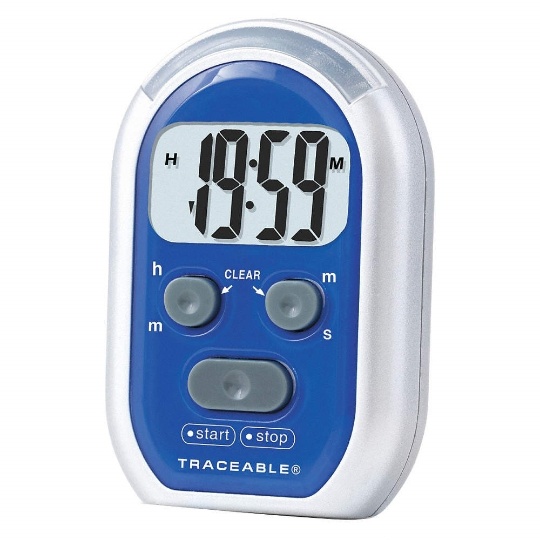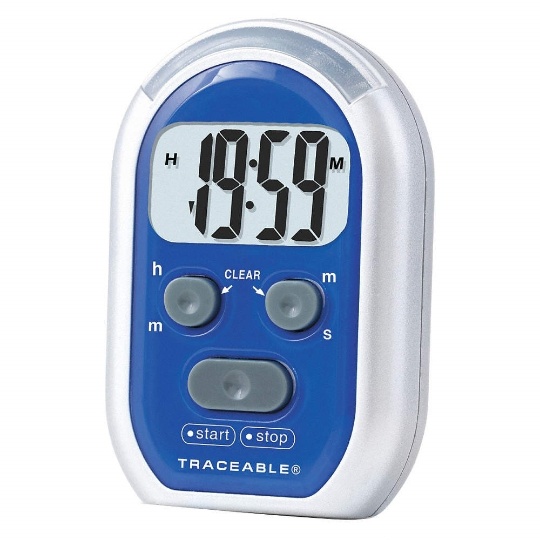 Traceable Three Alert Vibrating Multi-Timer
A solid, stylish and portable timer that gives you 3 alerting modes when you need to be reminded that time is up.
Compact timer for cooking, parking meters, speeches and more.

Alerts with vibration, flashing LED light, sou...
MORE
SKU #HC-V/TIMER IN STOCK
Ships FREE on Monday
This item will be shipped on Monday. Ground shipping is FREE within the 48 contiguous United States. Expedited shipping options, as well as ground shipping to Alaska, Hawaii, Puerto Rico, or Canada are available for an extra charge.
Retail Price: $27.71Save $4.21
$23.50
QTY
Lowest price, guaranteed
Overview

Additional Details

Accessories

Q&A

Customer Reviews

Manual
This compact timer gives you 3 modes of alerts with any combination of vibration, flashing LED light or audible sound to let you know when time is up. Great as a cooking timer in the kitchen, when it's time to put more money in the parking meter, speeches and more. Ideal for loud environments when hearing a buzzer is impossible. Individually numbered keys make setting time fast and easy.
Features:
Count up or down timing

Automatic memory recalls last timer setting

Counts up in Stopwatch mode

Easily change settings from h:m (hours:minutes) and m:s (minutes:seconds) timer

Dimensions: 3" x 1.75" x 1.75"

Includes built-in stand, opening for lanyard, magnet back, AAA battery and accuracy certificate

Easy to read display

NOTE: this item does not have a clock function
Feature
Details
Mfg part #
38ZC68
Warranty
One year warranty
Color
Blue
Weight (lbs)
0.2
Battery operated?
Yes (batteries required)
Batteries included?
Yes
Battery details
(2) AAA Alkaline
Country of Manufacture
China
Alert Type(s)

Vibration

Flashing Light

Loud Audible

Yes

Yes

Yes

Bluetooth
No
Smartphone Compatibility

No

No

# of Alarms
1
Customer Q&A
Get help from Diglo and other customers who purchased this. Ask a new question.
Customer Reviews
Real people with real opinions. Post your own review.
Best I've Found
Review by Gpa41 on Sep 8, 2017 - Verified Customer
I purchased this timer entirely for it's vibrating feature. Previously, I had purchased and returned two similar products because they would not wake a sleeping deaf baby, let alone an old man. This works-- barely. It would rate a fifth star if it shook with more vigor.
Does what I needed it for...mostly
Review by Woozle on Sep 12, 2017 - Verified Customer
Born with a hearing loss that prohibits using anything with a high-pitched tone, I looked for a vibrating timer which would silently alert me to take meds and to test my blood. This one does vibrate, but also buzzes so loudly that it can be heard by my customers across the store! Two problems I do have with this timer: It can not be turned off completely when I do not need it, and the button for turning the timer function on and off is prominently placed in mid front, where I keep hitting it while wearing it on my belt or pocket. Still, it does do what I need it to, if only as an irritating reminder to keep my eye on the clock! I expect that it would work perfectly for someone who was not actually wearing it, and the buzzing would alert someone who had placed it on their desk or refrigerator. Give it a try!
Good product
Review by Bill on Sep 26, 2017 - Verified Customer
Does everything as described. Price is right.
Wore one out . Bought second one.
Review by Freddy on Dec 1, 2017 - Verified Customer
Use it every week for one thing or another.
So-so
Review by GaryB on Dec 25, 2017 - Verified Customer
Beep can barely be heard, and I'm a hearing person. Bought for my deaf wife. She uses the vibrate function, or makes sure the light is within her field of vision while cooking. Hint on opening the battery compartment: push down on the arrow and pull out at the same time. Otherwise you'll be pulling on it all day and it wont open.
perfect for my needs
Review by Bill on May 4, 2018 - Verified Customer
I use the flashing red light for timing my meditation sessions. Also use buzzer and light when out on the patio or in garage to remind me of something that needs tending. Good size, simple, timer bell plenty loud enough for me.
Works very well.
Review by saintchuck on Aug 13, 2018 - Verified Customer
I got this mainly for the light feature, since when I'm wearing headphones I can't hear a timer. So I keep it in my field of vision. Works great! Only complaint would be that I was using the magnet feature to hold it to the fridge, lightly bumped it, and the magnet stayed on the fridge and the timer fell off to the floor and the battery cover fell off. Fortunately the timer was OK. I miss being able to mount it with the magnet, but other that that it's a great product. Very solid and stylish. I call it R2-D2.
Returning item
Review by glp on Sep 26, 2018 - Verified Customer
No instructions and neither my husband nor myself can figure out how to use it. Have to return it.
Perfect for measuring respirations of patients
Review by Jen on May 30, 2016 - Verified Customer
This is perfect because of the vibrate alarm so a nurse can measure a patients respirations without having to look back and forth between the second hand on a clock and the patients chest. I love it!
disappointed
Review by R on Jun 30, 2016 - Verified Customer
I am hard of hearing, unless I clip the Quake-N-Wake on my waist band, touching my skin, I do not feel it vibrate. It needs to be strong enough for me to clip it at my neck and feel it. The sound is not adequate for my needs either.
Perfect for my husband
Review by Ginny on Aug 1, 2016 - Verified Customer
My husband can't hear the high pitched beeper of timers but the flashing light and vibrator when set of a table work wonderfully. Glad that someone invented this style of timer.
Fantastic
Review by RMMMK on Aug 8, 2016 - Verified Customer
I have purchased several timers I couldn't hear any of them, due to hearing loss caused by firing guns in the service. The Quake-N-Wake is the first timer I can hear. Thank you!
Great timer.
Review by Abby's mom on Sep 12, 2016 - Verified Customer
Excellent timer Second one I have had. Easy to use and read
Best Timer Out There!
Review by Abel on Dec 2, 2016 - Verified Customer
We needed a timer that would flash, and beep but this one also vibrates! Its very loud and easy to use.
works
Review by kl on Dec 26, 2016 - Verified Customer
volume not as loud as i had hoped. belt clip and magnet makes it convenient to attach.
love it
Review by jmp on Jan 17, 2017 - Verified Customer
I love this timer. In fact I bought 2 of them. Stays on til I turn it off. My grandson is deaf and also loves this he can see the flashing for when he cooks.
Absolutely wonderful
Review by Zelzah on Apr 1, 2017 - Verified Customer
My deaf son liked it so well I bought another one for him to use in his spa for relaxation therapy. LOVES the flashing light vs. having to look at a manual timer constantly. Wish the whole timer was larger though for sight and function use by elderly folks--old fingers don't work as easy on small buttons. It is of great use to the deaf.
A little tweaking and it would be PERFECT !
Review by Gary B on May 3, 2017 - Verified Customer
To be as positive as I can regarding this product. You're missing a great opportunity if only it were tweaked a bit. LED, Piezo buzzer technology to enhance the light and sound to be brighter and louder. An ON/OFF switch for battery preservation. Easier way to "0" out the timer. Optional - Audio interface for ear buds? For my application, I would easily pay for these features. I suggest that you Offer a "Deluxe" product with those attributes. I'm sure everyone writing would be glad to test this out! GB
unusable
Review by steve on May 29, 2017 - Verified Customer
I could not force open the battery compartment to install batteries. I had to return the item.
Excellent
Review by Millie on Jun 20, 2017 - Verified Customer
I attach it at my shoulder when I sleep and its vibrations GENTLY wakens me. No other alarm clocks waken me after several years of not waking up on time. Thank you.
works well
Review by niteowl on Aug 27, 2013 - Verified Customer
This product works well, but instruction of use could be simpler.
Great timer for meditation . . .
Review by Ro on Oct 11, 2013 - Verified Customer
We use this timer for meditation. The blinking red light reminds us when time is up without a harsh sound, which might disrupt our concentration.
Ideal for Call Center Jobs!
Review by Steph on Nov 26, 2013 - Verified Customer
I use this timer at my call center job to help me keep track of my after-call work, hold times, and break times! My stats have improved significantly. It's very easy to use and the vibrate mode is non-disruptive - my coworkers don't even notice. I love this timer so much I'm going to buy a second one to use around the house - it's definitely going to be my Go-To Timer
could use a few tweaks
Review by Rachel on Mar 18, 2015 - Verified Customer
I got this timer for a hearing impaired friend. The flashing light could also flash on the front of the timer in addition to the top. It should also come with a hook or ring so they could wear it around their neck. The beep could be louder or at a lower frequency so people who lost their high range of hearing could hear it. But it is the best we found so far
Great Gadget
Review by Tellicolady on Jun 23, 2015 - Verified Customer
I bought this item for my mother who is hard of hearing and can't hear the timers on her stove or microwave. She loves it as she can feel the vibration and see the lights when it time to check the food. Great aid wish it was a little larger though.
Disappointed
Review by GMN on Sep 25, 2015 - Verified Customer
I am disappointed with the timer. The back covering the batteries is always coming off every time I clip or I clip it. The volume of the alarm is so low that I cannot hear it.
Great product!
Review by Signer 65 on Sep 25, 2015 - Verified Customer
This is the second one of these timers I have had. They last and last and work excellently. Also love the options available on it.
works for me
Review by Big Ed on Oct 16, 2015 - Verified Customer
Received it yesterday - checked it out. Its ok if placed on a hard surface or plate. then I can really get the good vibrations
Perfect to fit my purpose
Review by Pixelstan on Dec 29, 2015 - Verified Customer
Cleverly designed to be useful to anyone from the blind to those with poor hearing and everyone else in between or fully cognizant. I found the vibration adequate without being outrageous. Also it was easy to figure out. In short I found no problem with it other than balancing it on my chest that I redeem as my problem. Most of the time it is no problem at all as I use it for two minutes for my eye drops. Best of all once I set it it remembers and I don't have to reset each time I use it. Five stars for sure.
Great meditation timer
Review by Sturdly on Feb 13, 2016 - Verified Customer
Works perfectly at our meditation center- the light flash helps the person who rings the bell to end the sit. Also works as a silent reminder that time is up for round-table discussion.
I LOVE this timer!
Review by Z on Mar 2, 2016 - Verified Customer
Use it to meditate...the flashing light brings meditation to a calm end. No jarring beeping sound! And, if I'm tired, I can use the vibrate feature instead, which is again much gentler than beeping sounds!
Exactly what I needed
Review by MB on Mar 4, 2016 - Verified Customer
It can vibrate which means you can clip on your pocket or put on table to feel the vibrations. It has a flashing light you can see. I wish the light was bigger, but it does what I need it to do.
would not buy again.
Review by BIG T on Apr 7, 2014 - Verified Customer
Battery cover broke with in a few days. Clip on back broke within a few months. Buttons were easy to turn off or on unintentionally. Would not recommend.
Good for cooking
Review by Puffin71 on Jun 6, 2014 - Verified Customer
I love that timer for only cooking. When I make something like casserole or chicken in the oven, I don't have to look at my watch or clock. The timer will do it for me.
Fulfills our needs
Review by HN on Jun 26, 2014 - Verified Customer
This timer's vibration function is perfect for my hearing impaired hubby who works outside. He always feels the "time's up" signal and it is easy to read and set. I use it with sound and it's plenty loud enough for me. We'd give it 5 stars if it were not for the flimsy little tab on the battery door that doesn't work well. We would buy it again.
Like it because it is quiet
Review by mngramps on Jul 2, 2014 - Verified Customer
Looking all over for a timer that doesn't beep continuously (which drives me nuts -- why aren't there any like a microwave timer that just beeps a few times). The light function is perfect.
good timer for meditation
Review by bg on Aug 9, 2014 - Verified Customer
This product works just as advertised and I use it at home for personal meditation. I would like if there were an addition of a clock for in the meditation hall so that I could start the meditation on time. Not a big drawback though as someone always has a watch.
It is a great tool, but with deadly faults.
Review by Lilliana on Nov 7, 2014 - Verified Customer
I loved this timer for work, clipped it to my appron and I didn't have to worry about burning or forgetting about anything. The only bad part about this product is the battery cover pops off and the whole timer falls to the ground...and in my case into a full sink, killing it.
it works
Review by night owl on Nov 4, 2019 - Verified Customer
It works well, but the countdown stays at the beginning number of minutes, hours or seconds, then beeps, flashes or vibrates when the time is up. It does not show the countdown happening.
JF2SJAFC
Review by JLF on Nov 20, 2019 - Verified Customer
I was looking for a timer for my husband, I was hoping to find one that had a lower pitch beeper as he can't hear high tones. He still can't hear the beep but if he clips the device on his person the vibrations do alert him. So it does the job.
Timer
Review by spocklee73 on Jan 10, 2020 - Verified Customer
Excellent
JUST WHAT I NEEDED
Review by MRB on Jan 14, 2020 - Verified Customer
The timer with is dual notification is a useful item for cooking and forgetting you may have something on the stove. I bought three to use and share with other elderly friends.
Does not work well
Review by Deaf Teacher on Apr 18, 2020 - Verified Customer
I loved the size and color! Thats it. I had one from 10 years ago that worked better then the 2 I just bought to replace it. The old one wore out. The 2 new ones were ok on everything except the vibration was low (old one was better) and the H/M did not work. when I set the numbers and pressed start.. nothing happened. the H and M blinked but thats it. I was disappointed as I expected a better product after all this time. Returning them.
Love It
Review by lori on Aug 24, 2020 - Verified Customer
I love this timer. I am preparing for bariatric surgery and needed a reminder for drinking my fluids.
Back to top