The GodMan
American Sign Language Version
This DVD is designed for children to help them learn about Jesus and why He came.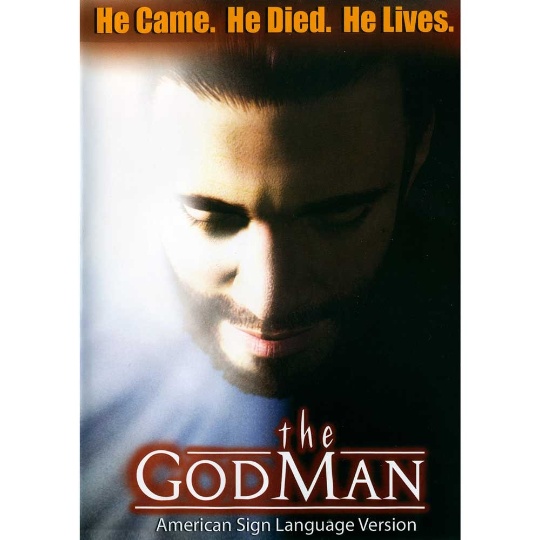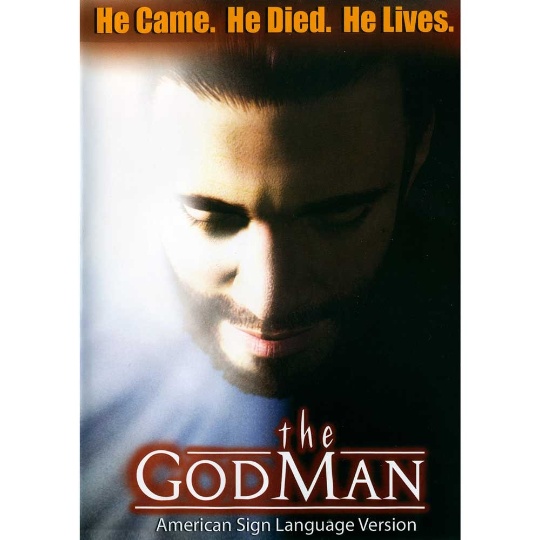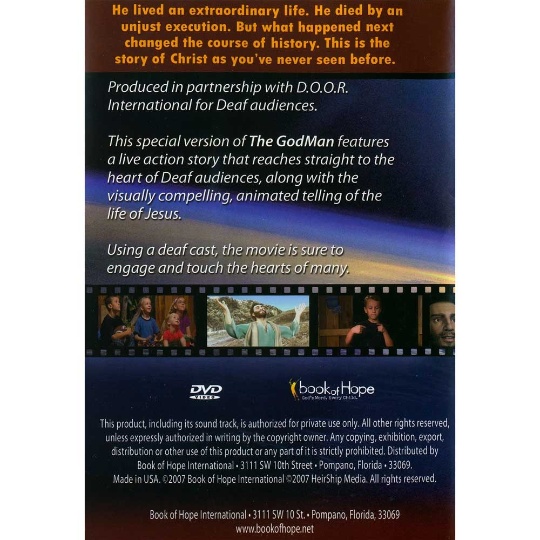 The GodMan
American Sign Language Version
This DVD is designed for children to help them learn about Jesus and why He came.
SKU #DVD392 IN STOCK
Ships FREE on Monday
This item will be shipped on Monday. Ground shipping is FREE within the 48 contiguous United States. Expedited shipping options, as well as ground shipping to Alaska, Hawaii, Puerto Rico, or Canada are available for an extra charge.
$5.00
QTY
Lowest price, guaranteed
Overview

Additional Details

Accessories

Q&A

Customer Reviews

Manual
He lived an extraordinary life. He died by an unjust execution. But what happened next changed the course of history. This is the story of Christ as you've never seen before.

This special version of The GodMan features a live action story that reaches straight to the heart of Deaf audiences, along with the visually compelling, animated telling of the life of Jesus. Using a deaf cast, the movie is sure to engage and touch the hearts of many. [DVD: (2007) 61 minutes; ASL; Subtitles in English and Spanish] DVDs not returnable once opened.
Feature
Details
Weight (lbs)
0.19
Country of Manufacture
United States
Deaf Author
No
Publisher
Deaf Harbor
Publication Date
2007
Media Type(s)

No

No

Yes

Length (min)
61
Voice Over / Audio
No
Captions
Yes
Age(s)

No

No

No

Yes

Earn CEUs
No
Customer Q&A
Get help from Diglo and other customers who purchased this. Ask a new question.
Customer Reviews
Real people with real opinions. Post your own review.
Great presentation of the Gospel for young viewers.
Review by Paula on May 4, 2015 - Verified Customer
When I ordered the DVD I was not aware that it was intended for young viewers. It is a great practice DVD for anyone who wants to learn Church signs and how to sign the Gospel story. I love that the Actors and Actresses are all members of a Deaf Missionary family. What a wonderful work they are doing and God bless the folks who are responsible for providing this DVD to the public at such a reasonable price.
Great Job!
Review by Deb on Aug 10, 2015 - Verified Customer
Wonderful way to show the story of Jesus to Deaf People. Love the animation.
One of the best
Review by Researcher on Mar 27, 2014 - Verified Customer
This is one of the best videos in ASL. It clearly presents the gospel message.
5 stars
Review by CARRIE on Jun 29, 2020 - Verified Customer
i love it
Manual:
Back to top