Sounds for Sleep Sound Card for S-550-05 Sound Therapy System
6 sounds to help you sleep better, relax and think more effectively

Use with S-550-05 Sound Therapy System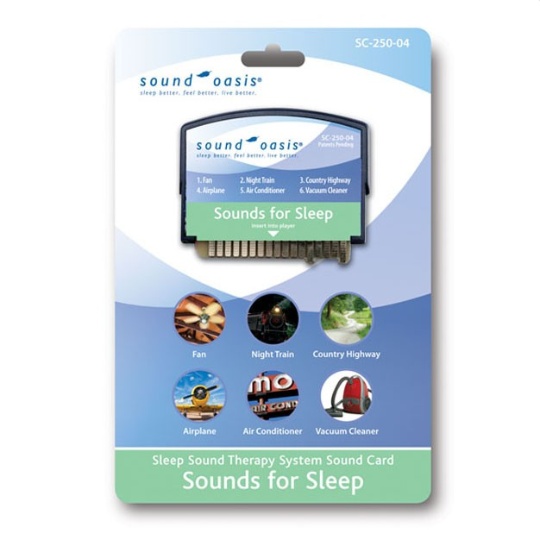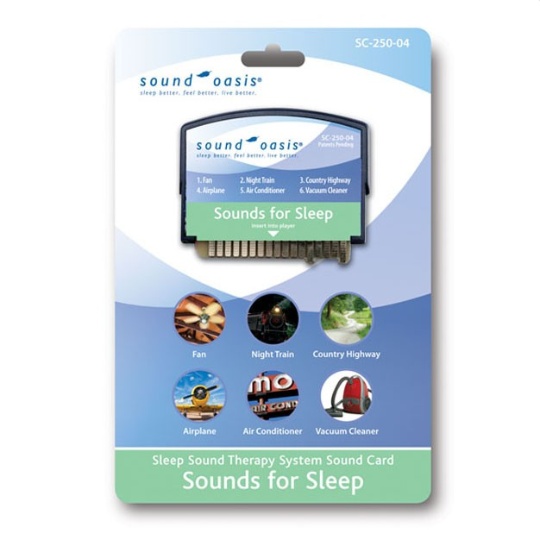 Sounds for Sleep Sound Card for S-550-05 Sound Therapy System
6 sounds to help you sleep better, relax and think more effectively

Use with S-550-05 Sound Therapy System

SKU #HC-SC250-04 DISCONTINUED
$19.99
OPTION:

Overview

Additional Details

Accessories

Q&A

Customer Reviews

Manual
Sounds Included:
Fan: Sleep to the continuous whirling sound of an electric fan without the chilling effect of the real thing
Interior of Airplane: Lay back and snooze to the rhythmic sound of the interior of a propeller plane
Night Train: Picture yourself on a steam engine train as it cuts through the still night lulling you to sleep with its pulsating sounds
Air Conditioner: Doze off to the steady hum of an air conditioner
Country Highway: Break the stillness when it's too quiet by adding the sporadic sounds of cars passing by on a country highway
Vacuum Cleaner: This "to and fro" sound of a vacuum cleaner is a classic relaxation tool, particularly for calming infants
Feature
Details
Brand
Sound Oasis
Mfg part #
SC-250-04
UPC
680583250049
Weight (lbs)
0.12
Battery operated?
No
Country of Manufacture
China
Customer Q&A
Get help from Diglo and other customers who purchased this. Ask a new question.
Customer Reviews
Real people with real opinions. Post your own review.
Manual:
Back to top