Sound Oasis Spa Retreat Sound Card for S-650 / S-660 / S-665 Sound Therapy Systems
12 sounds that are designed to replicate a soothing and rejuvenating spa experience

Use with S-650/S-660/S-665 Sound Therapy Systems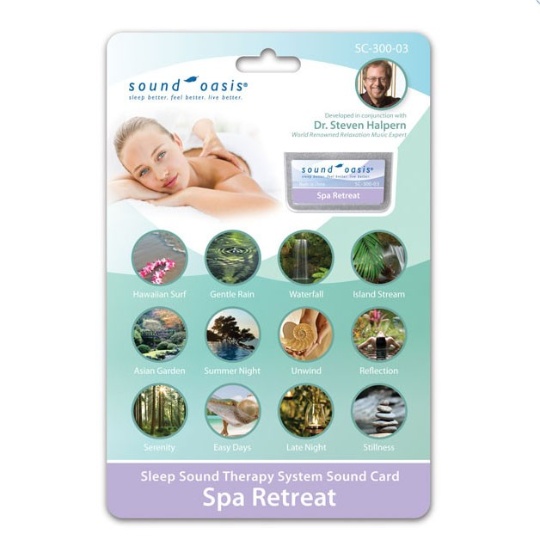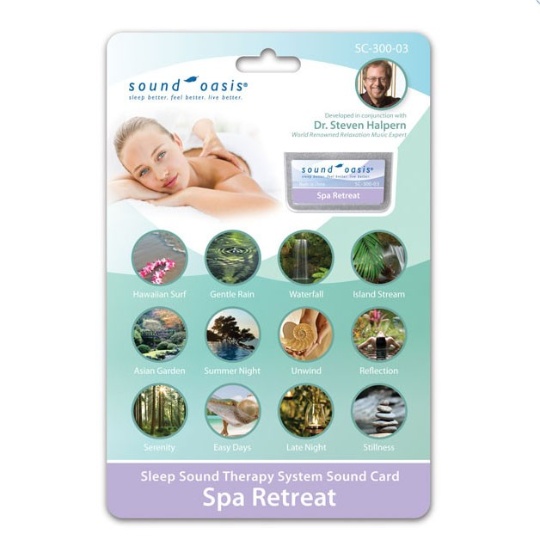 Sound Oasis Spa Retreat Sound Card for S-650 / S-660 / S-665 Sound Therapy Systems
12 sounds that are designed to replicate a soothing and rejuvenating spa experience

Use with S-650/S-660/S-665 Sound Therapy Systems

SKU #HC-SC300-03 DISCONTINUED
$24.99
OPTION:

Overview

Additional Details

Accessories

Q&A

Customer Reviews

Manual
Sounds Included:
Hawaiian Surf: A night time Maui ocean surf provides a gentle rhythm to help you relax or drift off to sleep
Gentle Rain: A gentle rainfall provides a peaceful and cozy setting for relaxation and sleep
Waterfall: A steady, cascading waterfall provides a wonderfully natural background environment for relaxation, sleep and privacy
Island Stream: A peaceful Hawaiian stream with a chorus of birds provides an oasis of natural sound for reading, relaxation or sleep
Asian Garden: Relax or meditate in a secluded Asian Garden where the lulling sounds of an Asian Sarod blend with a gently flowing brook
Summer Night: A gentle chorus of crickets provides a peaceful and restful environment for contemplation, rest and sleep
Unwind: This soothing, pulsating ocean of keyboard and synthesizer sound by Dr. Steven Halpern melts away daily stress
Reflection: This wonderfully calming keyboard and synthesizer music from Dr. Steven Halpern has a natural oceanic rhythm for relaxation
Serenity: Rhythmic ocean waves blend with keyboard and synthesizer music from Dr. Steven Halpern to create a peaceful, soothing environment
Easy Days: This captivating music from Hilary Stagg features unique harp tones joined by electric violin and piano to drain stress from your body and create peace of mind
Late Night: This beautifully calming keyboard and synthesizer music from Chuck Wild is perfect for unwinding and disconnecting from daily activities. It is also ideal for nightly pre-sleep regimens
Stillness: This dreamy keyboard and synthesizer ambiance from Chuck Wild has a natural slowing down effect ideal for Yoga, massage, meditation, anxiety management and healing
Feature
Details
Brand
Sound Oasis
Mfg part #
SC-300-03
Weight (lbs)
0.05
Battery operated?
No
Country of Manufacture
China
Customer Q&A
Get help from Diglo and other customers who purchased this. Ask a new question.
Customer Reviews
Real people with real opinions. Post your own review.
Manual:
Back to top