Sonic Alert Sonic Shaker SBP100 Vibrating Travel Alarm Clock
One of our best selling vibrating travel clocks! The Sonic Shaker SBP100 from Sonic Alert is a compact, portable clock that's less than 4 in diameter, with a powerful vibrating alarm and folding cover to protect the cloc...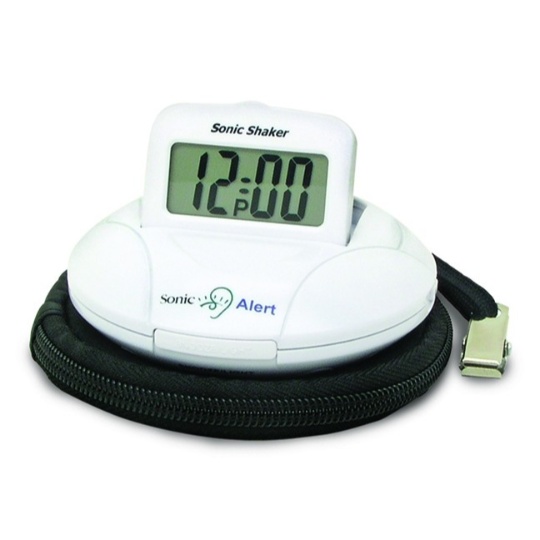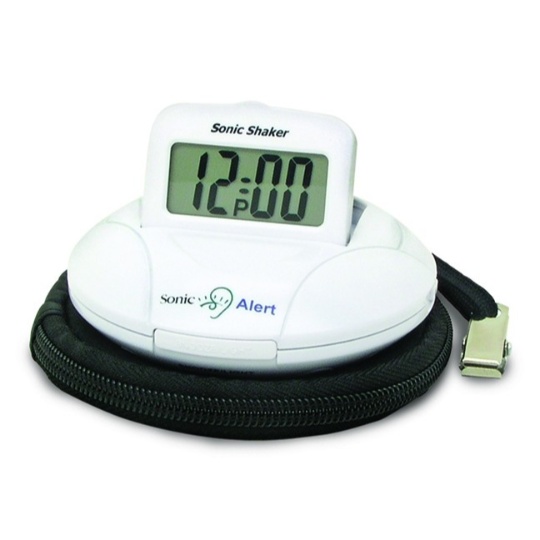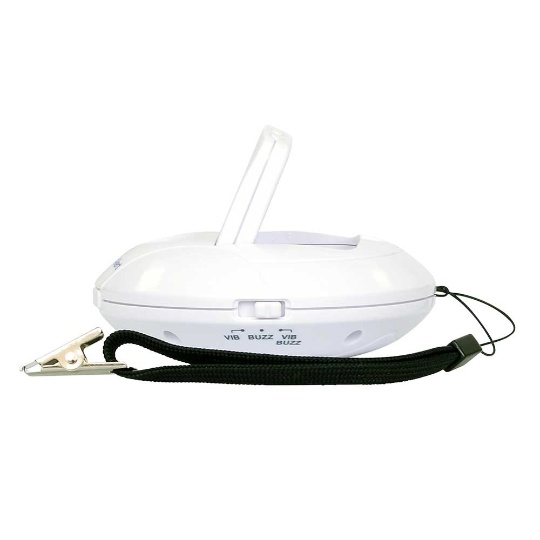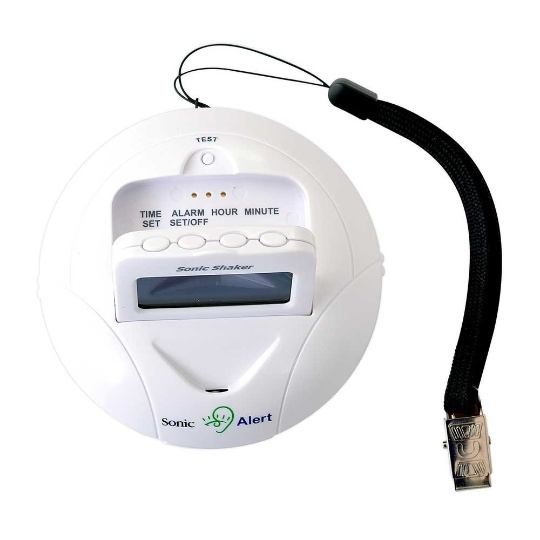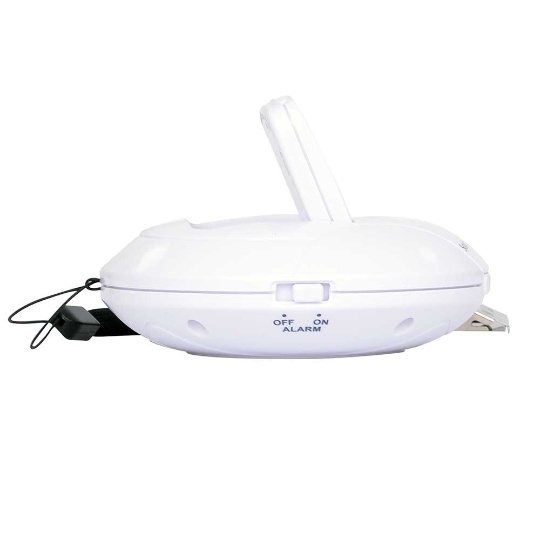 Sonic Alert Sonic Shaker SBP100 Vibrating Travel Alarm Clock
One of our best selling vibrating travel clocks! The Sonic Shaker SBP100 from Sonic Alert is a compact, portable clock that's less than 4 in diameter, with a powerful vibrating alarm and folding cover to protect the cloc...
MORE
SKU #SA-SBP100 IN STOCK
Ships FREE today
Most in-stock orders placed before 2pm CT (Mon-Fri) ship the same day. Ground shipping is FREE within the 48 contiguous United States. Expedited shipping options, as well as ground shipping to Alaska, Hawaii, Puerto Rico, or Canada are available for an extra charge.
Retail Price: $36.99Save $8.50
$28.49
OPTION:



QTY
Lowest price, guaranteed
Overview

Additional Details

Accessories

Q&A

Customer Reviews

Manual
The Sonic Alert Sonic Shaker SBP100 travel alarm clock comes complete with batteries, pillow strap with clasp and a protective travel case. You can be awakened by the powerful bed shaker and/or loud pulsating alarm so you won't ever sleep through appointments, work or school.
Features:


90dB audible alarm

Powerful vibration

Easy-to-set function keys

Easy-to-read 0.75" display

Standard size batteries included (2 AA; 1 AAA)

Travel case with pillow clasp included

Continuous four minute snooze

Swivel and flush mounted display protects settings

Manually lighted display for up to 50% longer battery life

Dimensions: 3-3/4" diameter
Feature
Details
Primary Use

Yes

Yes

Brand
Sonic Alert
Mfg part #
SBP100
UPC
650518100060
Warranty
One year warranty
Color
White
Item Dimensions
3-3/4" diameter
Weight (lbs)
0.49
Battery operated?
Yes (batteries required)
Batteries included?
Yes
Battery details
(2) AA Alkaline, (1) AAA Alkaline
Country of Manufacture
China
Alert Type(s)

Vibration

Flashing Light

Loud Audible

Yes

No

Yes

Tone Control
No
Dual Alarms
No
Battery backup
Yes
Built-in USB charger
No
Bluetooth
No
Smartphone Compatibility

No

No

Expandable
No
Customer Q&A
Get help from Diglo and other customers who purchased this. Ask a new question.
Customer Reviews
Real people with real opinions. Post your own review.
Sonic shaker
Review by Amy Lapham on Mar 9, 2023 - Verified Customer
I was happy until it died. I tried replacing batteries repeatedly and nothing worked. I bought 4 different brand name batteries and nothing. It's only ONE year old. Now I have to buy a new clock. Not happy about this at all.
Diglo Response:
Thank you for your review! Sometimes items do wear out, especially if they are used daily. I would recommend checking your purchase receipt to confirm the purchase date, and seeing if this item is still covered under warranty by the manufacturer. This has a warranty of 1 year.
Useful
Review by on Feb 3, 2023 - Verified Customer
My first one, I had it for ten years until the vibration part stop working. This is my second one and it's just as good as the first one..
Diglo Response:
It's really great when a product's quality remains consistent. We're so glad to hear that's been your experience!
Love it and fix under the pillow
Review by on Sep 17, 2022 - Verified Customer
this is short time for my new one in Oct coming in but Love it and it wake me up good too
Diglo Response:
We are happy this is working for you, thank you for the review!
Great Clock
Review by on Nov 11, 2021 - Verified Customer
I love it. Good vibration and batteries last a long time.
Diglo Response:
We agree! That is a pretty handy little clock, glad it's working out well for you Ruth Ann!
very good for travel
Review by Aquiles on Sep 27, 2009 - Verified Customer
Confortable and easy to use, strong vibrating
Great
Review by Rae on May 13, 2010 - Verified Customer
I love it and am going to purchase another one as I lost my during a move to a different city.
Pros / Cons Vibration
Review by Oregonian on May 31, 2010 - Verified Customer
(Pros): Excellent vibrating, Digital easy to read, Fit under luggage size and Easy reprogramming with simplify. Unless If you snooze over, over and over again, No problem! (Cons): Vibrate stop and they won't resume vibrating again after one minute. Manufacture would need to reprogramming those vibrating correctly every 7 to 10 minutes until you snooze it or stop it. That's why I'm given those rating down to 3 stars.
Ideal Travel Size
Review by S.S on Apr 9, 2011 - Verified Customer
- good vibrating, but not very strong enough for a heavy sleeper - snooze is a little bit too short - the battery life in this clock is very reliable - the lighting isnt bright enough to see the time, but shouldnt be a problem if it s a daytime
Okay
Review by Brenda on Sep 27, 2011 - Verified Customer
I really love this Sonic Shaker. It is small, easy to fit in luggage and to travel with. Except there is a disadvantage. Sometimes it vibrates, sometimes it doesn't. I don't know why. I even had the same problem with its older model. I thought it had to do with aging, that's why I bought a new one. Yet still there is the same problem. I changed the batteries for both time and vibration, still having problem.
Satisfactory
Review by Silver Eagle on Jul 10, 2017 - Verified Customer
I was satisfied with this product. It is useful for traveling.
Great for travel
Review by sunshine on Aug 21, 2017 - Verified Customer
This is my second alarm of this design. First one stopped functioning accurately after a couple years of use. Have ordered another tho because I like the trim design..fits comfortably under pillow and stays secure with clip. My hands are small...so I have no problem setting or using the controls.
Exactly what I needed!
Review by Miz Taz on Nov 8, 2017 - Verified Customer
It's small for travel, love the clip to attach it to a pillow, strong vibrations and clear screen! I strongly recommend it.
unreliable
Review by thomas on Jun 2, 2016 - Verified Customer
It started to fail after being used only a few times. The vibrator still works when I test it, but I never know if it will come on at the right time, or if it will just sit there, and refuse to function.
Loving it
Review by Joe on Jun 4, 2016 - Verified Customer
So far, it has been a great vibrating clock. Used it several times. Sleeping better some at nights knowing that the strong vibrating clock will wake me.
Good alarm, but...
Review by Harold on Oct 9, 2016 - Verified Customer
This clock works well as an alarm clock, which is a primary consideration. The audible alarm, because of its tone and loudness, successfully woke me up. The vibrating alarm also worked for me. In addition, it is designed as a travel alarm clock, which was what I desired. However, I had a number of issues and concerns, which caused a reduction of 1 star. First, the light is worthless; the clock is very hard to read in the dark when the light is turned on. It appears that the light is not well-aimed and not bright enough. Second, because of the round shape of the clock and the placement of the buttons, it is difficult to locate the desired buttons in the dark to turn off the alarm. Finally, I have some concerns that the vibrating alarm may not be strong enough if I should move away from the pillow while tossing and turning in my sleep. The clock was very easy to set, with the directions useful primarily to identify the different buttons and their functions. This is the best travel alarm clock I have found for myself, with my hearing impairments. I previously ordered a couple of clocks from other vendors, but returned them because they failed to wake me up; they may have been not loud enough or emitted a beeping sound that I cannot hear with my tinnitus problems. Thus, I had sent Diglo an email before ordering the clock, inquiring into the nature of the audible alarm, because I had read a review that said that she was not able to hear the audible alarm, which she characterized as a high beep. I never received a response to that email, but went ahead and ordered this clock anyway after a recommendation from my audiologist; fortunately, it seems to have worked out.
Alarm clock
Review by Kristin on Oct 30, 2016 - Verified Customer
This alarm clock works well and easy to use.
old and new
Review by baber on Nov 7, 2016 - Verified Customer
i had to order travel alarm clock cuz my old one is not good. i had that old one for 5 or 6 years since i moved to different apartment. so i love new one!! thank you very much
liked but time screen became foggy, can no longer read
Review by rose on Jun 29, 2012 - Verified Customer
Mine worked fine for 1 yr, then the face screen became foggy looking to where I can no longer see what time it is. I put it in rice thinking moisture problem but that did not help.
Great for hard of hearing!
Review by aXo on Jan 19, 2013 - Verified Customer
Reliable : easy to use and a system of test makes you sure, it will ring/vibrate at the right time, with enough noise. Simple, efficient and cheap! No stress. The guy who designed that product took the time to think about everything. Vibration is strong. As i am very hard of hearing, i just fixed it on an empty plastic box (or on a ceramic plate) : it increases seriously the noise when vibrating.
works well
Review by Niteowl on Aug 27, 2013 - Verified Customer
Product works well and it is portable.
Excellent product
Review by Eddie on Aug 28, 2013 - Verified Customer
Love it and it does help wake me up! vibrate is strong and the product is thin enough to put under pillow... Thanks
Didn't work for me.
Review by Linda on Sep 9, 2013 - Verified Customer
I was disappointed. The sound was a high beep which I cannot hear when my hearing aids are out- duh! Also, for some reason, the vibration never awakened me. Am returning it.
terrible, unreliable
Review by mjedje on Sep 12, 2013 - Verified Customer
this alarm clock will not stay on, shuts down, and misses alarm settings, despite replacement of batteries on a frequent basis. Don't trust it, won't recommend it.
My daughters love this clock
Review by Josh on Sep 23, 2013 - Verified Customer
Ordered two of these clocks for my two young deaf daughters aged 7 and 9 years old. They love it, and they're able to independently set the alarm each evening to wake them up for school. Simple enough for my daughters (and me!) to use, strong enough to wake them up, and sleek enough to put in their pillows. Thank you!
Vergy good
Review by Momof2 on Sep 23, 2013 - Verified Customer
This is my third shake awake alarm, I think in 2 years. The clock is awesome, and does it job. The first clock got thrown in my washing machine the first time. (my fault!) .. The second one, my husband accidently knocked it off and the snooze/light would not work after the first "shake". I had to buy another one because I need more than one "shake" to get out of bed. :-) It seems it breaks easily which is why I gave it four stars.
Great little alarm
Review by Cario on Jan 13, 2014 - Verified Customer
Used this as my daily alarm until it got accidentally left behind in a hotel. Pros - Great battery life, decent vibration, easy to program, test button allows you to easily see what vibration, buzz, and vibration/buzz combo feels like, can function as a miniature flashlight. Cons - Placement of light shines in your eyes unless the time screen is flipped up completely...wish the screen were back-lit instead. Exact opposite placement of alarm on/off and vib, buzz, vib/buzz buttons are confusing in that moment when you first wake up and are just trying to figure out how to turn it off.
Very pleased.
Review by Douglas on May 7, 2015 - Verified Customer
much easy to carry it when travelling. when I just tested it for few nights I slept. It was easy to wake when vibrating.
Great product
Review by Angel on May 12, 2015 - Verified Customer
Like the pillow clip as I often knock things off bed while sleeping. Good vibration for waking. Easy buttons to use for all of its functions.
Great Product
Review by VT Mom on Jun 22, 2015 - Verified Customer
So far, this is working out great for my 14 year old son who has hearing loss. He tried it the first day and has used it daily with no complaints; he is at a week long camp and took it with him so we will see how it works there. Good quality product. I would recommend it.
Good product & Tiny buttons
Review by Sheba on Sep 23, 2015 - Verified Customer
It works pretty well as long as I can press those tiny buttons to change time. I had to use my finger nails to do that, I gave it five stars because it helped wake me up.
Satisfaction
Review by Luc on Sep 24, 2015 - Verified Customer
Love how small it is and how it is designed: the clock standing then flatten with the alarm. How convenient. Portable and reliable. The night light is bright and easy to use! Its no-fail device. Highly recommended.
Sonic Alert Sonic Shaker
Review by Peppermint Patty on Nov 23, 2015 - Verified Customer
I had to replace it as my old one died.The new clock is awesome!So much better than the old one.Great customer service.Fast shipping.Im very happy!
Can't travel without this!!
Review by Tracy on Dec 28, 2015 - Verified Customer
I love this alarm clock when I am traveling! I just bought my husband one as he borrows mine all the time. The trick is to remember to put it back in my bag after I use it!
Very satisfied
Review by MDM on Mar 4, 2016 - Verified Customer
I can fall asleep without worrying that my alarm won't wake me in the morning. Because of the palm-sized shape, it slides easily under my pillow. The clip is strong and I have had no problem keeping it in place. The alarm sound is not loud enough to wake me, but I use only vibrations to prevent waking my husband. I will be travelling with the alarm and have made it a habit to unclip it every morning. I am happy to have the peace of mind this alarm has given me.
does the job for now.
Review by Pat on May 24, 2016 - Verified Customer
So far so good second one in less than a year first one stopped vibrating shortly after purchase. Would have turned it but more hassle than it's worth different brand let's see if this one last longer
New style
Review by Cesar on May 27, 2019 - Verified Customer
Nice travel wake up clock. The vibration is strong.
Awesome clock!
Review by Peppermint Patty on Jun 19, 2019 - Verified Customer
I love this alarm clock so much!It works great and love the travel case.I highly recommend this product.Very fast shipping
Outstanding
Review by Mac on Jul 5, 2019 - Verified Customer
So much better that my old one (not from Diglo). I put it on the chest my my bed and it's shaking really sounds off. Like the four minute snooze. I'm 88 years old and a heavy sleeper. I have to get up early every Wednesday for an appointment at the VA. When my last shake alarm stopped working I used an old-fashioned alarm clock and I kept waking up about ever hour in fear the clock didn't work. Now I sleep thru the night with no worries. Thanks so much for a great alarm clock.
great travel alarm clock!
Review by kare on Sep 18, 2019 - Verified Customer
It is very convenient and does the job well of getting me up when I need to while traveling.
Awesome
Review by Lisa on Feb 11, 2020 - Verified Customer
It's my 2nd ones.
Back to top