Sonic Alert Sonic Bomb Super Shaker Bluetooth Bed Shaker
Control unlimited number of alarms through the free app

Wake up to the strongest Bluetooth bed shaker available

A/C powered-don't have to worry about recharging or changing batteries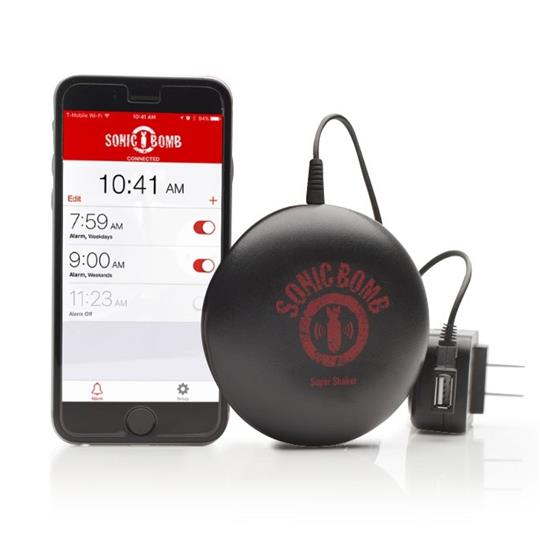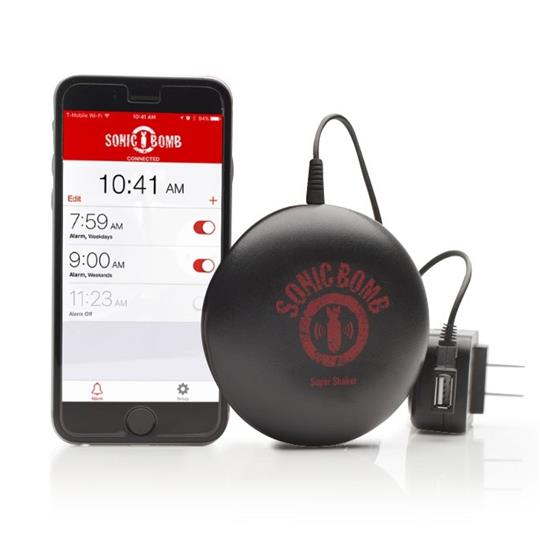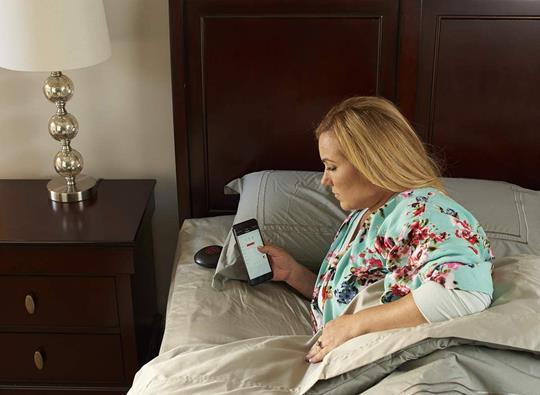 Sonic Alert Sonic Bomb Super Shaker Bluetooth Bed Shaker
Control unlimited number of alarms through the free app

Wake up to the strongest Bluetooth bed shaker available

A/C powered-don't have to worry about recharging or changing batteries

SKU #SA-SS100BT DISCONTINUED
$46.99
Overview

Additional Details

Accessories

Q&A

Customer Reviews

Manual
Get the same strong vibration you'd expect from Sonic Alert clocks—controlled by your phone! Connect the Super Shaker to your smartphone and download the free app to set your wake up time. Rest assured that you will wake up on time—even the deepest of sleepers will wake up once the Super Shaker starts vibrating. Once the alarms are set, the Super Shaker works independently from your phone.

Cell phone is not included.


Features:
Set unlimited alarms
Snooze button in app
Choose to be alerted to texts, phone calls or emails
Wake up without disturbing others
A/C powered—don't have to worry about recharging or changing batteries
Charger has a piggyback USB, allowing you to charge another device using the same outlet
Compatible with iOS and Android
Dimensions: 3.75" x 3.75" x 1.25"
How Super Shaker Works:
Feature
Details
Primary Use

Yes

Yes

Brand
Sonic Alert
Mfg part #
SS100BT2
UPC
650518101197
Warranty
One year warranty
Color
Black
Weight (lbs)
0.67
Battery operated?
No
Country of Manufacture
China
Alert Type(s)

Vibration

Flashing Light

Loud Audible

Yes

No

No

Tone Control
No
Dual Alarms
No
Battery backup
No
Built-in USB charger
Yes
Bluetooth
Yes
Smartphone Compatibility

Yes

Yes

Expandable
No
Customer Q&A
Get help from Diglo and other customers who purchased this. Ask a new question.
Customer Reviews
Real people with real opinions. Post your own review.
Wakes you up
Review by Bed shaker on Jun 27, 2018 - Verified Customer
The bed shaker works very well and is effective through a thick mattress. We worried about it being too lumpy since it is about as large as a hand, but I don't feel it through the bed. It is put in at the top so it doesn't bother me.
Returned
Review by Klaudia on Aug 2, 2018 - Verified Customer
my son had trouble with this working with his phone - he returned it
Do not buy
Review by Garbage on Dec 11, 2018 - Verified Customer
This doesn't work at all. I emailed the manufacturer. They said with all the phone updates, their product "stopped working". They said I could return it to the seller. I did that. Hopefully they refund me ASAP. What a waste of time and money!!!
Just stopped working, instead of vibrating it reports to my phone "s
Review by Da bomb on Mar 21, 2019 - Verified Customer
Just stopped working, instead of vibrating it reports to my phone "sonic bomb has detonated". Works when tested but not when needed.
Back to top