Silent Call MyAlert TRS102 Phone / Videophone Ring Signaler
Alerts you to landline phone/videophone calls with bright light and extra loud alarm

Powered by phone line-no batteries required

Easy set up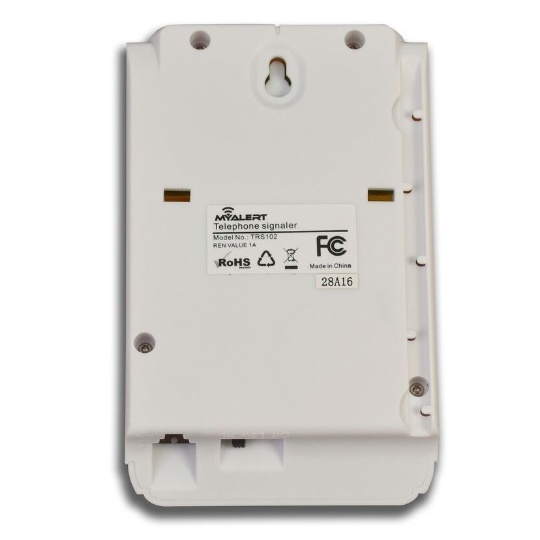 Silent Call MyAlert TRS102 Phone / Videophone Ring Signaler
Alerts you to landline phone/videophone calls with bright light and extra loud alarm

Powered by phone line-no batteries required

Easy set up

SKU #SC-MA/TRS102 DISCONTINUED
$24.95
Overview

Additional Details

Accessories

Q&A

Customer Reviews

Manual
When your phone rings, you need to know it! The MyAlert Phone/Videophone Ring Signaler is a cost-effective way to make sure you never miss any calls.
Set-up is simple-just plug the signaler into your existing phone line and plug the phone into the ringer. No batteries needed and nothing required to program.
Features:
Extra loud adjustable 100dB ring alert-great for any level of hearing loss
Super bright adjustable yellow flashing LED-see in during day or night
Easy set-up-plug into your existing phone line and installs with one screw
Dimensions: 4.5" W x 2.75" H x 1" D
FCC certified and CE Listed
Feature
Details
Brand
Silent Call
Mfg part #
TRS102
UPC
703856851290
Warranty
One year warranty
Color
White
Weight (lbs)
0.37
Battery operated?
No
Country of Manufacture
China
System
Silent Call MyAlert
Alert Type(s)

Vibration

Flashing Light

Loud Audible

Low Vision / Deaf-Blind

No

Yes

Yes

No

Transmitter / Receiver
Transmitter
Alert Trigger(s)

Baby Cry

Carbon Monoxide

Mobile / Smartphone

Doorbell / door knock

Motion

Pager / SOS

Phone / VP

Smoke / Fire

Sound

Severe Weather

No

No

No

No

No

No

Yes

No

No

No

Range (ft)
500
Portable
Yes
Battery backup
Yes
USB charger
No
Customer Q&A
Get help from Diglo and other customers who purchased this. Ask a new question.
Customer Reviews
Real people with real opinions. Post your own review.
Returned
Review by Shelly on Nov 21, 2017 - Verified Customer
There was an empty tootsie roll bag in box and a used lollipop. Unit did not work, returned it. Zero stars. **We are sorry about the candy wrappers in the box. We send candy along with each order as a thank you, our packers must have accidently put a wrapper in your box. - Diglo**
Excellent choice
Review by Susan on Mar 10, 2020 - Verified Customer
This little unit has been a life saver. I just hooked it up to my aunt's existing phone and she can now hear when the phone rings as well as see the light on the unit turn on to alert her. Easy solution for someone who doesn't want to purchase a new phone. I recommend.
Back to top