Sign Generator 2 CD-ROM
Sign Generator 2 is a unique software program that produces ASL art images above your text as you type.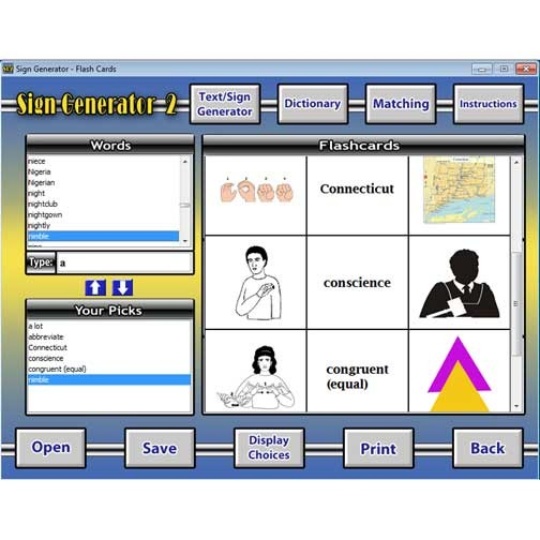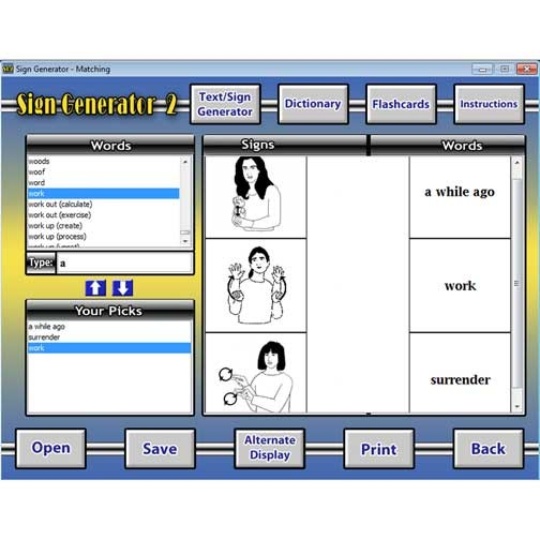 Sign Generator 2 CD-ROM
Sign Generator 2 is a unique software program that produces ASL art images above your text as you type.
SKU #CD201A IN STOCK
Ships FREE on Monday
This item will be shipped on Monday. Ground shipping is FREE within the 48 contiguous United States. Expedited shipping options, as well as ground shipping to Alaska, Hawaii, Puerto Rico, or Canada are available for an extra charge.
Retail Price: $49.95Save $7.04
$42.91
QTY
Lowest price, guaranteed
Overview

Additional Details

Accessories

Q&A

Customer Reviews

Manual
Sign Generator 2 is a computer program that makes ASL art images above your text. You also can input text by scanning or copying/pasting text from a screen. It has a translation lexicon of over 25 500 English words/phrases/idioms/numbers/symbols. This amazing software has four handy features, perfect for classroom or communication use.
Type and instantly have ASL images appear above your words. If there are more than one sign for a single English word, the software will give you choices. You can save and print your creations.

Use the Dictionary to find and print individual sign graphics from the Sign Generator.

Customize Flashcards using any of the over 9 000 signs in the database. Choose whether to have signs only, words only, pictures only, signs & words, or signs, words & pictures. You can print and save your creations.

Make your own Matching Worksheets, so your students or children can learn to associate English words with signs. Re-scramble the words to create new challenges. You can print and save your creations.
Minimum System Requirements: Microsoft Windows XP or Windows Vista, or Windows 7; CD-ROM drive; at least 700MB disk space.
Software not returnable once opened.
Feature
Details
Mfg part #
SIGN GENERATOR 2
Weight (lbs)
0.19
Country of Manufacture
United States
Author(s)
Ron Vinopol
Deaf Author
No
Publisher
Institute for Disabilities Research & Training
Publication Date
2012
Media Type(s)

No

Yes

No

# of ASL signs
5000
Voice Over / Audio
No
Captions
No
Age(s)

No

No

Yes

Yes

Level
Advanced
Earn CEUs
No
Customer Q&A
Get help from Diglo and other customers who purchased this. Ask a new question.
Customer Reviews
Real people with real opinions. Post your own review.
installation difficulity
Review by dssc on Nov 9, 2013 - Verified Customer
I have been unable to use this program due to the difficulty installing it. The computer tech at my school has tried numerous times to install and run it. After running and installing then clicking the icon an error appears. If you have any suggestions please forward to me. Is this cd compatible with the latest updated Java 7-45? the error message reads- unable to access jarfileC/programfiles/IDRT/signgenerator2/signgenerator.jar Help thankyou
good program
Review by lynn on Oct 29, 2015 - Verified Customer
Our tech support ending up down loading it. I like it.
not a happy camper
Review by tee on Mar 16, 2014 - Verified Customer
Having the same problem as the person above is. Please share on your website how to use software after purchase. It tells me that an error has happen and is unable to complete installing. Try later. What in the world does that mean. I have already installed the java program that the cd requested and that I do and have no other need for if I can't even install this program and use. Was to costly of this.
very happy
Review by tee on Mar 29, 2014 - Verified Customer
I was able to get tech support from idrt, the makers of the program and my computer person and now I'm up and running and love it. Thanks for everything!
Sloppy Installation
Review by Tom on Apr 8, 2014 - Verified Customer
Was able to install it via admin user however unable to execute for any other users on the same computer. Gives the unable to access jarfile error. Will operate for admin user only.
Great product!
Review by Diane on Jun 3, 2019 - Verified Customer
It was easy to install and use. It is a great resource for my classroom!
Manual:
Back to top