Serene Innovations VA-3 Vibrating Travel Alarm Clock
The VA-3 Vibrating Travel Alarm Clock from Serene Innovations has the strongest vibration of any battery-operated clock that we have seen!
Travel clock with strong vibration.

Alerts with audible alarm, vibrations or both.

L...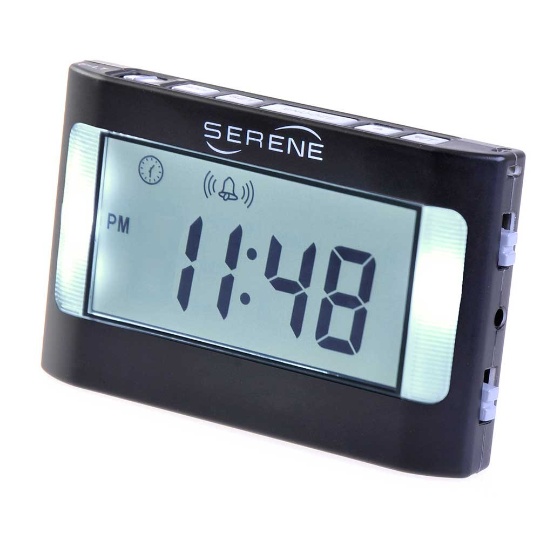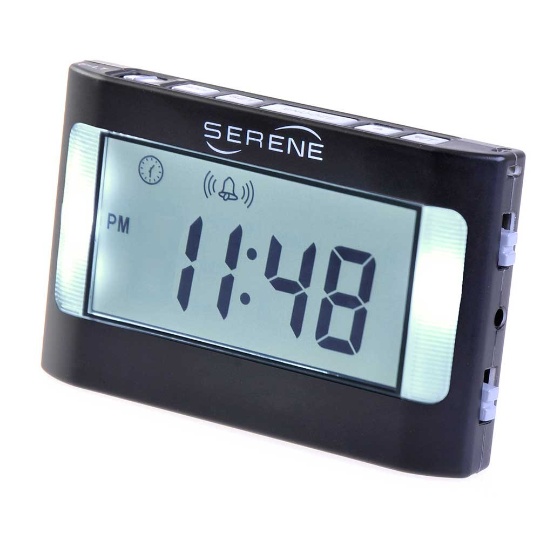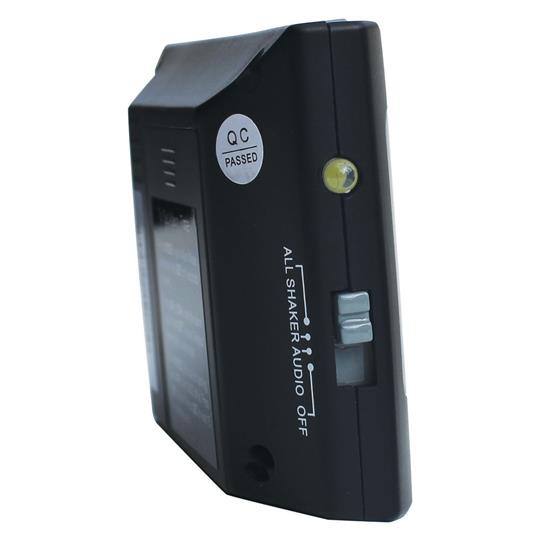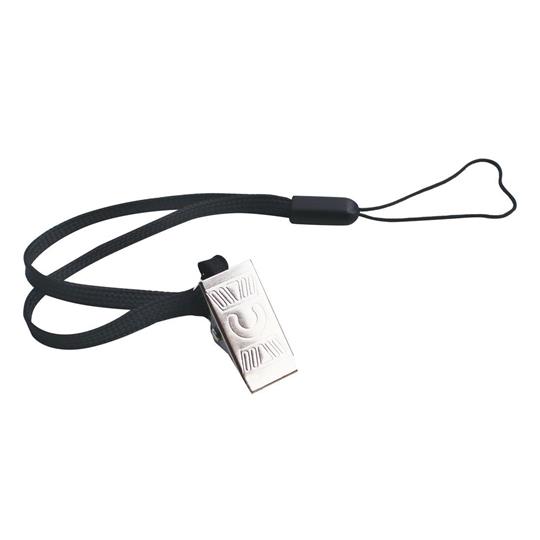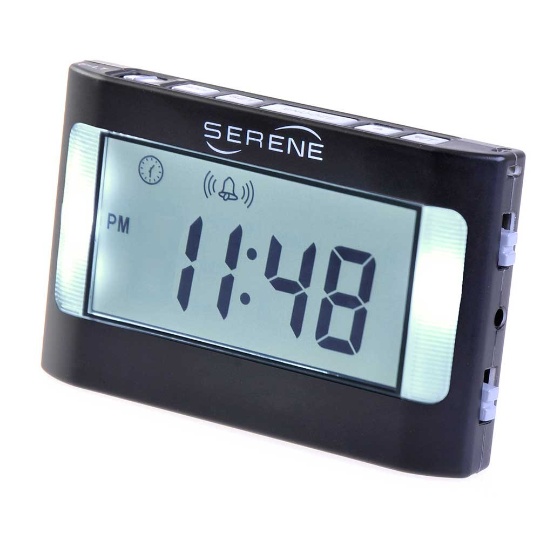 Serene Innovations VA-3 Vibrating Travel Alarm Clock
The VA-3 Vibrating Travel Alarm Clock from Serene Innovations has the strongest vibration of any battery-operated clock that we have seen!
Travel clock with strong vibration.

Alerts with audible alarm, vibrations or both.

L...
MORE
SKU #HC-VA3 IN STOCK
Ships FREE today
Most in-stock orders placed before 2pm CT (Mon-Fri) ship the same day. Ground shipping is FREE within the 48 contiguous United States. Expedited shipping options, as well as ground shipping to Alaska, Hawaii, Puerto Rico, or Canada are available for an extra charge.
Retail Price: $48.95Save $3.96
$44.99
QTY
Lowest price, guaranteed
Overview

Additional Details

Accessories

Q&A

Customer Reviews

Manual
The Serene Innovations VA-3 Vibrating Travel Alarm Clock can easily become your only alarm clock around the house. This battery-operated clock not only wakes you up, it is also a timer, temperature display and flashlight all in one smart design. The VA3 features a built-in vibrating alarm with a gradual yet powerful vibration to wake you. The VA-3 features big, bright numbers with modern, attractive design that's easy to setup and start using immediately. It includes a built-in clip that can be clipped or tucked under a pillow.
Features:


Alarm clock, timer, temperature, flashlight

Powerful built-in vibrating alarm

Audio, vibrating, audio & vibration alarm modes

Audio alarm has 3 levels of adjustment each for tone and volume

12 or 24 hour clock modes

Large, bright and easy to read screen

Snooze button

Built-in room temperature display

Timer function

Built-in flashlight

Pillow clip included

Dimensions: 4-3/4" W x 1" D x 3" H

Battery operated (3 AA batteries included)
Feature
Details
Primary Use

Yes

Yes

Brand
Serene Innovations
Mfg part #
VA-2001
UPC
804879180463
Warranty
One year limited warranty
Color
Black
Weight (lbs)
0.62
Battery operated?
Yes (batteries required)
Batteries included?
Yes
Battery details
(3) AA Alkaline
Country of Manufacture
China
Alert Type(s)

Vibration

Flashing Light

Loud Audible

Yes

No

Yes

Tone Control
No
Dual Alarms
No
Battery backup
Yes
Built-in USB charger
No
Bluetooth
No
Smartphone Compatibility

No

No

Expandable
No
Customer Q&A
Get help from Diglo and other customers who purchased this. Ask a new question.
Customer Reviews
Real people with real opinions. Post your own review.
Mixed review
Review by David on Aug 6, 2017 - Verified Customer
It's my incompetence but I just cannot get the alarm to go off in the morning. I've got the batteries in, the clock working, and have set the alarm for 0700. Come that hour in the morning, nothing happens.
Good
Review by New on Oct 3, 2017 - Verified Customer
Good
Alarm Clock
Review by Mary on Mar 8, 2018 - Verified Customer
I used to have a small alarm clock and was with me perhaps for 20 years. It is about to die so it was time for me to get a new one. My Deaf friend recommended this alarm clock. I am totally satisfied with it.
Serene Innovations VA3 Vibrating Travel Alarm Clock
Review by Melissa on Apr 9, 2018 - Verified Customer
I cannot hear anything when I take off my cochlear implant and hearing aid so I rely on the vibration mode only. I needed to replace my Shake Awake which has served me well for many years but the vibration was not working properly anymore and I was sleeping through my alarm. This one seemed to fit my needs and It's been working really well for me so far. I like all the features: large clock display with back light, strong vibration, timer, temp display, flashlight... The only con is that the snooze will only repeat 7 times. My old one would snooze forever. Hopefully I won't sleep through my alarm anymore so that won't be an issue. So far I'm waking up the first time and maybe snooze once or twice if I'm being lazy. I don't like change especially when it comes to things like this but I'm very satisfied with this product! **Side Note: I know some reviewers have had issues with the alarm and snooze settings. They are not as simple as the Shake Awake so it took some getting used to. The instructions can be a little confusing but just read and follow the instructions and test it out until you are used to it. When the alarm goes off then you can hit any button and it will go off again 8 min later. If you press the snooze button for 3 sec or more then the alarm will shut off and automatically reset to go off at the same time the next morning. If you want to turn it off then use the switch on the side. When I turn it back on I go all the way through the alarm mode including the snooze indicator just to make sure it's on and ready to go. Hope that helps.
VA3 Vibrating Travel Alarm
Review by NP-Goofy on Aug 30, 2018 - Verified Customer
I really like and easy to pack while travel that I need better than hotels' alarm clock. It has vibrating and flashing, too. I prefer flashing that helps me wake. I do sometime vibrating if the room little light beam from outside light poles. I would recommended that alarm best for travelers.
Strong shaker and Waker upper
Review by MF on Oct 15, 2018 - Verified Customer
Very strong vibrations wake me up. I got this after having had my shake awake alarm for over 20 years. I was very disappointed that I couldn't get it again, but glad to find this one. I like this one, although it would be nice if it was a little bit smaller like the shake awake. Really, it is still a nice size, still slender enough to put under my pillow. Hoping this one lasts 20 years or more. We shall see. I'm deaf, and this is a necessity. The alarm on my cell phone just doesn't wake me up, because it's not strong enough at all. I recommend this product for those like me who need vibrating alarms.
Perfect
Review by Bogey on Oct 19, 2016 - Verified Customer
This clock totally meets my needs. Placed in my pillow it's vibration alarm mode works great. I don't agree with the person who wants to look at it for time. It's stuffed in my pillow. My bedroom has a lighted clock as do all hotels. Yes on a recommendation.
Love the clock!
Review by Happy on Nov 8, 2016 - Verified Customer
I LOVE this alarm clock. I think the clock has been changed because all the buttons on the top act as a snooze button so there is no worry about hitting the wrong button like other reviews mention. I was so happy to see this because I use the snooze heavily and was worried about this--I didn't buy the clock earlier because of this. I like that it starts with a light vibration and then gets stronger. I wake easily to the light vibration but if I'm in a deep sleep, it is good to know it will get stronger and wake me. I love the temperature and flashlight features. I don't need the timer but that is a nice addition and I would use that if I didn't already have a vibrating timer on my watch.
Serene Innovations VA3 Vibrating Travel Alarm Clock
Review by KL on Dec 17, 2016 - Verified Customer
Very pleased with it....would recommend to anyone.
Shake awake
Review by LWT on Feb 6, 2017 - Verified Customer
I am deaf (once I remove my implant receiver) and need an alarm clock when I travel that will reliably wake me up. I have tried several vibrating alarms which either did not shake enough or wouldn't stay where I put them (wrist, pocket of my sleep pants, etc. This one has the strongest shaker of all I have tried and the little clasp allows me to effectively lock it into my pocket. I wish it was a bit lighter, it is pretty hefty but I really don't notice it too much so I am happy.
A good alarm clock
Review by DavidG on Feb 15, 2017 - Verified Customer
I really like it. It's compact for travel, easy to read, has a built in flashlight, and, on the right surface, the rattling/vibration would probably wake up the dead. I don't have to worry about missing a wake up call now! I would definitely recommend this alarm clock.
No more excuses
Review by StaC on Mar 27, 2017 - Verified Customer
No more excuses not hearing the alarm clock now. Since I lost most my hearing 20 years ago. Its harder & harder to find an alarm that I can hear to actually wake me up. The vibration of this alarm does the trick. Its compact & can travel. Thank you!
Worked well
Review by Gene on Apr 17, 2017 - Verified Customer
I ordered this as I am a sound sleeper with a hearing loss and travel a lot. Overall, it did a good job with the strong vibration to wake me up. I liked the battery aspect as well, as I travel internationally and plug in clocks don't seem to last on foreign electrical currents, even with convertors. I would recommend this to anyone that travels.
Reasonably good
Review by Yukita on Jun 8, 2017 - Verified Customer
As a hearing impaired person, this is supposed to be my main alarm clock (home and travel). It has a strong vibration - good. The snooze function/the alarm can be easily stopped when you want - good. The snooze function has a couple of problems: 1. No way to make sure it is on. The icons on the screen do not ensure this upon setting the alarm clock. The snooze may be on or off - what you see on the screen looks exactly the same. The alarm can be set "on" but the snooze may not work. 2. The snooze takes too long to kick in. About 20 minutes - which means that if you drift back into sleep, you'll be very late! A useful snooze should kick in within a few minutes. Also, there is no "low" indication for batteries... so one day, the alarm clock won't vibrate because the batteries are finished. No way to know that in advance. Overall, a good product - except for the problems with the snooze function.
Snooze feature makes NO sense!
Review by Baffled on Jul 6, 2012 - Verified Customer
If snooze function is on... If SNOOZE button is pushed during the alarm, the alarm will stop temporarily but it will sound off again in 8 mins. This cycle repeats... To stop the alarm completely anytime, press any button other than snooze on top of the clock. WTF That means I had to CAREFULLY press the right in the middle top button while half awake if I want the snooze to work otherwise during my fumbling half asleep attempt, I accidentally (more often than not) press the wrong button and I end up turning off snooze!!!
Best vibrating travel clock I've seen!
Review by Anonymous on Oct 28, 2013 - Verified Customer
I'm severely hard of hearing and have used many different travel clocks throughout the years, including some of the more popular ones (like the SBP100). Of all the different travel clocks I've tried thus far, this one has BY FAR the most powerful vibration. It is surprising to me that a battery operated clock can have such strong vibration! The minute you take it out of the box you can tell it was built to last, whereas some of the ones I've used before have felt a little cheap. I also really like the "timer" functionality, so I can use it as a vibrating timer at home to remind me when it's time to check on food in the oven, etc. I am a VERY, VERY HAPPY CUSTOMER!
Does the job
Review by Nana on Dec 7, 2013 - Verified Customer
I have wanted a travel alarm for a long time, finally got it. My patience paid off. I am fully satisfied. Thanks
Satisfied
Review by Satisfied on Jan 20, 2014 - Verified Customer
Looking for a solid reliable travel and home wake up alarm/clock? You ought to check this product out.
Very good product
Review by Baldylocks on Feb 13, 2014 - Verified Customer
Appears be very well made, works for me. I happy with my purchase
Good
Review by Dora on Aug 10, 2015 - Verified Customer
It's a little bigger than I expected, but workable. The light is very bright. I'm still in the "learning" process, but so far it is doing good.
great
Review by murch on Mar 5, 2014 - Verified Customer
Love the clock
great for deaf!
Review by Snowflake on Apr 19, 2014 - Verified Customer
this absolutely great clock!!! much better I can use it!!!
excellent product
Review by Hardofhearing on May 9, 2014 - Verified Customer
This clock is easy to use, as the directions are clearly written on the clock itself. When the alarm goes off, the clock flashes a light, making it easy to find so that you can shut it off quickly. The vibration results in a loud, low-frequency sound if the clock is on a wooden table or desk. I am deaf, but I can hear this alarm easily. When it rings and vibrates, the clock doesn't jump around too much, which means it stays on the wooden table or desk rather than jumping off to the floor and damaging itself. The clock is easy to read in the dark, has a convenient flashlight. It is relatively easy to set the time and the alarm. the flashlight is an added convenience. The clock is compact and light-weight -- the perfect travel clock.
Good product
Review by eden on May 16, 2014 - Verified Customer
Good clock. Average on ease of use.
exactly what I needed
Review by Ian on May 27, 2014 - Verified Customer
Perfect to address hotel phones with limited volume and hotel alarm clocks that are unreliable. Nice form factor. Appreciated the ordering process - nice and intuitive web site with specs and insight - well thought out. Would recommend.
Good Product
Review by Tom on Jun 17, 2014 - Verified Customer
I purchased this alarm clock through Diglo approximately 1 year ago and have used it extensively. Overall I am very satisfied with the clock. However, I have found that during travel the control switches and particularly the alarm switch occasionally get moved or turned on by jostling against other items. I highly recommend that a protective case or sleeve be made available as an option. Otherwise I would have rated this a 5.
ON/OFF SWITCH??
Review by MYDOL on Jul 3, 2014 - Verified Customer
EVERYTHING IS GOOD EXCEPT NEED ON AND OFF SWITCH TO SAVE BATTERIES.
Excellent for my use
Review by Wilma on Jul 16, 2014 - Verified Customer
I purchased this clock for my mother who is hearing impaired. On a recent trip to Hungary she needed a battery-operated alarm clock. My mother kept the clock in bed with her and used the vibration function to wake up on time. She also used the flashlight feature.
Fair
Review by Curly Girl on Sep 24, 2014 - Verified Customer
I'm hard of hearing and the alarm wasn't loud enough to wake me..
clock
Review by Deb on Sep 29, 2014 - Verified Customer
At first, it was struggle with the clock. so now i love it ...
OK
Review by Pi on Nov 29, 2014 - Verified Customer
Bigger than expected. However the clock has good alternatives and I like it. The vibrations are good too.
Snooze function poorly implemented; annoying light
Review by Not Pleased on Dec 27, 2014 - Verified Customer
I am hearing impaired and purchased this to use as my primary alarm clock using the vibrating mode. (I was happily using a Shake Awake which finally gave up the ghost). There does not appear to be any way to disable the flashing light and use the clock only in vibrating mode. The light is extremely bright and harsh. It is jarring and unpleasant to wake to. Along these lines, if you wish to check the time in the middle of the night, you have to turn on the clock's light to read the time - again the light is blindingly bright. If the snooze alarm is enabled, there does not seem to be a way to tell for sure if you've shut off the snooze alarm just temporarily or until the next cycle. Batteries were very difficult to fit into the battery compartment, and the batteries that shipped with the clock were dead on arrival. Documentation is very poor.
It does what I need
Review by dab on Feb 6, 2019 - Verified Customer
Pros: Big lighted numerals are easy to see at night. The back light comes on only when you want it. It is slim and fits easily under the pillow without making a big lump. The vibration is fairly strong. Cons: When I switch the alarm to vibration only, the alarm doesn't go off at all. So I have to keep it on all modes of alarm, then the vibration works. However, the audio alarm then wakes up my partner (even though with my hearing) I still don't hear it. I don't use the alarm all that often and thankfully my partner is willing to suffer through the times that I do.
perfect
Review by Mick M, on Feb 13, 2019 - Verified Customer
Just what the doctor ordered, It dose a big job, for such a little guy .Mick
Nice compact alarm clock.
Review by LAC on Aug 28, 2019 - Verified Customer
I purchased this alarm to use in lieu of my mobile phone. The vibration is strong and wakes me right away. I wish there was an option for a second alarm time setting or an option to change the vibration pattern but overall this does what I need and will be great for travel. The flashlight is a cool added feature as well.
Good
Review by Marka on Dec 24, 2019 - Verified Customer
Loved it!
Too soft
Review by LG on Oct 3, 2020 - Verified Customer
I cannot hear the alarm and do not want a clock attached to the bed or pillow. The previous alarm clock that gave out was loud enough to wake me and hear. If you are looking for a vibrating alarm, this would work. But if you are looking for a LOUD alarm, this is not it.
Back to top