Serene Innovations SS-201 Super Shaker Bluetooth Bed Shaker
Slips under your mattress or pillow, and wakes you with strong vibrations - no more oversleeping or missed alarms!

Pairs with your smart phone

Set up to 8 alarms through the free Apple iOS app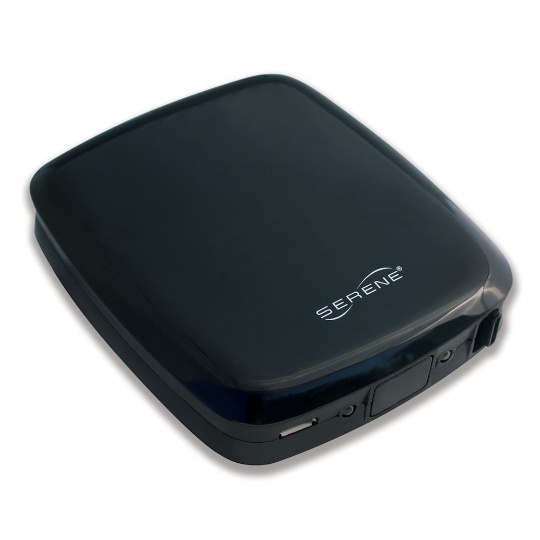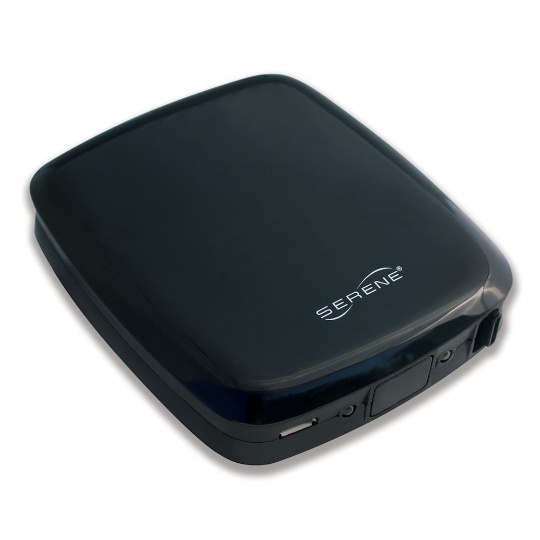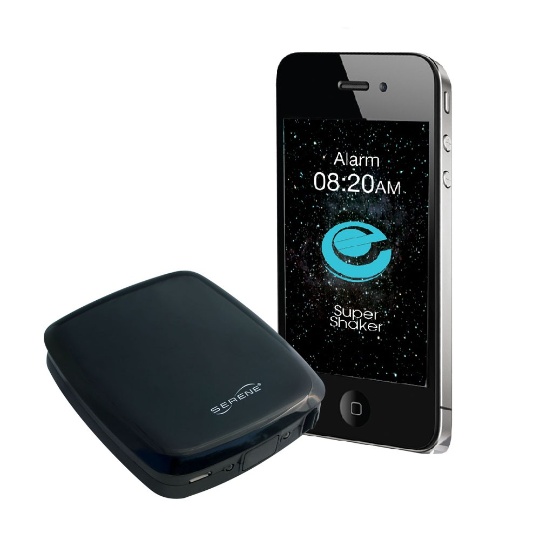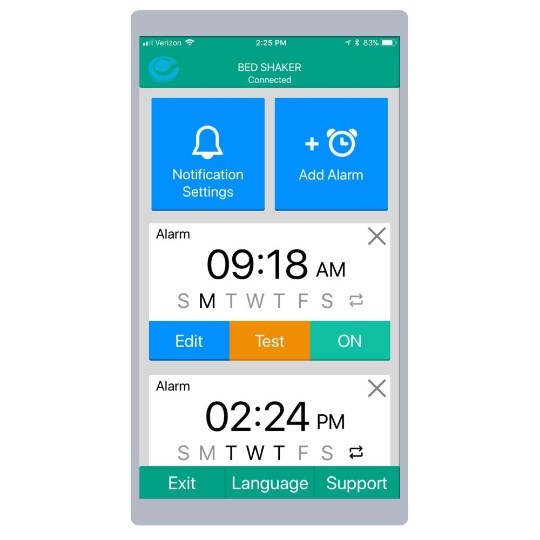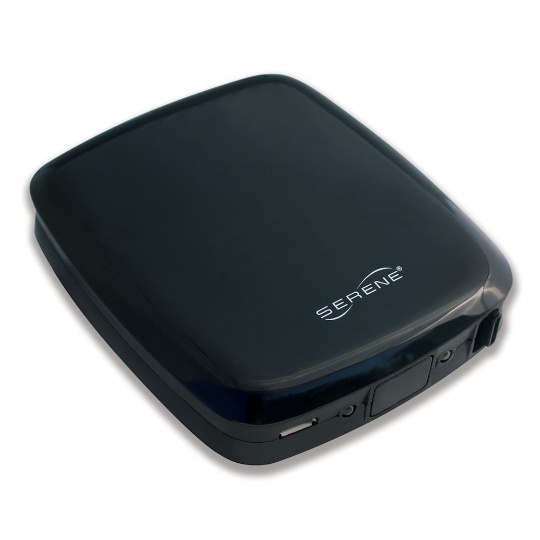 Serene Innovations SS-201 Super Shaker Bluetooth Bed Shaker
Slips under your mattress or pillow, and wakes you with strong vibrations - no more oversleeping or missed alarms!

Pairs with your smart phone

Set up to 8 alarms through the free Apple iOS app

SKU #HC-SS201 DISCONTINUED
$58.95
Overview

Additional Details

Accessories

Q&A

Customer Reviews

Manual
Oversleeping is a thing of the past! The SS-201 Super Shaker gently wakes you up with vibrations that gradually increase in strength. Compact size makes it ideal for both home and travel.
Simply pair the SS-201 to your Apple iOS device, set up alarms on the free app, and tuck it under your pillow or mattress. Unlike super loud alarm clocks, no one else is woken up when your alarm goes off.
Features:
Control up to 8 alarms through the free app
Once alarms are set, no need to be connected to app
Optional setting alerts to phone calls, text messages, emails and social messages
Snooze button
Attachable pillow clip keeps shaker in place--don't worry about it falling out of your bed
Rechargeable battery lasts for 45 days
Quick battery charge time in 3-4 hours
Low battery indicator
9 Language options: English, Cantonese, Mandarin, Japanese, German, French, Spanish, Norwegian and Italian
Automatically updates to local time when travelling
Compatible with devices running Apple iOS only (not compatible with Android)
Dimensions 3.07" W x 1.02" H x 3.54" D
Feature
Details
Primary Use

Yes

Yes

Brand
Serene Innovations
Mfg part #
SS-201
UPC
039517599059
Warranty
One year limited warranty
Color
Black
Weight (lbs)
0.49
Battery operated?
Yes (batteries required)
Batteries included?
Yes
Country of Manufacture
China
Alert Type(s)

Vibration

Flashing Light

Loud Audible

Yes

No

No

Tone Control
No
Dual Alarms
No
Battery backup
Yes
Built-in USB charger
No
Bluetooth
Yes
Smartphone Compatibility

Yes

No

Expandable
No
Customer Q&A
Get help from Diglo and other customers who purchased this. Ask a new question.
According to the manual and the box it states it is compatible with Android phones.
Apologies for the confusion, the manufacturer may not have updated the paper instructions but the website description stating "Apple iOS only" is correct.
from the
Diglo Team
,
04/26/21
Good evening, 1) Would this device (Serene Innovations SS-201 Super Shaker Bluetooth Bed Shaker) be able to vibrate in reaction to an app alarming (e.g., Dexcom G6 app)? Or does the unit ONLY vibrate related to 1) calls, 2) texts, 3) social apps. Thanks
The SS-201 will only alert to calls, texts and messages only. To be sure I reached out to the manufacturer and they confirmed that the SS201 would not be able to recognize that kind of third party notification.
from the
Diglo Team
,
01/26/21
Customer Reviews
Real people with real opinions. Post your own review.
Best wireless alarm gadget I've seen on the market
Review by Sue on Oct 24, 2017 - Verified Customer
I have profound hearing loss in both ears, wearing a cochlear implant and hearing aid, and only wake up in the morning to a bed shaker vibrating under my mattress. Lately, however, I have 3 shakers under there and countless wires leading to the various devices attached to them (1 for a cell phone signaler and 2 for an alerting system). One of the long wires must have slipped to the floor while I was making my bed the night before because one morning, when I stepped out of bed, I stepped into the loop created by the sagging wire, tripped, and found myself flying into my bureau. Needless to say, I was thrilled when I found this wireless product. I've always been happy with Serene Innovations products (my alerting system, bed shakers, and phone signaler) and was thrilled when they created the same bed shaker, which almost caused my demise, without all the wires. Not only can I feel this under my mattress but I've also eliminated my cell phone signaler (which I use for a second alarm clock) because this new device wirelessly connects to it. This will be a great benefit when traveling. I'm striving to become a minimalist with my CI and hearing aid apparatus and this device has taken me one step closer to my goal.
Great product. Needs some improvements to the shaker and the app
Review by Mossyoak on Jan 24, 2018 - Verified Customer
As with most others needing this product, the wireless aspect of it works great for the alarms. Here's where it falls short for my use. I have severe hearing loss and am a heavy sleeper. Problem is it doesn't keep shaking for long at all. If not roused from sleep quickly and turned off it stops shaking. I've slept through two alarms (it's a recent purchase) and have gone back to using my phone as my alarm. The app has no way of customizing the vibrations. Or making it continue to shake till turned off. Also no other notifications for calls, texts, emails shake the shaker. I'll keep it and hope some updates can fix the issues
Had mine almost a week
Review by DON on May 13, 2018 - Verified Customer
I must say I was skeptical whether the shaker was strong enough to wake me up, but it works great. I put the shaker under my pillow inside the pillow case and the vibration is very strong. I recommend this to anyone that can't hear a cell phone or an alarm clock when asleep.
Great
Review by Don on May 21, 2018 - Verified Customer
I am deaf and this product works great. I put it under my pillow inside the pillow case. I felt vulnerable not be able to hear my phone ring if there was a middle of the night emergency, but I sleep much better now knowing I will be awakened if someone is trying to contact me.
Works as advertised
Review by Greg on Aug 10, 2020 - Verified Customer
I am not deaf, but hearing is bad enough that I sleep through audio alarms. Shaker worked fine paired with iPhone, and is slim enough to fit under pillow.
Great product and App
Review by Vanilla Gorilla on Aug 25, 2020 - Verified Customer
I bought this strictly for the vibrating alarm feature. IT works GREAT! and the App was easy to navigate as well. I'm glad I decided to spend a little extra - IT WAS WORTH IT!
Back to top