Sereonic Wireless TV Speaker Deluxe with Extra Power Adapter
This amazingly simple-to-use wireless TV speaker enhances dialogue & makes it easier to hear your favorite programs without needing to crank up the volume. Optical, RCA, and 3.5mm cords included for compatibility wit...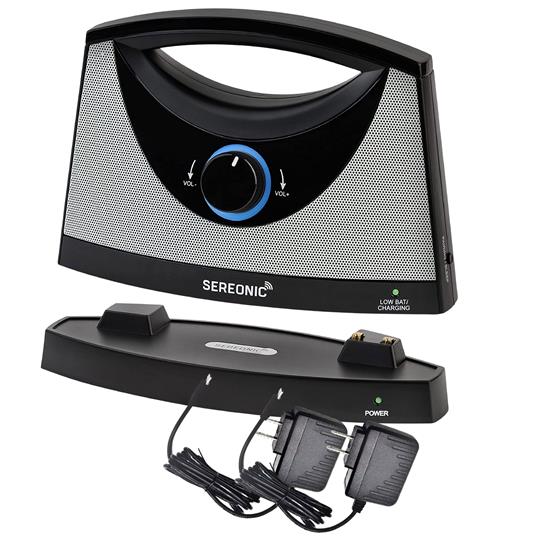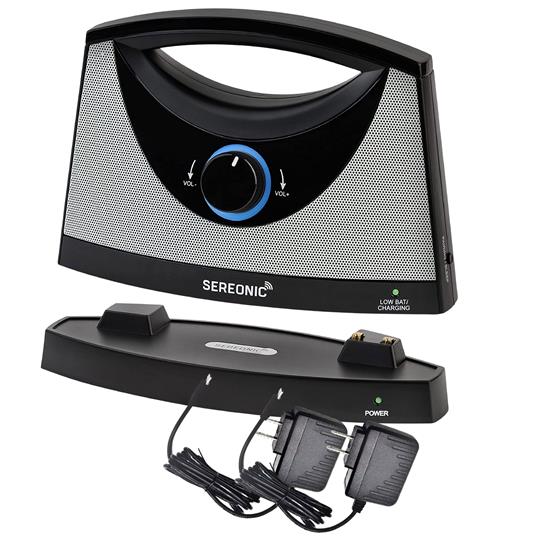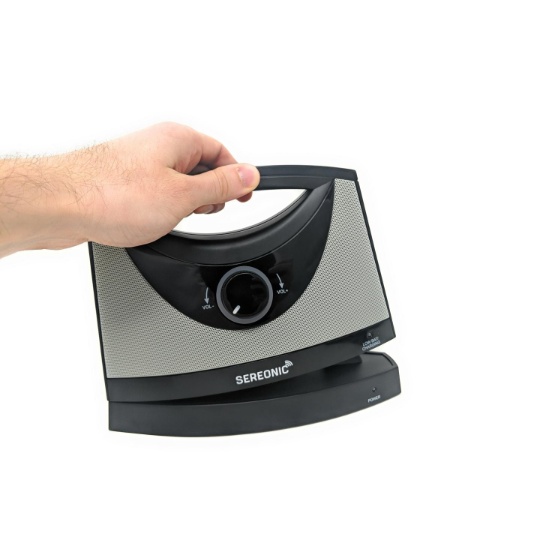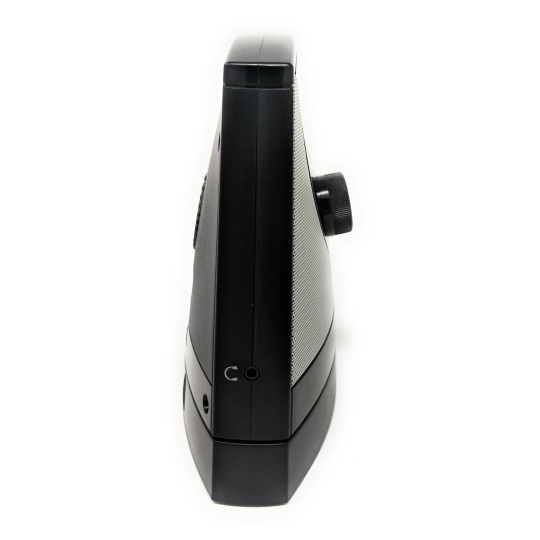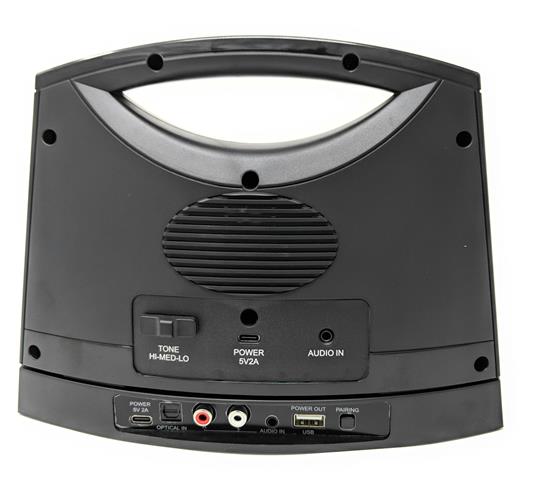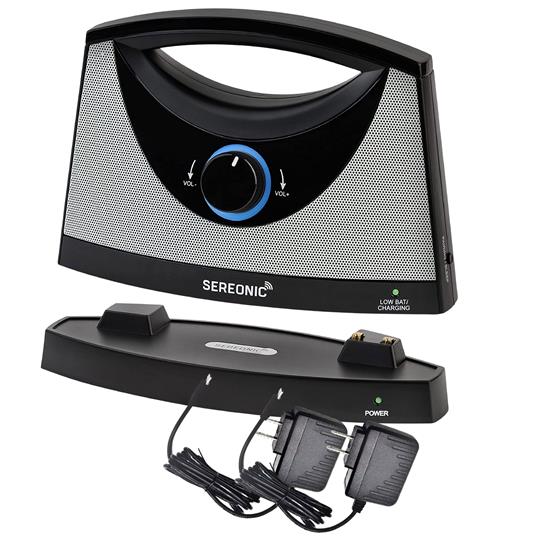 Sereonic Wireless TV Speaker Deluxe with Extra Power Adapter
This amazingly simple-to-use wireless TV speaker enhances dialogue & makes it easier to hear your favorite programs without needing to crank up the volume. Optical, RCA, and 3.5mm cords included for compatibility wit...
MORE
SKU #HC-TVSB-BT-KIT IN STOCK
Ships FREE today
Most in-stock orders placed before 2pm CT (Mon-Fri) ship the same day. Ground shipping is FREE within the 48 contiguous United States. Expedited shipping options, as well as ground shipping to Alaska, Hawaii, Puerto Rico, or Canada are available for an extra charge.
Retail Price: $169.90Save $23.00
$146.90
OPTION:



QTY
Lowest price, guaranteed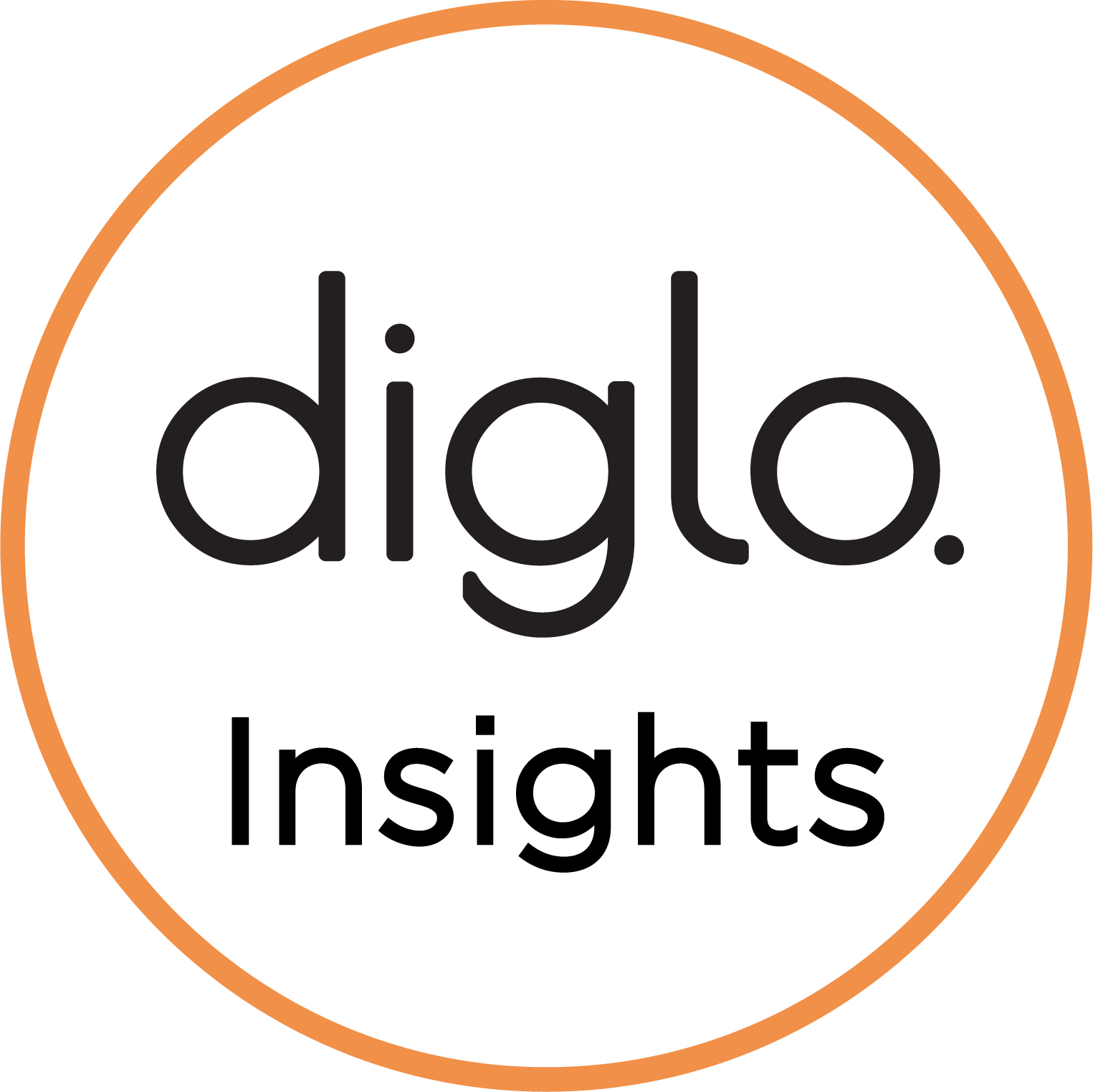 Our best-selling TV listening system
The Sereonic TV Soundbox is our best-selling, highest rated TV listening system. It's an amazing wireless TV Soundbar designed specifically for hearing loss. Instead of just amplifying every sound, bu...
MORE
Overview

Additional Details

Accessories

Q&A

Customer Reviews

Manual
The Sereonic is the new and improved TV Soundbox! Louder, richer and crystal clear sound is brought wirelessly from your TV to you. The receiver has a convenient handle so you can carry it with you, even to another room. Simple to install with included optical and analog cables for your smart TV. Voice clarifying technology makes TV dialogue clearer and adjustable tone control improves dialogue intelligibility. Has a headphone jack connection for private listening and a 1-hour snooze function that once activated, the sound will gradually decrease - after one hour unit will turn off. The transmitter can serve as a charging dock when the speaker is not in use, or you can use the included 2nd AC adapter to keep the speaker plugged in at all times, eliminating the need to recharge on the base altogether.
Features:
Transmitter connects to the Optical, headphone or analog audio ports of your TV, cable box or music system.
Improved sound quality, adjustable tone control and voice clarifying technology
Improved battery life - 8 hours with user replaceable Lithium-ion rechargeable battery.
Includes connection cables for analog or digital TV models.
1-hour sleep timer
Range up to 125 feet
Dimensions: 9" x 7" x 3.25"
Includes:
Wireless Receiver (speaker)
Transmitter /charging base
Digital Optical Cord
(2) RCA Y- Adapter Cables
Audio Cord
2 AC Adapters - eliminates the need to charge the speaker on the base
Operating Guide
Feature
Details
Brand
Serene Innovations
UPC
855347004002
Warranty
One year limited warranty
Color
Black
Weight (lbs)
2.75
Battery operated?
Yes (batteries required)
Batteries included?
Yes
Battery details
(1) Non-removable Lithium Ion
Country of Manufacture
China
Technology
Radio Frequency
Wearing Style
Speaker
Expandable
Yes
Wireless Range (ft)
125
Tone Control
Yes
Balance Control
No
Built-In Mic
No
Rechargeable
Yes
Hours of Use
8
Customer Q&A
Get help from Diglo and other customers who purchased this. Ask a new question.
Customer Reviews
Real people with real opinions. Post your own review.
Sereonic listening box
Review by on Aug 22, 2022 - Verified Customer
Have 2 at home and now one at work. Great product and even better service which is un usual now days. Thanks Diglo
Diglo Response:
Thank you for the review, we are happy to hear the service was great and you are enjoying your TV Listener! - The Diglo Team
Friend
Review by on Aug 30, 2021 - Verified Customer
Ordered this for my friend to take back to Canada. Saved her the $25.00 shipping fee. She was impressed with mine. Wish the battery charge lasted longer. Maybe the new ones will.
Bought for my parents
Review by Dee on Aug 9, 2017 - Verified Customer
My parents have their tv up so loud just so they can hear the words above the background music etc. now they are able to turn it way down and actually hear the conversations with the amplifier between them. My mother called me just elated with how well this works. She also turns the tv music on then takes the amplifier with her to her painting room and enjoys the music while she paints. I am going to purchase one for our house and throw out the sound bar.
short battery life
Review by RND on Nov 27, 2017 - Verified Customer
great - except for battery life, maybe 3hrs.
opnes up a new world
Review by Wonderful product on Dec 8, 2017 - Verified Customer
I bought this for my 87 year old father. He can hear sounds fairly well but he has a lot of trouble with clarity of words, especially with men's voices. He is a widow and I couldn't bear to think he could no longer understand the words on TV, the telephone is just as bad, his world was shrinking before my eyes. This box improved the word clarity by about 80%. He is so happy he can understand most everything that is being said. I am so grateful for this product, I highly recommend it!
One of the best purchases I have ever made.
Review by VolumeUp on Jan 1, 2018 - Verified Customer
I have a severe hearing loss, and was about to give up watching TV. I decided to give the Serene TV SoundBox Wireless TV Speaker a try. I am very impressed with the sound quality, and how light weight and convenient it is. I can finally enjoy watching TV again, Also very happy that I bought the 2 A/C adapters. Thank You Serene Innovations & Diglo
love the product
Review by Mary Ann on Jan 4, 2018 - Verified Customer
i love it and I can take it from room to room
Excellent
Review by Judy on Jan 27, 2018 - Verified Customer
I was really amazed at this soundbox!! I suffer from profound hearing loss where watching tv became very difficult for me. I had almost given up hope to being able to watch tv anymore due to the clarity of people's voices and what was being said. Even closed caption wasn't much help. Now with this sound box I hear exactly what's being said the tone and clarity of this miracle box is excellent just like having my normal hearing back. You can tune in the tone and clarity and volume to suit you. I love this device and it has brought back the joy in my life of being able to watch tv again. Thank you Diglo for carrying such a wonderful device!!!
Great product
Review by Grace on Mar 20, 2018 - Verified Customer
I purchased this item for my mother who is hearing impaired but refuses to wear hearing aids. The speakers work great & she can happily hear the TV! I will be purchasing the speaker for myself!
Second time around was the winner
Review by Mr Bill on Apr 6, 2018 - Verified Customer
Rec'd TVsound box. Followed instructions and discovered the speaker batttery would not take a charge. Returned entire unit w the enclosed return sticker they emailed me I immediately mailed it back in original packing at no cost to me. Asked that they check the battery in speaker before sending a new replacement. Got the new one in a few days. - worked great gave it to my friend 91 yrs old who loved it! I had a TV sound for 4 years and have gifted them to friends in my mature age group. Great product and Diglo backed it upwith excellent response to a faulty batter,
Excellent Product
Review by Kaddy on Apr 9, 2018 - Verified Customer
This product is outstanding for my wife and I because of the clarity in sound and we did not have to spend a lot of money.
Great!
Review by Lori on May 4, 2018 - Verified Customer
Great product so far! I bought this for my mother. She really likes it. She has had it for a few weeks now. It is saving her and my sister in law from having tension in the house since my mother's tv is right next to the wall and my sister in law sleeps in the next room. Since my mom can't hear well she has the tv on all day and all night really loud. We thought we were going to have to re arrange the living situation but this saved my family from having to do that. It was easy to install and I did not need to change any settings on the tv. Just turn the tv volume to 0. That's it.
Perfection
Review by Janet on May 7, 2018 - Verified Customer
Your TV soundbox is a marvelous machine providing a wonderful new world of sound to my television enjoyment--much better than my combined regular TV sound system and soundbar combined. Add to that your company representative was incredibly patient and polite in guiding us in the setup. Regards and thanks!
Great
Review by Porter on May 16, 2018 - Verified Customer
This was purchased for my 89 yr. old brother who is completely deaf in one ear and wears a hearing aid in the other. He loves it. So I am purchasing one for my husband and I. With all the background noise on TV (everyone is adding music for the background) it is hard to hear the speaking when watching. Looking forward to see if this will eliminate this excess noise.
Excellent product
Review by Les on May 17, 2018 - Verified Customer
We came across this product 3 years ago and decided to give it a try. It worked very well for the first 2 years and we had an intermittent signal issue. I could have sent it to Toronto for repair but decided to order another one, which to our surprise was equiped to receive an optical audio signal .. Works great and my wife loves it.. would definitely recommend it to anyone. Minor electronic issue but all good
Excellant
Review by HT on Jun 4, 2018 - Verified Customer
We were looking for a couple of tv speakers to replace some older ones we have been using. While our old ones worked for a few years, they had push button that were worn out and the units were cutting in and out. After researching what was available we decided on the Serene SoundBox and are very pleased with them. We are running two off one base with AC adapters and they are great. Being able to adjust the tone and have a volume knob allows for individual listening comfort. Would definitely recommend these to anyone looking to improve there tv listening ability.
I wish I give this product 10 Stars
Review by AJH on Jun 25, 2018 - Verified Customer
I have purchased 3 TV SoundBoxes. Two for my home and one as a gift. I can't begin to adequately describe how happy I am with the SoundBox. I love love love it. I had stopped watching TV and was always upset when my friends would ask "did you watch such and such TV program" and I had to say No. Well not anymore! Ordered online...great service..great product !
So Far VERY Good
Review by PLC on Nov 7, 2018 - Verified Customer
Had it about 2 weeks. I love to be able to take it to the kitchen with me. I am hard of hearing and it really helps. Wish it had it's own mute button for commercials though! If it lasts for more than a year I will be happy. Bought two ZVOX sound bars and they did not.
Very good product. Works great
Review by Farm Girl on Dec 6, 2018 - Verified Customer
Now we can have the TV volume at a comfortable level for everyone. The speaker sits next to my husbands chair. He can understand every work instead of missing a lot of what is said.
clear, interference-free sound
Review by Lab Mom on Jun 27, 2016 - Verified Customer
This item was purchased for my husband as a Father's Day gift. Thus far, he is very pleased - the sound is clear as there is no background interference. He is particularly pleased with the portability of the speaker. This would be a definite "5" save that we have not had the unit sufficiently long to assess its longevity.
Loving It So Far
Review by Judy on Aug 30, 2016 - Verified Customer
I'm loving my new TV Soundbox! I don't have TVs in every room nor a whole-house sound system so am enjoying being able to listen to the news and favorite tv programs in any room of the house while fixing dinner, doing laundry, crafting, etc. and even while sitting on the deck or front porch. It's a little pricey for my budget so hope it lasts a long time.
Absolutely Awesome
Review by Tone Deaf on Dec 27, 2016 - Verified Customer
Only been using for a couple of days but it is just what I need to hear TV and let everyone have their volume. Grandson hooked it up in a minute.
Clear sound that travels
Review by Half Deaf on Jan 3, 2017 - Verified Customer
Have been using this wireless speaker for about three weeks now and have nothing bad to say about it. Hooked it up right out of the box to the TV, plugged in the a/c adapters and turned it on. Great, clear sound and after it charged, I carried anywhere in the house I wanted. Wife says she has stereo TV now, of course I have TV audio now.
A marriage saver!
Review by Richard on Jan 18, 2017 - Verified Customer
Truly a marriage saver!
love the spreaker
Review by outdoordee on Jan 22, 2017 - Verified Customer
This speaker is so clear, my husband really enjoyes listening to tv now that he can understand the words. great product!!!!!
Great machine
Review by Wolf on Mar 30, 2017 - Verified Customer
This is my second Soundbox. Great for old folks who have trouble hearing the TV.
Serene Innovations TV Soundbox Wireless TV Speakers
Review by Julia on Apr 14, 2017 - Verified Customer
I've had this speaker for about two weeks and love it. Plugged into the microphone jack of my tv and I am able to hear tv programs with speakers next to where I am sitting pretty much clearly. I would greatly recommend.
Perfect
Review by Ginny on May 18, 2017 - Verified Customer
My 93 year old mother-in-law is extremely hearing impaired and has struggled to truly understand what was being spoken on most TV shows. This speaker has been such a gift of hearing to her. She is enjoying TV now.
So far, so good
Review by M on May 22, 2017 - Verified Customer
Bought this for my 87 year old Mom who has a hard time hearing. Shipped quickly and easy to set up. She has an older Samsung LCD with no audio outputs so I plugged it into the cable box. She loves it. I would recommend this product.
worth every penny
Review by Rickay on May 26, 2017 - Verified Customer
Bought this and one extra speaker. Perfect for us. Easy to install and easy to get on and off base for charging. One charge last HOURS! Very clear sound and levels out background noise so explosions or music aren't louder than voices. LOVE these speakers!
Love it
Review by Easier to visit on Jun 14, 2017 - Verified Customer
My Mother in law is very hard of hearing. Visiting is so stressful because of the volume she needs to hear her tv. This SoundBox Wireless tv speaker has made all of our lives so much better. It's easy to hook up and really easy for her to adjust. She loves it, thank you for a great product.
awesome
Review by deedee on Mar 9, 2016 - Verified Customer
I am very happy with this Soundbox it does the trick no more loud tv thanks
speaker is doing its job
Review by lily on Apr 25, 2016 - Verified Customer
the product itself is fine, however the support staff that helped me hook it up was amazing.
Awesome
Review by Renee on May 12, 2016 - Verified Customer
I bought it for my mom. Initially I had difficulty setting it up and since I was only at my Mom's on weekends I was frustrated that I could not call to get help. The customer service person sent me a personal phone to contact her. I dragged my son down the following weekend and he got it to work and I never needed to call the company. My mom has since called me twice to say how happy she is with this device and how she can now hear her TV so much better. She had a couple shows she really likes but had difficulty with the sound on the TV and this unit solved that problem. Highly recommended, easy to use. My mom would like a mute button for the commercials but I contend that she can just turn the volume down with the knob. She's just used to the mute on her remote. I think she will get used to turning down the sound, it's within easy reach.
Good product
Review by JOe on Jan 16, 2019 - Verified Customer
I am most pleased with your product from the standpoint of price as well as function. It was easy to assemble to my TV set. I would recommend this to whomever is in need of such a product.
easy to set up and use
Review by steve on Jan 21, 2019 - Verified Customer
bought two A/C adapters because the soundbox is used mostly in the sun room so it needs not be brought back and forth for charging.
Very Happy
Review by Gail on Mar 11, 2019 - Verified Customer
I bought this for my mother that is in her 80's and has hearing loss. Her audiologist suggested it and I'm so glad she did. My mother loves it so far and it is so easy to use. This allows her to sit at her kitchen table and not have to put the tv volume on an extremely high level. We may buy one for my father in law as well since we have been pleased this purchase.
Don
Review by Don't know on Mar 26, 2019 - Verified Customer
Absolute love it!
helpful for hearing conversations
Review by bets on Aug 8, 2019 - Verified Customer
This is the 2nd soundbox I've owned. The first one lasted @ 3 years. This one doesn't have quite the clarity and volume as the first one. It is very helpful in hearing conversations on the TV.
Helpful for me being hard-of-hearing
Review by Shootinman on Jan 13, 2020 - Verified Customer
It helps me hear what is being said on the TV when I set it over near me. I can also take it to the garage and listen to what is on the TV while I am working out there.
Satisfied
Review by John on Jun 15, 2020 - Verified Customer
I purchased this item as an alternative to buying a full soundbar for my new smart television. The new T.V.'s have such small speakers they can be hard to hear without a soundbar. The portability of Sereonic solved this problem by allowing me to carry the devise to my treadmill while running or into the garage while lifting weights and still listen to or watch whatever is on T.V.
love it
Review by Noni on Sep 8, 2020 - Verified Customer
Such a great help
Works well
Review by MH on Oct 21, 2020 - Verified Customer
This is the second TV box I have owned. The first one had a better sound to it. I am happy with the Serene soundbox. It does fade in and out with the sound at times, so I took a star off. Being hearing impaired it works well and I appreciate the product.
Back to top