Serene Innovations RF-200 Cell Phone Signaler
The RF-200 telephone signaler from Serene Innovations has a loud ringer and bright flasher to alert you to incoming landline calls, calls on your cell phone, incoming Skype™ and FaceTime™ calls and SMS messag...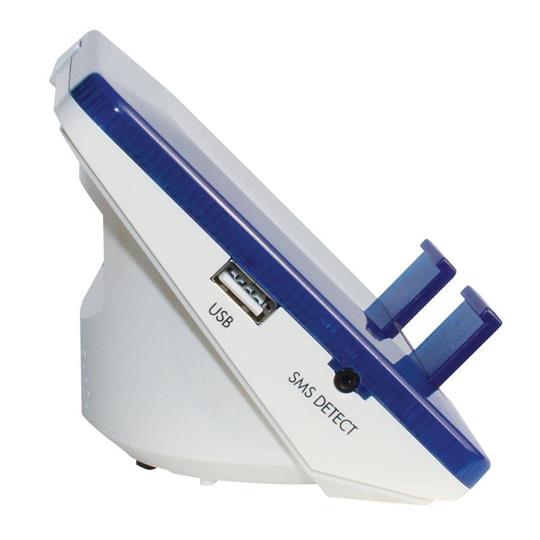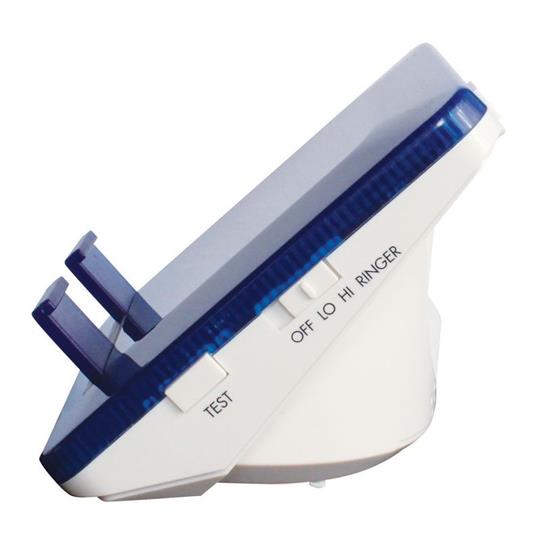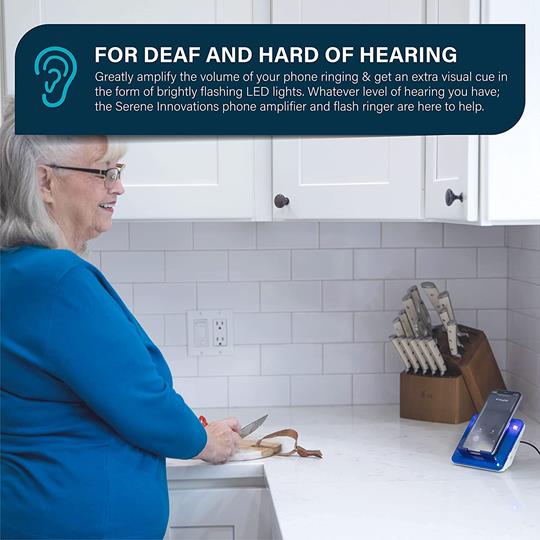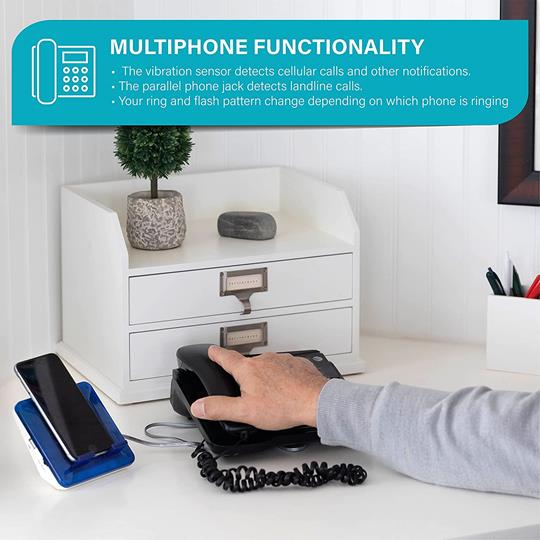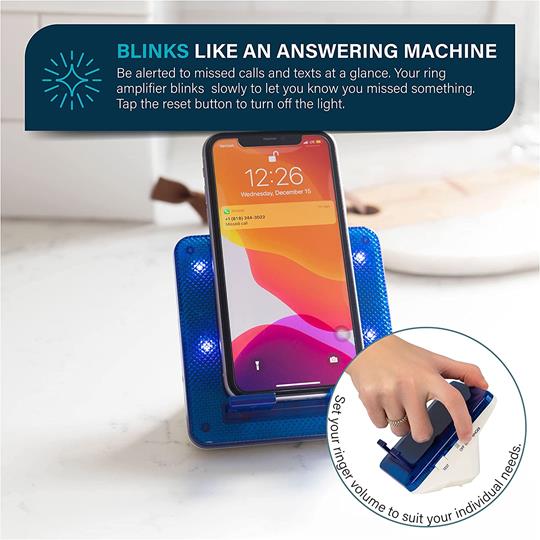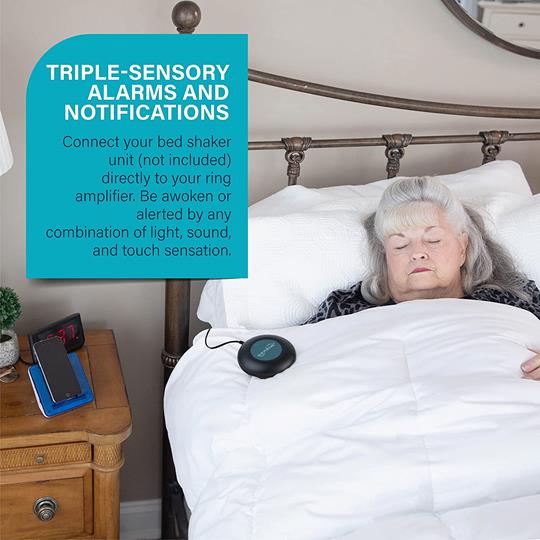 Serene Innovations RF-200 Cell Phone Signaler
The RF-200 telephone signaler from Serene Innovations has a loud ringer and bright flasher to alert you to incoming landline calls, calls on your cell phone, incoming Skype™ and FaceTime™ calls and SMS messag...
MORE
SKU #HC-RF200 IN STOCK
Ships FREE today
Most in-stock orders placed before 2pm CT (Mon-Fri) ship the same day. Ground shipping is FREE within the 48 contiguous United States. Expedited shipping options, as well as ground shipping to Alaska, Hawaii, Puerto Rico, or Canada are available for an extra charge.
Retail Price: $89.95Save $10.00
$79.95
QTY
Lowest price, guaranteed
Overview

Additional Details

Accessories

Q&A

Customer Reviews

Manual
The Serene Innovations RF-200 Cell Phone Signaler/Flasher is a desktop signaling device for landline and mobile phones, notifying you when you have incoming calls by phone, Skype, FaceTime and text messages.
Cell phone not included.
Features:
Works with cell phones and landline phones

For cell phones, place the phone on the RF-200 cradle and it will flash when it detects the vibration of your cell phone

Unique flashing patterns to distinguish between incoming calls or messages

Indicator light lets you know when you have missed calls or messages

Detects and alerts to WEA (Wireless Emergency Alert) public emergency broadcast warnings (if provided by wireless carrier)

USB port for charging cell phone

Ringer tone Hi-Lo-Off

Bed shaker jack (bed shaker not included)

AC powered with battery backup (4 AA batteries not included)

Dimensions: 116mm W x 85mm D x 90mm H

Cell phone not included
Includes:
RF-200 signaler/flasher

Phone cord

AC adapter

User guide
Feature
Details
Brand
Serene Innovations
Mfg part #
RE-200
UPC
039517598809
Warranty
One year limited warranty
Color
Blue
Weight (lbs)
1.11
Battery operated?
Yes (batteries optional)
Batteries included?
No
Battery details
(4) AA Alkaline
Country of Manufacture
China
Customer Q&A
Get help from Diglo and other customers who purchased this. Ask a new question.
What bed shaker works with this item?
The Serene Innovations Bed Shaker (SKU: HC-S/SHAKER) works with the RF-200 Cell Phone Signaler. It can be found under the Accessories tab of the RF-200.
from the
Diglo Team
,
05/25/23
Will this work with a samsung 22+? Thank you, Anita
This device will work with any phone that has a vibration setting, and with tablets that have a headphone jack built in.
from the
Diglo Team
,
07/27/22
Customer Reviews
Real people with real opinions. Post your own review.
Outdated
Review by on Jul 23, 2021 - Verified Customer
The shipping from Diglo was excellent, however, the device itself is outdated with the guide dating from 2014 and it's 2021 now. Technology is always changing and improving and this one needs to as well. Case in point, the small cord to connect the device to my iPhone isn't compatible even with a lightning cord, so I had to return it. There's no longer a headset jack on iPhones (mine is a 7th generation and the current ones are 12th generation). I hope that Serene Innovations updates the device as I'd love to have something that works in the middle of the night when someone texts me.
Diglo Response:
It is true that the cord is not compatible with newer iPhones, but as long as the phone is set to vibrate then you would not need to use the cord at all. The sensor in the RF200 is activated by the vibration from your phone when you get an incoming message or call, the vibration needs to be constant for at least 3 second intervals.
rest easy
Review by C.Anne on Nov 9, 2017 - Verified Customer
Having this little device next to the bed helps me rest easy! I can hear it, see it ( and feel it w/the extra bed shaker). I put a recipe card folded in half over "that blue light", and also a bandana handkerchief, because it really is bright!! Perhaps the next version could have an on/off or dimmer switch...
Just what I wanted!
Review by Diane B on Jan 22, 2018 - Verified Customer
I am a resident who is often on call (sometimes for weeks straight, 24/7), and I had been sleeping with my pager attached to my waistband, so that I would feel it vibrate if someone paged me. I have one of those old fashioned pagers, and it has a "silent" setting which causes it to vibrate for about 10 seconds when paged. The pager fits perfectly on this device. I bought the bed shaker as well. The whole setup is simple, and so far it has worked perfectly. Now I can sleep without my pager physically attached to me. I love it! Highly recommended!
Great... except for the always-on light!
Review by Libby on Mar 3, 2018 - Verified Customer
This was a gift. I was worried about missing on-calls because I am completely deaf. It works VERY well, and with the combined bedshaker, I do not miss any calls, texts, or alarms. I got rid of my second alarm clock because I can finally use my cell phone as an alarm! My only complaint is that the blue light is ALWAYS ON and it's very bright. I am very light sensitive, so I got a metal gridded box and lined it with card stock. At night, I put everything in the box and cover the top and rely solely on the bedshaker. If they remove that always on light, it'll make this product perfect.
Very Satisfied
Review by Rena on Oct 25, 2016 - Verified Customer
I wear hearing aids and this device is extremely helpful in the night when I do not have the aids in as my job requires that I answer the phone for late night calls. I am very satisfied with what it does and how it helps me to better hear the calls that I am receiving.
Very satisfied
Review by EP on Nov 15, 2016 - Verified Customer
I have bilateral cochlear implants and gave up my landline and have cell phone use only. This works great with the shaker to awaken me. I used a shaker I already had from Clarity and it fit perfectly (FYI) so didn't pay $40 for another one. Blue light doesn't interfere with my sleep; simply position it below my eye level on the night stand. Great product.
Works, but not in the dark
Review by PM on Apr 30, 2015 - Verified Customer
The product works well, especially with the bed shaker, but the blue light that is on all the time requires me to put a lot of duct tape over it so I can sleep. Unfortunately the tape makes me not able to see the flashing lights so well, but the bed shaker is great. I can't understand why the bright blue light must be on all the time, I hope they fix it.
Works great!
Review by Mach on May 30, 2015 - Verified Customer
I have the RF-200 and love it. I have only 40% hearing acuity. This device a allows me hear it signal me all through the house. I will be buying a second one for my workshop.
Glad to get it
Review by Hogie on Mar 31, 2016 - Verified Customer
I wanted to give up my landline phone, but I needed to get something that my hearing service dog could help me with. I purchased my first one and went to work training him. Worked great. Yes the blue light is a bother, but just put your phone sideways. I purchased this second one to put in my living area. When I clean I don't have my aids in. So I got one just like the one in the bedroom and it is great. My service dog understand right away. Yes, I could have kept moving the first one, but this works better for me.
works great except blue light
Review by Deaf Mom on May 12, 2016 - Verified Customer
I also have issues with the constant blue light. I have duct taped, used cardboard, etc. Otherwise it works great. I was wondering if the other model with the green light has this same issue. Does it have a constant green light on? **Yes, the green version has the same light. We have sent the comments to the manufacturer for consideration. - Diglo**
Very good product
Review by SS on Mar 4, 2014 - Verified Customer
I am profoundly deaf. I have been unable to hear a cell phone ring, thus depending on vibration. The RF-200 has a ring I can hear. Even from another room . Plus, the light lets me know if I've missed a call or text while outside. My only complaint about this product is that the "blue light" is very bright in a dark room. I have had to tape over the blue light so I can sleep. Very easy to use, and works well with the bed shaker.
Great idea
Review by KC on Jul 13, 2014 - Verified Customer
I love this signaler, but I wish the blue light wasn't always on. I too have applied layers of duct tape to try to dim it so I can sleep. That helped, but not completely, and isn't very attractive. I have a piece of cardboard I lean on it, which might defeat the purpose if my phone went off at night.
Great invention
Review by Gumps on Jul 22, 2014 - Verified Customer
I love that I can hear the phone ring. Works great for both the homeline and my cell phone. Maybe a future iteration could speak and say "Cell phone ringing" or "home line ringing" to make it easier for visually impaired and hearing impaired clients. Thank you for this great product!
Great product!
Review by Di on Nov 12, 2014 - Verified Customer
Works great! Easily heard throughout my 1200sq ft home.
Gets the job done.
Review by Tennessee Cave on Jan 29, 2015 - Verified Customer
Being hard-of-hearing is only part of the challenge. In the office i can hear my android phone, but out in the shop there is just too much noise from the machinery. I've only had the product for about a week, but haven't missed a call yet. My wife says she can hear it in the house, which is 225 feet away, but she is blessed with the hearing that I am missing.
It is well worth it for iPhone. Very pleased with it!
Review by CB on Jul 31, 2019 - Verified Customer
It is well worth it for iPhone along with the Serene Innovations bed shaker. I would also recommend the 6-inch charge/sync cable with lightning connector for USB port from Best Buy.
Junk
Review by C Nile on Mar 25, 2020 - Verified Customer
Doesn't work at all or goes off for no reason with my Iphone...Tried many different times and ways
Great for Hard of Hearing
Review by Viv on Jun 6, 2020 - Verified Customer
I have similar problems with my flasher but mainly because my Phone isn't working properly in ringing. However, I keep the Signaler near where I'm sitting. This allows me to glance occasionally to check for a phone call. I like the blue light, as it is flashier than my former copy I had several years.
Back to top