Serene Innovations CentralAlert CA-360 Alarm Clock with Audio Sensor
The CA-360 from Serene Innovations is a complete, all-in-one alerting solution that notifies you to the alarm clock, doorbell and phone/VP calls. The CA-360 clock/receiver has a built-in flashing strobe, loud alarm and a ...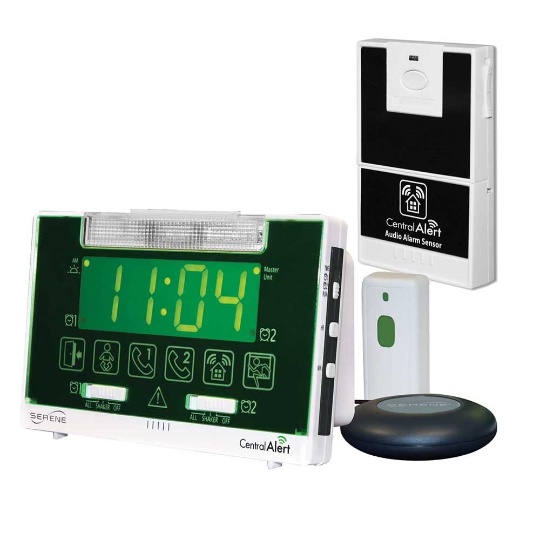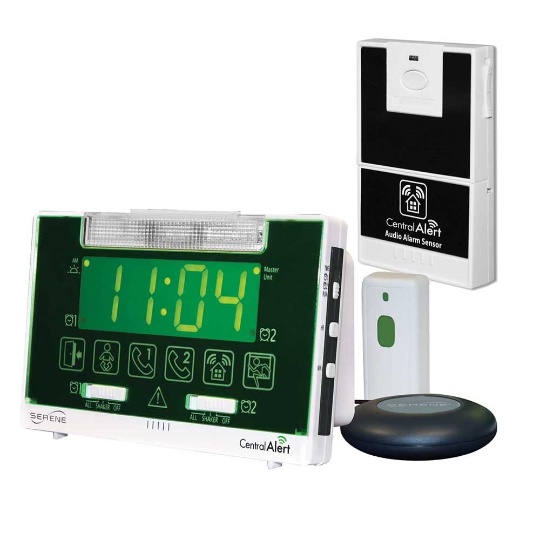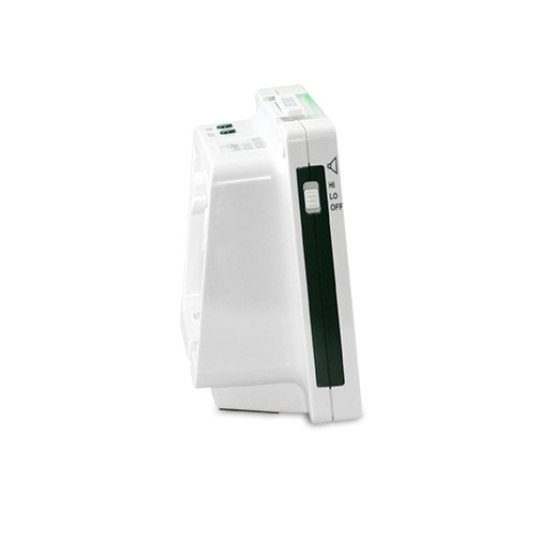 Serene Innovations CentralAlert CA-360 Alarm Clock with Audio Sensor
The CA-360 from Serene Innovations is a complete, all-in-one alerting solution that notifies you to the alarm clock, doorbell and phone/VP calls. The CA-360 clock/receiver has a built-in flashing strobe, loud alarm and a ...
MORE
SKU #HC-CA360-C2 DISCONTINUED
$202.00
OPTION:



Overview

Additional Details

Accessories

Q&A

Customer Reviews

Manual
The CentralAlert™ CA360 receiver with built-in alarm clock from Serene Innovations is an all-in-one notification system for your home. Combo 1 includes the CA-AX Audio Alarm Sensor with the CA-360.
Watch a video on the CentralAlert CA-360
It alerts you to all the daily sounds in your home such as the alarm clock, door, phone, baby, and alarm sound from your audio alarms, warnings from your motion detectors and storm warning from your NOAA radio and more*. It has a bright built-in flasher, a selectable loud yet pleasant audible sound and a powerful bed shaker to alert you. There is no installation needed for the CA360, and all operations are wireless.
Features:
Alerts to alarm clock, doorbell, door knocks, phone/fax, audio alarm, baby, weather, motion and more (available separately)

Supports up to 4 CA-DB doorbells and CA-DX door knock sensors (in any combination)

Supports up to 10 CA-RX remote receivers, 10 CA-PX personal pagers, 10 CA-AX audio sensors, 4 CA-SOS emergency SOS pendants, 3 CA-BX baby cry sensors, 1 CA-CX phone sensor and 1 CA-NOAA weather alert sensor

Alarm clock has adjustable brightness display, dual alarm settings and dual bed shaker jacks (one bed shaker included)

1.25" bright clock display

Adjustable loud audio sound and bright flasher

Big and easy to see alerting icons

2.4GHz frequency

Uses 520Hz square-wave technology for maximum audio alert, found to be more effective in alerting people with hearing loss

Up to 200 ft operating range

Dimensions: 6.5" x 4.5" x 2.25"

Battery backup 4 AA NiMH (batteries not included)
Includes:
CA-360 Alarm clock

CA-AX Audio alarm sensor

9V Bed shaker

Doorbell transmitter (HC-CADB)
* Accessory sold separately.
Feature
Details
Brand
Serene Innovations
Mfg part #
CA-1008
Warranty
One year limited warranty
Color
White
Weight (lbs)
2.19
Battery operated?
Yes (batteries optional)
Batteries included?
No
Battery details
(4) AA NiMH, 2 AA Alkaline
Country of Manufacture
China
System
Serene CentralAlert
Alert Type(s)

Vibration

Flashing Light

Loud Audible

Low Vision / Deaf-Blind

Yes

Yes

Yes

No

Transmitter / Receiver
Transmitter(s) and Receiver(s)
Alert Trigger(s)

Baby Cry

Carbon Monoxide

Mobile / Smartphone

Doorbell / door knock

Motion

Pager / SOS

Phone / VP

Smoke / Fire

Sound

Severe Weather

No

No

No

Yes

No

No

Yes

No

No

No

Range (ft)
200
Expandable
Yes
Portable
No
Battery backup
Yes
USB charger
No
Customer Q&A
Get help from Diglo and other customers who purchased this. Ask a new question.
Customer Reviews
Real people with real opinions. Post your own review.
5-stars!!
Review by on Dec 16, 2022 - Verified Customer
Finally found a great product that actually saves me much more.. Thank you!! I now get up when phone or doorbell rings.
Diglo Response:
That's wonderful news, David! We're so excited that the CA-360 package has been an excellent solution for you! Thank you for taking the time to let us know how it's going!
Excellent system
Review by on Jul 27, 2022 - Verified Customer
I searched for weeks when I discovered Diglo with the advice of a deaf friend. My search for a system to do exactly what I needed was over. I immediately ordered it, got it right away and it was SO SIMPLE to set up. It is designed by people who really understand the best way to build this kind of device. It is well thought out with two synched or independent shakers, selectable alarm types, automatic display dimming, two independent alarm clock times and power backup if you add rechargeable batteries. With two hard of hearing people and the risk of one of them falling at night, this was the solution we desperately needed. Thanks, Diglo (Harris)! All works as described. It is amply loud but the shaker going off when the button is pushed is what we needed. Also it now makes things safe at night because the smoke alarm will result in a furiously shaking bed. Nighttime security against falls and fires is greatly enhanced. This (Combo 2) is an excellent value.
Diglo Response:
Thank you for your kind review!
Awesome product
Review by on Nov 13, 2021 - Verified Customer
I talked to your customer service people and they told me the right unit I needed due to me needing 2 transmitters. I received mine and it was easy to install. It works just like they said it would and I love it the light , sound & bed shaker wake me up and one of my dogs barks just like my smoke detectors so around 800 am every day she barks and it wakes me up But I love the but I wished I would of had it before my wife passed in September so she could see how awesome it works. I already told my fiends that are hard of hearing about it and told them to come by to see how it works.
Diglo Response:
Hey Jim, We are glad to hear your CA360-C2 is everything you were looking for it to be! If questions ever come up, please don't hesitate to reach out to us, we are always more than happy to help! Best, Diglo Customer Service
Awesome product
Review by on Jul 29, 2021 - Verified Customer
I received the CA- 360, doorbell , bed shaker. They forgot the audio signal for the fire alarm but it's (on the way ). I also ordered another clock CA-360Q. At first, I repeatedly tried to pair everything and it did not work. I kept staring at the master light on the CA-360 and told myself you can't pair two masters. I had to read the manual on how to remove the master. Once, I got the master removed the CA-360 became a "receiver". I was able to pair everything just fine. Awesome equipment!! I plan to order 3 more lamp flashers and another CA-360. I am very impressed with the simple equipment and set ups.
Diglo Response:
The ease of use is great with this system, but if you have any questions feel free to give us a call.
Cautiously optomistic
Review by TDW on Aug 16, 2017 - Verified Customer
I got this for my wife who is deaf. Overall the item works well. The bed shaker was faulty right out of the box but Diglo replaced it no questions asked. Setup was quite easy. I like the two alarms. We have one set for weekday work schedule and the other set for weekends. Hopefully this one will last longer than the one it replaced (from a different manufacturer).
Works but a pain
Review by LWT on Feb 6, 2017 - Verified Customer
The system works but the set is so contorted that it is rather painful. Put this switch in that position, this one there, hold this button, turn around twice and ... If I had to guess this package was designed many, many years ago and hasn't been updated. Certainly the packaging looks like something out of 1986. Large, clunky. Still, since I am deaf and I worry about what happens around my home when I take my implant receiver off, it does work once it is finally set up. Also, there is no way, this things works over 200' maybe 50. The rechargable batteries (a good idea) are REQUIRED for it to work properly, not just suggested. Otherwise it resets itself constantly. I was hoping that the audio alert would work with the existing door bell, no dice.
This is a great product to use in occupied buildings
Review by Jones on Aug 10, 2015 - Verified Customer
In order to meet ADAAG & UFAS code requirements we needed to increase the number of hearing impaired units at two different properties we manage. The typical approach would have been to re-wire a system from the existing intercom system which comes with a substantial cost. I was introduced to Diglo from our architect and once I called the service people directed me to the ideal wireless system that met code requirements and was simple to install. We save over $1,000.
Peace of mind
Review by TL on Jan 10, 2019 - Verified Customer
Great product, ease of use, easy to set up,bed shaker very effective yet not as harsh as other systems when they first go off. It's great peace of mind to know an adult disabled person can be safe in an emergency situation.
Excellent for my home!
Review by Hal on Jan 31, 2019 - Verified Customer
I ordered a lot of this package plus CA-RX as Fire/Alarm Kit for Deaf/HH in the county where I work. I tried this at home and it worked beautifully. My deaf wife likes the 2nd alarm for herself. The clock is set upstairs and the doorbell with Remote Receiver downstairs worked great. You can press Reset button on the Remote Receiver to turn off the flashing/vibrating upstairs as well. I had another product which I had to turn off the Remote Receiver downstairs and had to run upstairs to turn off the clock but not this Serene products! I strongly recommend this product.
Super Satisfied
Review by LadyBarb on Oct 9, 2020 - Verified Customer
I have used many alarms for the deaf and hard of hearing over the years including one that I could NEVER set for the time I wanted. This one takes a bit of concentration, but setting up was relatively easy and pain-free. I got the time I wanted. I have incorporated the smoke alarm sensor aspect and it even alerted me to a fracas with my dogs the other day!!! The readout is clear and easy to see from afar and without glasses. Between the bed shaker and the light, I never miss an alarm any more. I couldn't be happier with this alerting system.
Back to top