SafeAwake Fire Alarm Aid with Bed Shaker
The SafeAwake Fire Alarm Aid provides essential protection for deaf and hard of hearing people in the event of a fire. Once an existing T3 smoke alarm is activated, the SafeAwake alerts you by vibration with the bed shak...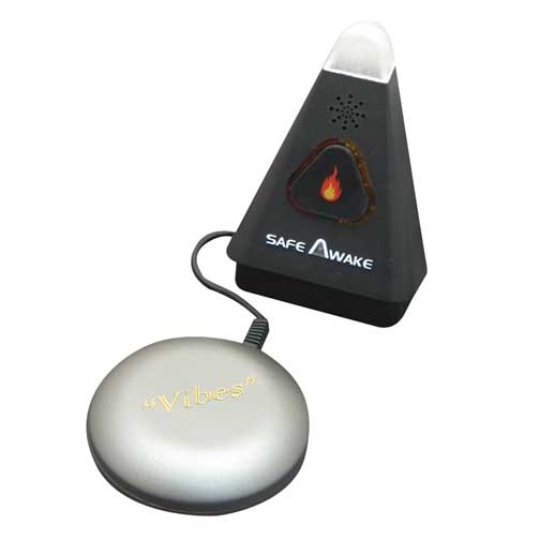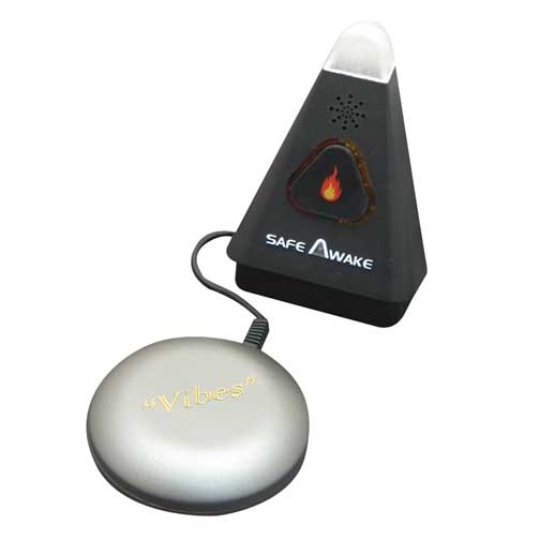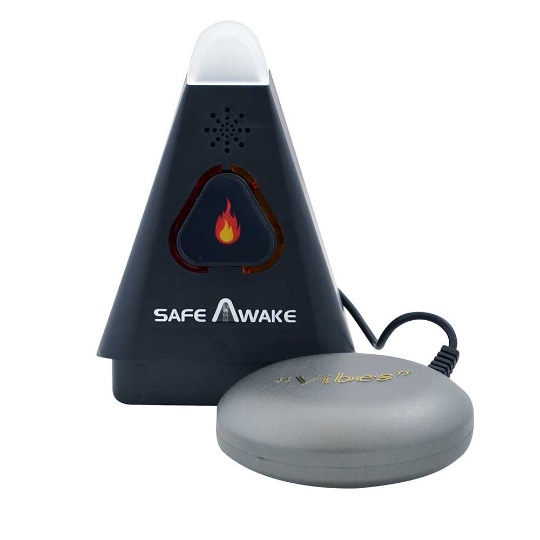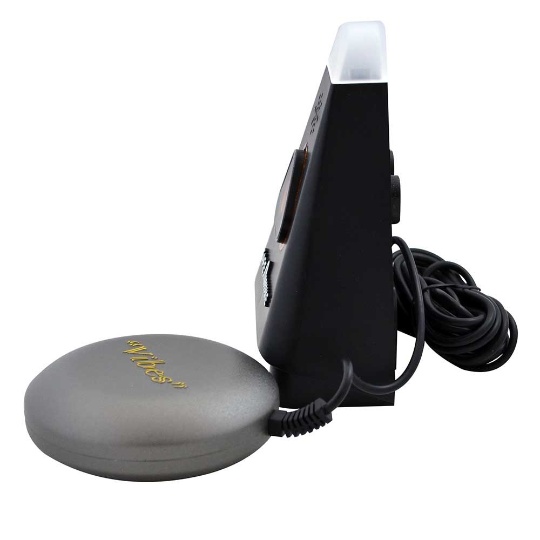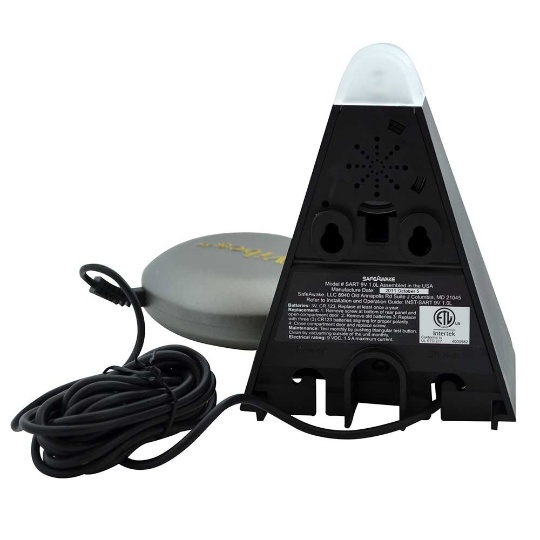 SafeAwake Fire Alarm Aid with Bed Shaker
The SafeAwake Fire Alarm Aid provides essential protection for deaf and hard of hearing people in the event of a fire. Once an existing T3 smoke alarm is activated, the SafeAwake alerts you by vibration with the bed shak...
MORE
SKU #HC-SAFEAWAKE BACKORDER
Expected in stock 02/13/2024
This item is on backorder and will ship as soon as we receive stock. The "expected in stock" date represents our best estimate, but is not guaranteed. Please call 800-825-6758 for more detailed information or assistance.
Retail Price: $249.95Save $0.05
$249.90
QTY
Lowest price, guaranteed
Overview

Additional Details

Accessories

Q&A

Customer Reviews

Manual
Sleep peacefully while feeling confident that you will wake up when your T3 smoke detector is activated. The SafeAwake Fire Alarm Aid works with existing smoke detectors to provide essential protection for deaf and hard of hearing people, or those who might not wake up to the standard audible alert of an ordinary smoke detector. SafeAwake is not a smoke detector. This product is only designed to work with smoke alarms that emit a T3 alarm pattern (three beeps followed by a pause). It will not work with alarms that emit a continuous tone pattern with no pauses. If you are uncertain as to which pattern your smoke alarm uses, please contact us for assistance.

Once your T3 smoke detector is activated, the SafeAwake alerts you with bed shaker, a flashing white light and a high decibel, low frequency (520Hz) alarm. This 520Hz tone has been proven to be significantly more effective at waking those with mild to severe hearing loss when compared to the standard domestic and commercial smoke alarm audible signal which currently produces a 3000Hz signal.


Features:
Intermittent bed shaker: 18% more effective than continuous signal bed shakers for alerting the hard of hearing
Low frequency 520Hz sound: 30% more effective than high frequency sound (3 200Hz) for the hard of hearing
Fast sound reception for smoke alarms with T3 sound
Indicator light tells user that SafeAwake is active
Plug-in power supply with battery backup provides continuous notification of operating T3 smoke detectors
Large Test button
Auto Shutoff and Reset after 2 minutes
UL 217 and UL1971 labels
Versatility

The SafeAwake Fire Alarm Aid provides notification for individuals of all hearing levels The bed shaker with 9ft cord is important for waking deaf individuals or sound sleepers who are asleep in bed, while the 520Hz low frequency alarm can aid those with high frequency hearing loss. The flashing light is intended to alert while awake.


Universality

The SafeAwake responds to any US domestic or commercial smoke detector manufactured after 1996 that requires the audible signal sound to emit an intermittent pattern in a standard temporal-3 (T3) audible format).


Portability

The device can be used in any domestic or commercial sleeping room equipped with standard smoke alarms within audible range with no need for any additional new fire detection equipment or hard-wiring. The product is a small 6" x 3" patented design device that is placed at a bedside nightstand or hung on a wall adjacent to the bed.


Simplicity

The user simply plugs into any 110-volt electrical bedside outlet and inserts the bed shaker under the mattress.


Reliability

SafeAwake includes three CR-123 lithium-ion batteries to provide backup power for up to 24 hours in the event of an electrical power failure. A low battery light lets you know when the battery needs to be replaced.


Feature
Details
Brand
SafeAwake
Mfg part #
SART 9V 1.0L
Warranty
Two year warranty
Color
Black
Weight (lbs)
1.9
Battery operated?
Yes (batteries required)
Batteries included?
Yes
Battery details
(3) 3VDC CR123 Lithium Ion
Country of Manufacture
United States
System
(no system / stand-alone)
Alert Type(s)

Vibration

Flashing Light

Loud Audible

Low Vision / Deaf-Blind

Yes

Yes

Yes

No

Transmitter / Receiver
Transmitter
Alert Trigger(s)

Baby Cry

Carbon Monoxide

Mobile / Smartphone

Doorbell / door knock

Motion

Pager / SOS

Phone / VP

Smoke / Fire

Sound

Severe Weather

No

No

No

No

No

No

No

Yes

No

No

Expandable
No
Portable
No
Battery backup
Yes
USB charger
No
Customer Q&A
Get help from Diglo and other customers who purchased this. Ask a new question.
Is this devise, bed shaker, compatible with Kidde Smoke Detector Alarm | Battery Operated | Model # i9050
This item will listen for any T3 pattern of a smoke detector, so as long as the Kidde you are looking at has the T3 pattern (3 beeps) then it will alert the SafeAwake.
from the
Diglo Team
,
08/29/22
Can I connect the device to the building's fire system in case of any evacuation? I have Esser/Honywell panel fire system
Good Morning, Thank you for your question regarding SafeAwake. It should work if the fire system has a T3 temporal. The pattern would be beep, beep, beep, pause, beep, beep, beep.
from the
Diglo Team
,
07/19/21
Customer Reviews
Real people with real opinions. Post your own review.
So far okay
Review by on Jan 22, 2022 - Verified Customer
Thank goodness we haven't had a fire. It installed easily. The bed shaker is under the bedsheet under my pillow. A burnt piece of toast set off the smoke alarm in the kitchen. I ran back to the bedroom to see if the SafeAwake "heard" the alarm. It did. The bed shaker is quite powerful and would certainly wake me. The strobe light would not and being deaf I would not hear the alarm.
Diglo Response:
We're glad to know that the system is working for you! We know that peace of mind is very important.
Unsatisfactory
Review by Tracey on Sep 2, 2017 - Verified Customer
Needs a shut off switch.
Reliable Product
Review by MC on Dec 12, 2016 - Verified Customer
This is our third purchase for the residence halls around campus. The system is effective for the students and interfaces nicely with our existing safety alerting systems.
Must have.
Review by Gina on Nov 12, 2013 - Verified Customer
We have the hearing alarms in the house, but my son does not hear it at all. He has a dog that stays with him 24/7, but she is older and losing hearing, sight and probably smell. My deaf son is an adult and from time to time I have to leave him at home alone. It makes me feel a bit better knowing that if a fire does break out while I am gone, my son will know it. I am happy that there are products on the market for the deaf.
Could be better
Review by DG on Apr 17, 2016 - Verified Customer
The SafeAwake Fire Alarm will definitely awake me with the bed shaker. I have a cochlear implant, so something like this is definitely needed. Major complaint is that there is no shut-off button or reset button to turn the unit off once it is activated. I have had on several occasions to remove the AC power, and then to open the battery compartment to remove a battery to silence the unit. It was very frustrating.
Will wake you
Review by Mike on Nov 17, 2014 - Verified Customer
This is a good product for the deaf or hard of hearing. We did have to install a new smoke detector that would activate this system. I was very pleased with this except the three batteries in this system were dead and I will check to see if they will send me the replacements. I am a Fire Marshal and we install smoke detectors and are trying this system out.
Great for individuals with hearing loss
Review by CCS on Oct 28, 2019 - Verified Customer
Will wake you in a deep sleep and is great for individuals with impaired hearing!
Don't bother
Review by Kozmom4 on Dec 19, 2019 - Verified Customer
I bought this unit (not from Diglo) last fall. I have an adult son with a cochlear implant, so he's stone-cold deaf when he removes his CI to sleep. We have hard-wired T3 smoke alarms throughout or home, to which the SafeAwake is supposed to alert. *Less than 24 hours* after installing it next to my son's bed, the darn thing alerted at 1:30 in the afternoon all by itself....there was NO alert from any of the smoke detectors, NO ambient noise of any kind in the house. And of course, with no shut-off on the unit, I couldn't just unplug it; I had to actually go get a Phillips-head screwdriver and UNSCREW THE BATTERY COMPARTMENT to shut it down. (It allegedly is supposed to shut itself off after 4 minutes, but that's a looong time to have to listen to that blaring noise.) Why can't anyone design a DEAF smoke/CO detector a) that works properly, and b) that WIRELESSLY activates a bedshaker? Why? Why? Why?
Awesome unit!
Review by Pennsylvania on Dec 24, 2019 - Verified Customer
Bought 2 of these for hard of hearing parents in separate bedrooms. Tested them. I think they are wonderful.
Back to top