Rhythms of the Sea Sound Card for S-550-05 Sound Therapy System
6 sounds to help you sleep better, relax and think more effectively

Use with S-550-05 Sound Therapy System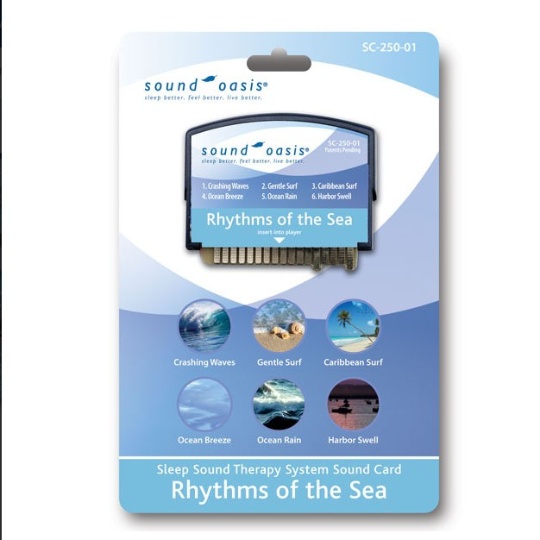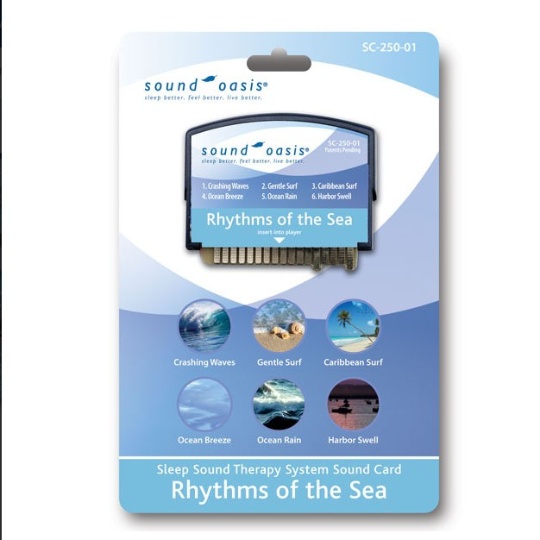 Rhythms of the Sea Sound Card for S-550-05 Sound Therapy System
6 sounds to help you sleep better, relax and think more effectively

Use with S-550-05 Sound Therapy System

SKU #HC-SC250-01 IN STOCK
Ships FREE today
Most in-stock orders placed before 2pm CT (Mon-Fri) ship the same day. Ground shipping is FREE within the 48 contiguous United States. Expedited shipping options, as well as ground shipping to Alaska, Hawaii, Puerto Rico, or Canada are available for an extra charge.
Retail Price: $19.99Save $0.05
$19.94
OPTION:




QTY
Lowest price, guaranteed
Overview

Additional Details

Accessories

Q&A

Customer Reviews

Manual
Sounds Included:
Crashing Waves on Rocky Point: Take a break and walk along a jagged coastline as you listen to the powerful, yet exhilarating, crash of waves against the rocks
Gentle Surf in a Hidden Cove: Discover the tranquility of soft surf as it washes against a sandy beach within a hidden cove
Caribbean Surf with Sea Birds: Enjoy the calming sound of surf from the shore of a sun-drenched tropical island as seabirds call while gracefully soaring overhead
Gusty Ocean Breeze: Revel in the soothing sound of dramatic wind gusts as they blow along a remote ocean shoreline
Ocean Rain: Sleep or relax with your favorite book as the wavering patter of rain falls upon the vast ocean
Harbor Swell: Picture yourself alongside a boat-filled harbor as waves gently lap against the shore and boats creak as they rock against their moorings in a mild breeze
Feature
Details
Brand
Sound Oasis
Mfg part #
SC-250-01
Weight (lbs)
0.06
Battery operated?
No
Country of Manufacture
China
Customer Q&A
Get help from Diglo and other customers who purchased this. Ask a new question.
Customer Reviews
Real people with real opinions. Post your own review.
Manual:
Back to top