Reizen Loud Ear Hearing Enhancer
Amplifies one-on-one and small group conversations

110dB gain for those who need a little extra boost

Includes single earbud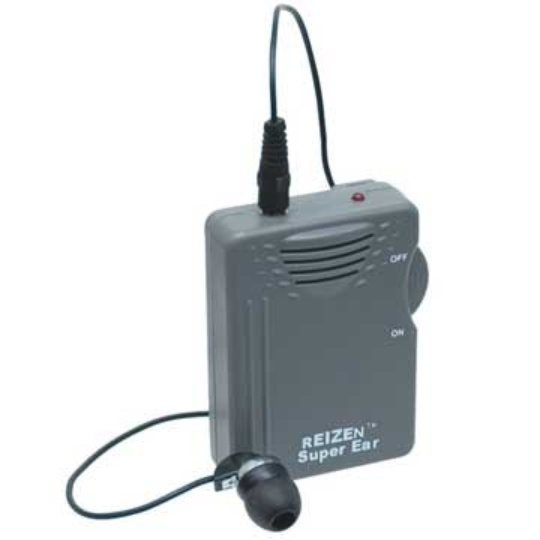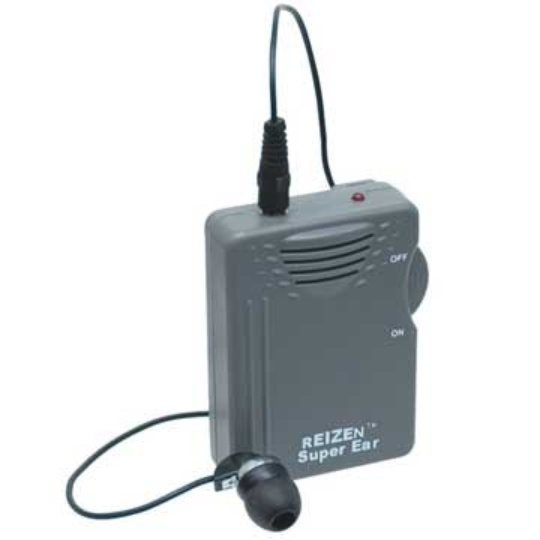 Reizen Loud Ear Hearing Enhancer
Amplifies one-on-one and small group conversations

110dB gain for those who need a little extra boost

Includes single earbud
SKU #HC-R/AMP IN STOCK
Ships FREE today
Most in-stock orders placed before 2pm CT (Mon-Fri) ship the same day. Ground shipping is FREE within the 48 contiguous United States. Expedited shipping options, as well as ground shipping to Alaska, Hawaii, Puerto Rico, or Canada are available for an extra charge.
Retail Price: $59.95Save $25.00
$34.95
OPTION:


QTY
Lowest price, guaranteed
Overview

Additional Details

Accessories

Q&A

Customer Reviews

Manual
The Loud Ear Hearing Enhancer is an affordable, portable personal sound amplifier that helps in one-on-one and small group conversations.
Features:
Up to 110dB gain

Built-in microphone

Range up to 100 feet

Volume control dial and on/off switch

Belt clip attaches to belt or clothing

Uses 2 AAA batteries for 48hrs of use (included)

Dimensions:, 1.75" W x 2.5" H x .75" D
Feature
Details
Brand
Reizen
Mfg part #
907654
UPC
012750907652
Warranty
Ninety day warranty
Color
Grey / Silver
Weight (lbs)
0.15
Battery operated?
Yes (batteries required)
Batteries included?
Yes
Battery details
(2) AAA Alkaline
Country of Manufacture
China
Wearing Style
Hand-held / body worn
Degree(s) of Hearing Loss

Yes

Yes

No

Tone Control
No
Balance Control
No
Microphone(s)

Directional

Omnidirectional

No

Yes

T-Coil Receiver
No
Bluetooth
No
Rechargeable
No
Hours of Use
48
Customer Q&A
Get help from Diglo and other customers who purchased this. Ask a new question.
Customer Reviews
Real people with real opinions. Post your own review.
4 stars
Review by mswillie on May 31, 2016 - Verified Customer
The Loud ear works just fine for me. I only wish it came with two ear buds to balance out the sound. I'm glad it does not have feedback and squealing noises.
Dad loves this device
Review by Charris7925 on Sep 20, 2016 - Verified Customer
I purchased this for my dad. When it arrived I took it to him and set it up for him. He was so used to having the volume wide open on the tv that mom has suffered because of it but with the enhancer, we just click it on without turning it up and he can now hear everything around him and doesn't have to deafen my mom anymore. Thanks, we love this product!
Reixen Loud Ear Hearing Enhancer!
Review by Terry on Jan 10, 2017 - Verified Customer
Great product ! My 93-year-old mother refused to wear any form of hearing aid but is really enjoying this product !
Great product
Review by Daughter on May 10, 2017 - Verified Customer
This is amazingly small yet extremely loud. I bought it for my visits to my mother in a nursing home and it works very well. A word of caution, though, test it in your own ear while turning up the volume because it gets very loud with very little volume.
life changing hearing aid
Review by t roy on Oct 23, 2012 - Verified Customer
my mom's 1500 hundred dollar hearing aid is worthless compared to this. i will for life kick my ass for not researching and getting this to her sooner
excellent product
Review by Chris on Nov 12, 2013 - Verified Customer
works great
Pleased
Review by Shari on Dec 24, 2013 - Verified Customer
My mom has trouble hearing at 95, but has turned down offers of hearing aides. She has recently became ill and is close to passing , and I wanted something to make her quality of life a little better, and to enable her to hear our expressions of love for her. I finally found this web site, and appreciated the good reviews I saw. I ordered the product, it was delivered quickly, and it works very well. I was happy to see Mom's eyes open and her level of recognition improve when I put the ear bud in her ear and asked her a question. I have to turn it on and adjust the sound with the ear bud in my own ear because I don't want it to be too loud. I'm really glad that I made this purchase.
Wonderful
Review by CCook on Jan 3, 2014 - Verified Customer
I delivered this divice to an assisted living client today and she loved it. We have a Bible study there on Thursdays and she would tell the speaker, "I CAN't HEAR A THING YOU ARE SAYING." So today she could hear very well and asked if she could keep her device. Of course, we said she could keep it, so I'm hoping it will enchance her person communications with friends as well.
Great product. What a find!
Review by Christina on Jan 18, 2014 - Verified Customer
My mother, who will be 87, watches TV at full volume and doesn't hear a thing that you're saying. She absolutely refuses to purchase expensive hearing aids. Over time, she has purchased several products at Radio Shack and simply put; does not help her at all. I recently purchased this product for her (she had her doubts) and what a difference. She no longer doubts this product but has asked me to purchase her another one so she can have one for home and one for when she goes to church. Too bad that it only comes with one ear bud.
Absolutely best find
Review by Christina on Feb 9, 2014 - Verified Customer
Since receiving the second one, my mother has promoted this product to neighbors, friends, church members and her brother. Highly praises the hearing enhancer to anyone one with hearing loss.
very easy to use
Review by Gustavo on Mar 25, 2015 - Verified Customer
It is for my 94 year old aunt who lives in Mexico City. She says she is now enjoying TV and able to carry conversations better. The product size is very practical for to use for physically despaired persons due to age.
HEARING ENHANCER
Review by PATTI on Jun 9, 2015 - Verified Customer
I AM 81 YRS OLD AND CAN'T HEAR THE TV, WITH THE HEARING ENHANCER, I HEAR IT CLEAR AS A BELL. I AM VERY PLEASED WITH IT. I AM GREATLY PLEASED WITH THE PERFORMENCE OF THIS HEARING DEVICE. MY HEARING IS REAL BAD AND I WOULD HAVE TO THROW UP THE VOLUME ON TV AND I LIVE IN A SENIOR APT. I TOOK MY HEAD SET FROM MY COMPUTER AND PLLUGGED IT INTO THE HEARING ENHANCER NOW I CAN HEAR IN BOTH EARS. KEEP UP THE GOOD WORK. THANK YOU FOR YOUR SPEEDY DELIVERY. THE PRICE IS EXCELLENT AND YOUR MAILING SYSTEM IS SUPER. I WISH EVERYONE THAT NEEDS A LITTLE HELP IN HEARING WOULD BY THIS DEVICE. THANK YOU AND YOU MIGHT GET SOME OF MY RESIDENTS TO BUY THIS HEARING DEVICE...
Not good
Review by Thelav on Oct 24, 2015 - Verified Customer
The ear bud broke the first day I used it. Not sure its worth even that cheap price.
Great for my Left Side Hearing
Review by JD on Nov 9, 2015 - Verified Customer
I have had my Hearing Enhancer two weeks and have used it numerous times. I have only 90% hearing in my left ear so when my wife is sitting to my left while watching TV, I can hear her great. Same is true when riding as a passenger in an auto with someone. When wearing it in public, people think I'm listening to a radio. I have a BAHA hearing device ($3,000) which is great, but the Enhancer is so much easier to use. Good Product!
works for a week
Review by ed on Dec 16, 2015 - Verified Customer
After using for 10 days, the volume control stopped work! Frustrating is, is a good conception, but very cheap , not reliable made! A pity,cause i loved the stuff, but does not work after while,,,,
Works well for very hard of hearing
Review by CRL on Jan 28, 2016 - Verified Customer
I ordered this for my 92 year old mother, who is almost deaf in her right ear. It puts a smile on her face when she remembers to put it on. True, it is not overly expensive, so quality is so-so. Who cares? It pleases her that she is able to once again carry on a conversation with family members and friends. She would not be able to work the controls on a VERY EXPENSIVE hearing aid. She can, however, use the controls on this device quite well. When this one quits working I will buy her another one.
Works very good
Review by GT on May 30, 2014 - Verified Customer
My uncle, who is deaf and mentally chanllenged as well, broke out in a big smile when this was presented to him. He could hear us. It won't last long because things disappear in the nursing home, but I am so glad to have found a reasonably priced replacement.
works as advertized
Review by cw on Jun 23, 2014 - Verified Customer
this item works and would get 5 stars if it didn't have so much static
Not good in a high noise area.
Review by pops1389 on Oct 7, 2014 - Verified Customer
Works well in a location with little noise but it amplifies everything so if there is a high noise level it's just higher. Also every once and a while it starts creating noise itself.
it is great product
Review by Mzhoneybun on Dec 15, 2014 - Verified Customer
This is perfect for me to hear it.. only problem is the battery life is not working longer.. so I have to buy other battery for this product. . Thank you for your delivery. .
Very pleased
Review by Sandi on Dec 20, 2018 - Verified Customer
I bought this hearing enhancer for my 100 year old friend who is very hard of hearing. I really didn't expect it to work for her especially at this price but it did. Usually, I have to speak as loudly as I can for her to hear what I'm saying. But with the enhancer, she could hear me when I was speaking in a normal tone of voice. I was very surprised and very pleased. The only negative I have is there is a good bit of static but even with that, it is an enormous help. Thanks.
Manual:
Back to top