Rayovac ProLine Advanced Mercury-Free Hearing Aid Batteries (60 / box) Size 675
The long-lasting, mercury free Rayovac Proline batteries are environmentally friendly, with consistent power and performance. Made in the USA!
60 batteries per box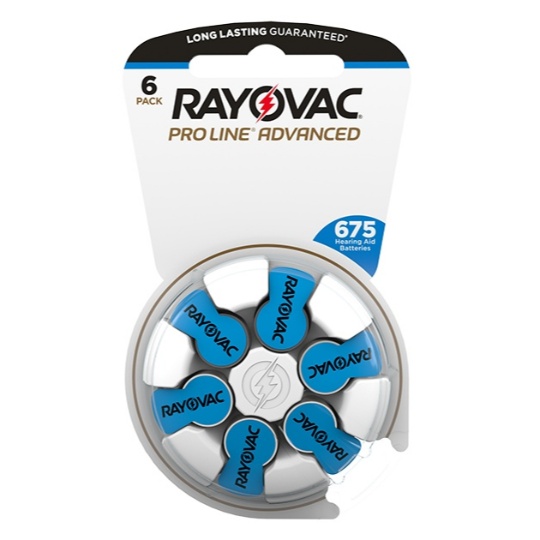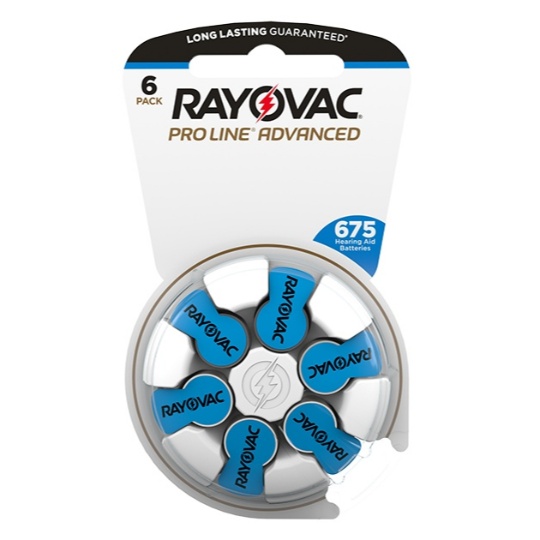 Rayovac ProLine Advanced Mercury-Free Hearing Aid Batteries (60 / box) Size 675
The long-lasting, mercury free Rayovac Proline batteries are environmentally friendly, with consistent power and performance. Made in the USA!
60 batteries per box

SKU #RV-PROBATT675-60 IN STOCK
Ships FREE today
Most in-stock orders placed before 2pm CT (Mon-Fri) ship the same day. Ground shipping is FREE within the 48 contiguous United States. Expedited shipping options, as well as ground shipping to Alaska, Hawaii, Puerto Rico, or Canada are available for an extra charge.
$44.95
QTY
Lowest price, guaranteed
Overview

Additional Details

Accessories

Q&A

Customer Reviews

Manual
Never miss a moment with the world's longest lasting hearing aid battery! This box of 60 batteries (size 675) includes Rayovac's new "Active Core Technology," providing unparalleled power on demand, longer lasting performance and increased durability. No battery lasts longer!
Today's hearing aids require the best. Rayovac Proline delivers the best in any situation, from mountain climbing to spending time with your family. Take advantage of advanced, high drain hearing aid features like automatic environment sensing or ear-to-ear directionality without having to constantly replace your batteries.
Active Core Plus with New Air Optimization Technology
New Air Optimization System
As zinc batteries use oxygen to activate, this new durable design uses air more efficiently to deliver consistent performance in all weather conditions.
Balanced Formula
We've optimized the ingredients we put inside the cell, so hearing aid users get more life out of every battery.
Engineered For Excellence
Our new harder-working battery delivers even longer-lasting power – 12% better than the nearest competitor – offering the reliability that people need with the latest hearing devices.
Feature
Details
Brand
Rayovac
Mfg part #
IM675-6
Weight (lbs)
0.44
Battery operated?
No
Battery details
(60) Size 675
Country of Manufacture
United States
Customer Q&A
Get help from Diglo and other customers who purchased this. Ask a new question.
Customer Reviews
Real people with real opinions. Post your own review.
great service!
Review by on Oct 30, 2022 - Verified Customer
Great service, great price. Thanks!
Diglo Response:
Thank you for the review!
Best hearing aid batteries for a great price!
Review by Coffee Fan on Jul 8, 2019 - Verified Customer
Great price for hearing aid batteries.
Good
Review by Becky on Aug 14, 2020 - Verified Customer
Will order more later
Manual:
Back to top