Listen Technologies Basic DSP RF Receiver (72 MHz)
The LR-3200-072 receiver from Listen Technologies offers outstanding audio clarity and quality with the best range and reception in its class.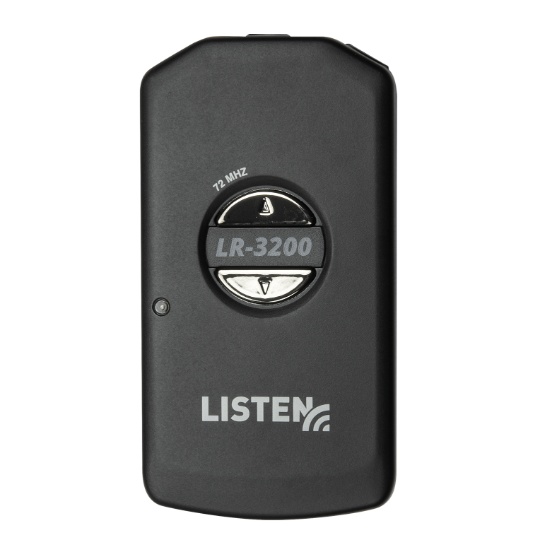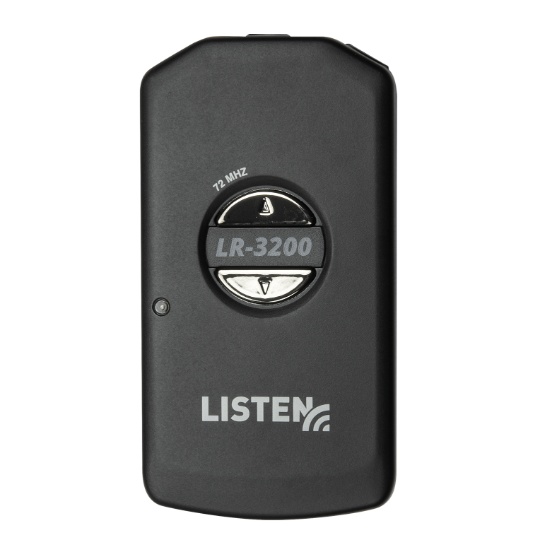 Listen Technologies Basic DSP RF Receiver (72 MHz)
The LR-3200-072 receiver from Listen Technologies offers outstanding audio clarity and quality with the best range and reception in its class.
SKU #LT-LR-3200-072 IN STOCK
Ships FREE today
Most in-stock orders placed before 2pm CT (Mon-Fri) ship the same day. Ground shipping is FREE within the 48 contiguous United States. Expedited shipping options, as well as ground shipping to Alaska, Hawaii, Puerto Rico, or Canada are available for an extra charge.
Retail Price: $150.00Save $15.00
$135.00
QTY
Lowest price, guaranteed
Overview

Additional Details

Accessories

Q&A

Customer Reviews

Manual
Part of Listen Technologies Intelligent Digital Signal Processing (iDSP) line, the LR-3200-072 is the smallest device of its kind, resulting in a compact unit that won't burden the end user. An integrated neck loop/lanyard makes each receiver easy to wear, and the DSP loop driver offers an improved listening experience for anyone with a T-coil-equipped hearing aid. Dual 3.5mm output jacks also allow receivers to be shared between users. Each receiver is equipped with a micro USB connection which can be used with free iDSP software for charging, set up, programming, inventory management and firmware updates. Extended speaking sessions, presentations and more can be challenging for other devices, but the LR-3200-072 incorporates advanced Lithium-ion rechargeable batteries that offer long life and reliable power.
Features
1 RF Receiver (72 MHz) offering best-in-class sensitivity and sound

Integrated neck loop/lanyard with DSP loop driver for an enhanced T-coil listening experience

Smallest device of its kind makes it easier to wear/use and for venues to dispense, store and maintain

Limited lifetime warranty with hassle-free support

Lanyard and belt clip options offer convenient and discreet choices for the end-user

Advanced rechargeable battery technology eliminates the costs and hassles associated with frequent battery replacement.

Includes quick start guide and a non-proprietary field replaceable Lithium-ion battery
Feature
Details
Brand
Listen Technologies
Mfg part #
LR-3200-072
UPC
819267025844
Color
Black
Weight (lbs)
0.2
Battery operated?
Yes (batteries required)
Batteries included?
Yes
Battery details
Lithium-ion
Country of Manufacture
China
Technology

FM / Digital

Infrared

Loop

WiFi

Yes

No

No

No

Tone Control
No
Balance Control
No
Microphone(s)

Directional

Omnidirectional

No

No

Receiver w / mic?
No
T-Coil Receiver
No
Range (ft)
1000
Rechargeable
Yes
Hours of Use
24
Customer Q&A
Get help from Diglo and other customers who purchased this. Ask a new question.
Customer Reviews
Real people with real opinions. Post your own review.
I was in tears the first time using it
Review by Chris on Nov 28, 2019 - Verified Customer
Our church just got this system two weeks ago. The first week, two of us used it - myself and a woman we help out in our church who has very significant two-sided hearing loss. I experienced sudden sensorineural hearing loss 13 years ago, resulting in 100% loss on one side. Speech comprehension is a significant problem for me despite almost perfect hearing on the "good" side. I had forgotten just how much I've lost in a church setting by not being able to understand what's being said. Both the other woman and I had tears in our eyes within moments of putting on the ear pieces connected to this device. Suddenly hearing sound directly from the podium microphone through the chapel sound system, rather than the poor acoustics in the chapel from the speakers, was an experience that defies description - other than "wonderful!" Clarity is amazing, and it appears this is exceptionally well tuned to speech frequency. I've had as little as 15-20% comprehension in some church services over the past 13 years, and suddenly I had a 100% comprehension experience for the full hour. I am considering purchase of my own receiver just so I don't have to bother with the hassle of tracking down the person that distributes and collects them. I helped a total of six people use the devices the 2nd week, and the reactions were similar to mine in all but one case (he has such severe hearing loss that this device was simply not helpful to him - even his own hearing aid is now almost useless to him).
Back to top