Lifetone HLAC151 Bedside Vibrating Fire Alarm and Clock
The Lifetone Bedside Fire Alarm and Clock HLAC151 model uses patented monitoring technology to actively listen for the high-frequency sound of your smoke alarm.
Smoke alarm notification system alerts when T3 smoke alarms ...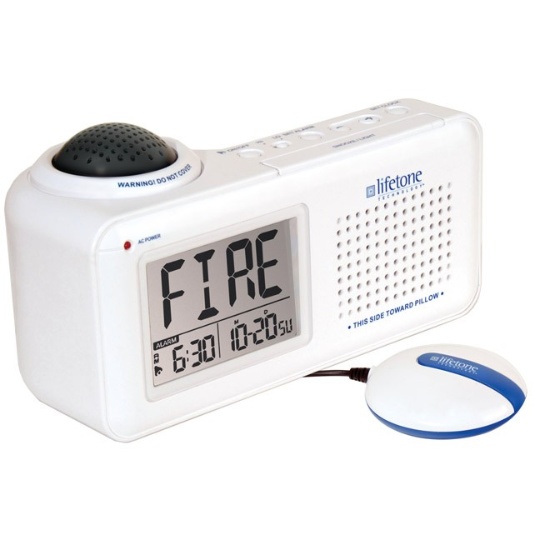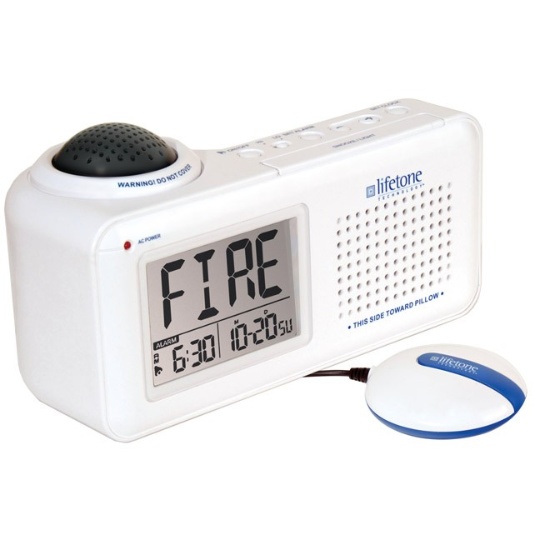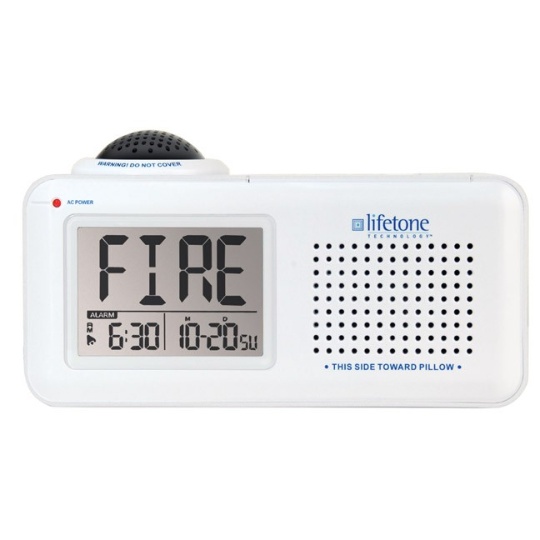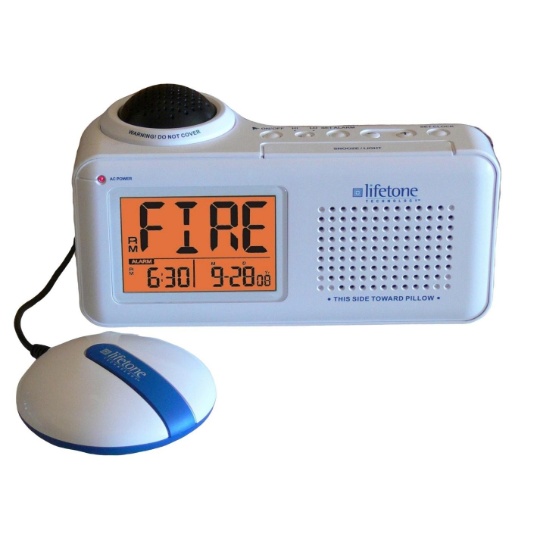 Lifetone HLAC151 Bedside Vibrating Fire Alarm and Clock
The Lifetone Bedside Fire Alarm and Clock HLAC151 model uses patented monitoring technology to actively listen for the high-frequency sound of your smoke alarm.
Smoke alarm notification system alerts when T3 smoke alarms ...
MORE
SKU #HC-LIFETONE2 BACKORDER
Expected in stock 12/29/2023
This item is on backorder and will ship as soon as we receive stock. The "expected in stock" date represents our best estimate, but is not guaranteed. Please call 800-825-6758 for more detailed information or assistance.
$239.95
QTY
Lowest price, guaranteed
Overview

Additional Details

Accessories

Q&A

Customer Reviews

Manual
A Lifetone Bedside Fire Alarm and Clock in your home provides your family with affordable fire protection and alerting in the event of a fire. The Lifetone alarm unit has audio and vibration alerting to notify deaf and hearing individuals.
Lifetone is not a smoke detector. This product works with smoke alarms that emit a T3 alarm pattern (three beeps followed by a pause). It will not work with alarms that emit a continuous tone pattern with no pauses.
If you are uncertain as to which pattern your smoke alarm uses, please contact us for assistance.
View Lifetone demonstration and setup video
How does Lifetone work?
Perfected over 10 years of development, the Lifetone HL uses patented monitoring technology to actively listen for the sound of your smoke alarm, and ignore all other sounds at the same frequency, about 3100Hz. When it detects your smoke alarm, it immediately initiates
three different signals
to wake you up:
Special low pitched,
520Hz square-wave T3 alarm sound
proven in controlled scientific testing as the most effective at waking people in a fire emergency. The Lifetone HL has a 85dB alarm signal - that's like having someone start a lawn mower next to your bed.
The Lifetone HL has a baritone voice that
says "Fire! Get out!"
in English or Spanish.
The Lifetone HL has a
visual signal
on the backlit display that flashes the word "FIRE." In a darkened room, the flashing display is another form of sensory stimulation to "break through" the fogginess of sleep.
The Lifetone HL comes with a small
bed shaker
that will vibrate strongly when the alarm is triggered. Connect it for vibration notification.
Features:


Alerts with 4 different signals: loud, low pitched 520Hz T3 sound; vibrating bed shaker; talking baritone voice saying "Fire! Get out!"; and FIRE in large text against a flashing orange backlight

Uses the alarms proven in research sponsored by the US Fire Administration as most effective for waking people

Works in conjunction with existing UL-listed T3 smoke alarms (alarms with sound pattern "beep-beep-beep-pause" then "beep-beep-beep-pause" then "beep-beep-beep") with ionization or photoelectric technology

No installation or wiring required - just plug it in

Battery backup lasts 7 days or more while still providing emergency alarm signals (batteries included)

Large 1.2" easy-to-read display with orange background and user-selectable brightness

Alerts you if there is a power outage or low batteries, even if the bed shaker is disconnected

Can be used as a daily alarm clock (the wake-up alarm is at a lower, non-emergency volume)

Includes a 6V bed shaker(6 ft cord) for optional additional notification

Dimensions: 8 1/2" L x 5" W x 4" H

Listed by UL to UL 217, ULC S531, and UL 1971

Compliance: NFPA 72(2013), RoHS, California Proposition 65
Feature
Details
Brand
Lifetone Safety
Mfg part #
HLAC151
UPC
899142002009
Warranty
Two year limited warranty
Color
White
Weight (lbs)
3.81
Battery operated?
Yes (batteries optional)
Batteries included?
Yes
Battery details
(4) D Alkaline
Country of Manufacture
China
System
(no system / stand-alone)
Alert Type(s)

Vibration

Flashing Light

Loud Audible

Low Vision / Deaf-Blind

Yes

Yes

Yes

No

Transmitter / Receiver
Transmitter
Alert Trigger(s)

Baby Cry

Carbon Monoxide

Mobile / Smartphone

Doorbell / door knock

Motion

Pager / SOS

Phone / VP

Smoke / Fire

Sound

Severe Weather

No

No

No

No

No

No

No

Yes

No

No

Expandable
No
Portable
Yes
Battery backup
Yes
USB charger
No
Customer Q&A
Get help from Diglo and other customers who purchased this. Ask a new question.
Customer Reviews
Real people with real opinions. Post your own review.
satisfied
Review by Daughter with peace of mind on Mar 22, 2017 - Verified Customer
My mother has cochlear implants, so she is completely deaf at night when she takes them off to sleep. My father recently died and I realized that she would not know the fire alarms were going off now at night. She also didn't have a way to wake up in the mornings for church or appointments. So I started looking for an alarm that could do both. I am happy to say this does both beautifully. It was very easy to set up and responded to the test of the fire alarms even with the bedroom door shut. She hasn't complained about the light the alarm produces at all as others have in these comments. I would buy again if I needed to.
Hopeful
Review by NOLA on Mar 11, 2015 - Verified Customer
This is the second Lifetone alarm I have purchased . I wear cochlear implants and need this at night when they are removed. The first one I bought stopped working after the warranty was over (about a year and a half) so I am hopeful this one will last longer as it is expensive. The orange light doesm't bother me during the night.
Just what I needed for peace of mind
Review by TomDC on Feb 5, 2015 - Verified Customer
I read about a tragic fire recently and then realized that even with my aids, I barely hear smoke alarms. My bedroom is on the second level of a townhouse with one set of stairs. I'd been putting off dealing with a concern about not hearing a smoke alarm at night and decided it was time to act. The Lifetone seemed to be the best option. It is a very solid device, was easy to set up, and is able to "hear" the smoke alarm on the first level in the back by the kitchen. I've tried the test alarm, and I can hear the alarm clearly without my HA and the bed shaker is quite powerful. And it shouts and flashes when the fire alarm is triggered. You can also use this as an alarm clock and the tone and bed shaker should do well. I have one negative. The clock face is an orange, back lit display. It is easy to read, however, it is quite a lot of light even on the lower of the two brightness settings. There is lots of research showing that too much light in a bedroom detracts from a good sleep. I turned the back light off and have to push the snooze bar if I want to read it at night. (The red light indicating AC power is also very bright and there is no option to tone that down at all.) I wish there was a lower brightness option for the clock face. I thankfully haven't had to try it for real but I sleep a lot better knowing I'll be alerted if there is a fire.
Bed shaker stops working
Review by Em on Jan 18, 2019 - Verified Customer
We have two of these units and I had been very happy with them. However, the bed shaker has stopped working on both units. When it happened the first time, I thought it was a fluke, but now the 2nd one is faulty. It just keeps repeating "Check bed shaker". I can buy a replacement bed shaker from Lifetone $40ish, but instead I'll be looking at other brands.
gift
Review by judith on Nov 9, 2020 - Verified Customer
I purchased as a gift for my mother who lives alone and is deaf. I cannot rate but she did keep and installed
Back to top