iLuv TimeShaker Boom Vibrating Alarm Clock with Wireless Bed Shaker
Up to 120dB amplification - same level as a jack hammer

Bed shaker with 3 levels: normal, strong and earthquake

Super bright flashing LEDs

USB port for charging phone while you sleep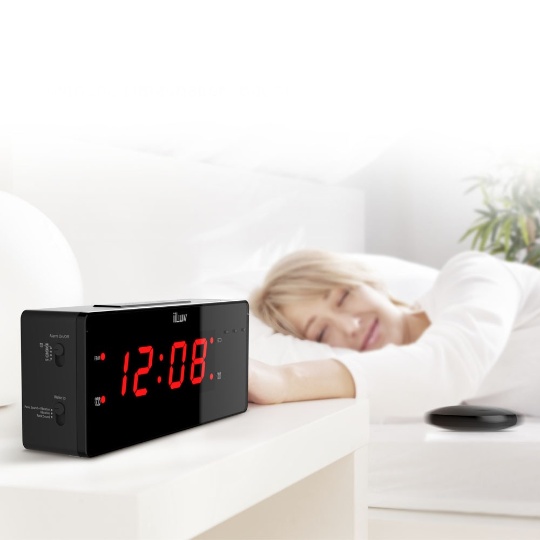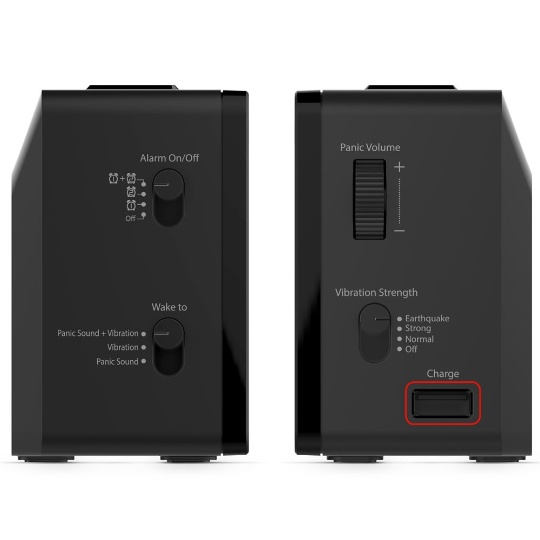 iLuv TimeShaker Boom Vibrating Alarm Clock with Wireless Bed Shaker
Up to 120dB amplification - same level as a jack hammer

Bed shaker with 3 levels: normal, strong and earthquake

Super bright flashing LEDs

USB port for charging phone while you sleep

SKU #HC-TIMESHAKERBOOM DISCONTINUED
$44.99
Overview

Additional Details

Accessories

Q&A

Customer Reviews

Manual
The TimeShaker Boom is all about convenience. It includes a wireless rechargeable bed shaker that frees your bedside table from clutter and a USB port so you can charge phone right from the clock! The extra loud alarm, super bright LEDs and adjustable strength bed shaker will make sure you get up on time.



Features:
Loud, adjustable 120dB audible alarm
Wireless, rechargeable bed shaker with 3 adjustable levels
Use bed shaker up to 7 days before needing to recharge
Dual alarm
Flashing alert lights
USB port for recharging shaker and other electronics
Dimmer and Snooze button
Battery back-up for time and alarm (2 AAA batteries not included)
Easy-to-read, 1.4" LCD display
Feature
Details
Primary Use

Yes

No

Brand
iLuv
Mfg part #
TSBOOMULBK
UPC
639247042971
Warranty
One year warranty for parts 90 days for labor
Color
Black
Weight (lbs)
2
Battery operated?
Yes (batteries required)
Batteries included?
Yes
Battery details
(1) Non-removable Lithium Ion
Country of Manufacture
China
Alert Type(s)

Vibration

Flashing Light

Loud Audible

Yes

No

Yes

Tone Control
No
Dual Alarms
Yes
Battery backup
Yes
Built-in USB charger
Yes
Bluetooth
No
Smartphone Compatibility

No

No

Expandable
No
Customer Q&A
Get help from Diglo and other customers who purchased this. Ask a new question.
Customer Reviews
Real people with real opinions. Post your own review.
Somewhat happy
Review by Chris on Aug 16, 2018 - Verified Customer
I agree that the battery back up does not work. I only bought it for the loud alarm that I am satisfied with. It's hard to set the time, the button doesn't work very well. The vibrator works well.
Disappointed
Review by Happy on Nov 8, 2016 - Verified Customer
This alarm clock did not match the description. It does not have a 120 dB alarm. My hearing son agreed with me that it was not very loud. The "super bright flashing LEDs" were not super bright at all--they are not even "bright"--just little lights. I could not get the alarm to synch with the vibrator so wasn't even able to test that. I returned it.
Lousy piece of equipment
Review by Mcsimpson1 on May 23, 2017 - Verified Customer
Buttons started to break within months. By one year I couldn't set the alarms without taking 30 to coax the buttons to do what they're supposed to. Battery backup never worked, clock would reset to 12:00 anyway.
Very satisfied
Review by Mark on Dec 23, 2018 - Verified Customer
Have had this clock for 1 year. I am totally deaf and a heavy sleeper. The clock functions work fine and the vibration shaker is strong enough to wake me up. I keep it in my sleepwear pocket so it vibrates directly on me instead of under the pillow which both wanders around and smothers the vibration.
Bleh
Review by DeafFox on Nov 4, 2019 - Verified Customer
The light is too bright even I set to dim. The shaker isn't as strong as Sonic Boom. I had to charge the shaker every other day.
Works great, no problems waking up
Review by Jim on Mar 30, 2020 - Verified Customer
Works great! No problem waking up anymore!
Back to top