Comfort Audio Duett with Earphone / Headphone
The Comfort Duett New Personal Listener from Comfort Audio is an easy-to-use hearing amplifier that helps you hear every word loud and clear, whether you're at a lively family dinner, chatting on the phone or watching TV...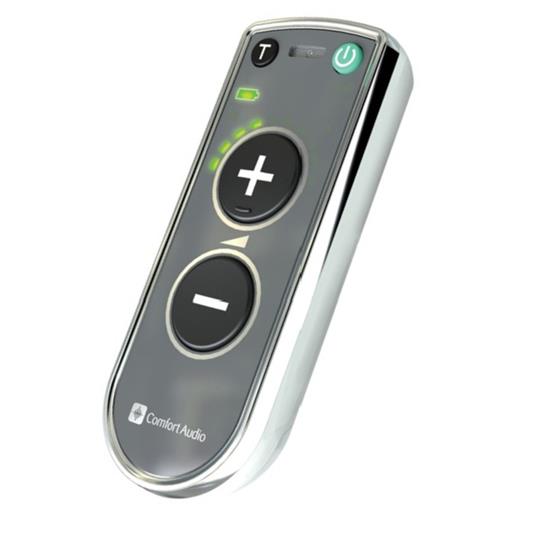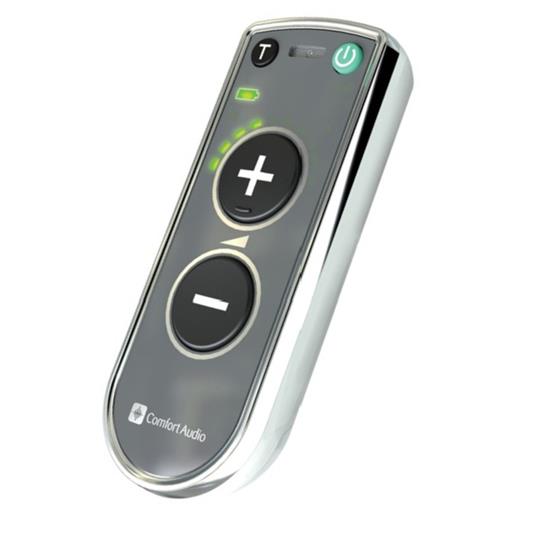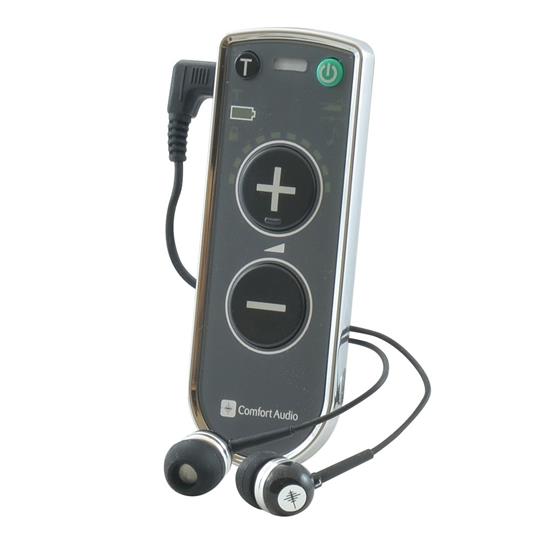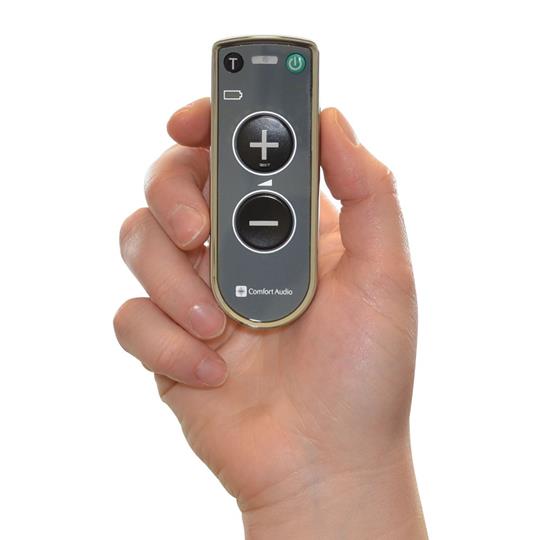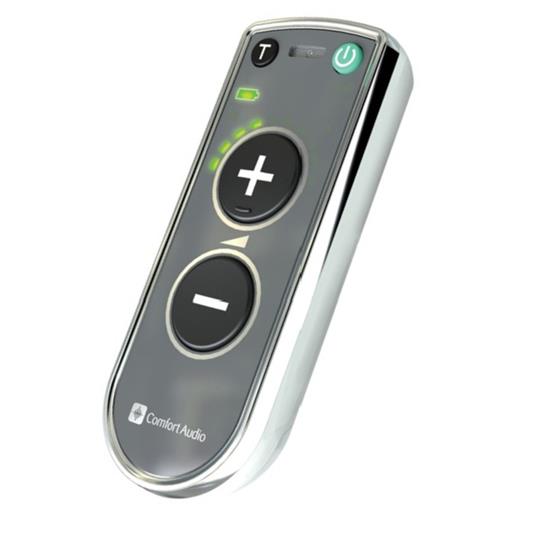 Comfort Audio Duett with Earphone / Headphone
The Comfort Duett New Personal Listener from Comfort Audio is an easy-to-use hearing amplifier that helps you hear every word loud and clear, whether you're at a lively family dinner, chatting on the phone or watching TV...
MORE
SKU #HC-DUETT2 DISCONTINUED
Retail Price: $319.00Save $47.01
$271.99
Overview

Additional Details

Accessories

Q&A

Customer Reviews

Manual
Connect with the world at the touch of a button. When every word is loud and clear, you can participate in life with confidence. The Comfort Duett New Personal Listener from Comfort Audio helps you get more involved in almost any situation. Clever technology in the Comfort Duett Personal Listener sends important sounds, like people's voices, to hearing aids, headphones or earphones. With its compact design, Comfort Audio's Duett personal listener can discreetly tag along wherever you go.
Two year warranty.
Ninety day warranty on accessories.
Features:


Digital Signal Processing

Automatic Gain Control

Omnidirectional internal microphone

Built-in telecoil for use with induction loop systems

Three different Max. Gain Thresholds

10 steps volume control - 2dB/step

Three different Tone presets

Aux. In and External Microphone

Functions as a t-coil induction receiver; can be used by people with t-coil hearing aids

Ideal for small groups, communicating one-on-one and in autos

Perfect for hearing aid users with and without a t-coil

Up to 60dB amplification

Add-on kits available for TV and telephone listening

Compatible with neckloop, headphone/earphone and t-coil hearing aid

Charger unit holds and charges the Comfort Duett

Large function button, distinct indications and redesigned larger, ergonomic volume controls

Approximately 3.7" L x 1.4" W x 0.7" H

Weight 0.1 lbs

Connections: Aux/Mic In, 3.5mm headphone/earphone or neckloop jack, Micro USB charging connection

Operating time: 20 hours

Charging time: approximately 3.5 hours
Includes:


Comfort Duett Personal Listener with largevolume buttons

Headphone and earphone (neckloop available sold separately to use with t-coil hearing aids)

1 Charger stand

2 AAA NiMH rechargeable batteries
Feature
Details
Brand
Phonak
Mfg part #
052-4110
UPC
7350034903666
Warranty
Two year warranty
Color
Grey / Silver
Weight (lbs)
1.01
Battery operated?
Yes (batteries required)
Batteries included?
Yes
Battery details
(2) AAA NiMH
Country of Manufacture
Sweden
Wearing Style
Hand-held / body worn
Degree(s) of Hearing Loss

Yes

Yes

Yes

Tone Control
Yes
Balance Control
No
Microphone(s)

Directional

Omnidirectional

No

Yes

T-Coil Receiver
Yes
Bluetooth
No
Rechargeable
No
Hours of Use
20
Customer Q&A
Get help from Diglo and other customers who purchased this. Ask a new question.
I have a client that has bought the comfort duett- she brought it to me yesterday to have me look at it. We let it charge all night- it is blinking green. Is it supposed to do that? And the customer is saying it does not work.
When the power indicator blinks green, that means the amplifier is active and turned on. The user should have either the headphones or earphones plugged in securely to the unit, then adjust the volume and tone as needed.
from the
Diglo Team
,
12/30/21
Customer Reviews
Real people with real opinions. Post your own review.
Excellent product
Review by on Feb 25, 2022 - Verified Customer
Easy to set up and use. Understanding of on/off, volume and battery charge are simple after reading the manual. Clarity is clear and the unit is lightweight. I purchased the lanyard as well. My father's hearing aids were made by the same manufacturer (Phonak) and the quality of this amplifier is as top-notch as his hearing aids were. Your customer service representative was very helpful when I was deciding between two of the units on your website and I am glad I chose the Comfort Audio Duette. I would highly recommend your business to anyone who was in the market for audio devices. Thanks for your help and expertise.
Diglo Response:
We are happy you found a product that works for you. If we can be of further assistance in the future please don't hesitate to reach out. The Diglo Team
Excellent but room for improvement
Review by Alfrido on Jan 18, 2018 - Verified Customer
Sure it is an excellent device in terms of quality and quantity of sound... but I suggest some possible improvements. Because the weight of the device it makes it uncomfortable to wear it in shirt's pocket, besides it would be super great to make it "invisible" (nobody could see it!): a. It should have microphone on top instead of on a side, so one can wear it facing oneself or the other way b. It should have means to hang around neck, so can be hidden with shirt (although this can end up producing some noise when walking from friction between microphone and fabric) d. It should have optional wired external microphone so device can be place in pant's pocket and be 100% invisible!!
great
Review by Bar on Feb 5, 2018 - Verified Customer
Very good.
very much of an improvement
Review by grace on Jul 26, 2018 - Verified Customer
This device works well, a big improvement over the 'personal amplifier" I had. Only negative is that I have very small ear canals and so the ear buds don't stay in and the headphones, although they work, get a bit uncomfortable. The quality of sound is great.
Excellent Service
Review by Addie on May 30, 2016 - Verified Customer
I purchased this product for myself and have read all instructions and used it in a test situation. I have not yet used it in a group meeting situation for which I purchased the unit. Service, price, explanations, instructions, delivery time were all excellent. I believe the product will be fine.
seems to work
Review by sunny on Jan 24, 2017 - Verified Customer
I purchased this product for my brother who has lost hearing since he had a stroke last year. Although I was not able to test it out for myself, he recently let me know that it has worked for him and that he can hear again. There have been a few "patches" but overall, he seemed satisfied with it.
excellent results!!
Review by Lesa on Jan 22, 2014 - Verified Customer
I mainly was looking for something to help my dad while riding in the car. His "good" ear was to the window and could not hear any conversation....this product has opened up so many opportunities for him! Thank you!!! He takes it to the restaurants and wears around the house. Prefers it over the hearing aid!!
an improvement
Review by mary on Apr 10, 2015 - Verified Customer
Useful, but gets very loud!
A great product
Review by Daughter on Aug 10, 2015 - Verified Customer
I purchased this for a family member. He's only had it for two to three weeks, but he is very happy with the quality of the sound and the comfort and portability of it. Another plus is that it is rechargeable. I am told that people with hearing aids struggle mightily with frequent battery changes. I have no personal experience, but this device seems to be a superior solution.
highly recommended
Review by delighted daughter on Sep 23, 2015 - Verified Customer
We purchased this amplifier for our mother who is losing her hearing. We have bought numerous kinds of hearing aids, which she wouldn't wear because either they were uncomfortable to wear, humming, or just didn't seem to help her. She had just simply given up ever hearing anything again. It was really upsetting to see her just sit and not say anything or join in on conversations when she was in a crowd. Then one day she today me that the church had a device that she used that she liked, so when I investigated what they were using, I went to the Internet to find the product. The one they had, was not for home or personal use. That is when I found Diglo. I found this amplifier and dissed it with the rest of the family. We decided to try this one and with the return policy that Diglo has, it was worth a try. Our mother loves it. She wears it all the time because it isn't uncomfortable and she gets in on conversations and even laughs. It is so wonderful to have her back joining in on family outings and parties. A few of her friends have noticed the change and are going to get one of these for them or family member that has hearing loss. Even some of my sister's friends are trying this. Thank You Diglo for giving us our mother back. It is exactly what she needed.
Extremely pleased!
Review by Mom on Sep 24, 2015 - Verified Customer
My daughter has an auditory processing disorder and would not use her expensive over the ear device because of how it made her stand out in school. We fought over it daily. I purchased this device after hearing about it at a conference. She now uses it everyday without an argument!
pleasantly surprised
Review by Deb on Nov 29, 2015 - Verified Customer
Dad misplaced his hearing aids in his assisted living home. To replace them was cost prohibitive and would have been lost again anyway. The 30 day trial period for the Audio Duett was a no brainer. He wears it for group activities and when watching tv. We can see the relief on his face that he no longer strains to hear what is going on. It is a relief for me that I can have a conversation with my dad again. We are hoping he will get used to it and wear it all the time. My only concern is when he clips it on his shirt, it picks up his breathing and movement of his clothes. He usually holds the amplifier in his hand which has been a problem at times. I suggest new customers experiment with positioning and the bass/treble controls. It does make a difference.
Excellent
Review by Dori on Dec 11, 2015 - Verified Customer
I am very pleased with my Comfort Audio Duett. It is great in Church for those who do not speak up and for television (esp.the women commentators who talk very fast). Somehow, this personal listener makes everything clearer. I thank you that this was affordable and helpful.
Very nice product for the price
Review by Libby on Jan 13, 2016 - Verified Customer
We bought this device because my mom refuses to wear her hearing aid. It is probably out-dated, but would be cost-prohibitive to replace. I bring the personal listener with me when I visit her in her assisted living facility. It is easy to use and the quality is sufficient that it seems to help. Planning to take it with us to doctors' appointments. You have to be careful about accidentally pressing the T-loop button, which if turned on, causes distortion in the sound.
not effective
Review by too tinny on Apr 15, 2014 - Verified Customer
I bought this for my grandfather to replace his hearing aids because they need repaired at $500 a piece hoping for an alternative. as far as the comfort audio duet there is no low end to this hearing device, nothing but treble that just screams at your ears even at low volume. the mic is way too sensitive to subtle movements too. I bought some high end headphones and it didn't change anything. my grandfather refuses to use them. its a shame because it is a nice device with easy controls, it just needs a high end filter on it.
Excellent
Review by Richard on Apr 22, 2014 - Verified Customer
Easy to use. Wonderful sound quality. Nice to be able to control bass and treble if you want.
As good as it gets for now
Review by Reno on May 26, 2014 - Verified Customer
It would be great if the receivers could be in the ear cups. No wires or receiver in your shirt pocket.
Now I can finally understand what the Brits are saying on TV!
Review by Love BBC Mysteries on Jul 29, 2019 - Verified Customer
I don't have a hearing problem, however, I have always enjoyed BBC and love their mysteries. I found that I was rarely watching them because I would miss much of what was said. My brother use to be an audio tech in the Navy and told me the Brits used a different sound mix and that mix was not maximized by the US TV's. Smart TV's never seem to have the headphone jack and I loved me old Bose wired headphones. I searched around and found these. They are pricey, but I decided to give this a try. Customer service was helpful in setting it up and instead of paying $30 for the TV kit, I went on Amazon and spent less than $10 for a male to male stereo audio cable and a stereo RCA Male, Female Y cable. Sound is phenomenal. Took a little tinkering with customer services help to minimize the sound for my needs.The headphones that come with it are cheap crap and I threw those away. Earplugs OK.
Pleased except for headphones/earbuds
Review by Lorna on Jun 30, 2020 - Verified Customer
I bought this for my 94-year-old mother, who can no longer hear me from across the room, and who I know would have a terrible time managing hearing aids (life-long challenges with visual/spatial/mechanical things, only getting worse with age). The hearing part works great, but the headphones were uncomfortable after a short time, and the earbuds kept falling out. I needed to buy some joggers' earbuds with an extension that wraps around the ear to make them usable for her. We're still getting used to using them, and I'm not sure she will use them on her own once she finally returns to her senior independent living apartment, but they are allowing us to have conversations when I'm not right next to her.
Back to top