Clarity E814 Amplified Phone with Expansion Handset - 1 Year Warranty
The Clarity® E814™ is a 40dB amplified corded answering machine telephone and 40dB amplified cordless expansion handset.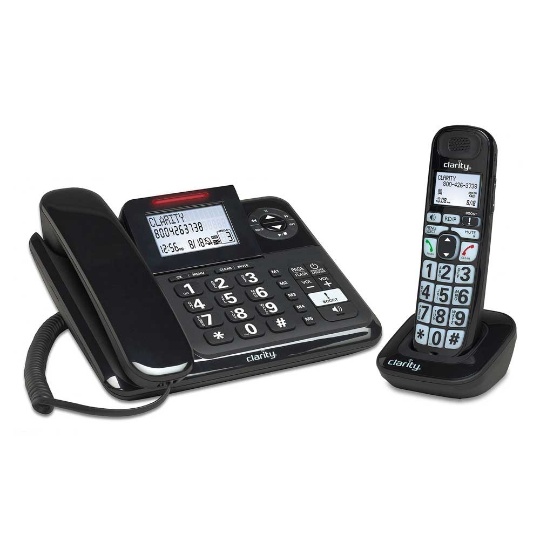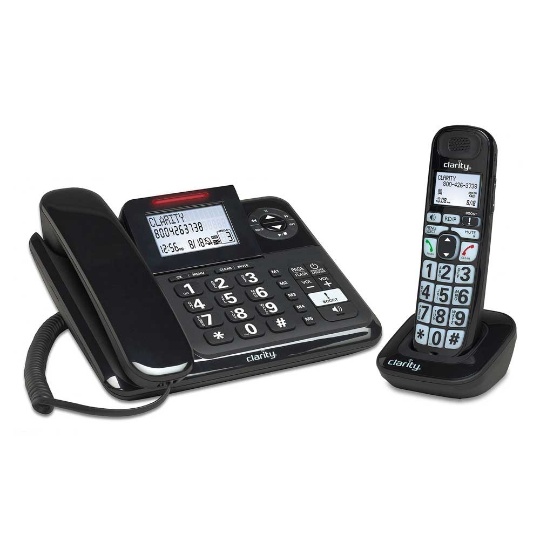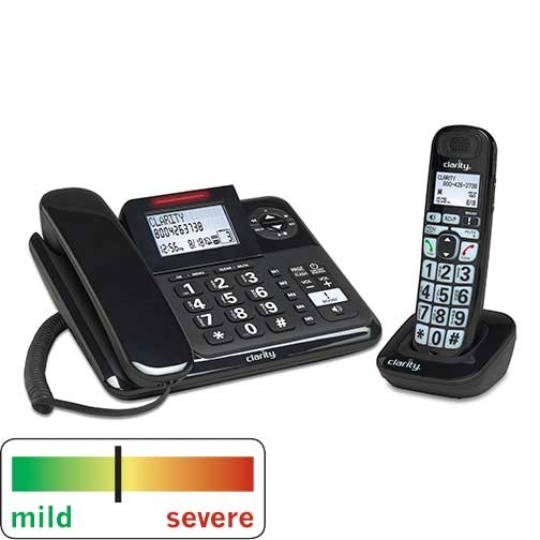 Clarity E814 Amplified Phone with Expansion Handset - 1 Year Warranty
The Clarity® E814™ is a 40dB amplified corded answering machine telephone and 40dB amplified cordless expansion handset.
SKU #CL-E814CC BACKORDER
Expected in stock 09/29/2023
This item is on backorder and will ship as soon as we receive stock. The "expected in stock" date represents our best estimate, but is not guaranteed. Please call 800-825-6758 for more detailed information or assistance.
Retail Price: $129.95Save $9.96
$119.99
QTY
Lowest price, guaranteed
Overview

Additional Details

Accessories

Q&A

Customer Reviews

Manual
This Clarity E814 combo includes a corded base telephone and cordless expansion handset with 40dB amplification that makes calls easier to understand for people with moderate hearing loss. The loud and clear speakerphone provides hands-free conversations, and an amplified answering machine makes it easier to listen to messages.


Features:
Amplification up to 40 decibels
Boost button
Four customizable tone settings in cordless handset
Amplified digital answering machine makes messages easier to hear
Answering machine can store up to 59 messages within maximum recording time of approximately 25 minutes
Large high contrast Caller ID display
Extra loud and clear speakerphone for hands-free calls
Large keypad with high contrast numbers
5 one-touch memory dial buttons (M1-M5 buttons)
9 one-touch speed dial buttons (0, 2-9 buttons)
50 name and number phonebook
6 volume level ringer with 10 melodies
Caller ID display light up as a bright visual ringer
2.5mm headset jack in cordless handset
Expandable up to four D703HS cordless handsets
Corded Base Dimensions: 8-1/4" H x 6-3/4" W x 2-1/4" D
Cordless Base Dimensions: 2" H x 3-3/4" W x 3-1/2" D
Feature
Details
Brand
Clarity
Mfg part #
53727
UPC
017229137035
Warranty
One year limited warranty
Color
Black
Weight (lbs)
3.33
Battery operated?
Yes (batteries required)
Batteries included?
Yes
Battery details
(2) AAA NiMH
Country of Manufacture
China
Corded / Cordless
Combination
Line-Powered
No
Battery backup
No
Expandable
Yes
Bluetooth
No
Degree(s) of Hearing Loss

Yes

Yes

No

Amplification (dB)
40
Boost override
No
Captions
No
Tone Control
Yes
Speakerphone
Yes
Answering machine
Yes
Caller ID Screen
Yes
Talking Caller ID
No
Talking Buttons
No
Photo Buttons
No
Outgoing speech amplification
No
Emergency Dialing
No
Low Mobility
No
Customer Q&A
Get help from Diglo and other customers who purchased this. Ask a new question.
Customer Reviews
Real people with real opinions. Post your own review.
Good Volume, Nice light up screen
Review by on Apr 20, 2023 - Verified Customer
I got this phone for my mother. She likes that the phone is loud and that the screen lights up when you pick up the handset or when someone is calling. The phone also has a built in answering machine if you choose to use it. Plus, a separate cordless handset to move around the house with. Nice big numbers on both the corded phone and the handset compared to most phones at other retailers.
Diglo Response:
Thank you so much for your feedback! We're so glad this phone is helping your mother.
so far, so good!
Review by an on Nov 28, 2018 - Verified Customer
I got this phone for a friend who has a lot of trouble hearing, and using a regular phone. The instruction booklet had way too much information, and it was hard to find what we needed. She is still getting used to it, Otherwise, the phone seems to be great for her. Thank you!
Great phone
Review by Kaki on Apr 26, 2017 - Verified Customer
The phone arrived in only two days! From opening box to being installed was only minutes. My mom can finally hear who she is talking to. She is 93 and sometimes gets confused with new things, but this phone is so user friendly. I would highly recommend this product and the Diglo company,
Mom can hear the phone again
Review by BuckWel on Jan 3, 2014 - Verified Customer
Bought this phone in hopes of replacing the current phone in my mother's home. She is 88 and simply cannot hear the phone ring or the voice talking with her. Very frustrating for both our fmaily and her as well. The Clarity E814 advertised a louder ring and hearing volume which, if real, might aleviate the issue with my mother's inability to communicate with us via the phone. After installing the phone, we were very pleased with the results. My mom can hear the phone ring and she can hear the voices at the other end!! This phone did the trick for us!!
Great product highly recommend.
Review by Phoneman on Jul 20, 2015 - Verified Customer
Dad is talking on it constantly the remote works all over assisted living building.Thanks for all the great customer service. The harris line is also what I use at work great products.
THE BEST!
Review by beetle on Aug 11, 2015 - Verified Customer
This is the BEST phone! Why didn't I know about your company a long time ago. My husband owns his own auto mechanic garage and it's so hard for him to hear customers on the phone because of all the noise in the shop. He absolutely loves this phone. THANK YOU HARRIS COMMUNICATIONS!
We are very satisfied
Review by Larry on Nov 20, 2015 - Verified Customer
We are very satisfied with the the phone it works the way we wanted it to but the riging volume could be a lot louder, we are both hard of hearing, so that is why we bought the other two wireless phones.
Manual
Review by John on Dec 9, 2015 - Verified Customer
Phone works great but the manual leaves a lot to be desired as I find the various levels to be confusing and hence the probability that I will never use it to its full capability.
I love this phone!
Review by Rachel on Apr 4, 2016 - Verified Customer
Just unplugged my old phone and plugged this one in. Everything was ready to go. I can finally hear conversation clearly without straining! Would definitely recommend this phone. Very easy to use.
Mom can now hear on the phone!!
Review by Kay on Apr 4, 2016 - Verified Customer
Got this phone for my Mother in the hopes that she will be able to communicate with her family on the phone again as she is 90 years old. As my mother is legally blind and very deaf, I was very impressed with the ease of her being able to use this phone by feeling the buttons and the ability to turn the volume and tone to levels that she can hear both the phone ringing and the people talking to her. She is now able to enjoy her daily routine of talking to old friends and family on the phone, I am very pleased with this phone!!
Great phone
Review by Bob on May 18, 2016 - Verified Customer
Clarity phones are great phones. I am the only one in our family who has very serious problems with my hearing. My wife has very sensitive hearing and does have some problems with the phone due to many things such as when you are dialing the dialing tone is very loud for her. haven't found anything in the manual that would be able to reduce the dialing tones. Other then that it works great for me and am thank ful to have it.
Yes, loud and big. But address book hard to use.
Review by ...1.. on Oct 28, 2014 - Verified Customer
Can be used like an old phone type:) The quick dial buttons have not been used yet. I have not used the phone much, so .......
Back to top