Clarity Alto White Amplified Phone
Stay connected and easily communicate with friends and family on the phone with Clarity's Alto™ Amplified Phone. The Clarity Alto is the first corded phone on the market to receive
TIA-4953 certification
making it ...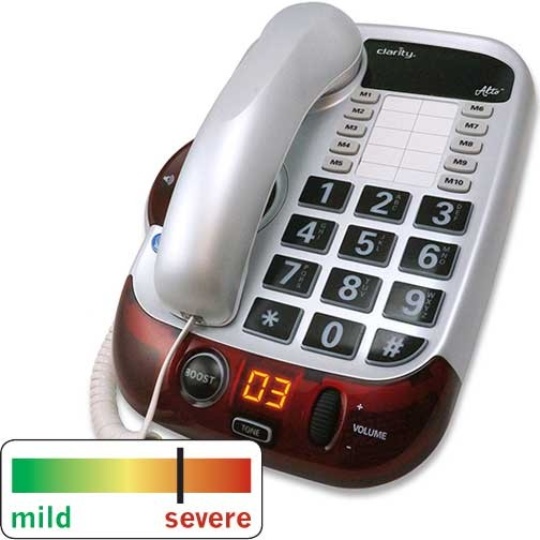 Clarity Alto White Amplified Phone
Stay connected and easily communicate with friends and family on the phone with Clarity's Alto™ Amplified Phone. The Clarity Alto is the first corded phone on the market to receive
TIA-4953 certification
making it ...
MORE
SKU #CL-ALTO/W IN STOCK
Ships FREE on Monday
This item will be shipped on Monday. Ground shipping is FREE within the 48 contiguous United States. Expedited shipping options, as well as ground shipping to Alaska, Hawaii, Puerto Rico, or Canada are available for an extra charge.
Retail Price: $189.00Save $61.35
$127.65
QTY
Lowest price, guaranteed
Overview

Additional Details

Accessories

Q&A

Customer Reviews

Manual
The Clarity® Alto™ amplified telephone makes calls easier for people with hearing loss, with up to 53dB amplification.


Features:
TIA-4953 certified for mild, moderate and severe hearing loss
Boost override: when on, enables amplification for all users
Usable gain up to 53dB amplification
Ergonomically designed tone and volume controls are easier to handle and use
Loud 100dB ringer with visual indicator
Speakerphone
Outgoing speech amplification of 15dB
4" soft touch backlit screen with large font
10 one-touch memory buttons
2.5mm headset jack
3.5mm neckloop jack
Jack for optional bed shaker (not included)
4 AA batteries for backup (not included)
Dimensions: 10" x 7.67" x 4.4"
Outgoing Speech Amplification (OSA) makes your voice louder for the other caller
TIA-1083 compliant for hearing aid compatibility
Feature
Details
Brand
Clarity
Mfg part #
54005
UPC
017229139848
Warranty
One year limited warranty
Color
White
Weight (lbs)
3.88
Battery operated?
Yes (batteries optional)
Batteries included?
No
Battery details
(4) AA Alkaline
Country of Manufacture
China
Corded / Cordless
Corded
Line-Powered
No
Battery backup
Yes
Expandable
No
Bluetooth
No
Degree(s) of Hearing Loss

Yes

Yes

Yes

Amplification (dB)
53
Boost override
Yes
Captions
No
Tone Control
Yes
Speakerphone
Yes
Answering machine
No
Caller ID Screen
No
Talking Caller ID
No
Talking Buttons
Yes
Photo Buttons
No
Outgoing speech amplification
Yes
Emergency Dialing
No
Low Mobility
No
Customer Q&A
Get help from Diglo and other customers who purchased this. Ask a new question.
Customer Reviews
Real people with real opinions. Post your own review.
Great products
Review by Maumc on Aug 8, 2017 - Verified Customer
This phone is an excellent phone. I had some questions and the people at Diglo were extremely helpful -- I was very pleased with the service I received and would recommend Diglo highly. They were always available to answer questions and very knowledgeable about their products.
Disappointed
Review by NY Met on Oct 17, 2018 - Verified Customer
I returned the phone without using it due to it's very poor design. The handset was easily dislodged because it did not fit securely into the cradle (which was very shallow). I did not want to take the chance the handset would be "off the hook" at the slightest movement to the unit.
great coverage
Review by Sammy on Jul 7, 2016 - Verified Customer
Excellent Phone. Color is very attractive in white/silver tone. Hearing capability is excellent. Speaker phone comes across as very clear to speaker & person on the receiving end. A Smart choice and excellent buy. I'm very satisfied & pleased with my purchase.
Fantastic
Review by Phone on Mar 31, 2017 - Verified Customer
My parents love this phone. They can hear everyone perfectly
Excellent choice for the older generation.
Review by splashka on Feb 26, 2015 - Verified Customer
This is a relatively straight forward phone but the technology is very good. Not complicated to use and a good choice for the older generation that are not into all the more high tech functions available on some phones. It does not have a built in answering machine but I found that using a separate unit that my 85 year old mother is accustomed to kept things less complicated.
Great Product
Review by Satisfied Customer on Mar 28, 2015 - Verified Customer
I bought this product for my grandmother who is very hard of hearing. She was unable to hear her phone ringing. Since she has been using this product she can hear the phone ring all throughout her house. It has helped her to better hear the person on the other end of the conversation as well.
Phone
Review by Chef bob on Dec 25, 2018 - Verified Customer
This phone is just great. Does what we needed. Raised the hearing side to a level that me mother-in-law can again talk on the phone and is able to hear fine. Wonderful product.
Back to top