Cardionics E-Scope II 7710 Belt Model Stethoscope
Belt model electronic stethoscope for ITE (in-the-ear) hearing aids is powered by a single AAA battery.

Uses include pediatrics or neonatology and general clinic.

USB-style side output jack for headphones or connecting cab...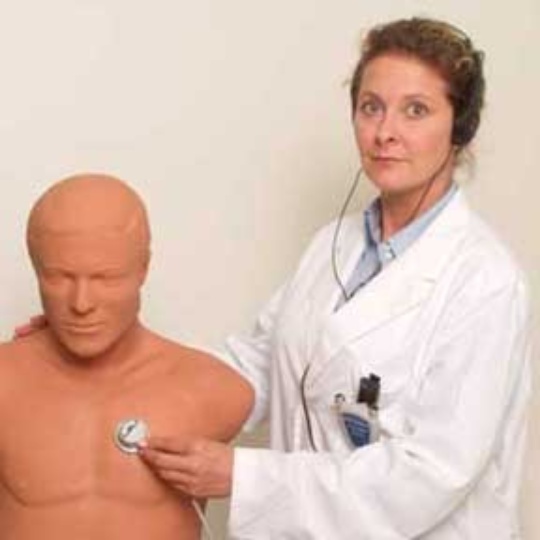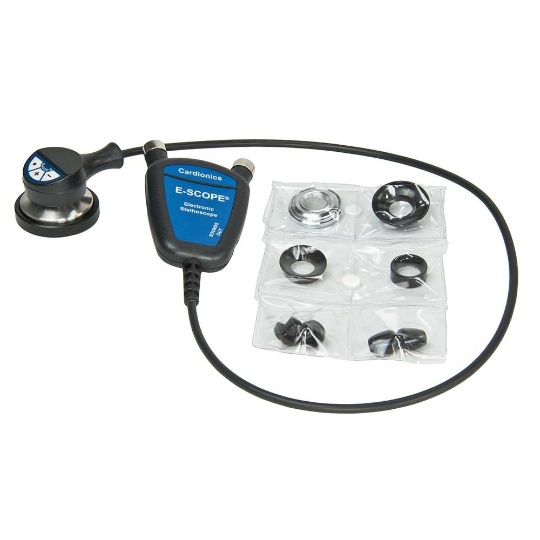 Cardionics E-Scope II 7710 Belt Model Stethoscope
Belt model electronic stethoscope for ITE (in-the-ear) hearing aids is powered by a single AAA battery.

Uses include pediatrics or neonatology and general clinic.

USB-style side output jack for headphones or connecting cab...
MORE
SKU #CAR-718-7710 IN STOCK
Ships FREE today
Most in-stock orders placed before 2pm CT (Mon-Fri) ship the same day. Ground shipping is FREE within the 48 contiguous United States. Expedited shipping options, as well as ground shipping to Alaska, Hawaii, Puerto Rico, or Canada are available for an extra charge.
Retail Price: $429.75Save $59.75
$370.00
QTY
Lowest price, guaranteed
Overview

Additional Details

Accessories

Q&A

Customer Reviews

Manual
From a faint click to an uncommon S3, the Cardionics E-Scope stethoscope for ITE hearing aids will help you isolate these varying disorders and empower you like never before. With 64 gain positions, frequency selector, and extraneous noise filtering, heart sounds never sounded so clear. Uses include for pediatrics or neonatology and general clinical use.
This model includes a specialist diaphragm machined from high-grade stainless steel that provides a superior frequency input (by 50%) which improves sound sensitivity and have a heaver feel and less likelihood of outside noise.
Features:
Designed for use with ITE hearing aids

The E-Scope is designed to remain at the same volume setting each time you power on and has 64 possible volume positions with the maximum output of 125 dB, un-distorted

Specialist Adult Diaphragm: stainless-steel diaphragm produces 50% greater sound sensitivity, a more comfortable feel, and allows listener to use the split-finger technique

Frequency control for heart sounds (45-900Hz) and breath sounds (50-2000Hz) allows the listener to concentrate on a specific frequency range

"Sounds output" for recording, attaching headphones or stethoscopes, connecting to a PDA or PC computer to display, record and playback sounds. Heart sounds displayed as a phonocardiogram; breath sounds displayed as a phonopneumogram. 1/8" male mono output jack.

USB-style side output jack for accessories including headphones for a second listener or connecting cables to a PC for recording purposes in electronic medical records and telemedicine

Includes a pediatric diaphragm, plastic adult diaphragm, pediatric and infant bells, and your choice of ear tips

Uses standard AAA battery

Automatic shutoff after conserve battery power

Includes stethoscope with specialist diaphragm, extra ear tips, carrying case
Feature
Details
Brand
Cardionics
Mfg part #
718-7710
Warranty
One year warranty
Color
Black
Weight (lbs)
1.4
Battery operated?
Yes (batteries required)
Batteries included?
No
Battery details
(1) AAA Alkaline
Country of Manufacture
United States
Customer Q&A
Get help from Diglo and other customers who purchased this. Ask a new question.
Customer Reviews
Real people with real opinions. Post your own review.
love the product
Review by charlie on Aug 15, 2016 - Verified Customer
The product is great for someone hearing impaired, Must be made cheaply on my third scope in three years and fifth headset in three years gets pricey
Not working yet...
Review by jfr on Dec 27, 2016 - Verified Customer
So far, I've been unable to establish a sufficiently good blue-tooth connection to my ComPilot to hear heart sounds, but I trust I can work this out with the help of Diglo and my audiologist.
Satisfied
Review by Anna on Mar 18, 2017 - Verified Customer
I've had mine for about 5 years-through nursing school and through 3 years of my nursing career. I didn't use it daily but it did last long with being gentle with it. It is bulky and awkward but it gets the job done.
Good amplification but should be more durable.
Review by Priscilla on May 18, 2017 - Verified Customer
This makes heart/lung sounds audible despite my severe-to-profound hearing loss, because I can use it with a Silhouette or a neckloop to couple with my hearing aid. Durability is a problem. I also have a second scope as a backup. The plastic part of the belt clip keeps coming off so I finally just left it off after the umpteenth time of prying the clip up with a scissors blade to put the plastic piece back on. The neckloop cords give out after a few months, but could be replaced if I could find the right cord. I actually hear better through 1 layer of clothing, because direct to skin contact makes noise artifact. Low battery power also causes noise artifact.
worth it
Review by pam on Sep 21, 2013 - Verified Customer
Love my Cardionics stethescope. I can use it with my CI . The sound quality is very good.
Okay, not great
Review by humanevet on Oct 28, 2013 - Verified Customer
Functions as advertised but the headphone jack breaks easily with normal use. When my second Cardionics scope broke after about 8 months use, I purchased the accesory cable which has lasted 3 months before the female cable input jack also broke. I'm reluctant to purchase another one, but there are very few selections
hmm.... update from my 9/20/13 post
Review by pam on May 8, 2014 - Verified Customer
I am on my fourth one in 9 years. I bought the first cus it was mandatory with my CI. Bought the second because the first broke. Bought the third cus I realized I needed a back up. Bought the fourth cus the second broke at the same spot! It functions great with excellent sound. I can use it with my CI and couldn't work without it. BUT as noted in another review, the attachments are not as reliable as one would wish for from such a necessary and expensive purchase. There must be SOMETHING the manufacturer can do with that female cable input jack!
So far wonderful!
Review by Annie on Nov 11, 2014 - Verified Customer
I've just started to wear a hearing aide. Once we got the correct head phones, the sound was incredible! I was now hearing things I had only heard on the training tapes and this is after 15 years! I am in primary care, and the majority of patients came to me already diagnosed with cardiac and lung problems, so I knew what to listen for. I've shared a listen with both hearing impaired and non hearing impaired staff and they are both completely blown away with the sound quality. I can't speak to the durability but comparing the sound to my Cardiology 1 even in one ear which was what I was doing is comparing night to day.
Back to top