CaptionCall 67TB Amplified Captioned Phone
Operates like a normal phone plus uses quick and accurate captioning so you can read the conversation

58dB of amplification, ideal level for those who have decided to stop using the phone because they can't hear

Large, eas...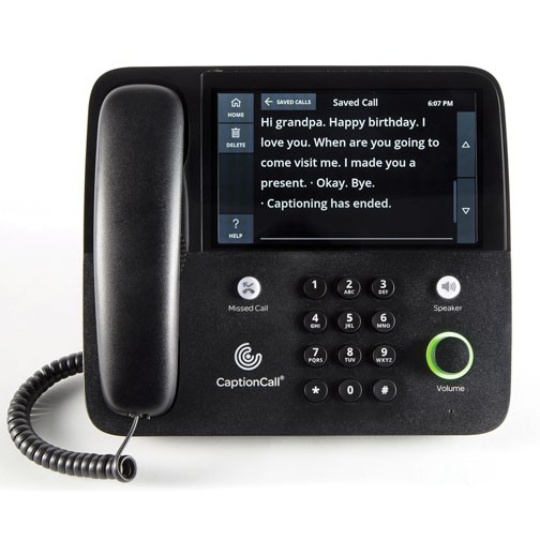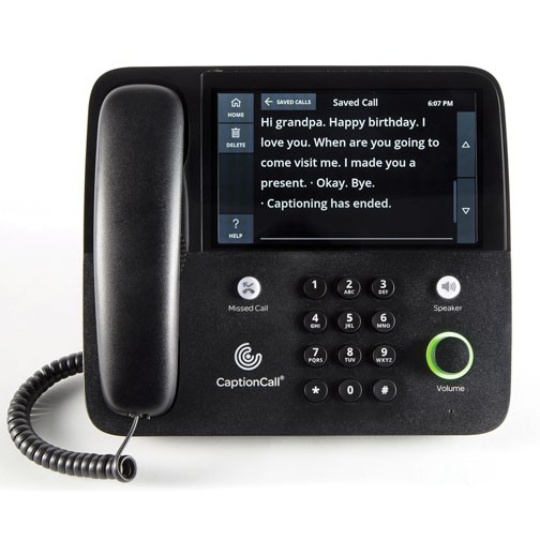 CaptionCall 67TB Amplified Captioned Phone
Operates like a normal phone plus uses quick and accurate captioning so you can read the conversation

58dB of amplification, ideal level for those who have decided to stop using the phone because they can't hear

Large, eas...
MORE
SKU #HC-CAPTIONCALL DISCONTINUED
$75.00
Overview

Additional Details

Accessories

Q&A

Customer Reviews

Manual
Don't let hearing loss keep you from using your phone! The CaptionCall provide nearly instant captions of what the other caller is saying on a large, easy-to-see screen. The CaptionCall also amplifies calls up to 58dB, so you can hear conversations clearly.

Worried about monthly bills or charges? Don't be! The captioning service is provided to you completely free of charge.

With every order, CaptionCall provides white glove service. After the phone is purchased, a representative will contact you to set up a time to come to your residence and install the phone. They'll make sure everything works and will teach you how to use the phone.


Requirements
High speed Internet
Ordinary home electrical outlet
Resident of the US
Features
58dB of amplification
Answering machine that captions messages
Speakerphone with directional microphone picks up less distracting noise
Adjustable 95dB SPL loud ringer with visual alert and 4 tone options
Free and secure captioning service-funded by the FCC
Captions from English or Spanish conversations
Save captioned conversations for later reference
Large 7" easy-to-read screen with adjustable text sizes
Missed call notification
Boost override
Store up to 200 contacts with photos-add through CaptionCall website or phone
2.5mm neckloop jack
Hearing aid compatible
TIA-4953 compliant-obtained by a third-party testing facility to ensure high quality amplification and accurate dB rating
What to expect after you place your CaptionCall Captioned Phone order
Within a few days after you have placed your order, a CaptionCall representative will contact you to schedule a time to come out and install the phone and to teach you about how the service works. Installation service via a CaptionCall representative is available in most areas. When an installer is not available you will be assisted over the phone.
You will have a full, six months to evaluate the phone and captioning service once the CaptionCall captioned phone has been installed. If, for any reason, you wish to return the CaptionCall Captioned Phone within those six months, you will be given a full refund.
Watch an overview about CaptionCall captioned phone service.
Testimonials from real CaptionCall users




The CaptionCall Captioned Phone will receive periodic automatic updates via the Internet. Just keep your CaptionCall Captioned Phone connected to receive these updates. These periodic updates will contain new features and enhancements to your CaptionCall phone to provide you the best captioned telephone experience available.

Purchase price includes license to use the CaptionCall phone hardware. The CaptionCall phone remains property of CaptionCall in order to provide ongoing support, service, and upgrades.
Feature
Details
Brand
CaptionCall
Color
Black
Weight (lbs)
0.21
Battery operated?
No
Corded / Cordless
Corded
Line-Powered
No
Battery backup
No
Expandable
No
Bluetooth
Yes
Degree(s) of Hearing Loss

Yes

Yes

Yes

Amplification (dB)
58
Boost override
Yes
Captions
Yes
Tone Control
Yes
Speakerphone
Yes
Answering machine
Yes
Caller ID Screen
Yes
Talking Caller ID
No
Talking Buttons
No
Photo Buttons
No
Outgoing speech amplification
No
Emergency Dialing
No
Low Mobility
No
Customer Q&A
Get help from Diglo and other customers who purchased this. Ask a new question.
Customer Reviews
Real people with real opinions. Post your own review.
Thé upgrade of the phone seems to be better than old caption phone
Review by June Cruser on Aug 28, 2017 - Verified Customer
I liked how I could order this on line with a debit card! I did not like how when some was suppose to tell me that Diglo was suppose to call caption people in St George , UT and that was not Done. My husband, Steve Cruser had to call Diglo and say have you called or did what you needed to do so the Caption call Man, Vince could bring me an upgrade of a phone to our home in St George, UT There was no communication when you ordered the phone to let us know if th phone is delivered by Fed Ex or you call and let Caption Call people know we have paid for an upgrade! That was very frustrating till my husband called to find out where our phone was. We have a business and children and grand children. There needs to be something on website when you order from Diglo that you will contact Caption call when we pay for a phone and how long it takes for you to contact them. Thé amount of time you have to contact the 3 business days or what? Time was important to us to get our upgrade installed and working in our home. Thé caltion call man, Vince said that he needed a ticket from caption call that Diglo had faxed or emailed to CaptionCall. I would like to see something on your website that says what the process is after you pay for your phone I order for it to be delivered in a timely matter.
Caption Phone
Review by BenMar on Oct 11, 2017 - Verified Customer
Very sleek. Everything I expected it be.
Dismal accuracy
Review by AC on Nov 8, 2017 - Verified Customer
My mom's hearing is pretty bad so she has the volume of the phone all the way up but still needs the captions. The problem is, the accuracy of the captions on this phone is so poor that I have to repeat most sentences 2-3 times. Today they even swore at her (BAD captions! :) I found another phone on Amazon that I was preparing to purchase because the reviews are so great, but on this site it appears this phone is supposed to be the best for more severe hearing loss, so don't know what I'll do.
This is my 2nd CaptionCall phone ownership!
Review by Gagagadget on May 24, 2018 - Verified Customer
We moved from a one story to a two story. The phone was installed by a Caption Call Representative and it works perfectly and so convenient rather than running down the stairs to receive or make a call.
77
Review by Dragon on Jul 16, 2018 - Verified Customer
I had one of the original CaptionCall Phones and I would give it a 10 this one I would give a 2 it has to much crap on it. I do like the fact I was able to purchase a second one which I was unable to do with the original one.
77
Review by Dragon on Jul 16, 2018 - Verified Customer
I might add I had a Captel phone for awhile and the captioning done by CaptionPhone is much much better.
Meets my needs and expectations.
Review by John on Jul 17, 2018 - Verified Customer
First off, I don't really see the point of paying for one of these phones. It appears as if they are available for free from the company itself. I say a display at my audiologist's office when I went in recently for an audiogram. I contacted them and my audiologist sent in my certification that the captioned phone would be useful for me with my hearing loss. I was using Captel prior to my contact with Captioncall. From the moment I began communicating with CaptionCall they seemed like a really first rate company. They were extremely fast in setting up an installation of the new phone in my house at no cost to me. During that installation they also showed me how to use the phone and answered all my questions. It was extremely good customer service and as I mentioned it was all provided for me for free. There is no qualifying based on income or anything like that either. These phones are funded by the taxes we pay already on our phone bills so if you have a hearing impairment and can get your primary care physician or audiologist to sign a form indicating that you can get a Captioncall phone for free as well.
Loss on connections
Review by Jordie on Nov 16, 2018 - Verified Customer
Cable provider claims it's not their problem. Phone constantly says loss of connection and my mother has to keep tapping the screen. NO ONE HAS BEEN ABLE TO FIX THIS ISSUE. CAPTION CALL HAS BEEN OUT NUMEROUS TIMES
Over Joyed and Very Pleased
Review by Delighted Daughter on Nov 21, 2016 - Verified Customer
My Father had pretty much just stopped talking on the phone. It was so frustration and sad for me and my brothers. We wanted to stay in touch with my father, especially after our mother passed. We had tried several phones and still talking on the phone was stressful and frustrating for my father so he gave up. When his Audiologist first recommended the phone my father was not interested, but the audiologist got him to just give it a try. Now it is so wonderful to not only be able to get calls from my father, but to be able to call him, and it has brought back his social life as his friends can call and invite him out. It has not only improved his ability to talk on the phone, but his life and our families as well. A wonderful product, which has worked very well for my father!
life changing
Review by jazzer on Dec 28, 2016 - Verified Customer
This phone is the best choice I have ever made, I am now able to talk to friends and family again.
Super phone for hearing impaired
Review by FEG on Feb 7, 2017 - Verified Customer
This phone was installed for my 96 year old mother. She and I were struggling to talk on the phone. This has improved that so very much. Great product - worth it's weight in gold.
poor sound quality
Review by al on Feb 15, 2017 - Verified Customer
the speakerphone has very poor sound quality - worse than most of the common speakerphones. the hand set is even worse. **We are sorry you had a bad experience with this product, it does not sound like it works as usual. Please contact CaptionCall to get a replacement. - Diglo**
Very helpful
Review by Jed on Mar 3, 2017 - Verified Customer
This has been such a big help in enabling me to understand telephone conversations that I plan to purchase another one shortly.
Not so great
Review by Mike on Mar 13, 2017 - Verified Customer
I have had the CaptioCall Model 67Tb for about nine months. The phone is very easy to use, the display is nice but the phone has very poor speaker phone and the overall audio is substandard. I has serious hearing loss but people I talk with say the speaker phone quality is very poor and the handset audio quality is not so good. In addition, I thought maybe a head set with a microphone would solve the poor audio quality of this phone. I contacted CaptionCall and asked them if this could be done and they stated it could be done using any standard 3.5mm headset and plugged into the side of the phone. The jack they are referring to is not a 3.5mm, it is much smaller. Now I have to return headset and find a new solution. I thought there tech support was fast but provided inaccurate information. I would not recommend.
Good Device
Review by Dan on Jun 8, 2017 - Verified Customer
Although the sound clarity both from the handset and speaker phone could be improved... the phones captioning ability helps enormously for those with severe hearing loss like I do!!!
Awesome product! Really helps an individual with hearing loss and who
Review by Jayne on Jun 24, 2017 - Verified Customer
Excellent phone. Does what it promises. Sometimes the words in the captions are incorrect, but that happens infrequently. You still understand the conversation. Loads of features and options to accommodate your needs. Manual is easy to read and understand. Ringer is VERY loud . Yes it does have an answering machine. We were using a phone system with multiple handsets for use in the garage and outside on the patio. Thought we would have to give that convenience up, but to our surprise, our installer used a splitter to hook up the CaptionCall phone and our other phone so we get the best of both conveniences. My husband LOVES the phone, and can even understand the representatives from companies, with heavy accents,because of the captions.
CaptionCal phone is excellent
Review by FENWICK on Sep 9, 2013 - Verified Customer
CaptionCall allows me to make and receive phone calls even though I have a profound hearing loss. The only dissapointing aspect is that Diglo charged $75, whereas I could have had the phone free from the CaptionCall company. I should have researched the venues for the product more thoroughly before buying from Diglo. I have only myself to blame. ***Response from Diglo: Due to new regulations from the FCC (which are already in effect), customers are actually required to pay a minimum of $75 for captioned telephones, regardless of where they purchase their phone from. Therefore, the $75 price that we are currently selling this phone for is the lowest price it can legally be sold for anywhere.***
Sr. Technician with Lucent Technologies
Review by Don Henderson on Sep 19, 2013 - Verified Customer
This is a great phone. I install and deal with this type of equipment all day long. Captel and Clarity can't touch this phone when it comes to service and technology. The only thing it lacks in is it is not in Spanish. If this phone had Spanish compatibility many more people would be using this phone. You would double your customers at that. too bad... you almost had the perfect phone CaptionCall
Captel Dissappointment
Review by Ex-Captel Customer on Oct 17, 2013 - Verified Customer
I ordered my phone for my mother whom is a retired doctor. I realized it was mailed in a box. They expected my 90 year old mother to know what she was doing. I called the distributor and let them know what happened, they obviously didn't want anything to do with it so passed the buck to Captel.How ironic on their part. Once I called Captel they said they referred me to a person to install. OMG!@#$ I talked to some guy named Clark and he never went to install, come to figure they only have 1 person to install in her state! What kinda service is that! He won't be able to install her pre-paid phone till next month. My poor mother can't communicate for a whole month more now because her needs have been put 2nd. I always bought from the other guy but this is the last due to this scenario. They need to find someone who can back up what they offer. I now have a CaptionCall phone for my mom:) It's faster and they came out within a couple of days after my order. No service issues due to their willingness to help and answer questions.I will only buy from HARRIS from now on. Thanks for helping my mom out.
Pleased
Review by Clark on Oct 23, 2013 - Verified Customer
Pleased with the phone and installation. It took the installer about 30 minutes to set it up and it has been more than satisfactory. Have put over 100 names and number into it by using my laptop.
Very satisified
Review by Mam on Dec 2, 2013 - Verified Customer
I bought the phone for my 94 year old Dad. He has had some issues remembering to touch "yes' for the printing to begin, but that is age and memory related. The service was great from both Diglo and Captel. I was going to my Dad's from out of state, so they were sure to be there to install, as I requested, since I wanted to be present. The installer , Craig was prompt, very polite, thorough, and respectful.
Wonderful product
Review by Cooper on Dec 24, 2013 - Verified Customer
My siblings and I purchased this phone for our severly deaf mother. It was the best Christmas present we could have gotten. She is no longer frustrated by the phone ringing and not being able to understand what the caler is saying. She can also 'hear' the person over the handset with the amplification up. Wish I had known of this product years ago. It is a Godsend for my mother, her family and friends. Thank you so much!
Captions incomplete
Review by Mary on Apr 1, 2015 - Verified Customer
I got one of these phones from Diglo about a year ago. I do have some hearing so I can make out what is being said most of the time. I need the captions when trying to receive addresses, phone numbers, etc. to get them right. At first, it seemed that the phone was working OK but the more I used it the more often I noticed that the captions were only right part of the time. Addresses and phone numbers often were incorrect and sometimes whole chunks of what was being said was entirely missing. What's the use if the captions are "hard of hearing" too?! Last Christmas my son gave me a different phone (I think it is a Captel). Boy, what a difference! The captions were clear, correct, and just what I need. I would not recommend the CaptionCall phone because they do not caption correctly.
Ongoing problems
Review by terry on Feb 18, 2014 - Verified Customer
I got a CaptionCall phone when they first came out a couple of years ago and I was really pleased at first. Then a few months ago one of the software updates the company automatically downloads onto the phone had a bug and caused an echo loop of my own voice while speaking. The echo is constant and is extreme at times, and prevents normal conversation as the echo either covers the other person's voice or I don't know if I have heard them, or the noise of my echo. This would be bad enough for a hearing person but for someone struggling to understand a caller it is impossible. I need to use my existing hearing ability as well as the (delayed and sometimes inaccurate) captions. CaptionCall did send their rep who was not able to resolve it, then they provided a new phone, but the problem continues. I do not have this echo problem with any other phone in my house. The phone company checked all my lines. This is definitely a CaptionCall problem. Their tech support told me that it was a known issue affecting some users only, and they were/are "working on it". As it initially worked perfectly I don't understand how the problem can continue indefinitely like this. It's been months. Today after a botched and embarrassing business call, I gave up and purchased a Clarity captioned phone (which has the added advantage of an answering machine). I would strongly advise against buying a CaptionCall phone at this time.
Very satisfied.
Review by Walt on Apr 21, 2014 - Verified Customer
Very satisfied. This is the fourth CaptionCall phone I have purchased. With my hearing problem they are very helpful.
Very good!
Review by Gaby on Jun 6, 2014 - Verified Customer
Just yesterday got this phone installed . You need to be familiar with touch screen (like a smartphone). I was surprised how quickly the voice was ''put'' into written words, i.e. captioned. I need to become more comfortable around it but so far, so good.
Its not for Deaf People
Review by Dave on Aug 11, 2014 - Verified Customer
I suppose it would work just fine for the "hard of hearing" but it's pretty much useless if the person using it is totally deaf. Iv'e seen other brands that have flashing light sources that indicate when a call is coming in so the deaf person can SEE it then answer the phone. This phone has no lights at all for the "ringer" so they have no Idea when there's a call coming in. It's really to bad to because it looks like the caption part works pretty well
Better than expected!
Review by RoseElla on Nov 25, 2014 - Verified Customer
I purchased this phone for my mother who recently lost her hearing due to a brain tumor. After becoming reliant on text messages only to communicate I purchased this phone and couldn't be more pleased with the product! This phone allows her to regain a sense of normalcy by talking with friends and family and avoid social alienation from being deaf. I highly recommend this product to anyone. With just a few second delay it captions phone calls accurately!
works good for me
Review by Mark on Dec 31, 2014 - Verified Customer
Have phone for month now. Caption is fast conversation no delay. Caption is accurate,more than local live news,but real time closed caption if u use on TV u know is not 100%,but this is as good as you can expect. LIKE IT ALOT. It is easy to add stand alone answer machine to it. It will then caption the machine. Does not come with answer machine. Says it does under additional imfo.......
Great phone
Review by JustJim on Jan 25, 2019 - Verified Customer
Great captions, great sound quality, great service. Best captioned phone I've ever tried.
Not truthful in info
Review by Jewels on Aug 19, 2019 - Verified Customer
Captioning keeps up well with conversations. Good phone as is, but Caption Call failed to note that the touch tones do not work with automated systems and that they have been made aware of this for quite some time. If you are lucky some automated systems will dump you to a customer service agent. While others will simply disconnect the call if a selection is not made. Caption Call representative noted that their key pads do not work with many automated loop systems and they do not have any upgrades or replacements for the phone at this time to correct the matter. The only way I can access an automated system is via my other hand held house phone or cell phone in which I have to have someone standing by on the call in the event I cannot hear the speaker defeating the purpose of having the caption phone. If you need this phone strictly for conversation assistance it is a great phone. If you need it for taking care of personal business that entails automated services it is a great waste of money.
Good Phone
Review by Alana on Jan 9, 2020 - Verified Customer
Good Phone. I love the way it sounds and the features they added.
Back to top