CapTel 840i Captioned Phone
Designed for people who are comfortable with a traditional-style telephone, the CapTel 840i Captioned Phone shows word-for-word captions on a large, easy-to-read 7 display screen. Captel is available for the U.S. only.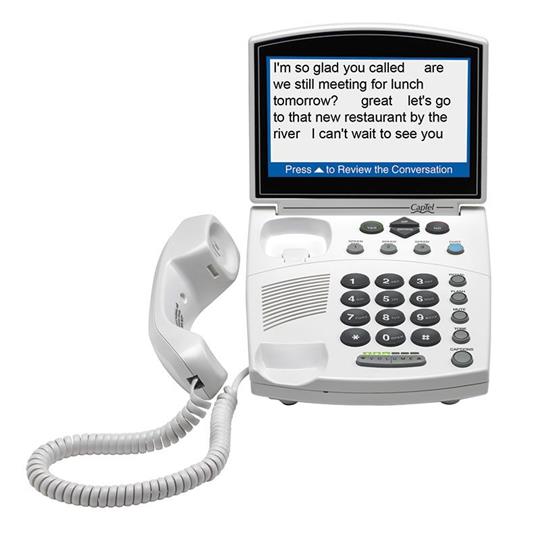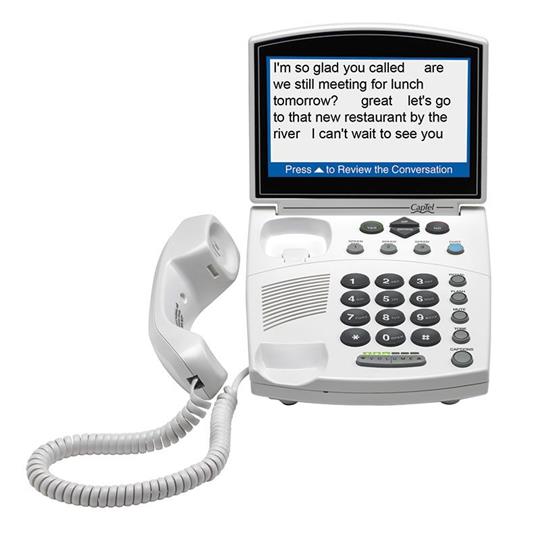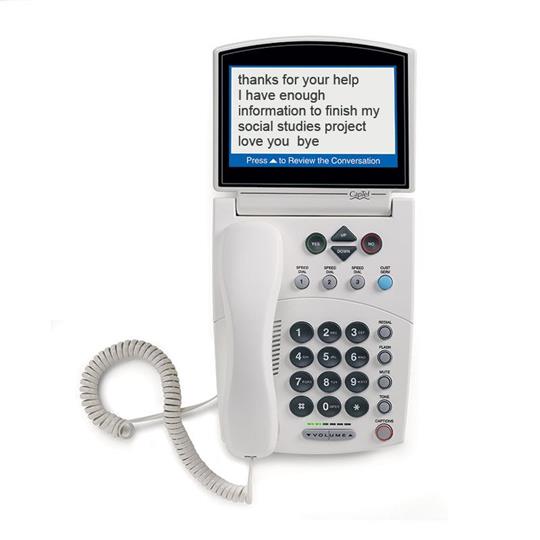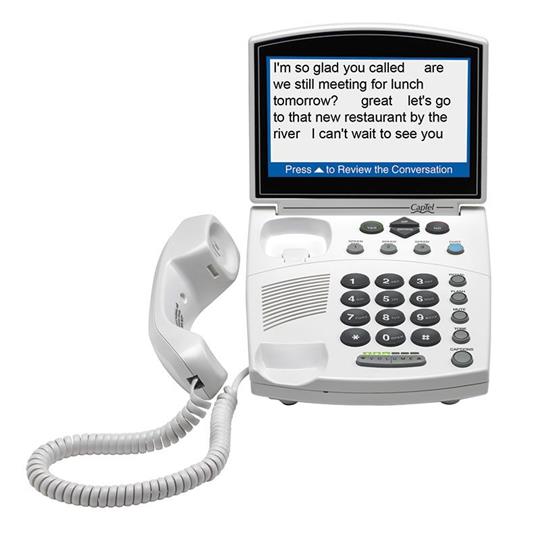 CapTel 840i Captioned Phone
Designed for people who are comfortable with a traditional-style telephone, the CapTel 840i Captioned Phone shows word-for-word captions on a large, easy-to-read 7 display screen. Captel is available for the U.S. only.
SKU #UTI-840I SPECIAL ORDER
Please allow 1-2 weeks for delivery
Please allow 1-2 weeks for delivery. Ground shipping is FREE within the 48 contiguous United States. Ground shipping to Alaska, Hawaii, Puerto Rico, and Canada is available for an extra charge. Expedited shipping is not available online for special order items. Please call 800-825-6758 for expedited shipping.
$75.00
QTY
Lowest price, guaranteed
Overview

Additional Details

Accessories

Q&A

Customer Reviews

Manual
The CapTel 840i Captioned Phone is a traditional-style captioning phone that shows word-for-word captions of your conversation on a large, 7 easy-to-read display. The CapTel 840i is an ideal amplified captioned phone solution for people with low vision or who have difficulty reading standard-sized captions.

It connects to both your telephone and Internet service to give you the best of both worlds: voice and captions. The captions are provided by a free service that uses the Internet connection to automatically display captions for every call, quickly and accurately. Captions are available on calls within the United States only.
Features
Captions can be turned on/off as needed
Callers dial your number directly
Built-in Answering Machine
Phone book to store frequently called numbers (95+ names)
WiFi compatible
Warranty 5-year Replacement Program
Includes 90-day money back guarantee
Specifications
Captions appear automatically on all calls – incoming and outgoing. No need for callers to dial through the Captioning Service.
Wi-Fi compatible to position anywhere within your wireless network range
Captions can be turned on or off at any time in a call.
Built-in Answering Machine takes voice messages with captions
Large, easy-to-read captions window with adjustable font sizes and colors.
Display screen tilts for comfortable reading or lies flat to mount the phone on a wall.
Adjustable volume control (up to 40dB gain) for captioned calls. Volume button is easy to see and adjust during a call.
One-touch access to CapTel Customer Service (speed dial button automatically connects you to CapTel Help Line).
Easy-to-follow menu system with Yes/No questions.
Phone Book allows you to easily store and dial more than 95 names/phone numbers.
Speed dial keys for one-touch dialing of frequently called numbers.
Caller-ID capable – shows you who is calling directly on display screen.
Captions available on calls within the United States only.
Requirements
Telephone Service
High-Speed Internet (WiFi or via Ethernet cable)
Router may be required, depending on your set-up
Standard electrical power
What to expect after you place a CapTel Phone Order
Within two business days after you have placed your order, a CapTel representative will contact you via email to verify your information.
Once you respond to the email, your order will ship. CapTel will also offer installation help, either by a technician (if available in your area) or over the phone.
You will have 90 days after installation to try your new CapTel phone
FEDERAL LAW PROHIBITS ANYONE BUT REGISTERED USERS WITH HEARING LOSS FROM USING INTERNET PROTOCOL (IP) CAPTIONED TELEPHONES WITH THE CAPTIONS TURNED ON. IP Captioned Telephone Service may use a live operator. The operator generates captions of what the other party to the call says. These captions are then sent to your phone. There is a cost for each minute of captions generated, paid from a federally administered fund. No cost is passed on to the CapTel user for using the service.
Feature
Details
Brand
Ultratec
Mfg part #
757-000201
Warranty
Five year warranty
Color
White
Weight (lbs)
0.4
Battery operated?
No
Corded / Cordless
Corded
Line-Powered
No
Battery backup
No
Expandable
No
Bluetooth
No
Degree(s) of Hearing Loss

Yes

Yes

No

Amplification (dB)
40
Boost override
Yes
Captions
Yes
Tone Control
Yes
Speakerphone
Yes
Answering machine
Yes
Caller ID Screen
Yes
Talking Caller ID
No
Talking Buttons
No
Photo Buttons
No
Outgoing speech amplification
No
Emergency Dialing
No
Low Mobility
No
Customer Q&A
Get help from Diglo and other customers who purchased this. Ask a new question.
Customer Reviews
Real people with real opinions. Post your own review.
very nice
Review by JoyceLee on Aug 18, 2017 - Verified Customer
Received the Cap Tel right on time. Was worried about the install, but it was easy. I have enjoyed talking on the phone again.
A concern or two
Review by bcj on May 19, 2018 - Verified Customer
My wife is excited to have the new Captel. We have several operations to master but the customer service button is convenient and fast. We are disappointed that the phone book entries did not align alphabetically. After taking a lot of time to put in a great deal of numbers we are not ready to start over. We assumed the phone book would show a listing of numbers rather than one at a time. The up and down arrows are not very convenient for locating a number that may be 20 or 30 names from the top of the list.
Lousy
Review by Lizard on Nov 19, 2018 - Verified Customer
Unfortunately I purchased a CapTel 840i. The audio was very poor and there was about a one second delay before the text appeared. Consequently one had to speak slowly to try to enable the text to catch up--which it did not. CapTel required one to pay for the return shipping. I mailed it back via the post office their cheapest way which cost $24.98! I paid for shipping both ways for a poor quality phone. A very big mistake. Don't be like me. Humbly, Tom (Mesa AZ)
MY wife likes it
Review by BLarry on Aug 20, 2016 - Verified Customer
My wife is hard of hearing so she likes the phone. Only had it about 3 months and it quit working but they replaced the phone with a new one without any cost to me. Replacement was sent very quickly. Only problem I see with the phone is it doesn't always pick up the conversation and doesn't get the word correct.
Poor service
Review by John on Jan 22, 2017 - Verified Customer
I am very dissatisfied with the service. I ordered a phone on December 26 and still have no received it! **Currently CapTel is experiencing backorders due to high demand and should contact each customer with an ETA once the order is placed. They hope to remedy the stock issues shortly. - Diglounicaitions**
Not used it much
Review by soundminded on Jul 6, 2017 - Verified Customer
It is nice to be able to "talk" to other hearing people with out the Purple 3 or Sorenson especially most offices not want to "talk" to 3rd parties and usually want to "talk" directly to interested person for identification reasons.
very pleased with CapTel phone
Review by bkb on Sep 17, 2015 - Verified Customer
The CapTel phone has been very helpful. The captions are easy to read, but callers do need to speak clearly. I've been using the phone about three weeks and I'm really glad I purchased it. I no longer dread receiving answering machine messages I can't understand. I do sometimes have to tell people I'm waiting a bit to read the captions before answering their questions. My 20 year old grandson installed the phone. We did have to buy a router. A week or so later, he had to check the connections when one loosened up and caused the phone to quit working. I would heartily recommend this phone: Captel 840i
easy installation
Review by TMM on Jan 23, 2015 - Verified Customer
The Cap Tel phone was easily installed and registered. So far, it has been easy for my 95-year old mother, who is not "tech savvy" to use.
keyboard and word clarification
Review by alan willie on Mar 12, 2019 - Verified Customer
Many words come across on the screen incorrectly, and many come as profanity. The keyboard keys are very hard for me to use because they are to soft on the touch, therefore giving me no numbers or incorrect numbers.
Back to top