CapTel 2400iBT Captioned Phone
The CapTel 2400iBT Captioned Phone is designed for people looking for a captioned phone with touchscreen technology and Bluetooth connectivity. CapTel is available for the U.S. only.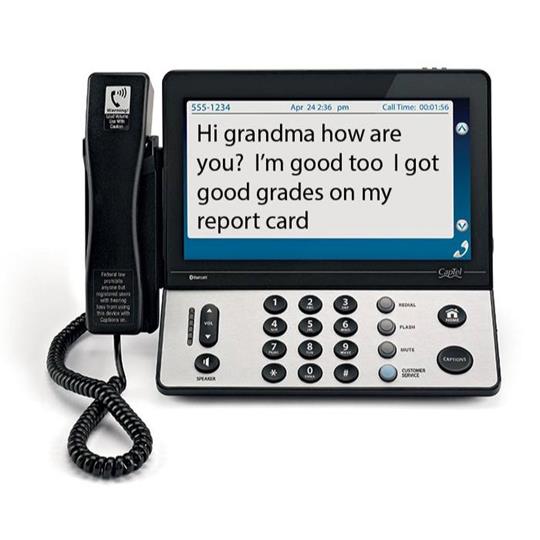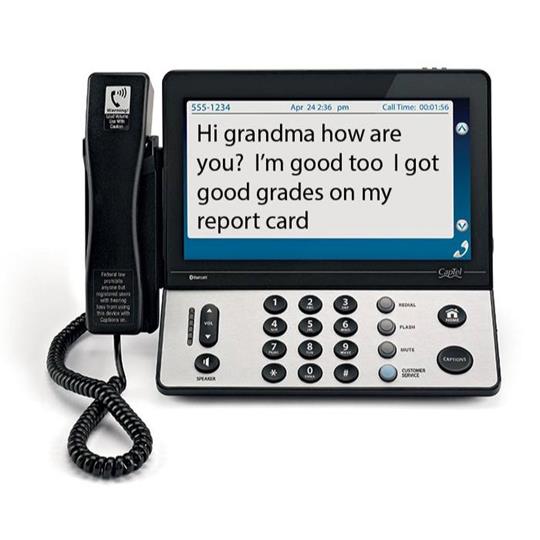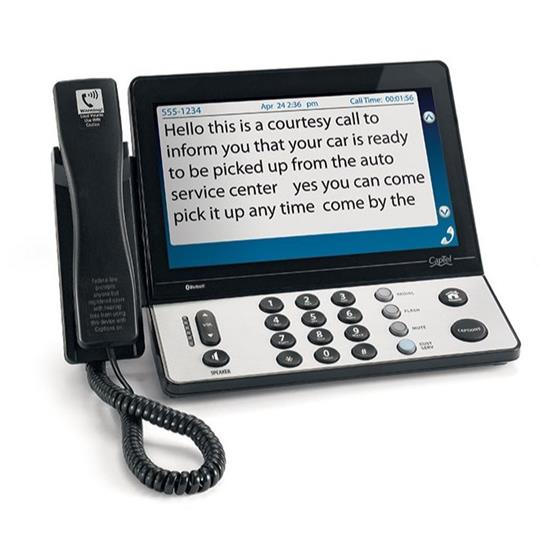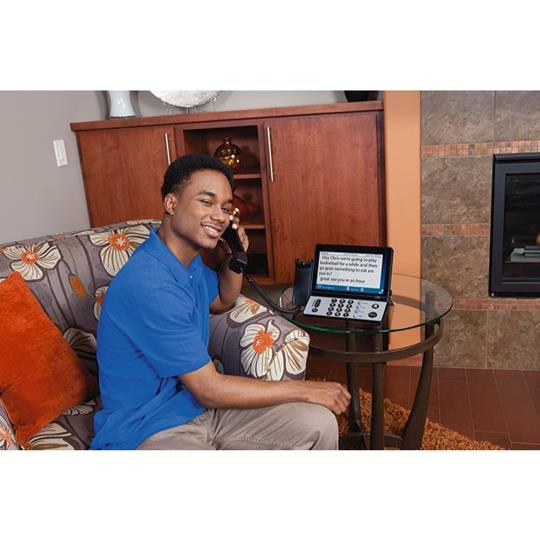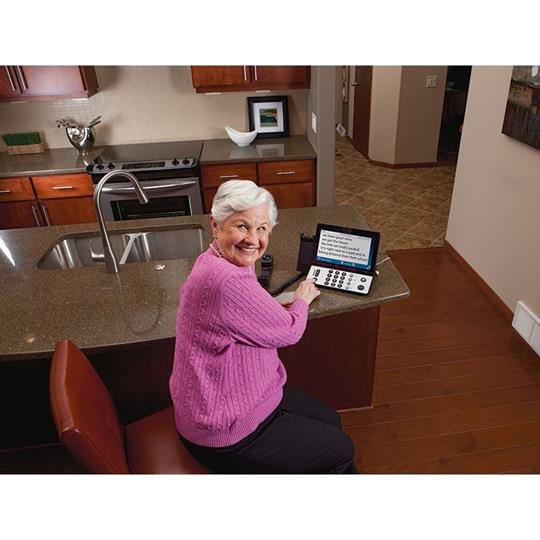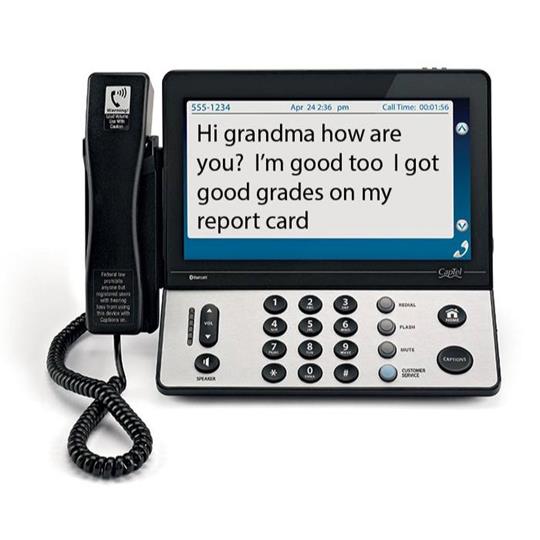 CapTel 2400iBT Captioned Phone
The CapTel 2400iBT Captioned Phone is designed for people looking for a captioned phone with touchscreen technology and Bluetooth connectivity. CapTel is available for the U.S. only.
SKU #UTI-2400I SPECIAL ORDER
Please allow 1-2 weeks for delivery
Please allow 1-2 weeks for delivery. Ground shipping is FREE within the 48 contiguous United States. Ground shipping to Alaska, Hawaii, Puerto Rico, and Canada is available for an extra charge. Expedited shipping is not available online for special order items. Please call 800-825-6758 for expedited shipping.
$75.00
QTY
Lowest price, guaranteed
Overview

Additional Details

Accessories

Q&A

Customer Reviews

Manual
The CapTel 2400iBT Captioned Phone is a 40dB amplified phone that shows word-for-word captions of your conversation on a large touchscreen display. The CapTel 2400iBT has a large colorful display dial-by-picture capability and built-in answering machine to make it easy to enjoy talking on the phone again.

The 2400iBT allows you to easily pair a Bluetooth headset, neckloop, hearing aid or cochlear implant providing even more flexibility and clearer sound. Is not able to pair with a cell phone.

It connects to both your telephone and Internet service to give you the best of both worlds: voice and captions. The captions are provided by a free service that uses the Internet connection to automatically display captions for every call quickly and accurately. Captions are available on calls within the United States only.


What to expect after you place your CapTel Phone order
Within two business days after you have placed your order a CapTel representative will contact you via email to verify your information. Once you respond to the email your order will ship. CapTel will also offer installation help either by a technician (if available in your area) or over the phone.
You will have 90 days after installation to try your new CapTel phone and the captioning service. You can return the phone at any time within the 90 days for a full refund. If you decide to keep the phone there is nothing more you need to do—just enjoy phone calls again with confidence!
Features:
Callers dial your phone number directly
Captions appear on all calls automatically; no need to dial through a captioning service
Captions can be turned on or off at any time in a call
Adjustable tone and volume control - up to 40 decibel gain
Speakerphone
Dial-by-picture capability
Adjustable caption font sizes and colors
Bright ring flasher to alert you to calls and answering machine messages
Large touchscreen caption display tilts for comfortable reading or lies flat for mounting the phone on a wall
Standard telephone keypad buttons for familiar comfortable dialing
Pairs with and sends the conversation directly to Bluetooth-enabled hearing aids or chochlear implants
Pairs with Bluetooth-enabled neckloops which sends the conversation directly to any t-coil enabled hearing aid
100 name/number phone book to store frequently called numbers
Built-in answering machine takes voice messages with captions
Spanish-to-Spanish captioning available with Spanish language menus
Caller ID capable
WiFi compatible
Requirements
Difficulty hearing on the phone due to hearing loss
High speed Internet connection
Home phone connection (analog VoIP FIOS DSL or cable - cannot be cellular service)
Standard electrical power
FEDERAL LAW PROHIBITS ANYONE BUT REGISTERED USERS WITH HEARING LOSS FROM USING INTERNET PROTOCOL (IP) CAPTIONED TELEPHONES WITH THE CAPTIONS TURNED ON. IP Captioned Telephone Service may use a live operator. The operator generates captions of what the other party to the call says. These captions are then sent to your phone. There is a cost for each minute of captions generated, paid from a federally administered fund. No cost is passed on to the CapTel user for using the service.
Feature
Details
Brand
Ultratec
Mfg part #
758-000301
Warranty
Five year warranty
Color
Black
Weight (lbs)
0.4
Battery operated?
No
Corded / Cordless
Corded
Line-Powered
No
Battery backup
No
Expandable
No
Bluetooth
Yes
Degree(s) of Hearing Loss

Yes

Yes

No

Amplification (dB)
40
Boost override
Yes
Captions
Yes
Tone Control
Yes
Speakerphone
Yes
Answering machine
Yes
Caller ID Screen
Yes
Talking Caller ID
No
Talking Buttons
No
Photo Buttons
No
Outgoing speech amplification
No
Emergency Dialing
No
Low Mobility
No
Customer Q&A
Get help from Diglo and other customers who purchased this. Ask a new question.
Customer Reviews
Real people with real opinions. Post your own review.
like it
Review by Pat on Jul 10, 2017 - Verified Customer
This second caption phone does more that the one the state gives . It is my communication . Coleen did a wonderful job of setting up the phones to the best and easiest use for me . This one has an answer service Very pleased.
Just what the doctor should order
Review by Dave on Jul 27, 2017 - Verified Customer
It is all and more than I hoped for......does fairly much all the work for you at the touch of a button. Still titrating the handset volume. A very big help!
Slow, inaccurate and not loud enough
Review by cook on Aug 7, 2017 - Verified Customer
The script is slow enough that it doesn't help while talking. It does help to review later. However, it often doesn't pick up the same words I can't. I programmed my audio graph in as directed but can barely hear at max volume,with hearing aids in. I would appreciate any advice. **Captioning speed is dependent on the speed of the internet, sometimes having a direct connection to internet will fix the delay as opposed to using wifi. CapTel has a technical support department that could assit with these issues. - Diglo**
Not right phone
Review by Wrong on Nov 19, 2017 - Verified Customer
The description of this phone and how it works was not complete in the magazine ad and it is not the right phone for me. I don't need captioning like this. Ad implied it was automatic, not a person doing it. You were going to send me a catalog and reimburse the payment. I have received neither as yet--over a month ago!
Great Product
Review by Frank on Dec 11, 2017 - Verified Customer
This is a replacement of an older Captel phone. A touch screen is more in line with modern technology. The screen is also bigger for the captions. I highly recommend this newer version.
Answering machine has failed after a year
Review by Patricia on Mar 7, 2018 - Verified Customer
The phone itself has been fine, the clarity is better than the one I had previously. The captions are as most have described, an unbearably long delay while trying to carry on a "normal" conversation. My biggest problem is with the answering machine. It worked fine up until about a week ago when callers could no longer leave a message, it disconnects before the answering machine engages. I spoke directly with customer support (no help other than she'll let the development team know), emailed them also and so far, no reply, no resolution. I paid for this myself even though I am entitled to receive a free phone. I am nearly completely deaf and job searching right now, so an answering machine that captions is vital for me. Very disappointed in the lack of response from these people.
Bluetooth? Poor connectivity
Review by rogburr on Apr 25, 2018 - Verified Customer
Would not pair with my BT hearing aids. Found that people could not hear me when I talked. Played with the Mute button but never got so that people could hear me. Probably a good phone but I just got a lemon and I tossed into the trash.
WORKS GOOD, AND IS FUN !!!
Review by DICK on Oct 12, 2018 - Verified Customer
GREAT INSTRUCTIN BOOK. EVERYTHING WORKS AS EXPECTED. HAVE SEVERAL FOR HEARING DISABLED PEO-LE, THIS IS BY FAR THE BEST. NOTHING REPLACES THE HEARING YOU WERE BORN WITH...NO TELEPHONE CAN...THIS IS THE BEST ALTERNATIVE. AND IT IS FUN TO OPERATE....
Fantastic
Review by Tim on Jun 22, 2016 - Verified Customer
So far the phone is fantastic. Surpasses any thing that I was expecting. But the best part was the Outreach Representative, Claire Grothe, who deserves a pay raise. She was delightful, polite, knowledgeable and above all, professional. She alone make this a most pleasurable and satisfying experience. Thanks again for a fantastic product and a wonderful representative.
Recommendation
Review by Jastone on Aug 18, 2016 - Verified Customer
great product and service, love the phone!
Way Better Then Expected
Review by Bren on Oct 12, 2016 - Verified Customer
Purchased the 2400i BT and so far it is way way better then all the other 3 cap tel phones I've used. My husband likes it too. I don't think you ever really get a "Perfect" cap tel phone but it does work very very well and we are satisfied! I highly recommend this cap tel phone. Be patience and learn to get the hang of it. It's pretty simple. Makes our lives easier.
good product
Review by ram on Nov 2, 2016 - Verified Customer
worked great
Microphone Volume
Review by linspokne on Nov 16, 2016 - Verified Customer
I bought it for the Bluetooth capabilities which work well and the answering machine capabilities. As such, I use the speakerphone mostly but have to shout at the phone to be heard. Per the manual, there is no adjustment on this...it just shows how loud you are speaking with the curved loudness lines....which never go to max even when shouting. And where is the microphone anyway?
Great!
Review by Gina on Dec 15, 2016 - Verified Customer
Self setup was fairly easy. Remember to put a country code as in 1 for US :) to ensure calls reach area codes outside of your own. I wasn't expecting to get an email from Hamilton asking further questions before shipping, which caused a bit of a delay in receiving it. So new customers should keep an eye out for these.
Not great for hearing challenged people
Review by dancerbob on Dec 21, 2016 - Verified Customer
Handset works ok, but not great; very precise positioning to engage telecoil. Speaker: terrible; its located under the machine, is difficult and muffled to hear. The microphone: others cannot hear, have to switch to handset for them to hear conversation. Bluetooth: frequently needs to have phone disconnected, re-setup, and re-paired to use; can't leave engaged, as it interferes with Bluetooth through neckloop for TV viewing. Captions work ok. Built in answering machine: can't answer by speaker or call is disengaged and anything already recorded is erased. No follow-through from customer support.
Good phone but two problems
Review by Terry on Jan 24, 2017 - Verified Customer
I have had three captioning phones, CaptionCall, which developed a feedback echo of my voice that they were unable to fix (even though initially it did not have this problem so it had to be due to a software update) Clarity Ensemble, (which prevents you from making any phone call except 911 if your internet connection is down, even though it once had that option as other phones do, again a software update that is dangerous IMO) My third phone, the CapTel 2400it was very easy to set up, and while I didn't need it they offer excellent tech help via a direct button on the phone. I love the features compared to my previous phones. Large and attractive screen and good graphical interface, but also a button keyboard instead of all touch screen. I like that. All captioning has a delay, and none of it is perfect, but on the Captel, if a word is not correct the system apparently tries to correct it then puts the original mistake in brackets. This has not happened yet as the captioning has been quite good. My problem with this phone is that I am again getting a feedback loop echo of my own voice, which seems to vary, sometimes not there, sometimes really bad and covering up the caller's words as far as hearing what is said. Tech support told me I have the volume too high (?) and that is why it is happening. So why not on the Caption Call? And why advertise a decibel level that does not provide clear sound at the highest ranges? Those of us who are not totally deaf, also want, and for that matter need to hear as much as possible, which the tech person argued was not necessary on a captioning phone (?) The other problem is a 3.5 headset jack when most if not all the connectors for headsets are 2.5. The adapters cause line noise, crackling, whistling when they work at all. This feature needs to be changed to a 2.5, or a quality adapter included. I have ordered a bluetooth headset with a volume control in the hopes of solving both problems because I really like ev
Allows communication where there was none before
Review by Richard on Mar 14, 2017 - Verified Customer
It works as advertised. My sister and I have had several conversations with my Mom where she was able to understand (via reading the captions) what she could not discern before. It does take a bit of getting used to. For both Mom to look at the screen and for the caller on the other end to pace themselves - not adding comments until Mom had read and responded. But that seems like something that just will take a bit of time and it will be fine.
Phone
Review by Deaf48127 on Apr 28, 2017 - Verified Customer
The ringer doesn't work. Hear the test ring but doesn't ring. Volume not loud enogh. Caption is good. **Contact us and we can put you in touch with CapTel's technical support to help fix your issue. - Diglo**
Outstanding
Review by Bill T on Jun 15, 2017 - Verified Customer
Works like a champ. Calls come in but are negated after 1 ring.....some calls still need to be zapped with red button but they don't recur.
better than nothing but not great
Review by Daughter on Jun 16, 2017 - Verified Customer
The concept is great but the delay from the time something is said until the time it appears on the screen is about 20 seconds. When you are trying to have a conversation, this is an unbearably long period of time for the person receiving the print out to have to wait. Going to try an amplified phone for my 96-year-old mother. **Captioning speed is dependent on the speed of the internet, sometimes having a direct connection to internet will fix the delay as opposed to using wifi. - Diglo**
Easy to Use and Install
Review by Dick on Apr 1, 2015 - Verified Customer
This actually exceeded my expectations. Excellent documentation. The installation was a breeze. Like any new technology, it takes a little time to get used to it. The touch screen is very responsive and the menus are easy to understand. I highly recommend this phone. My only problem which has nothing to do with the phone, is dealing with my hearing deficit. This phone really helps.
Great
Review by Bill on Apr 7, 2015 - Verified Customer
Only used it onerning
Excellent product
Review by CRA on Jun 16, 2015 - Verified Customer
This phone is a nice improvement over my previous CapTel phone. Thanks!
Excellent Phone!
Review by Yvonne K on Sep 23, 2015 - Verified Customer
I love all features especially you can increase the font size and color you like. I used to use Cap Tel 840i for four years. Cap Tel 2400i is more than I expected and I really love it.
Love the face of the phone
Review by Vickie on Sep 24, 2015 - Verified Customer
the only disappointment is how slow the captions are STILL. Other than that, the phone is amazing-makes my old captel phone look like a dinosaur.. Thank u Diglo
satisfied with phone
Review by filly on Nov 17, 2015 - Verified Customer
Purchased phone for our mother who before always handed phone over to someone else to handle the call for her since she couldn't understand what the caller was speaking to her....well what a 360... she now keeps the phone ...its such a delight to see her enjoy phone calls again and be able to conduct the phone call herself...Its been a few days now and I've not had to handle one phone call for her...She caught on quickly how to work the phone and she loves the design and features...she can also hear a lot of the conversation as well....the captioning is a bit slow but she still is in control of the phone call by just telling someone to slow down their speech a bit if needed...so far its been a good purchase and life changing for her.
cap tel 2400i
Review by barpeo on Dec 18, 2015 - Verified Customer
I bought this for my uncle he just couldn't believe what it would do know he smiles from ear to ear and calls every one thank you
happy w/ phone, but instruction & commun. was sub-standard
Review by satisfied daughter, but... on May 15, 2016 - Verified Customer
When you buy a product and have it shipped 2,000 miles away to your mom, and the product's representative calls you to follow-up on your purchase, that seems pretty nice. And, when the product rep. says they're going to follow-up with your mom's care-giver to make sure that all will be well when the phone is set up, the service seems too good to be true, but you like the sound of the promise a whole lot. Well, the young man never called my mother's care-giver and we went thru 6 weeks of "the phone works, the phone doesn't work". The care-giver is not technical oriented, my 94 year-old mom isn't technical oriented and it was very frustrating for me to sit 2,000 miles away being told on alternating weeks that the phone worked or it didn't. I called Diglo, but the was told I had to talk to the company that actually fulfilled the order--that was quite frustrating. Also, the fulfillment company stated that they were open on Saturdays--they printed their time-zone and numbers to call on Saturdays so I followed precise instructions, but they didn't answer their phone on Saturday--when I called on Monday, they said they don't work on Saturdays so I asked, "why does your website state that you can call on a Saturday?!?" more frustration... Finally, after 6 weeks, the care-giver figured out that the words appear on the screen ONLY when my mother was the FIRST person to answer the phone in the house. If someone else answered the phone in Mom's house on a traditional phone and then walked into Mom's room to tell her to pick up the phone, the words would NOT appear on the screen. But, if Mom answered the phone first, the words WOULD appear. Ah Ha! We got it figured out, but we had to go thru 6 weeks of pain!! Why doesn't Diglo put that instruction in BIG print all over their shipping materials??? But, the phone now works consistently!! All's well that ends well.
Love the phone!
Review by Kevin on Jan 16, 2015 - Verified Customer
We are very happy with this phone. We always had difficulty understanding messages left on our answering machine. This phone allow us to read them. I find this phone is clearer to hear than all the other phones we tried. The close caption is a few second slow but that is not a problem. The touch screen feature is easy to read and fun to use. The menu and instructions is easy to follow. Personalize features is easy to do without referring to the manual. We highly recommend this phone.
it's great
Review by Love it on Jan 26, 2015 - Verified Customer
Love the phone. My deaf son now has the ability to make and receive phone calls
Communication What a Joy it is to Communicate now.
Review by Vickie Sue on Feb 12, 2015 - Verified Customer
I can not begin to express how excited my wife Vickie is. As I was setting up the phone for her and manage to get in a few numbers after registering the 2400i she made me stop so she could call her daughter-in-law. What I though would be just a quick hello & good-by so I could finish loading up all her phone, I soon found that was not going to happen any time soon. She talked and talked and talked so when the phone call finally ended I show her how to enter all her contacts. She is like a kid in a candy shop. I am so happy for her, it is so amazing to see what the 2400i Caption Phone has done for her already. She has a Cochlear Implant which works absolutely wonderful. It has it's minor limitations like when communicating she read lips when you are facing her to help understand the words you project. Talking on a normal phone takes away the ability to read lips however with the 2400i Captive Phone she is able to hear and read what is being said almost in real time. I think I have created a monster ah just kidding I am really glad for her.
worth every penny I spent on it
Review by Tom on Feb 16, 2015 - Verified Customer
This phone is a must have for those of us that have a hearing loss that makes using a regular phone nearly or totally impossible to use. Gone are the days when you had to say go ahead after each party was through saying something this is truely a 2 way system and is more like using a normal phone and a plus for this phone is a hearing person can use it as long as the captioning is turned off so that it doesn't use a relay service that is reserve for the hearing impaired and deaf to use.
Very excited
Review by Jonnie on Feb 22, 2019 - Verified Customer
I'm excited that this phone is working as I had hoped. having my family call and I don't have to make them repeat, which is good for the young ones.
Delay in captioning, no dial tone, ringer works sometime, frozen scree
Review by Smiley on Feb 26, 2019 - Verified Customer
Having a hard time with my phone. Rep has come out 3 times within the week ? Keep having issues. Can not retrieve message sometime. Big delay in captioning. Can not read while talking to person. So many issues.. now I have no dial phone and screen is frozen. So very frustrating.
Works like a charm!
Review by DonnaD on Mar 14, 2019 - Verified Customer
Works as advertised! I now am now more confident when answering the phone that I'll understand what the caller is saying. Easy to set up-the instructions on the caption screen guide you easily through the process. Features are very customizable! Only negative is that we had some wifi connectivity issues. Called before purchasing with questions about phone. When talking about connecting via wifi, it would have been nice if we had been told that continued strength of signal was important for phone to work properly. Captel customer service has been awesome. They sent us the needed equipment and now captioning feature works great. Captel has been great reaching out from the initial purchase and through our wifi issues. We are very happy with this purchase!
WORKS GREAT
Review by LORENE on Aug 30, 2019 - Verified Customer
I just wish the volume was louder.
review
Review by lorene on Sep 6, 2019 - Verified Customer
this phone works great. the only problem is the volume could be louder everything else great
Great Phone!
Review by Lee on Nov 21, 2019 - Verified Customer
My boss got this phone for me so I wouldn't struggle trying to understand people on the phone. This phone has made my job so much easier and I am excited to have this phone. There is a delay in captioning but it is a lot better than missing the conversation completely. I would recommend this phone because going from not understanding and missing important information to having amplified sound and captioning and not missing information is a huge help.
PHONE
Review by MILLIE on Sep 8, 2020 - Verified Customer
LOVE THE PHONE BETTER THEN HAVE AT WORK . REALLY LOVING IT .I RECOMMED THIS IS LOT BETTER THEN THE SMALL WHITE PHONE . THANK YOU
Just what she needed
Review by Mom on Nov 20, 2020 - Verified Customer
My 96 year old mom struggles hearing anyone on the telephone. I struggle having to yell and repeat myself all the time. Now that she has this phone life is better for both of us. It was easy to install. Teaching her to use it is more of a challenge since she is not too tech savy, but she loves it!
Back to top