Bellman & Symfon Mino Personal Amplifier
Mino Personal Amplifier is a revolutionary communication aid that uses digital state-of-the-art technology to enhance speech in small group conversations, family gatherings, outdoors and in stores as well as music and TV...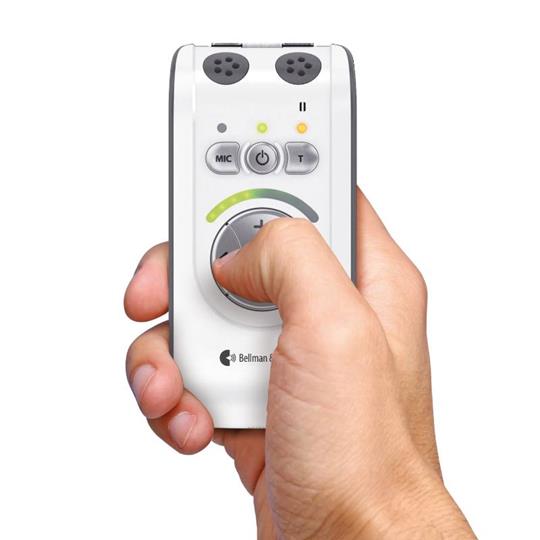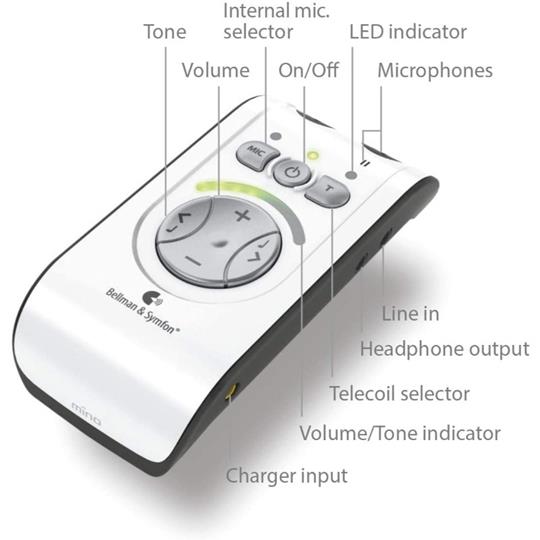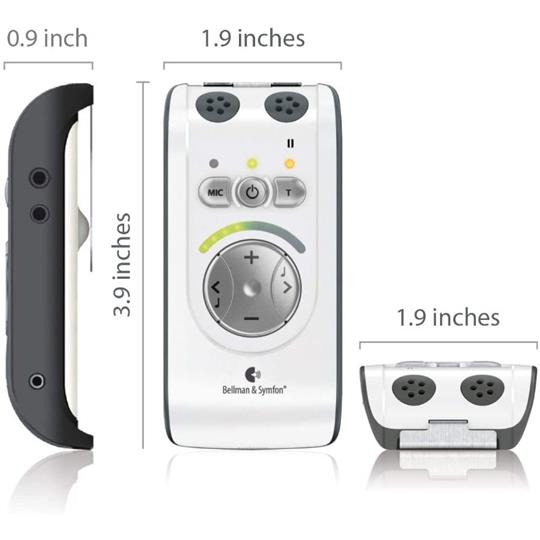 Bellman & Symfon Mino Personal Amplifier
Mino Personal Amplifier is a revolutionary communication aid that uses digital state-of-the-art technology to enhance speech in small group conversations, family gatherings, outdoors and in stores as well as music and TV...
MORE
SKU #HC-MINO IN STOCK
Ships FREE within 24 hours
This item will be shipped within 24 hours. Ground shipping is FREE within the 48 contiguous United States. Expedited shipping options, as well as ground shipping to Alaska, Hawaii, Puerto Rico, or Canada are available for an extra charge.
$299.95
OPTION:




QTY
Lowest price, guaranteed
Overview

Additional Details

Accessories

Q&A

Customer Reviews

Manual
The Mino Personal Amplifier from Bellman & Symfon is an all-digital personal amplifier that delivers crystal clear sound, even in busy environments. Whether you wear a hearing aid or just have the occasional hearing difficulty that arises out of everyday life, the Mino personal amplifier helps you understand sounds and words and make listening a more enjoyable activity.


How it works

The Mino personal amplifier uses digital signal processing which isolates speech while removing background noise and feedback.


Using the Bellman & Symfon Mino amplifier is intuitive. Just place it on a table or hang it around your neck. Speech will come through loud and clear. Choose to listen with headphones, earphones, Microset™, or if you use hearing aids, via a neckloop (sold separately).
Features:
Digital signal processing
Maximum output: 132dB SPL with earphones
Up to 60dB of amplification
Tone control
Intuitive design
Zoom and omnidirectional built-in microphone
High gloss finish to minimize handling noise
Can be used as a t-coil receiver (lockable)
Rechargeable lithium-ion battery for up to 18 hours of use
2.5mm auxiliary jack
3.5mm headphone jack
Includes:
Bellman & Symfon Mino Amplifier
USB charger
Mains plug
Charger cable
Lanyard neck strap with safety clasp
User manual
Quick start guide
Feature
Details
Brand
Bellman & Symfon
Mfg part #
BE2030-A
UPC
7331646002084
Warranty
Two year warranty
Color
White
Weight (lbs)
0.82
Battery operated?
Yes (batteries required)
Batteries included?
Yes
Battery details
(1) Non-Removable Lithium Ion
Country of Manufacture
China
Wearing Style
Hand-held / body worn
Degree(s) of Hearing Loss

Yes

Yes

Yes

Tone Control
Yes
Balance Control
No
Microphone(s)

Directional

Omnidirectional

Yes

No

T-Coil Receiver
Yes
Bluetooth
No
Rechargeable
Yes
Hours of Use
18
Customer Q&A
Get help from Diglo and other customers who purchased this. Ask a new question.
In the description it says this item has "Zoom and omnidirectional built-in microphones". What is the difference between a zoom microphone and an omnidirectional microphone?
Great question! An omnidirectional microphone picks up sounds that are occurring all around you. This can be great in quiet environments when you want to hear all sounds equally, whether they're in front or behind you. But if you're in a noisy environment, like a loud restaurant, you don't necessarily want to pick up ALL the sounds. You'd probably rather focus on the people directly in front of you at your table. This is where a zoom microphone (also called a directional microphone) comes in. When you switch to the zoom microphone, the Mino will focus on the sounds in the direction you're pointing it, while de-emphasizing other sounds. This makes it way easier to hear what you want to in noisy environments.
from the
Diglo Team
,
01/20/21
Customer Reviews
Real people with real opinions. Post your own review.
Clear sound, great amplification, easy to use
Review by Shinypenny13 on Sep 30, 2013 - Verified Customer
I love this amplifier! I am hearing, and I use it in speech therapy with hearing children. (When they can hear themselves better, they can correct their speech sounds better.) I bought a headphone splitter and several sets of child-sized headphones. I let the children speak into the microphone when they practice their speech sounds. They love it! -The sound it clear, and you can modify it to fit your needs. It can make things sound more low (bass emphasized) or high (treble emphasized). -This amplifier can make things loud! At its loudest, it hurts my ears. Obviously, I simply adjust it to an appropriate level. I could see it really working for someone who is very hard of hearing. -It is easy to use. I plug in the headphones, turn it on, and speak into the microphone. I have not used the telecoil feature, because I am not using this with hard of hearing or deaf students. But I can tell you that all of the other features are fantastic, and I am so glad I purchased this device.
Excellent
Review by Bonnie on Nov 9, 2013 - Verified Customer
I am a court reporter who has lost significant hearing. I had tried the Mino prior and returned it because of feedback with the headphones; however, I purchased a set of Bose headphones and have no more feedback with the hearing aids. The Mino has given me extended time to work at my profession. Thank you.
Fantastic product
Review by Becky Wood on Nov 7, 2015 - Verified Customer
This is the most wonderful product on the market, it works great with earphones - better than with a little receiver - I even wear my hearing aids with it; it's perfect for bible study, church, movies, plays, anything - and it's affordable - easy to use. A must have for hearing impaired people. Ya'll need to do a TV add on this, it's a miracle product, I could make a living on it by selling it myself.
Back to top