Bellman & Symfon Mino Personal Amplifier with Headphones
Mino Personal Amplifier is a revolutionary communication aid that uses digital state-of-the-art technology to enhance speech in small group conversations, family gatherings, outdoors and in stores as well as music and TV...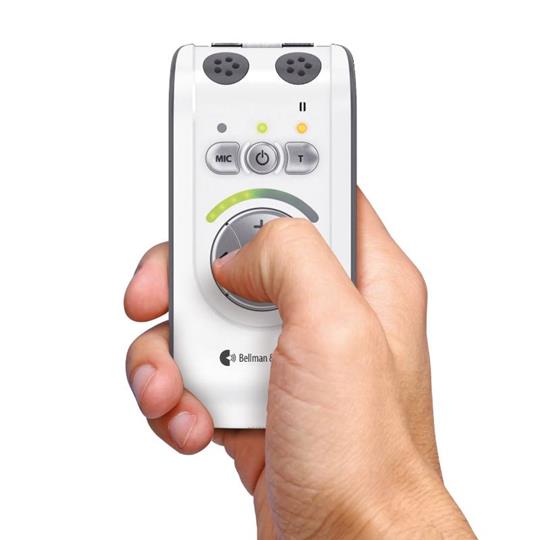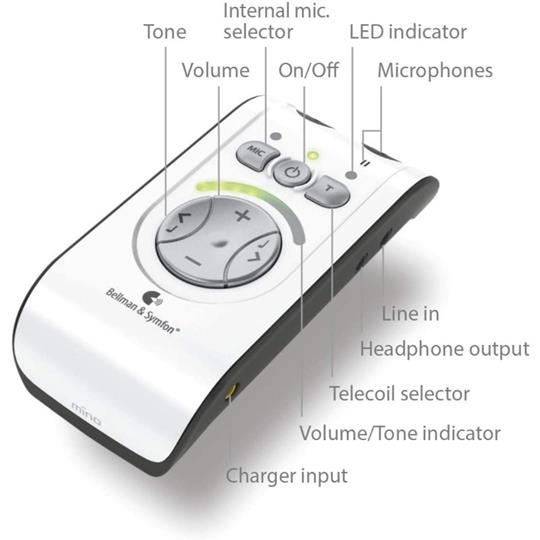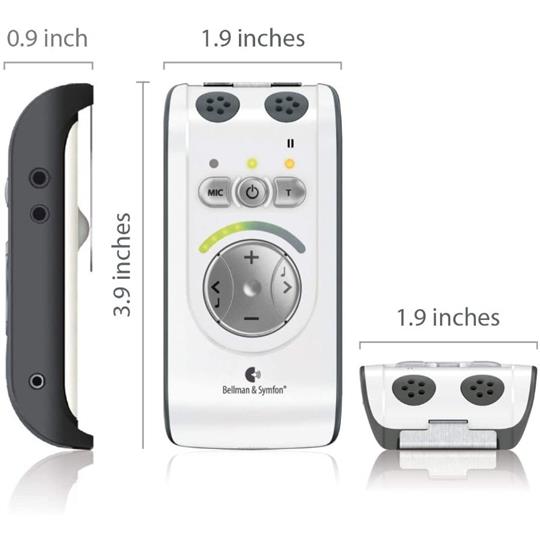 Bellman & Symfon Mino Personal Amplifier with Headphones
Mino Personal Amplifier is a revolutionary communication aid that uses digital state-of-the-art technology to enhance speech in small group conversations, family gatherings, outdoors and in stores as well as music and TV...
MORE
SKU #HC-MINO/HP IN STOCK
Ships FREE within 24 hours
This item will be shipped within 24 hours. Ground shipping is FREE within the 48 contiguous United States. Expedited shipping options, as well as ground shipping to Alaska, Hawaii, Puerto Rico, or Canada are available for an extra charge.
$359.95
OPTION:




QTY
Lowest price, guaranteed
Overview

Additional Details

Accessories

Q&A

Customer Reviews

Manual
Mino delivers crystal clear sound, even in busy environments. Whether you wear a hearing aid or just have the occasional hearing difficulty that arises out of everyday life, the Mino personal amplifier helps a person with hearing loss understand sounds and words and make listening a more enjoyable activity.
How it works

The Mino personal amplifier uses digital signal processing which isolates speech while removing background noise and feedback.

Using the Bellman & Symfon Mino personal amplifier is intuitive. Just place it on a table or hang it around your neck. Speech will come through loud and clear. Choose to listen with headphones, earphones, Microset™, or if you use hearing aids, via a neckloop (listening accessories available separately).


Warranty

The Mino Amplifier comes with a two year warranty. The included headphone has a 90 day warranty.


Features:
Digital signal processing
Maximum output: 132dB SPL with earphones
Up to 60dB of amplification
Tone control
Intuitive design
Zoom and omnidirectional built-in microphone
High gloss finish to minimize handling noise
Can be used as a t-coil receiver (lockable)
Rechargeable lithium-ion battery for up to 18 hours of use
2.5mm auxiliary jack
3.5mm headphone jack
Includes:
Bellman & Symfon Mino Amplifier
USB charger
Mains plug
Charger cable
Lanyard neck strap with safety clasp
User manual
Quick start guide
Stereo headphone
Feature
Details
Brand
Bellman & Symfon
Mfg part #
BE2030-04
UPC
7331646002084
Warranty
Two year warranty
Color
White
Weight (lbs)
1
Battery operated?
Yes (batteries required)
Batteries included?
Yes
Battery details
(1) Non-Removable Lithium Ion
Wearing Style
Hand-held / body worn
Degree(s) of Hearing Loss

Yes

Yes

Yes

Tone Control
Yes
Balance Control
No
Microphone(s)

Directional

Omnidirectional

Yes

No

T-Coil Receiver
Yes
Bluetooth
No
Rechargeable
Yes
Hours of Use
18
Customer Q&A
Get help from Diglo and other customers who purchased this. Ask a new question.
Customer Reviews
Real people with real opinions. Post your own review.
Big help
Review by on Dec 16, 2021 - Verified Customer
I am pleased that my 97 year old dad can actually have a conversation again. Very pleased with purchase and customer service has been outstanding. Definitely recommend this product and company
Diglo Response:
Thank you for the positive review! We are happy your dad is enjoying his amplifier and are confident this unit will work for years to come. Should you ever have any questions, please don't hesitate to contact us, we are always happy to help!
Wonderful!
Review by Melissa on Jul 28, 2017 - Verified Customer
This is the third amplifier I have gotten for my 90 year old grandmother and so happy to say she loves it!! the others were just cheap little ones so you get what you pay for. She loves this because she doesn't have very much movement in her hands so she puts these headphones on and pushes the on button and she is good to go!! Thank you so much for having this product available
Works well. Good investment for the money
Review by Kevin C on Sep 14, 2016 - Verified Customer
My father in law is very hard of hearing and is unable to wear hearing aids. I found your product on line and decided to risk the purchase. We are not dissapointed with the outcome at all. We are able to have a regular conversation with him now without shouting one sentence phrases because communication like that is exhausting. We sat on our porch and he was wearing the headset and he told me - "I can hear the wind. I haven't heard the wind in years". Overall? Very satisfied with the product - it's not perfect but boy did it open a new (old) world for my father in law.
Great product!
Review by Mary on Aug 3, 2013 - Verified Customer
This product was purchased for my 89 year old mother who needs, but cannot manipulate, hearing aids. It worked perfectly and she even loved wearing the headphones. It is a great solution for those who cannot handle the tediousness of hearing aids. Great product, great sound quality!
Satisfied!
Review by Keith on Oct 12, 2013 - Verified Customer
Works quite well - very easy and convenient to use, and provides a very 'honest' sound that is natural and fee of electronic distortion.
Great sound, versatile, easy to use
Review by GoRon on Jan 14, 2014 - Verified Customer
Clear sound and the unidirectional setting (easy to adjust) does work but not overly so, a good thing. The simple, easy to use controls are a dream, plus many customizations are available. Works better for TV listening than my 2 other attached, wireless headphones, over $100 and $300. Super customer service. Able to download the user manual, but it is advised to download the datasheet also, to get a good summary of all the features. 3 minor Cons: the case is very sensitive to movement, even fingers lightly brushing on it. When listening to TV, there seems to be a bit of a cutoff at the beginning of a word, especially if it is a quiet syllable. The unidirectional setting seems to heighten this effect, so the Omni is used and works fine. My TV and DVD settings have been tweaked to the best listening capability without an aid, may need to be backed off so the MINO can do its job better.
So good so far.
Review by Andy on Mar 20, 2015 - Verified Customer
I tried them and had a little bit of a scramble at first but I am getting more used to using them. So far so good.
It will bring us back together in conversation and love
Review by Javier on Jan 17, 2016 - Verified Customer
I am buying a second Mino so I will be able to hear my wife as clearly as she hears me. I am delighted She is not too keen on the earphones. And since both of us prefer headphones can I send back the earphones I bought for her in exchange with an extra headphone? We are delighted with this amplifier. We are both 91 years old, We had been sort of getting to be out of touch not being able to hear each other. This amplifier is bringing us back together in our love for each other. Thank you **You can contact customer service at (800) 825-6758 or
[email protected]
and they will review your order for the exchange of the headphone. We are glad you like the Mino! - Diglo**
Better than hearing aids
Review by Scott on May 13, 2016 - Verified Customer
I gave one to my 91-year-old mom who had recently fallen and was bed-ridden. She has constant trouble with her hearing aids. The little tubes collapse and get full of wax, and she had put up with not hearing well for years. She put on the headphones and within a few minutes she was talking and hearing again! She would not give them up nor go back to hearing aids. She wanted to get one for another friend at the Home who can never hear anything despite wearing hearing aids. I keep thinking, what a racket the hearing aid industry is! Selling cheap little amplifiers like they are medical devices for $1000s!
Perfect for my dad.
Review by Sd girl on Jun 13, 2014 - Verified Customer
My dad is 100 yrs old and has arthritic hands. He did not like the hearing aids but he preferred the mino he can put it on himself. The sound is clear. He can watch tv now without caption. The only thing is it makes that high pitch noise from time to time but he adjusted well with it. I would recommend this product.
Back to top