Bellman & Symfon Maxi Classic Personal Amplifier with Headphones
Maxi Personal Amplifier is a revolutionary communication aid that uses digital state-of-the-art technology to enhance speech in small group conversations, music and TV.
Amplifies speech and reduces background noise

User F...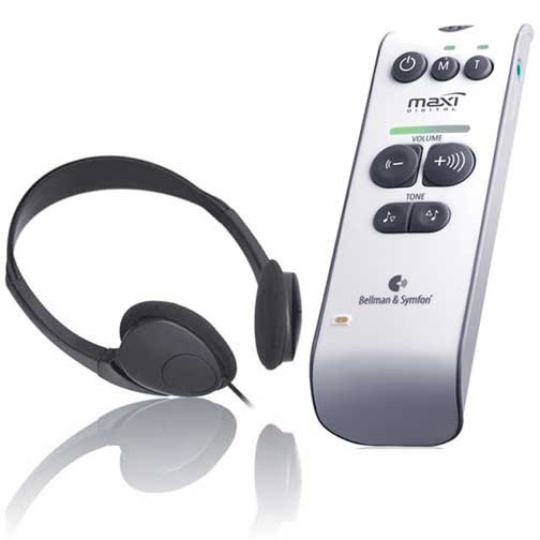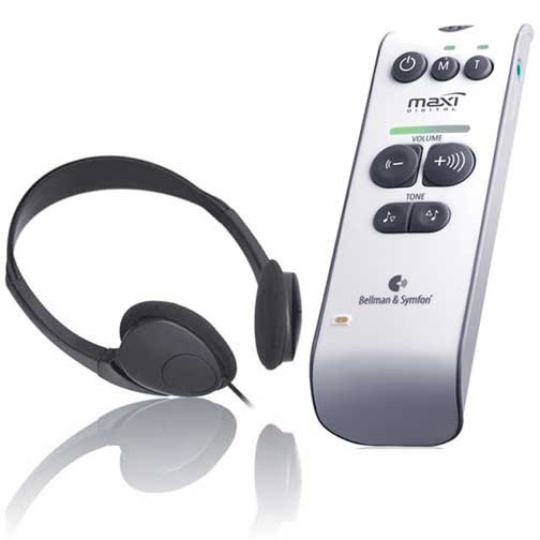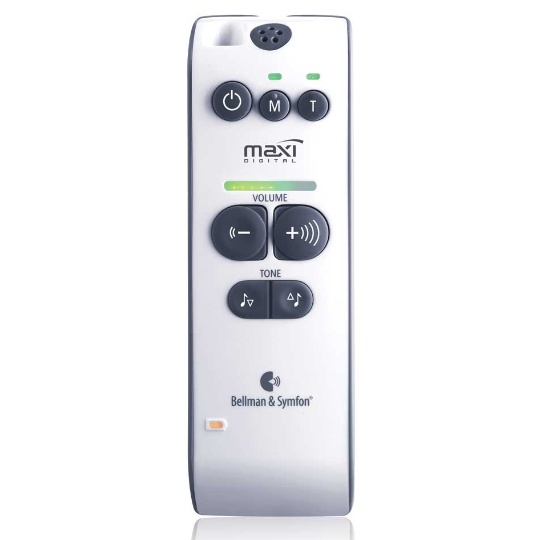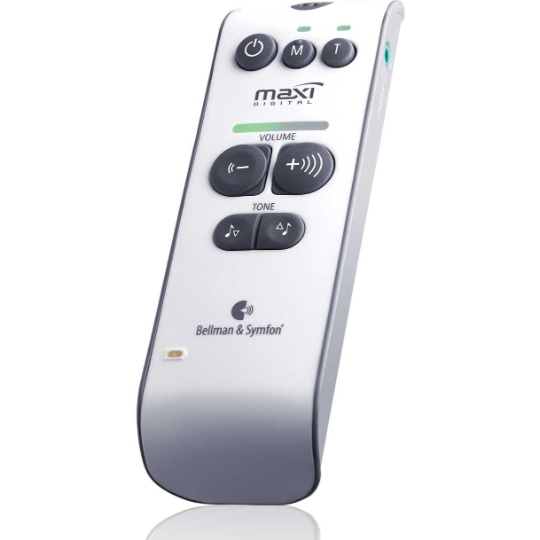 Bellman & Symfon Maxi Classic Personal Amplifier with Headphones
Maxi Personal Amplifier is a revolutionary communication aid that uses digital state-of-the-art technology to enhance speech in small group conversations, music and TV.
Amplifies speech and reduces background noise

User F...
MORE
SKU #HC-BAMAXI/HP IN STOCK
Ships FREE on Monday
This item will be shipped on Monday. Ground shipping is FREE within the 48 contiguous United States. Expedited shipping options, as well as ground shipping to Alaska, Hawaii, Puerto Rico, or Canada are available for an extra charge.
$299.95
OPTION:




QTY
Lowest price, guaranteed
Overview

Additional Details

Accessories

Q&A

Customer Reviews

Manual
The Maxi personal amplifier is developed especially for people who prefer an easy-to-use device with large tactile controls and clear indications. The Maxi amplifier is intuitively user-friendly and has superior sound quality. Use it for watching and listening to the television, listening to music (stereo, MP3) or small group conversations.
Outstanding sound

The Maxi personal amplifier delivers the clear and crisp digital sound that you deserve. It fully exploits the advantages of digital technology to clarify speech and reduce annoying background noise and feedback - all to give you an outstanding sound quality. Thanks to a unique microphone suspension, Maxi's ultra-sensitive microphone is effectively protected from handling noise. This guarantees hours of comfortable and noise-free listening.


Easy to handle

Bellman's Maxi has been designed with simplicity and usability in mind. All common functions can be accessed using a single push on a button and there are no complicated menus to get lost in. Unparalleled ergonomics combined with high contrast coloring, large tactile buttons and soft grip materials, makes Maxi the ideal companion for hearing impaired individuals who demand flexibility, quality and ease of use.


Versatility

Bellman Maxi can be used in a variety of applications with optional add-on accessories. The Maxi Neckloop (sold separately) connects your hands free wireless device or MP3 player with the Maxi for use with your t-coil hearing aid. For TV listening, simply attach the Maxi External TV Microphone accessory (sold separately) to your TV's speaker. With the Maxi Cable Kit accessory (sold separately), you can enjoy high quality TV stereo sound.


Warranty

The Bellman Maxi comes with a two year warranty. The included stereo headphone has a 90 day warranty.


Features:
Digital signal processing
Maximum output: 119dB with headphones; 135dB with stethoclips
Built-in omnidirectional electret condenser microphone with digital noise reduction for clear, crisp sound
10 channel dynamic range compressor
10 channel dynamic noise suppression
Adaptive feedback manager
High contrast LED display for clear volume and tone indication
Unique soft grip casing for extremely low handling noise
Up to 150 hours battery life for trouble free operation
Auxiliary stereo signal 2.5 mm jack
Headphones stereo 3.5 mm jack
High capacity line output for ear/headphones and neckloop (sold separately)
Lockable telecoil mode for listening with loop cushion or domestic loop
Push-to-listen function for mixing line input with microphone input
Large ergonomic push-buttons with clear indication for easy handling
Uses two AA alkaline batteries (included)
9 step volume control (5 dB/step)
Tone control with 5 pre-set steps, push buttons
Includes:
Bellman & Symfon Maxi Amplifier
Two AA alkaline batteries
Belt clip
Lanyard neck strap with safety clasp
User manual
Quick start guide
Stereo headphone (90 day warranty)
Feature
Details
Brand
Bellman & Symfon
Mfg part #
BE2020-04
UPC
7331646002831
Warranty
Two year warranty
Color
White
Weight (lbs)
1
Battery operated?
Yes (batteries required)
Batteries included?
Yes
Battery details
(2) AA Alkaline
Wearing Style
Hand-held / body worn
Degree(s) of Hearing Loss

Yes

Yes

Yes

Tone Control
Yes
Balance Control
No
Microphone(s)

Directional

Omnidirectional

No

Yes

T-Coil Receiver
Yes
Bluetooth
No
Rechargeable
No
Hours of Use
150
Customer Q&A
Get help from Diglo and other customers who purchased this. Ask a new question.
Customer Reviews
Real people with real opinions. Post your own review.
Excellent product
Review by Randy M on Jul 12, 2017 - Verified Customer
This personal amplifier is exactly what I needed! It works as advertised in all the situations I have used it in. Even in a somewhat noisy environment, I am able to single out individual conversations with the help of this device and understand better. I have even recommended it to a friend who says her hearing aids aren't doing it for her in many situations. Would definitely continue to recommend it to my friends.
Awesome Product
Review by RSJ on Aug 3, 2017 - Verified Customer
I purchased this product along with the stethoclip headphones for my 95 year mother whom is extremely hard of hearing. This is the first product out of many that I have tried that really works well for her. She is extremely happy now that she can hear and participate in conversations both in person and on the telephone.I will say it again, this is an incredible product. I am glad that I found it.
worked well , would have not returned it if it had left ear right ear
Review by bob on Mar 13, 2018 - Verified Customer
very well insulated, tall for pocket,did not care for belt clip. great pickup
Good addition to my ALD setup.
Review by Sylvia on Nov 11, 2016 - Verified Customer
Bought the Maxi, recognizing that the batteries are easier to carry than a charger when traveling, especially overseas. I also own the Mino version, which was a godsend after I had a serious fall and spent a lot of time in noisy hospital/rehab settings - too challenging for my hearing aids.
Thank you!
Review by Ella on Nov 17, 2016 - Verified Customer
I wish we had found this sooner! I bought this for my mother, who was 96 and in a nursing home. She had not been able to hear for several years, even with her hearing aids. This allowed us to have conversations with her in her last months. Thank you.
Wonderful
Review by Betty on Dec 21, 2016 - Verified Customer
Love it. It was for my mother who refuses a hearing aid. No more TV as loud as it goes. She can hear me when I ask her questions without having to shout 3-4 times.
just what we needed
Review by grandmapeg on Dec 28, 2016 - Verified Customer
This replaces an old Radio Shack hand held amp that did not have directional mic. Purchased for 94YO in nursing home who will not wear hearing aids. It's great. Staff love that they can communicate without having to speak directly into a mic. Our senior can attend music events and hear the production.
Useful
Review by DaveJ on Jan 7, 2017 - Verified Customer
I use the maxi while my hearing aids are out for repair. My wife thanks me for being able to leave the TV at a normal volume.
works well, EZ to use, flexible applications
Review by DN on Jan 12, 2017 - Verified Customer
Probably as good as you could find for what it offers. To be any better would require custom fitting and more personal applications.
For 84 yr old mom in retirement apt.
Review by JC on Mar 6, 2017 - Verified Customer
My mom does not want to afford hearing aids nor even a test. When we her 3 kids visit we can't talk or be in the same room as her TV set on volume level 50. Using this and headphones she can turn tv down and hear us from the couch. We also used the microphone with its long cord and it helps her hear us better. I believe she is hearing more clearly too and hopefully it will show her all she was missing. She tried it when a neighbor from her retirement community stopped by to chat too. Progress!
product
Review by Linda S on Sep 4, 2013 - Verified Customer
Product was for my mother. It works very well.
The device was for my mother.
Review by silverbearded54 on Mar 11, 2016 - Verified Customer
The device is very simple to operate and has helped to turn down the t.v. volume. No more screaming matches just to answer simple inquiries. She loves the portability of the unit, so it goes everywhere with her.
Workis well
Review by Pat on Jul 31, 2014 - Verified Customer
We bought this for our 99 year old aunt who was always needing us to yell at her. She seems to be OK with it.When she wears it she can hear much better. We love it when she uses it. If we could only get her to use it more often. We bought the headphone but she requested the earpiece, so we ended up ordering that too.
Great product
Review by david on Aug 26, 2019 - Verified Customer
Perfect for my 96 year old dad. Much better than hearing aids at this point in his life.
Back to top