Bellman & Symfon Alarm Clock Pro
Wake up on time without waking everyone else! The Alarm Clock Pro from Bellman & Symfon is perfect for any level of hearing loss, or when you tend to sleep through normal alarms.
Extra loud ascending audible alarm.

Alerts ...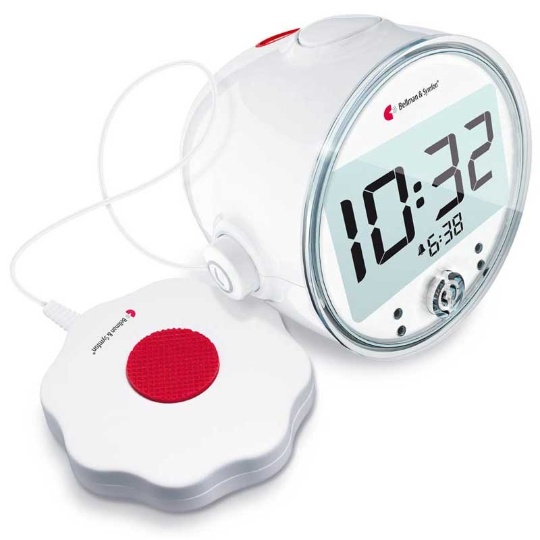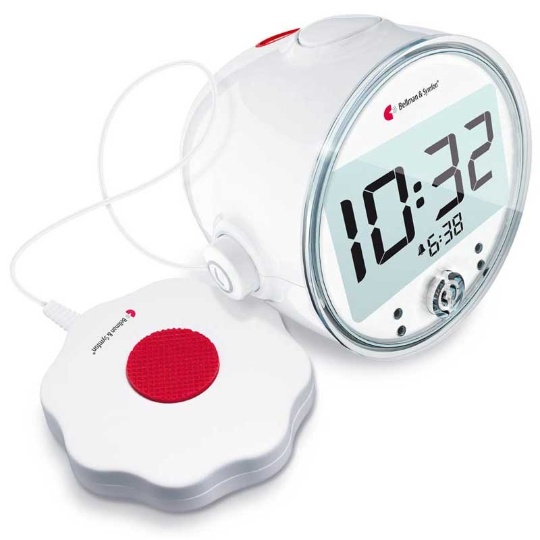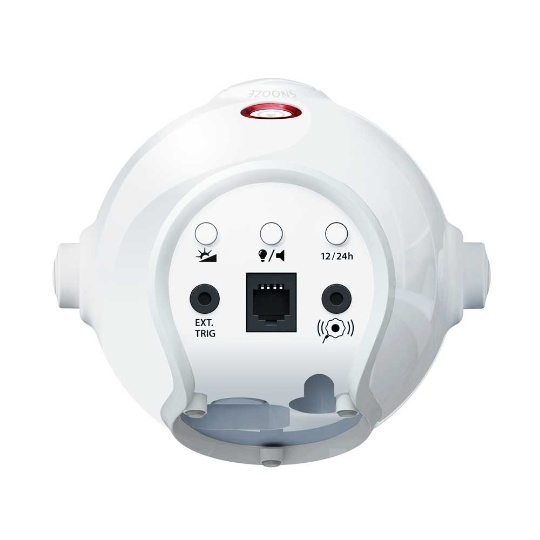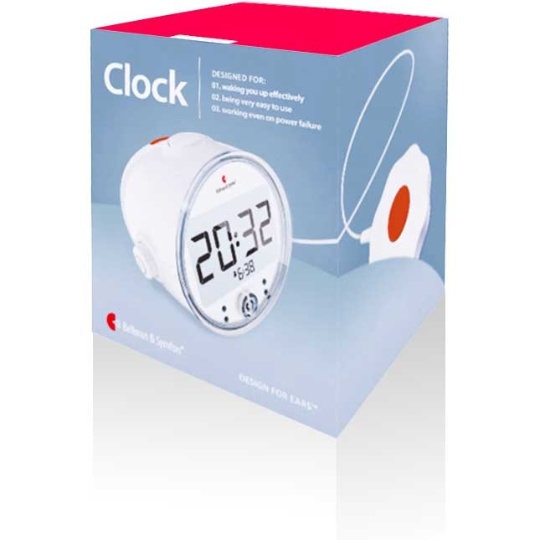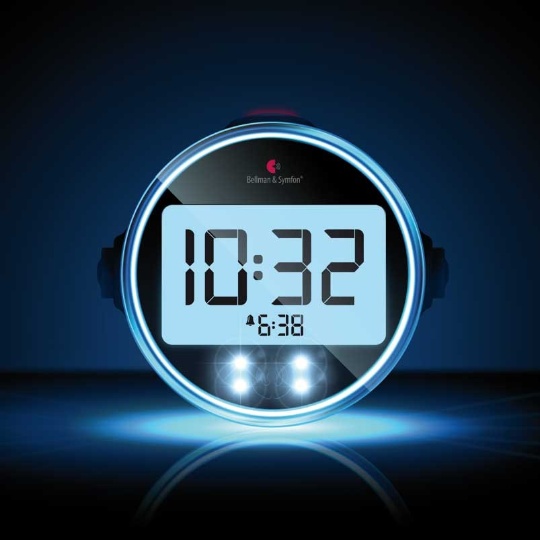 Bellman & Symfon Alarm Clock Pro
Wake up on time without waking everyone else! The Alarm Clock Pro from Bellman & Symfon is perfect for any level of hearing loss, or when you tend to sleep through normal alarms.
Extra loud ascending audible alarm.

Alerts ...
MORE
SKU #HC-BA-PROCLK IN STOCK
Ships FREE today
Most in-stock orders placed before 2pm CT (Mon-Fri) ship the same day. Ground shipping is FREE within the 48 contiguous United States. Expedited shipping options, as well as ground shipping to Alaska, Hawaii, Puerto Rico, or Canada are available for an extra charge.
$179.95
QTY
Lowest price, guaranteed
Overview

Additional Details

Accessories

Q&A

Customer Reviews

Manual
Don't worry about oversleeping with the Alarm Clock Pro from Bellman & Symfon. The Alarm Clock Pro features LED lights, a powerful bed shaker with sound, and a built-in audible alarm that increases in sound volume. Now you can wake up on time without waking everyone else in the neighborhood. Perfect for any level of hearing loss!


Features:
Loud 100+dB ascending alarm that spans multiple frequencies so even if you have high frequency hearing loss you won't miss the alarm
Alarm timeout 20 minutes
Powerful bed shaker that also emits sound directly under the pillow
Four flashing LED lights
Nightlight function helps guide you in dark rooms
"Smart" snooze automatically reduces in time from 9 to 2 minutes in two minute intervals, so you don't miss that important meeting
Snooze timeout 20 minutes
RJ-11 jack to connect your telephone for the built-in phone ringer amplifier lets you know when the phone is ringing
External trigger 3.5mm stereo input jack for the Bellman Visit system's magnetic switch or door mat
Large LCD display with adjustable backlight
Battery backup powers all functions during a power outage, including bed shaker and LED lights (4 AAA rechargeable batteries included)
12/24 time format
Dimensions: 4.7" W x 4.3" H x 3.6" D
Weight: 13.7 oz; 390g including batteries
Watch how Bellman Alarm Clocks can prevent even Iron Man from oversleeping!
Feature
Details
Primary Use

Yes

No

Brand
Bellman & Symfon
Mfg part #
BE1370-A
UPC
7331646002206
Warranty
Two year warranty
Color
White
Item Dimensions
4.7" W x 4.3" H x 3.6" D
Weight (lbs)
1.71
Battery operated?
Yes (batteries optional)
Batteries included?
Yes
Battery details
(4) AAA NiMH
Country of Manufacture
China
Alert Type(s)

Vibration

Flashing Light

Loud Audible

Yes

Yes

Yes

Tone Control
No
Dual Alarms
No
Battery backup
Yes
Built-in USB charger
No
Bluetooth
No
Smartphone Compatibility

No

No

Expandable
No
Customer Q&A
Get help from Diglo and other customers who purchased this. Ask a new question.
Customer Reviews
Real people with real opinions. Post your own review.
The best clock...
Review by GregTheRed on Dec 12, 2011 - Verified Customer
The best desktop clock I ever have. The snooze button is so great. My previous clock, I had to find my snooze button...it was so small and it took time for me to find it. I am not the morning person, so this clock I am having now is so wonderful. Also, the vibrator doesn't shake me violently like my previous clock. I really love it. Thank you, Bellman and Symfon.
If you are looking for something that is easy to understand and use..
Review by RonJ on Dec 13, 2011 - Verified Customer
I dont think I have ever come across such a well thought through product as this one when it comes to user friendlyness. Setting the time and alarm is so easy (I didnt even read the manual!) Nice design and a lot of smart functions such as the night light feature. Can definately recommend this!
Not great!
Review by Sara on Jul 23, 2017 - Verified Customer
I had the clock since 2015. It been button broke it and batteries are charging weak. It not very last long time. Charge me for 99.99 dollar it pretty ripe it me off. I'm not happy about it.
Totally helpful!!
Review by Margarita on Jun 27, 2016 - Verified Customer
Love it!! The lights are strong enough to wake me up along with the vibrate alarm. It's awesome !! My first alarm ever. I used to use the light from the window or someone to wake me but now I start an early morning job and need to be up at 4:00am. So it works for me. Thank you so much!! I'm more independent with this alarm ! :)
totally works
Review by Abby on Oct 4, 2016 - Verified Customer
My 5 year old loves this alarm clock. It is easy to set up and use.
Great Clock But....
Review by lovewhitedaisies on Apr 23, 2012 - Verified Customer
Love all the features of this clock, ease of use. alarm settings. The one major flaw for me is no time backlight unless you push the button to view the the time. I would like to be able to see the time at night without having to reach over to push the button. Otherwise, I would have given it 5 stars.
Na
Review by Patty on Oct 21, 2013 - Verified Customer
Great product
great, but touchy setting
Review by candy on Dec 1, 2013 - Verified Customer
Got this for my sister as an early Christmas present. It's great, allows her to wake without waking everyone in the surrounding neighborhood. I agree with a previous wish, back-lighting would be really nice. My only concern is how touchy the settings are when setting the alarm time and regular time. So easy to bump the buttons and change a setting accidentally. But, we are both VERY happy. Thanks!
Excellent clock for wake-up alarm
Review by Netflixjer on Dec 11, 2013 - Verified Customer
This clock is smaller brand from Sonic alert, but it is very excellent clock I have ever owned. I love their clock backlight and how you can change clocks by using the button to rotate clockwise or counter clockwise. It is worth the price!
Excellent choice for hard of hearing
Review by LynnA on Jan 8, 2014 - Verified Customer
Purchased for my mother, in her 80s, who is worried about sleeping through alarms without her hearing aids. I like the way the clock starts gently and builds up in volume as needed; you don't have to pick the loudest setting and have it rudely blare at you right off the bat. The shaker is effective, and the range of tones may be helpful. Primary functions are very intuitive, simple, and easy to use. It is very easy to set the clock time and alarm time. Alarm on/off is easy to set and clearly indicated by red light & icon on clock face. Selecting wake-up modes is fairly simple - several combinations to toggle through, but Mom had no trouble understanding what was selected. Room for improvement - Minimal instructive text in the "manual" (tech sheet on web site is more descriptive than user manual in the box). The manual especially fails to explain the backlight and beacon features. The "instructional video" on the website is very good, but Mom would not have found that on her own. As others have mentioned, it would be nice to have the option to leave the backlight on, or to have lighted digits. It's weird to have a clock that can't be read from the bed or across the room. Overall it is a very good product that's meets her needs. It is well engineered for ease of use and construction seems very solid.
Minimalist design and simplicity, good for deaf people
Review by JoeH on Feb 5, 2014 - Verified Customer
When my Sonic Alarm gave out after 15 years, I had to find another clock. I was going to get another Sonic Alarm when this one caught my eyes. I saw that it had a backup battery so the clock would still work when the power goes out. I had to get it. When I got it, it was smaller than I expected, but I liked the design. It is very easy to use. You can change the clock and alarm settings by pressing the dial button on either side and twist it. The clock has a backlight that will only be turned on when pressing the button on the top and it will go out after a few seconds. I prefer to see the time stay lit at night, but if I have the backlight on, I won't be able to sleep. It is too bright. So it is better to have the backlight off during the night. Also, the vibrating device is great and that's what I need. This Pro clock also has the flashing lights, but it is the LED lights and I don't think it is powerful enough to wake me up unless my face happens to face the clock when the lights flash. It has the alarm sound too but I am deaf so that won't help me. Overall, I really like it.
Good product
Review by Baldy on Feb 10, 2014 - Verified Customer
Very good product and well designed and made. I just wish they come up with way to inter grate cell phone
Love it!!!!!!
Review by Duckysmom on May 14, 2015 - Verified Customer
Love it!!!!!
Excellent choice i purchase
Review by Halgarmo on Oct 21, 2015 - Verified Customer
Really love it!!! I was scared when the alarm is on with vibrating shake and light in dash and i wake up fulll!!!! Love it and i did have iluv home with shake. And dont work sometime not shake and other day work with shake... Crazy! Thank you and i recommend this
Can't see it at night or a few feet away
Review by Sirsam on Nov 17, 2015 - Verified Customer
What kind of dumb design in an electronic clock that can't be seen unless you touch it?!? At this price, can't they add an adjustable backlight or numbers? A waste of money in my opinion.
Different but better!
Review by Michels on Feb 21, 2014 - Verified Customer
It's been almost a week having this alarm clock; I like it so far - wish the cord is a little longer... My wife is alittle annoyed with it because the snooze button takes 9 minutes at first, and then 8 minutes at second time. She isn't a morning person! Anyways, I am recommending this! Thank you!
awesome
Review by rgross on Mar 19, 2014 - Verified Customer
This Clock Is Well Worth The Money!
Wakes me up--but early!
Review by oldpaint on Mar 26, 2014 - Verified Customer
I love this item, after one week. It has not failed one time to wake me--often with the LED lights only--and it's exactly what I need, with my hearing impairment. EXCEPT!!!---incredibly, the clock gains about 10 minutes in time per day!! I don't have to re-set the wake-up time each evening . . . just the clock time. Will contact Diglo and see if I can get a replacement.
Did not like product
Review by TJ on Apr 10, 2014 - Verified Customer
Would not recommend. Did not have a back light to see time at night - alarm was not loud enough for my hearing loss.
Durability is short!
Review by Phillip on May 17, 2014 - Verified Customer
I didn't have to review it until 1 or 2 years later. I want to see how long it is durability. I now review it. The durability is short. I used it since 1 ½ years. It itself had a problem. It won't use vibrate shaker and reset itself the clock when the alarm came up often. So it's short life! SMH. Need a long durability. Sonic, Bellman and deaf product clocks stink.
Dad of the sound sleeper
Review by Jacob the sound sleeper on Feb 20, 2015 - Verified Customer
finally, an alarm clock that will wake up my college son. Someone always had to wake him up. I bought this clock and he FINALLY can get up by himself. He hears this one.
Back to top