Amplifyze TCL Pulse Pink Bluetooth Vibrating Bed Shaker
Connects to cell phones or tablets via Bluetooth

Choose to be alerted by vibration, loud alarm or both

Adjust vibration and sound levels through the TCL Pulse App

Create 10 alarms for any day of the week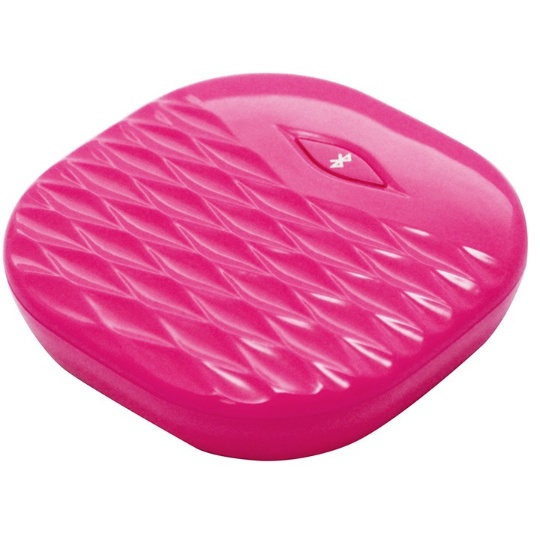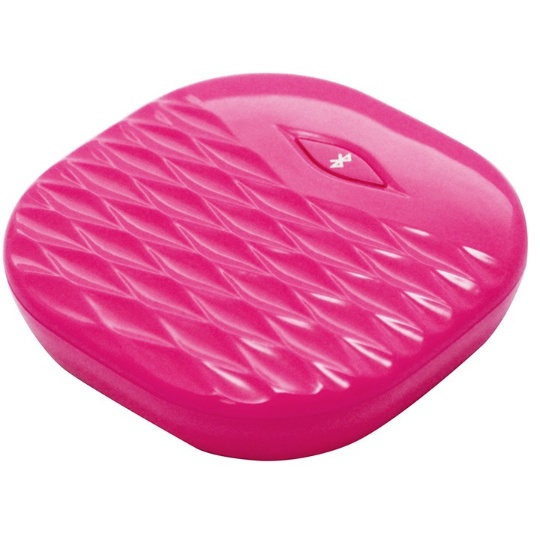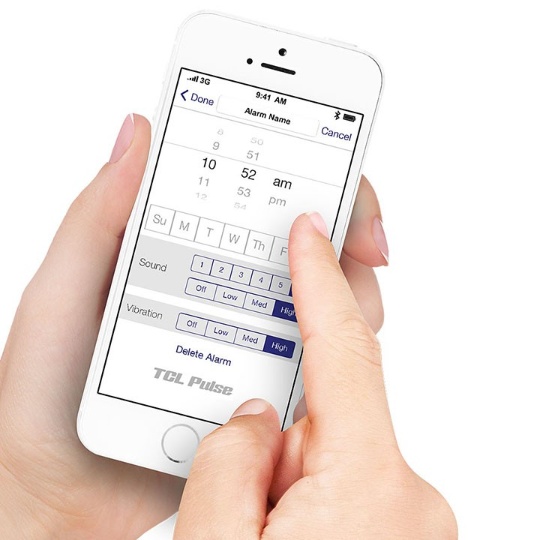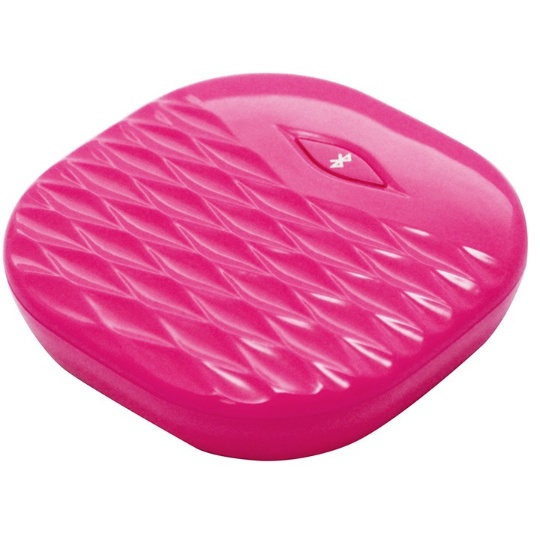 Amplifyze TCL Pulse Pink Bluetooth Vibrating Bed Shaker
Connects to cell phones or tablets via Bluetooth

Choose to be alerted by vibration, loud alarm or both

Adjust vibration and sound levels through the TCL Pulse App

Create 10 alarms for any day of the week
SKU #HC-TCLPULSE-P IN STOCK
Ships FREE today
Most in-stock orders placed before 2pm CT (Mon-Fri) ship the same day. Ground shipping is FREE within the 48 contiguous United States. Expedited shipping options, as well as ground shipping to Alaska, Hawaii, Puerto Rico, or Canada are available for an extra charge.
$39.95
OPTION:



QTY
Lowest price, guaranteed
Overview

Additional Details

Accessories

Q&A

Customer Reviews

Manual
Keep your iPhone on the night table and stick the Amplifyze TCL Pulse in your pillowcase! The TCL Pulse connects to your cell phone or tablet via Bluetooth and notifies you by vibration, loud alarm or both! The intuitive app lets you add up to 10 alarms and allows you to customize the vibration strength, alarm sound levels, patterns and snooze. The TCL Pulse works great as a wake-up alarm, medication reminder, study timer or cooking timer.
Features:
Choose to be alerted by vibration, loud alarm or both
Adjust vibration and sound levels through the TCL Pulse App
Create 10 alarms for any day of the week
Add up to 5 Pulse unites per iPhone/iPad
Countdown timer function
Low battery indicator
Radiation-free wireless alerting
Bluetooth Smart 4.0 transmission
Uses 3 AAA batteries (included)
Dimensions: 2.656" W x .625" H x 2.656" D
Compatible with iOS and Android devices
What's in the Box:
TCL Pulse
Travel Pouch
3 AAA Batteries
User Guide
Feature
Details
Primary Use

Yes

Yes

Brand
Amplicom
Mfg part #
96185-P
UPC
815459010230
Warranty
One year warranty
Color
Pink
Weight (lbs)
0.31
Battery operated?
Yes (batteries required)
Batteries included?
Yes
Battery details
(3) AAA Alkaline
Country of Manufacture
China
Alert Type(s)

Vibration

Flashing Light

Loud Audible

Yes

No

Yes

Tone Control
No
Dual Alarms
No
Battery backup
Yes
Built-in USB charger
No
Bluetooth
Yes
Smartphone Compatibility

Yes

Yes

Expandable
No
Customer Q&A
Get help from Diglo and other customers who purchased this. Ask a new question.
Customer Reviews
Real people with real opinions. Post your own review.
Very Convenient
Review by Anna on Jul 19, 2017 - Verified Customer
I have a hearing loss, so I had an alarm clock with big display but small buttons to set sound/vibrate/both. So often I misplaced button to both and/or did not set it to off , thus waking up my spouse. The light of the display bothered me as well. This product can be put inside pillow, take it with you as you get up and switch off properly outside the bedroom. Setting it with your phone is very convenient too. Button to snooze is easy to find in dark, but to switch off is a bit tricky, you may push the other button. That takes a bit of practice
Disappointed
Review by Shell on Jul 22, 2017 - Verified Customer
The vibrations aren't strong enough, the unit it too small & it's hard to turn off.
very good but could use velcro
Review by T of Pittsburgh on Aug 11, 2017 - Verified Customer
I like this a lot...it solves a problem. I needed to buy sticky velcro however so I could attach it to a wrist band I had for another device ...I lose vibrating things under a pillow and don't always feel vibrations. It is stronger than the iphone and bigger than the ditto so it does the job when I am asleep or distracted.
Works Great
Review by Karen on Aug 4, 2016 - Verified Customer
It's easy to set up and I used it last night underneath my pillow. I wear ear plugs to avoid the noise so I can't hear my alarm clock. I set it for the first time last night underneath my pillow and on medium vibration. You can go lower or higher and you also have a choice of either sound/vibration or both. Being a light sleeper, the medium setting was a bit too much for me, so I'm setting it to low tonight. It gives a nice hum underneath, not jolting. How better a way to wake up?
Great!
Review by Koochie on Aug 22, 2016 - Verified Customer
Great product. I can finally sleep without fear of not hearing alarm clock. Gentle vibration wakes me up and I now feel so much less stress knowing I will be gently awaken. I would strongly suggest this product for anyone with a hearing loss.
Love it
Review by KLR on May 8, 2017 - Verified Customer
Love it
Excellent!
Review by Prorako on Jun 29, 2015 - Verified Customer
Love it ! And easy to use it ! Portable alarm clock. I use it almost everyday.
Good for travel or home
Review by AAMD on Jul 17, 2015 - Verified Customer
I have used this for a couple of weeks on a daily basis. There are several good features, including the ability to lengthen or shorten the snooze interval. The vibration is easily felt through several pillows tested (foam, down, extra thick down, synthetic loose fill). I did find that the button to turn it off is not easily found without my reading glasses and adequate light. I fixed this by putting a dot of nail polish in a dark color next to the button (careful to not let polish run into the gap surrounding the button---put it adjacent to the button, not on it). I have programmed 3 wakeup times into the app and merely turn on the time I desire for the next morning---this takes a few seconds at most. The shaker is surprisingly lightweight. The battery life is excellent---at least 2 weeks of wakes and the battery is still close to fully charged. I really like the app's ability to show the battery charge. I have probably unnecessarily changed the batteries in my travel alarm many times in fear of being at the end of the charge and missing a boat or plane. I did approach this alarm with skepticism but now I am sold on its functionality, light weight, and convenience/ease of use.
Great product
Review by Ritipie on Sep 23, 2015 - Verified Customer
Great product. No one else in the house wakes up with my loud alarms anymore.
Easy to use with iPhone. Woke me up just fine!
Review by PG on Jan 4, 2016 - Verified Customer
Easy to use with iPhone. Woke me up just fine! I put it inside the pillowcase under the pillow beneath my head. Couldn't feel it until it was time to wake up! I used both vibration and audible ring. I am happy to know that I will wake up at the right time in the morning and not miss work!
Wonderful!
Review by Cathy P on Apr 16, 2016 - Verified Customer
The app was easy to load and learn how to use. The alarm has worked like a charm. I got it to avoid waking my husband in the mornings and he hasn't even been aware of my new alarm.
Back to top