Amplicom TCL Vibe Digital Dual Alarm Clock with Vibrating Wristband
The battery-powered Amplicom TCL Vibe™ is a palm-sized clock that's full of features, including two alarms, calendar, temperature display and more!
Wireless vibrating wristband alarm.

Dual alarms for different wake-u...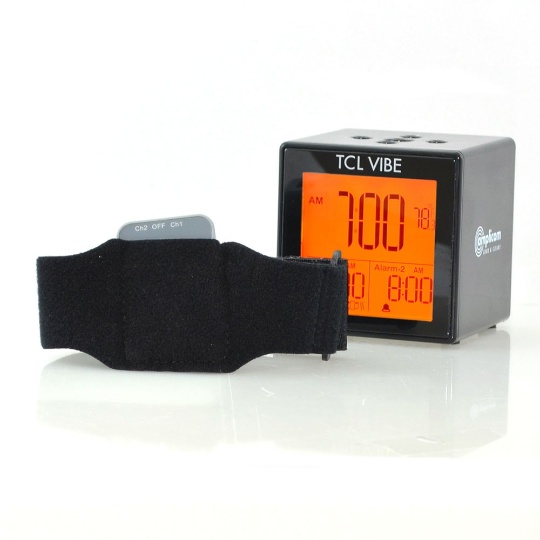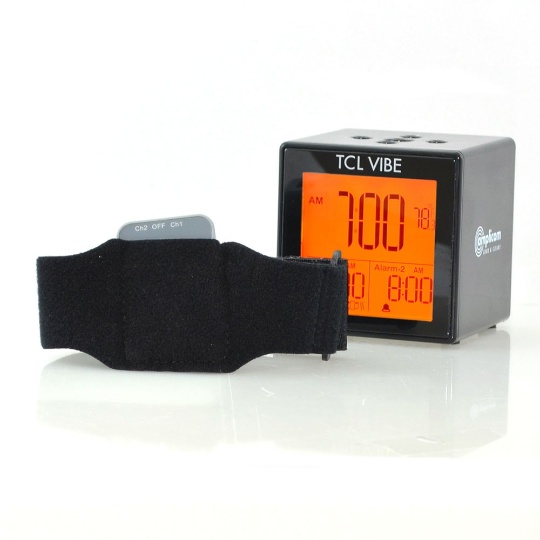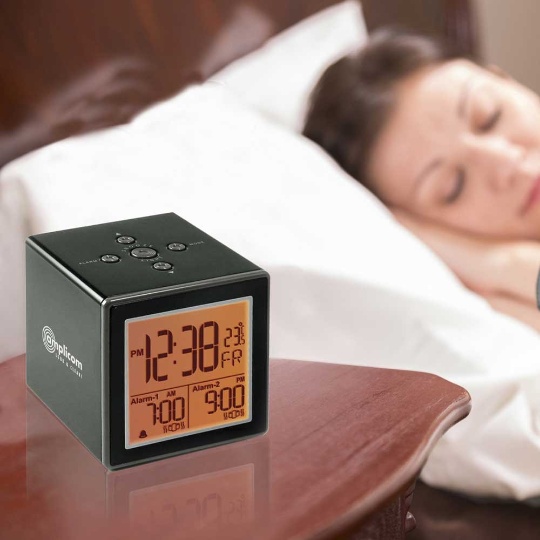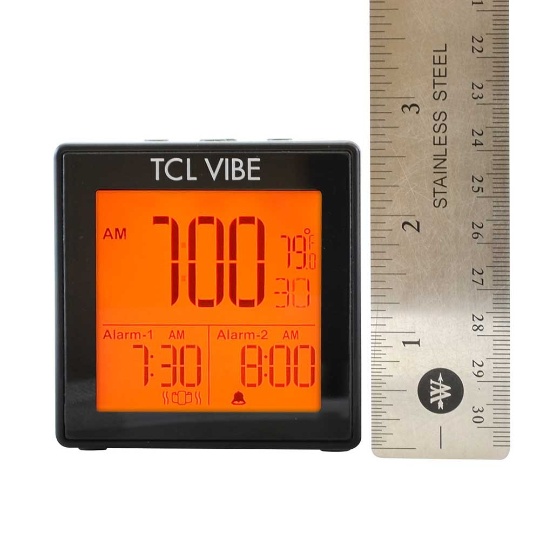 Amplicom TCL Vibe Digital Dual Alarm Clock with Vibrating Wristband
The battery-powered Amplicom TCL Vibe™ is a palm-sized clock that's full of features, including two alarms, calendar, temperature display and more!
Wireless vibrating wristband alarm.

Dual alarms for different wake-u...
MORE
SKU #HC-TCLVIBE DISCONTINUED
$49.95
Overview

Additional Details

Accessories

Q&A

Customer Reviews

Manual
The features found in the Amplicom TCL Vibe alarm clock makes it the perfect wake-up solution for anyone who needs to wake-up on time with a loud alarm and vibrating alarm wristband! Small compact and cordless it will easily fit on your nightstand or in your suitcase without the hassle of power adapters or outlets.



Dual Alarm and Alarm Modes

The Vibe's two alarm times loud audible alarm AND silent vibrating wristband alarm makes this clock suitable for all types of users and wake-up needs. The alarm beeps for 90 seconds so if you're the type of sleeper where the 75 decibel alarm won't wake you the vibrating wristband alarm can be used for a silent method to gently shake you awake. The vibrating wristband is also great for waking up without disturbing other people for people who are deaf and want a tactile vibrating alarm or if you want both audible and vibrating alarms to go off to ensure you are awakened (just in case).



Wireless for Home and Travel

Smaller in width than most smartphones the TCL Vibe takes up little space on your nightstand desk and suitcase. It can become your main alarm clock for home use but when you need a portable clock for traveling the Vibe makes things easy. Since the clock is wireless powered by 3 AAA batteries (included) and the vibration unit is charged through the clock with the included USB cable you can take it on the road and not worry about losing a power adapter. It also comes with its own travel bag to keep everything together.



Battery-Powered

Using standard AAA batteries the TCL Vibe gives you peace of mind by making sure you can get up on time even when you lose power. It also makes traveling easier when you don't need to worry about foreign power outlets.


Features:
Dual alarm with 2 frequencies
Use at home or for travel
5 minute snooze (vibration or alarm)
75dB audible alarm sounds for 90 seconds to wake up deep sleepers or those with a hearing loss
Hi/Low ascending alarm with accelerated beeps
Date/Month calendar with day of the week
Indoor temperature reading
Low battery indicator
Soft vibrating wristband with adjustable hook and loop fastener is perfect for individuals who are deaf or for those who want to wake up without waking those around them
Vibrating wristband range approximately 20ft from clock (line of sight)
Wristband can be charged using the included USB cable with the USB port in your computer or laptop
Alarm settings for vibration audible or both
Amber backlight stays on for 8 seconds after button is pressed
Operates on battery power (included)
Clock dimensions: 2-5/8" x 2-5/8" x 2-5/8"
Wristband dimensions: 11-1/2" x 1-1/4" (hook & loop section 2")
Vibration unit dimensions: 1-1/4" x 1-3/4" x 3/8"
Includes:
TCL Vibe clock
3 AAA batteries
1 rechargeable wireless wristband with hook and loop fastener
1 vibration unit
1 mini USB to USB charging cable
1 travel pouch
Feature
Details
Primary Use

Yes

Yes

Brand
Amplicom
Mfg part #
95866
UPC
815459010209
Warranty
One year warranty
Color
Black
Weight (lbs)
0.61
Battery operated?
Yes (batteries required)
Batteries included?
Yes
Battery details
(3) AAA Alkaline
Country of Manufacture
China
Alert Type(s)

Vibration

Flashing Light

Loud Audible

Yes

No

Yes

Tone Control
No
Dual Alarms
Yes
Battery backup
Yes
Built-in USB charger
No
Bluetooth
No
Smartphone Compatibility

No

No

Expandable
No
Customer Q&A
Get help from Diglo and other customers who purchased this. Ask a new question.
Customer Reviews
Real people with real opinions. Post your own review.
Like the TCL Vibe
Review by BarB on Aug 22, 2017 - Verified Customer
I liked the fast delivery! Had to work with it a couple of nights to get it to work. I am enjoying the security of knowing I will wake up at a certain time. I really liked the Lark alarm. If the holder on this one Loosens, I will use the strap for the Lark.
good
Review by losee on Oct 22, 2017 - Verified Customer
fast delivery and works fine but took me a few days to wake up
Problems and suggestions
Review by Chris on Mar 14, 2018 - Verified Customer
Overall, pleased with finally a non-bedshaker product and of which can be taken with me anywhere. Used this for three years, but still not as satisfied with product as I should be. Three questions: How long does receiver hold its charge for? How long does the receiver need to be charged to be fully charged? (green light turned off within 15 mins) How does user know with surety that receiver is FULLY charged, that it isn't a charging disconnect/malfunction? (the green light just turns off for anything) Suggestions : Include snap band/strap to prevent receiver from sliding or overnight. Create direct access to the side charging port in the receiver pocket of wristband. include receiver's charge level indicator. Strengthen wristband to tolerate velcro usage without layers seperating (I had to sew mine back together). A few user notes, through trial and error: Receiver must be off then turned on to accept *any* updated alarm times. Once alarm clock indicates low battery - *promptly change it* as it will not be enough to send a signal to receiver even for one night.
Terrible
Review by Brian on Sep 7, 2018 - Verified Customer
Wrist vibrating device would not communicate/connect with the clock so it is useless to me.
Need to improve instructions
Review by JT on Nov 8, 2018 - Verified Customer
I like the clock & the wrist buzzer. But, I struggled with the instructions....too confusing!! I think they've combined too many functions into the same buttons so I frequently had to cycle through the options several times before changing the selection I was looking for. I would prefer a separate button to adjust time vs mode vs secondary alarm. It's still not clear to me how to leave the alarm off when I don't need it. A simple 'alarm on/off' would be nice.
Good product
Review by Michael on Aug 12, 2016 - Verified Customer
The delivery was quick to its final destination. I'm intrigued by the functionality of the device and having the vibrating unit on the wrist than on the bed. The only thing I struggle with is when the wrist band loosens, the vibrating unit may fall out of the wrist band. There is no secure way to fasten it. What if it falls out during my sleep?
Not easy to set up
Review by Suek on Oct 15, 2016 - Verified Customer
Could not get vibrator and clock to pair and sync. Could not set it to just vibrate. Will send back.
Very Poor Documentation
Review by T and W on Jun 8, 2017 - Verified Customer
Typical language (translation) errors in documentation. Confusion in reference to and reason for "CH-1 or CH-2". Poor (or No) detail in binding unit. Apparently, wrist unit must bind to either CH-1 as Alarm-1, or CH-2 as Alarm-2". Some trial and error here. If you're not a problem solver or tinkerer, this may be very difficult to set up. No means of confirming that wrist unit is bound or active, or not.
No loud alarm
Review by Tom on Mar 30, 2015 - Verified Customer
I really wanted to like this device. The wrist band unit is bulky, larger than I expected, but I could live with that. However, the audible alarm is very quiet. The description says "75dB audible alarm sounds for 90 seconds to wake up deep sleepers or those with a hearing loss" but the unit I received was barely audible with my HA in place. When I spoke with a customer service person, she indicated that my experience was normal for this battery-powered device. I had assumed mine was defective. Of course being Diglo, she made it easy for me to return the unit.
Great Product
Review by kstrome on Sep 16, 2014 - Verified Customer
This clock has two alarm settings to be used with sound and/or a vibrating wristband. Everything you need is included. Perfect size to put on the nightstand. There is a calendar and thermometer on it. It has a button to light the background to see it in the dark. I showed my students who are deaf and they all want one! They should all have one to help them become more independent.
Great alarm device
Review by Ted on Oct 4, 2014 - Verified Customer
Wrist alarm works very well. The only shortcoming is a wrist ban that is too long for medium wrists. I had to double a section and sew it to make the strap shorter.
Excelent!
Review by rowan8 on Oct 5, 2014 - Verified Customer
I love my new alarm clock. wakes me up without shaking my bed, just a light buzz on my wrist. I also like that it is easy to take with me wherever i go without all the wires and plugs to bring along with me. I would recommend this product to all my friends and family!
Excellent product!!!
Review by SV on Oct 6, 2014 - Verified Customer
IDEAL ALARM CLOCK for travel or home or even use same one for both!!! It is very effective & simple! Nice to be able to see clock during the night. The wristband alarm works great! I would recommend this product to anyone!
great product
Review by murat on Dec 30, 2014 - Verified Customer
There are not too many alternatives for a vibrating alarm product however this one exactly fits the need for the one who needs a vibrating alarm in the mornings. This one is the best.
Didn't have a chance to really try it out.
Review by Honey Bunny on Jan 10, 2015 - Verified Customer
Was very pleased with ordering & shipping was fast. First night, I still over slept. Though was going to give it a week. Unfortunately when I got home that night my dog had gotten the wrist strap with the unit still in it. Well you know the rest. I would've like for the display to stay light, to see during the night.
Amplicom TCL Vibe Digital Dual Alarm Clock with Vibrating Wristband
Review by LJM on Feb 12, 2015 - Verified Customer
Delivery was quick. Had some problems setting it up. The first time two times I used it, it worked fine. The third time I used it, the vibrating alarm did not go off. I had not charged the unit, but the red light flashed that it was set. The wrist band is too big since I have small wrists. I got a stretchy cloth sports band to put over the one you provided. I had typed another review, but I wasn't sure it went through. I think maybe I pressed the wrong option and erased it.
unsatisfied
Review by irritated on Feb 27, 2019 - Verified Customer
Not happy with this at all the vibrating wrist band doesnt vibrate enough for me to feel it awake much less asleep.
GREATLY unsatisfied
Review by KF on Dec 9, 2019 - Verified Customer
Directions need to be revised. There is not enough instructions... it tells you to do something but not how to do it. The clock itself is WAY to hard to set. I was disappointed within the first 5 minutes of opening the box.
Back to top